When it comes to dresses, you want to make a statement. And this season, you're going to do it with a stunning bridal gown that's sure to get everyone talking.
Whether you're planning a romantic beach wedding in the tropics or an elegant affair in the city, our selection of stunning bridal dresses has something for every bride. From simple silhouettes and floral details to elaborate beading and embroidery, we've got you covered when it comes to making your wedding day truly unforgettable.
We at AW Bridal have the best wedding gowns available so that you can find something that's right for your style and budget. Whether you're looking for a simple A-line gown or something more dramatic with a plunging neckline or even something in between we have what you need!
Bridal Dresses Available at AW Bridal
Here is a list of new bridal dresses that are crafted with perfection at AW bridal.
AW Mariah Wedding Dress
If you're the kind of bride who loves to dress up for a ball, this AW Mariah wedding dress is for you. With a straight neckline, built-in bra, and mermaid silhouette, it's an elegant mix of fashion trends. The satin gown features a beautifully sliced thigh-high slit and is floor-length so you can feel like a princess in this dress.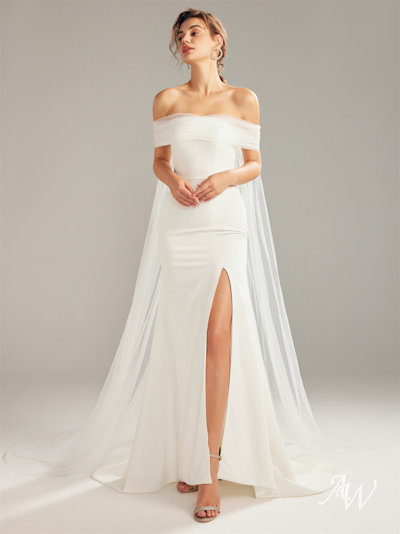 The satin fabric will make you feel like a movie star even if you're not one, and the silhouette is flattering for all shapes and sizes. The strapless bodice is super flattering, and the floor-length hemline will give you plenty of space to show off your shoes. Plus, the zipper back detail means that you'll never have to worry about ripping a seam while dancing with your new husband!
AW Roselyn Wedding Dress
The AW Roselyn wedding dress is a bold-seductive chic charm that will enhance your curves and give you a mermaid silhouette. This floral patterned floor-length dress is designed from top-quality satin charmeuse, which is why it's such a stunner. It features a jewel neckline, zipper, built-in bra, and strapless long sleeves.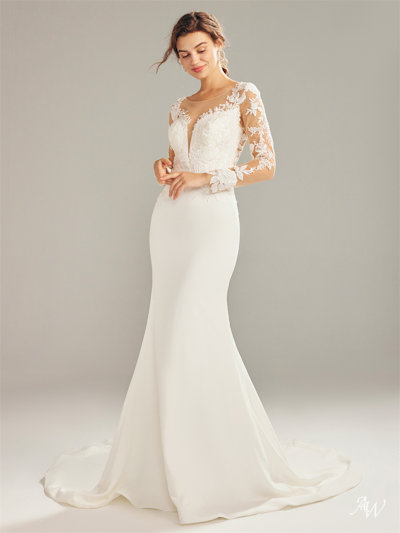 This dress is perfect for any bride who wants to stand out on her special day! This gorgeous satin gown features a mermaid silhouette, jewel neckline, and zipper back detail. It also has long sleeves and a built-in bra. The dress is available in three different colors, including black and white.
You will love wearing this dress to weddings, proms, homecoming dances, and other special occasions. You can wear it with heels or flats depending on your preference.
AW Sultana Wedding Dress
The AW Sultana bridal gown is a sight to behold! This floor-length V-necked piece is romantic in an audacious way. AW Sultana is designed from top-quality tulle. It is a charming dress that features a mermaid silhouette, zipper, and built-in-bra. Her strapless yet patterned long sleeves hold attention, and she knows everyone's watching.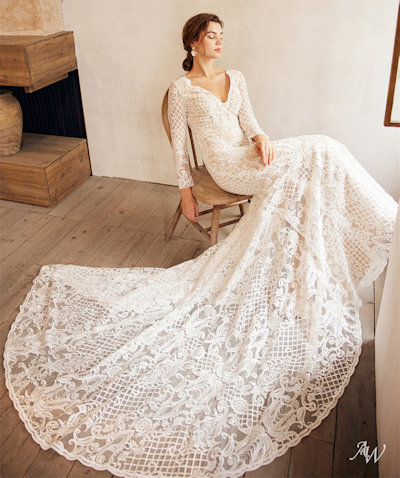 This dress looks amazing on all body types, from the thin to the plus size. You can wear it with or without straps because you can tie them up any way you want for your unique style. The dress comes in different colors so that you can choose what best suits your skin tone/body type.
The AW Sultana bridal gown will make your wedding day special because it makes you feel like a princess and gives off that effortless vibe that only someone who truly loves themselves can wear with pride!
AW Lucine Wedding Dress
If you love the drama of a tulle gown, but don't want to go overboard, then take a look at AW Lucine. This floor-length tulle gown is floral-patterned, with a square neckline that's still modest enough to show off your collarbone. The strapless A-line style means there are no straps to worry about slipping down or showing too much skin.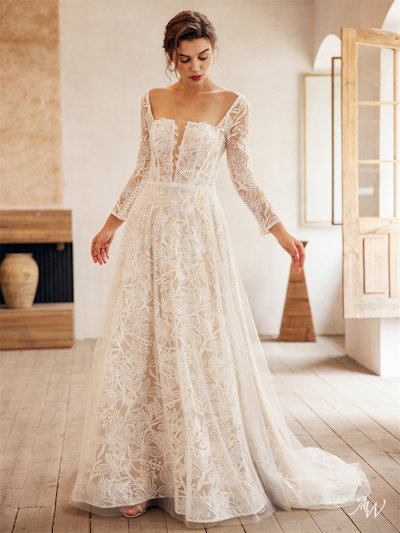 But what really makes AW Lucine stand out are her long sleeves no strapless wedding dress should ever be without them! They're just so much more comfortable than being bare-armed in the summer heat. And even if it does get chilly out, you'll still be able to keep warm with this built-in bra and back zipper closure.
AW Pope Wedding Dress
Looking for a dress that will make you feel like the most beautiful bride ever? Look no further than the AW Pope wedding dress! This A-Line flare bridal gown is great for conventional or religious brides alike. It features sweetheart neckline, built in bra and back zipper. The patterns are gorgeously embedded into the Tulle fabric. All that's left is a perfect veil and the aisle to stride on.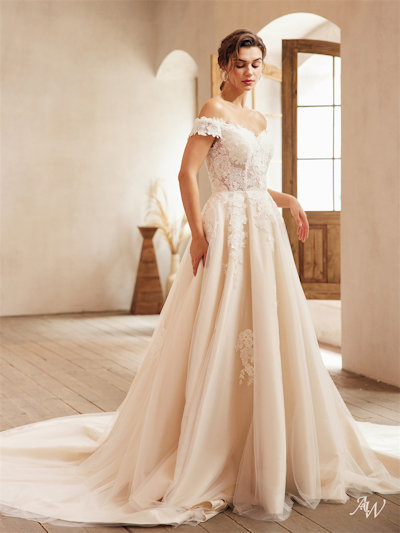 The back of this gown features an embellished keyhole design that adds just a touch of sparkle. The bodice has a soft sweetheart neckline that will draw attention to your face and make you look radiant as you walk down the aisle toward your husband-to-be!
https://www.instagram.com/p/ChR0wDFL68S/