Renowned for high-quality stylish residences, Youphoria's new villas embrace innovative and eco-friendly architecture and utilise the finest furnishings and installations.
The luxury villas – now open for guests - have been uniquely-designed to accommodate both intimate parties and families, or larger groups of friends, yet still retain peace and privacy.
Set on the shoreline at Korfalonas beach, overlooking Kissamos Bay and the wonderful warm turquoise waters of the Aegean Sea, the emphasis is on luxury, relaxation and an alfresco lifestyle.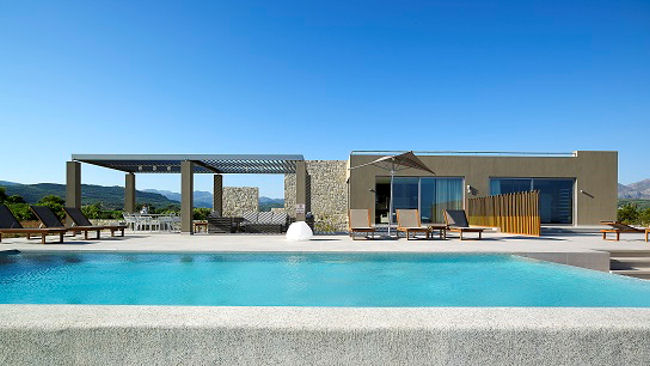 A 50-minute drive from the nearest airport and a few km away from the beautiful Venetian harbour town of Chania, the villas are perfectly located for exploring the fabulous sandy beaches, amazing archaeological sites and rugged natural landscape of western Crete.
With a concierge-led service, the villas take their names from aspects of the landscape: Votsalo (pebbles), Ammos (sand), and Meltemi (Aegean breeze), with each having its own individually-designed living space with outdoor entertaining, dining and relaxing in mind.
The three new villas are an addition to Youphoria's eight established and award-winning Sea View villas* which cascade down a nearby hillside overlooking the Gramvousa Peninsula and Kissamos Bay.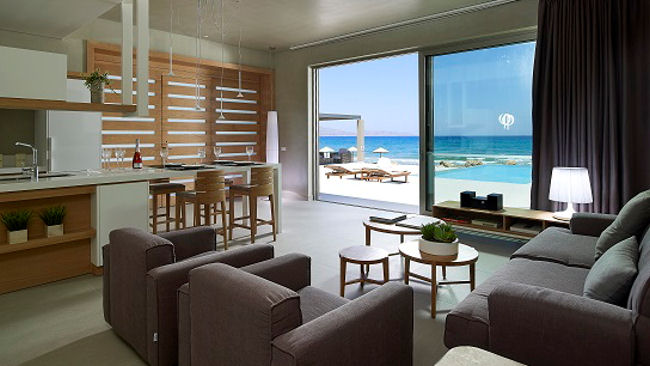 Youphoria Villas are owned by the Gialamarakis family, which also runs the boutique style Mistral hotel at nearby Maleme, which specialises in sociable holidays for the independent solo traveller.
The semi-detached villas, set in landscaped gardens and grassed areas, each have their own style and privacy but are connected by internal doors and can be rented as individual properties or in any combination of Votsalo (sleeps 7), Ammos (sleeps 5) and Meltemi (sleeps 5) for extended parties.
Votsalo and Ammos have private infinity pools while Meltemi enjoys spectacular views of the White Mountains…and has its own private wine collection.
Owner Vassilis Gialamarakis said: "We place contemporary luxury living at the heart of our properties, with Youphoria Villas reflecting the true essence of Cretan life and hospitality.
"All our villas are within easy reach of splendid beaches such as Falasarna – voted one of the top five beaches in Greece – lovely tavernas, rural Cretan villages, wondrous landscapes, shops and the Venetian harbour town of Chania."
Bookings are now being taken for the Beach Front villas of Votsalo, Ammos and Meltemi and there is availability for the Sea View villas. Prices start (per night for each villa) from 500 euros (Beach Front) and 300 euros (Sea View). **
*Youphoria's Sea View villas won the silver award for architecture in the 2016 Greek Tourism Awards.
**For more information, and to book, visit
www.youphoriavillascrete.com