For travelers seeking jaw-dropping views with a drink in hand, check out these six stunning cocktail bars at stylish hotels and resorts across the globe. From rooftop bars with bird's eye views of some iconic destinations to in-sand seating with oceanfront views in the Caribbean, there's a view and cocktail for each and every traveler.
SkyBar at AC Hotel Orlando Downtown
Taking Orlando's culinary scene to new heights is SkyBar, AC Hotel Orlando Downtown's chic rooftop terrace with endless views of "The City Beautiful." This 180 room property spans floors 18-25 of the staple SunTrust building with the SkyBar as its hotspot. Having only opened in early 2021, SkyBar is already making a name for itself thanks to its bold cocktail menu and wow-worthy views. Guests can take in the beautiful sunsets while seeing some of Orlando's most iconic spots including Amway Center and Exploria Stadium. Here, handcrafted classics like AC's signature gin & tonic are complemented by one-of-a-kind secret menu items like "The Cloud." Inspired by the magic of its location and sky-high perch seemingly amongst the clouds, this libation includes Hendricks Gin and a white orb that when popped gently releases plumes of elderflower herbals.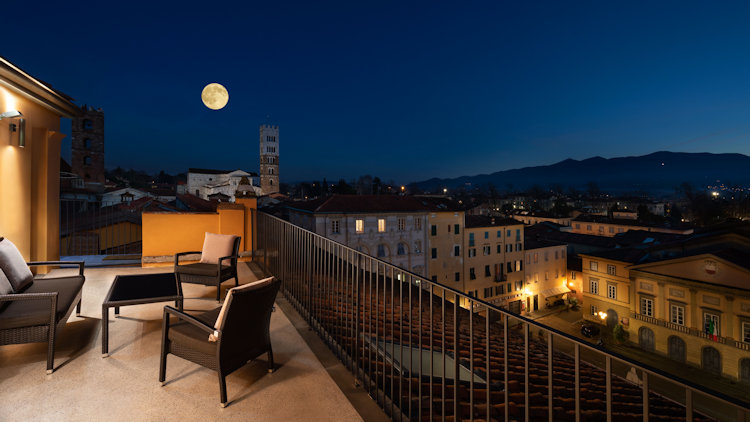 Sommitá Rooftop Bar at Grand Universe Lucca
Offering 55 superbly appointed rooms and suites, Grand Universe Lucca, Autograph Collection is a Tuscan delight, redefining experiential luxury in Lucca's cultural city centre. Guests can indulge in a menu of musically inspired cocktails atop the Sommitá rooftop bar, where the Tuscan views are even more inspiring. Guests can opt to go in a different direction and head downstairs to the Eterno wine cellar at the base of the property. Eterno offers an intimate collection of the best wines in the region.
Living Room at W Fort Lauderdale
Located directly along the sultry shores of Fort Lauderdale Beach, locals and travelers alike can live it up at W Fort Lauderdale's Living Room. Designed to reflect the high-contrast hues and electrifying energy of the city, W Fort Lauderdale's Living Room is the ultimate playground to watch the action unfold. Pull up a seat at the insta-worthy 20-foot bar, stocked with every tequila, vodka, whiskey, liqueur and beer imaginable. Strut out to the Living Room Terrace for prime people watching and panoramic views of the Atlantic and bustling beachwalk. Some say it's the views that take the cake, others, the colorful concoctions. Why don't you be the judge?
Beck & Call at Hyatt Centric Beale Street Memphis
Situated atop Hyatt Centric Beale Street Memphis - the only hotel on the infamous Beale Street - sits Beck & Call, a rooftop whiskey bar where the cocktails are only rivaled by the views. The newfound hotspot is Memphis' only rooftop bar with premium views of the Mississippi River and infamous "M" Bridge. The bar's decor pays homage to the city's rich music culture with walls lined with pictures of famed Memphis musicians - we're looking at you, Justin Timberlake and Yo Gotti. Guests will imbibe in a variety of local spirits and beers including libations from local spots like Old Dominick Distillery and Wiseacre Brewery. The crown jewel of the bar is its wrap-around balcony that perfectly showcases panoramic views of both the riverfront and city skyline.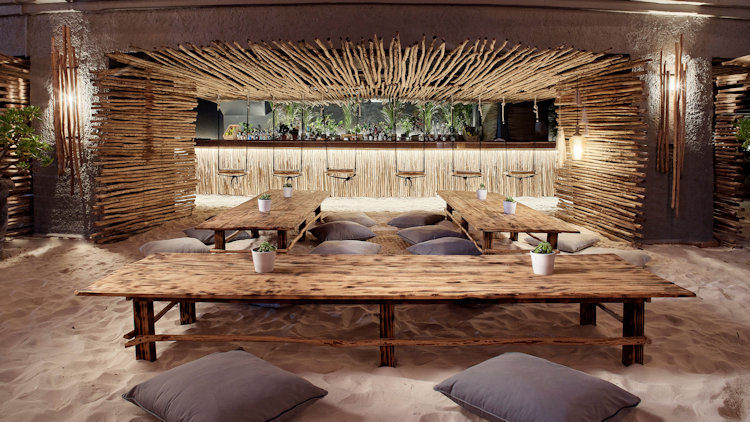 SacBé Beach Shack, Marriott Cancun Resort
Tacos, tequila and one of the brightest blue beaches - just three of the many reasons to book an escape to the Marriott Cancun Resort. Sitting on one of the most pristine beach stretches in the area, Marriott Cancun Resort is home to the bohemian SacBé Beach Shack, designed to transport guests to neighboring Tulum. This totally Insta-worthy space harnesses the free-spirited energy of Tulum and features hand-painted artwork, suspended bar stools, driftwood rods and a lifeguard stand that doubles as a DJ booth. Here, guests can enjoy signature margaritas and enjoy the no-frills Mexican-style street food from the comfort of an ocean front macrame hammock. The in-sand tables and seating arrangements and tables are positioned perfectly for optimal sunset views.
Caribar at Caribé Hilton
Centrally located just minutes from the heart of historic Old San Juan, Caribe Hilton is a beachfront oasis where travelers can enjoy a tropical escape just a short plane ride from most major US cities. Upon arrival, guests are greeted by the resort's lobby bar, Caribar. This vibrant destination bar offers delicious tapas and hand-crafted cocktails, complemented by panoramic ocean views. Guests can taste the evolution of the Piña Colada at the beverages birthplace where they'll sip the original or variations of the iconic libation. After enjoying some cocktails, guests are steps away from the resort's secluded beach where they can catch some rays and relax the rest of the day.