L'Auberge de Sedona - Sedona, ArizonaIdeal for a post hike in one of the many Sedona trails of Red Rock Country, Feet in the Creek
is a playful spa treatment that facilitates a three-part connection between the earth, nature and the guest. This creekside experience begins with a massage therapist escorting them to the tranguil Oak Creek. As they are guided to step into the ankle-deep water, you pause to breathe in the fresh Sedona air. Guests are encouraged to listen to the soothing sounds of Oak Creek and connect with the natural beauty around them. The treatment concludes with a foot reflexology treatment with L¹Auberge de Sedona¹s signature L¹Apothecary flower essence serum to easy the foot tension from the hike.
60 minutes, $135
Teton Mountain Lodge and Spa and Hotel Terra - Jackson Hole, Wyoming
Summer is around the corner and with numerous right-out-your-door activities and its close proximity to Grand Teton National Park and Yellowstone National Park, Jackson Hole is the perfect destination to visit. From wildlife safari tours, hiking, miles of mountain biking and hiking trails, some of the nation¹s best fly fishing, water rafting, hot air balloon rides and more, there is something for any traveler to enjoy the best of summer. After spending a day enjoying the sun there¹s nothing more relaxing and rejuvenating then these spa packages that perfectly tailored to the outdoor adventure summer traveler.
Solitude at
Teton Mountain Lodge & Spa
Grand Teton Discovery Spa Package
is perfect for guests wanting to recover from a day in Grand Teton National Park & Beyond with signature treatments at Solitude Spa targeting sore muscles. Guests will enjoy the in-spa Ten Minutes Oxygen Bar featuring Breathe Aromatherapy to clear airways and support respiratory health while in high altitude. Next, they¹ll enjoy a 50 Minute Alpine Deep Tissue Massage featuring locally harvested Arnica Salve and then a 25 Minute Peppermint Foot Therapy to distress from the bottom up and reenergize.
85 minutes $200 ($235 Value)
Chill Spa at
Hotel Terra
Post Park Recovery Package
is complete with an 80 minute Arnica Sore-Muscle Massage followed by a soothing Foot Focused Recovery Treatment and then a distressing Head & Neck Herbal Relief treatment, tackling all aspects of the body that need some love. The
Foot Focused Recovery Treatment
is a gentle orange peel buff rejuvenates the skin while massage techniques featuring pressure points and steamed herbal compress warm and loosen tense muscles, increasing blood flow and energy back to the lower legs. The perfect post-hike service!
145 Minute Spa Experience $297 (Valued at $330)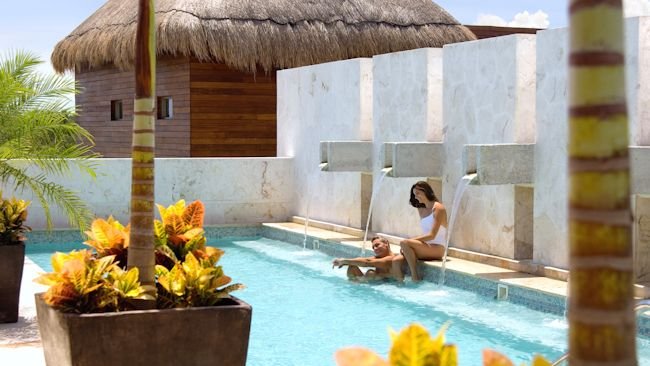 Fairmont Mayakoba
- Playa del Carmen, Mexico
Fairmont Mayakoba, a AAA-5 Diamond Award winning tropical resort located in Mexico¹s Riveria Maya is an idyllic destination for travelers seeking adventure, relaxation, or a responsibly luxurious escape. The 37,000-square-foot Willow Stream Spa at Fairmont Mayakoba features 20 treatment rooms, including a unique couple's suite, two mineral pools and steam rooms. The spa¹s carefully crafted menu of services includes distinctive treatments, some of which incorporate indigenous ingredients and ancient native traditions. Willow Stream Spa offers a
Golf Performance Treatment Massage
to improve guests performance and avoid injury. This massage is exclusive to Willow Stream Spa and endorsed by world-class golf instructor David Leadbetter and professional golfer Charles Howell III. With a combination of massage, stretching and acupressure, the treatments improves balance and swing rotation for distance and accuracy.
Regent Palms Turks & Caicos
- Turks and Caicos Islands
A 72 suite ocean front resort just steps away from the famed Grace Bay Beach, offers a variety of complimentary outdoor water sport activities such as paddle boarding, kayaking, wind-surfing, sailing and snorkeling. Lessons are also provided using the resorts two 'Hobie Cats Waves,' an easy-to-sail, easy-to-rig speedster that will quickly have you smiling. After a day in the sun, guests can enjoy the 60 minute
Sun Rejuvenation treatment
. If you have soaked up a little too much sun, this is the perfect treatment to nourish and rehydrate your skin. The ritual begins with a full body dry brushing followed by a soothing application of a rich marinade containing mint, cucumber, Greek yogurt, honey and lemon. You are then cocooned in a blanket to enable the nutrients to deeply infuse into your skin as you receive a calming face and scalp massage, allowing your mind to relax.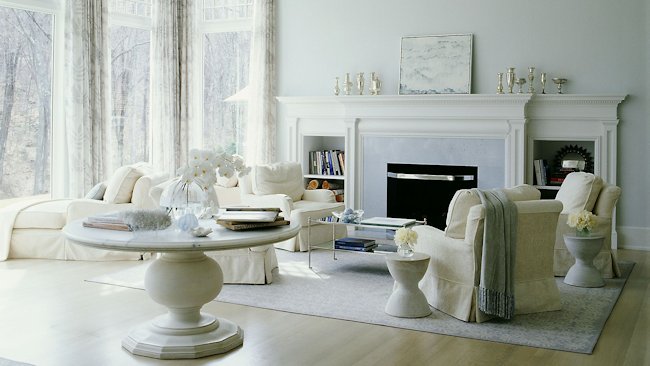 Mayflower Grace
- Washington, CT
A luxury New England hideaway in Washington, CT, offers a variety of outdoor activities on its 58 acres of gardens and woodlands. Guests can hike nature trails at the nearby Steep Rock Reserve and also enjoy on-property activities such as tennis, fly fishing, archery and kayaking. After a long day of outdoor activities, enjoy the
Rites of Purification
, one of the hotel's new Elemental Wellness Therapies that is based on your unique constitution and is determined through a questionnaire. The treatment begins with a dry skin brush to stimulate the skin and enhance absorption of your special healing blend. Next you are cocooned in nourishing therapy of your personalized formula followed by a luxurious and aromatic soak with head massage and a guided meditation. Conclude with a soothing massage using your constitutional oil blend, a local application of mineral elements and a rich marine lotion application to revitalize the skin while promoting cellular regeneration.
Gurney¹s Montauk Resort & Seawater Spa
- Hamptons, NY
The iconic 1926 Hamptons institution situated on Montauk¹s most pristine stretch of oceanfront real estate, Gurney¹s Montauk Resort & Seawater Spa, is the ideal location to enjoy outdoor activities and tailored spa treatments. This summer guests can indulge in two different Hydrotherapy treatments at the Seawater Spa after a long day of hiking, biking, swimming, fishing or surfing in Montauk. With Gurney¹s
Seaweed Hydrotherapy Mask
, guests can enjoy a stimulating seaweed mask while relaxing in a luxurious thalasso tub heated with filtered seawater that will bring nutrients and oxygen to the skin while draining away the harmful toxins responsible for aging. Guests can also treat themselves to Gurney¹s Sea Water Hydrotherapy Massage, also in a luxurious European thalasso tub filled with filtered sea water heated to a comfortable 94 degrees. With this treatment after a day in the outdoors your body can benefit from the absorption of sea-minterals and trace elements while the muscles are skillfully massaged with a high-pressured stream of seawater.
Grand Geneva Resort & Spa
- Lake Geneva, Wisconsin
After spending a day on the golf course, the Champions Golf Massage at Grand Geneva Resort & Spa is sure to soothe all your aches and pains away. Indulge in the deep heat of
Hot Stone Therapy
, which has a great focus on the shoulders, neck and upper back. Giving extra attention to the feet, this massage finishes with a peppermint infused foot butter treatment and a golf ball foot massage that is sure to soothe tired muscles. Upon finishing your lavish massage, please enjoy a sleeve of golf balls, compliments of Grand Geneva. This luxurious treatment is $195 (M-F) and $205 (Sat-Sun) for a relaxing 80 minutes.
For an additional $70, the golf enthusiast massage can be scheduled in one of our private cabanas on the eighteenth hole of the Brute Course.
Rancho Valencia Resort & Spa
- San Diego, Calif.
Rancho Valencia Resort & Spa, located in the upscale San Diego neighborhood of Rancho Santa Fe - the only Relais & Chateaux resort in Southern California - is the perfect summer destination for outdoor adventurers. For the golf enthusiasts and guests of the resort, they can enjoy access to the expansive, lush fairways of private and public world-class golf courses including The Farms Golf Club, The Crosby National Golf Club, Del Mar Country Club, Torrey Pines Golf Course, Aviara Golf Club and La Costa Resort & Spa. Guests can also enhance their game with one of the resort's Callaway Golf club sets, complimentary for guests. For a post game relaxation, golfers can enjoy the
Quirogolf Massage
, an exclusive deep body massage performed with golf balls. Using maneuvers based on four pillars that act on synergy to relax and warm the muscles, this massage treats individual sections and improves flexibility. 60 min. for $175 or 90 min. for $250.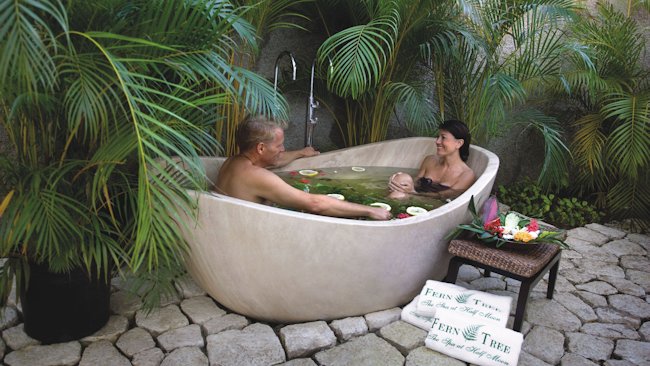 Half Moon, A Rock Resort
- Montego Bay, Jamaica
Half Moon offers guests unique Jamaican spa treatments at Fern Tree Spa, to provide the ultimate, personalized spa experience to help achieve complete wellness.
The Sun Lover¹s Facial
is the perfect treatment for the outdoor adventurer that is out in the sun all day as this treatment will nourish and deeply exfoliate the skin in a two-step system using natural fruit acids, regional and vitamin C to lift dead cells and UV damage. The facial is finished with an application of other key ingredients to nourish, hydrate and even skin stone and texture, leaving a visible radiant glow. The treatment is 50 mins at $135.
Aquaterra Spa at
Surf & Sand Resort
, Laguna Beach, CA
Dive into a luxury full body treatment to nourish and polish summer sun kissed skin with Aquaterra Spa's
Body Surfer Treatment
. Perfect for the summer outdoor activist, just coming in from surfing, SUP yoga or a day at the beach, the Body Surfer Treatment replenishes sun-damaged skin and alleviates joint and muscle pain. The 90-minute spa treatment includes a renewing Ocean Dew body polish, infusing aloe vera and red marine algae to repair and hydrate skin, followed by a healing arnica and helichrysum body and scalp massage, and the application of moisturizing Ocean Dew lotion. Surf & Sand Resort's Aquaterra Spa provides the ultimate oceanside escape, located right on Laguna Beach's expansive pristine shoreline, where each of the spa's treatments expertly pairs elements of both sea and sand.
The Arrabelle at Vail Square, A RockResort
| Vail, Colorado
While Vail is well known for their winter activities, the mountain town is an adventurer¹s paradise in the summer as well. With trails for hiking, biking and horseback riding, golf courses, river rafting, fishing, a delicious après scene and plenty of summer concerts and events, there¹s never a dull moment. For those looking to relax and recuperate from the outdoors, try the
Coconut Crème and Cucumber Skin Soother
at
Spa at The Arrabelle
. Designed to calm, cool and heal the effects of overexposure to sun and wind, the pure wild-crafted, organic and natural treatment will soothe skin back to a glowing state.
First, inflamed skin is relieved with an herb-infused aloe vera, rose and cucumber distillate mist. Then a body mask application of delicious coconut crème with cucumber and rose hydrates and soothes the skin. While the skin cools, calms, and begins a repair process, a luxurious scalp massage is performed. The treatment is finished with an application of a soothing, healing serum, followed by a regenerating and protective moisturizing antioxidant body oil to soothe and continue the repair process. 50 minutes, $150.