Luxury is inherent on AmaWaterways' stunning AmaMagna. Spacious accommodations and swank amenities enchant even the most experienced river cruiser. Add spectacular ports of call and an array of on-board wellness opportunities and the decadence level rises further. Include an established vintner who generously shares with passengers his award-winning varietals, and the posh appeal proves intoxicating – quite literally.
The name of this AmaMagna itinerary says it all: Romantic Danube Wine Cruise. From champagne proffered at embarkation, to long stemmed red roses handed-out by the captain, to the square of dark chocolate left on each pillow nightly at turn-down, this cruise is destined to woo. Whether just-married, celebrating a significant anniversary, or even looking for love, romantics of any age and at any stage of life will find inspiration.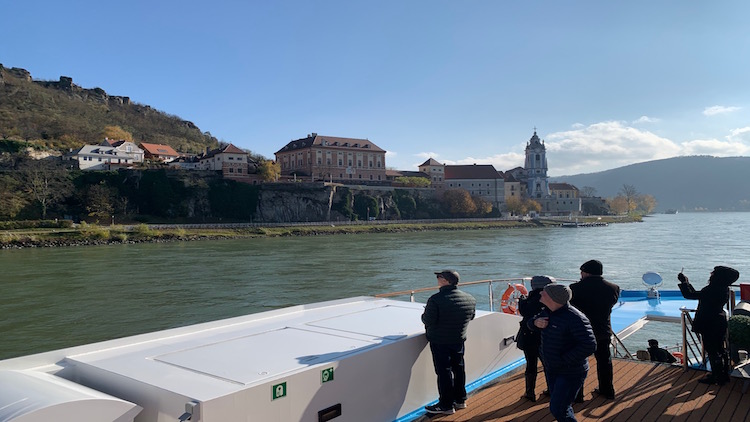 Image credit: Fran Miller
And the wine? At meals and at wine tasting sessions, European varietals share the stage with selections brought aboard by a guest vintner. On this cruise, Mike Lewellen (below) of Solvang, California's Lucas & Lewellen Vineyards served as viticultural host. He shared selections from his own label while juxtaposing them expertly with wines produced in AmaMagna port countries: Germany, Austria, and Hungary. We compared a Grüner Veltliner with a Lucas & Lewellen Viognier. We sipped and swirled a Blauer Zweigelt, contrasting it with a Lucas & Lewellen Santa Ynez Valley Cabernet Sauvignon. Then we enjoyed our choice of any and all with dinner each evening at our selection of AmaMagna's four gourmet restaurants.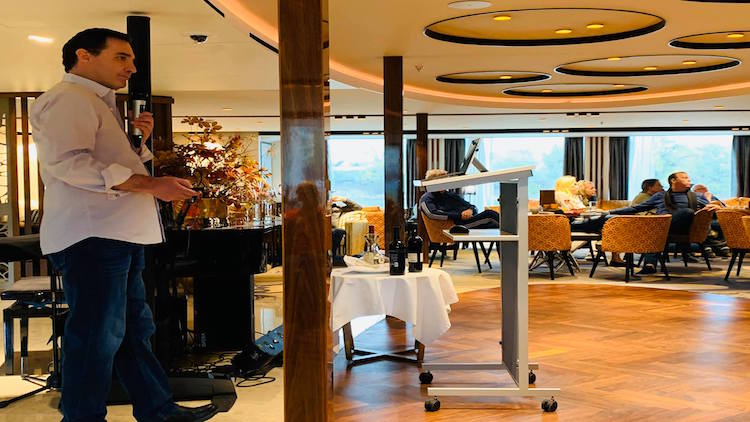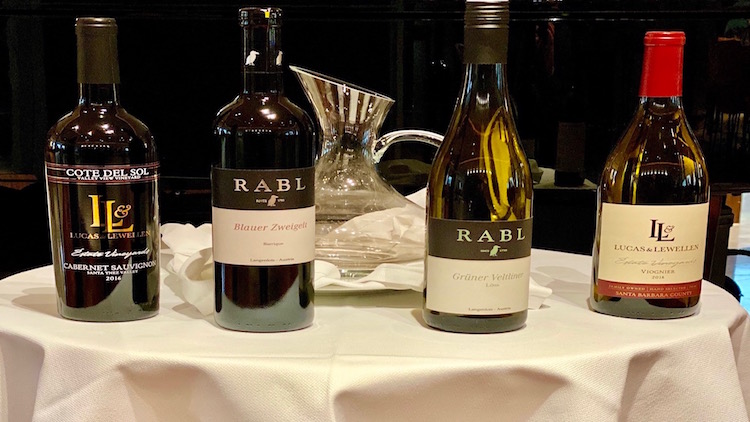 Image credit: Dan Miller
Additional wine education on this cruise is made available during daily excursions that include winetasting ventures to storied European wineries located in Austria's famed Wachau Valley, such as the historic Schloss Gobelsburg. But love of wine is certainly not a prerequisite for enjoyment aboard the AmaMagna. A variety of outings and excursions appeal to all interests. Bike or walk through picturesque towns and villages; hike to castle ruins that served as the captive home of Richard the Lionheart. Visit the Mondsee, Austria cathedral in which The Sound of Music's Maria and Captain von Trapp marry. An afternoon visit to Salzburg allows fans of the movie to find additional joy in walking through the same park where the Von Trapp children frolicked (below). Ports of call include the Austrian towns of Linz with excursions to charming Durnstein (second pic below), grand Vienna, and the brilliantly illuminated Budapest, Hungary.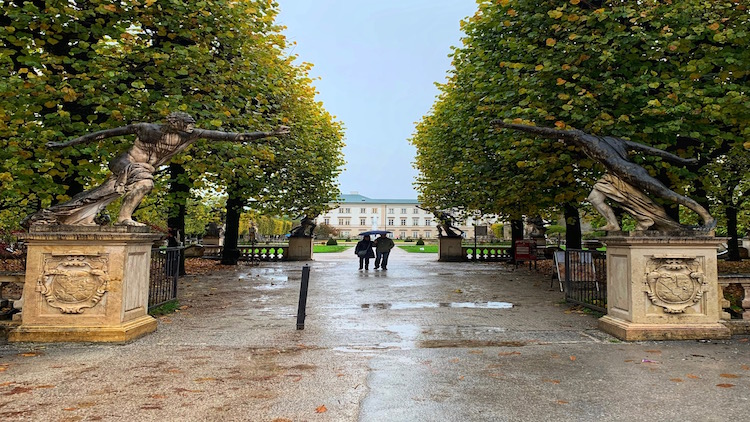 Image credit: Fran Miller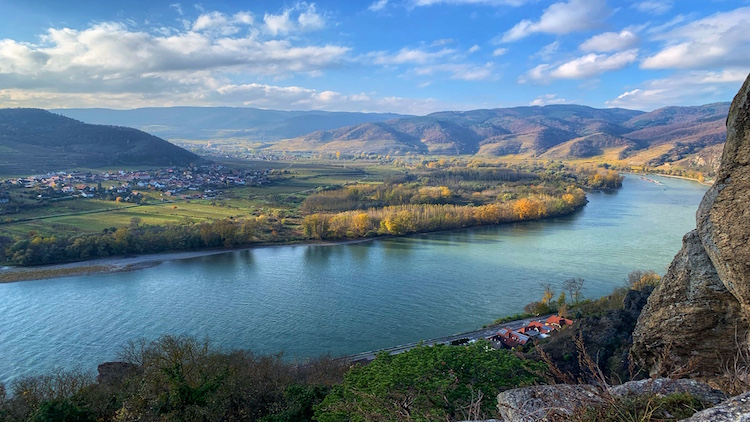 Image credit: Fran Miller
Back onboard, nightly entertainment reflects the culture of each port of call. The Zen Wellness Studio with state-of-the-art fitness equipment features an array of professionally-led classes, such as line dancing (below). A nightly 'Sip and Sail' pre-dinner gathering in the lounge spotlights 'Today's Special' cocktail. The cinema allows for a choice of movie screenings or video games. The sundeck whirlpool stands at the ready to soothe muscles fatigued from hilltop hikes, and every suite features a large screen television, a desktop Apple computer, and iPad.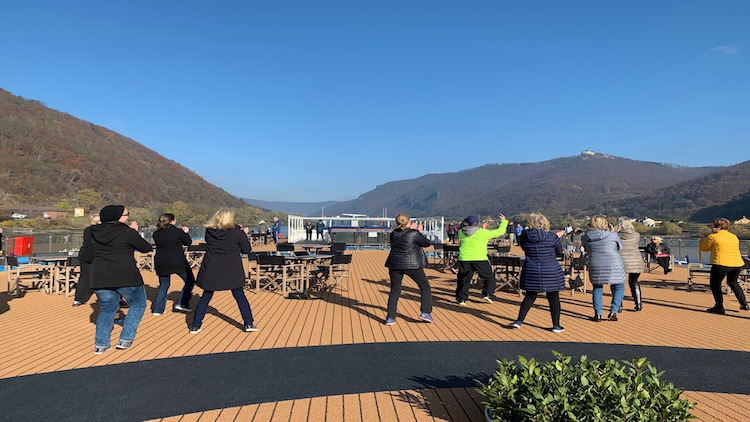 Image credit: Fran Miller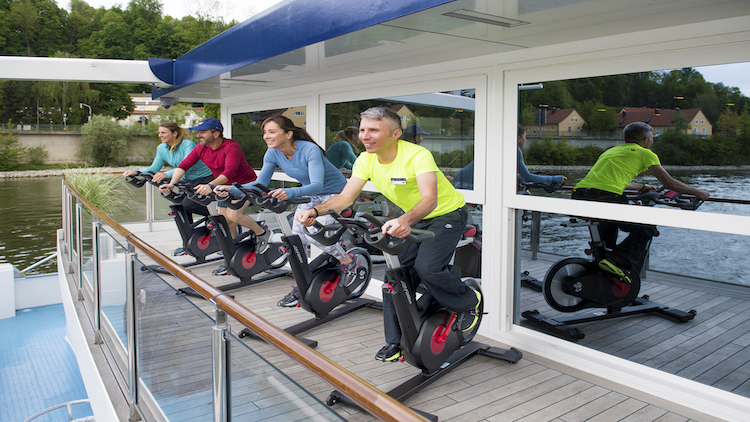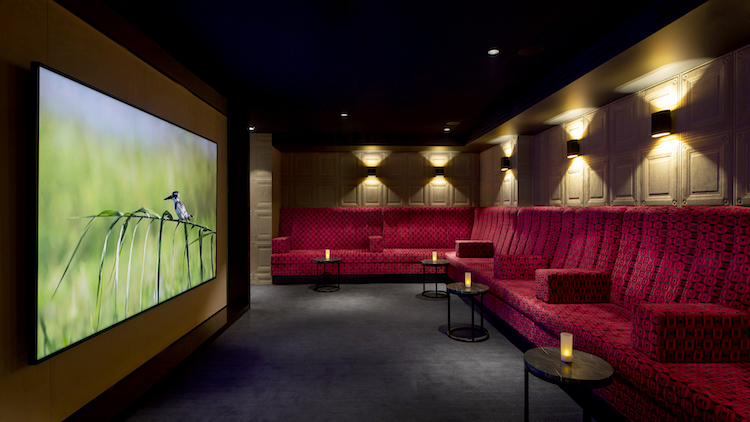 Simply put, at twice the width of traditional European river ships, the AmaMagna offers more personal space, more unique dining venues, and more leisure opportunities than any other ship on the Danube. Featuring a mere 98 state rooms for a capacity of 196 passengers, its size ensures that even when full, guests can easily find a private nook in which to read, or a chaise on which to sun. Two cozy libraries – one starboard (below) and one port – are stocked with a variety of books and games and are each warmed by the crackle of simulated fireplaces. The central Lounge features enough seating for each and every guest and is the meeting spot for announcements and evening entertainment.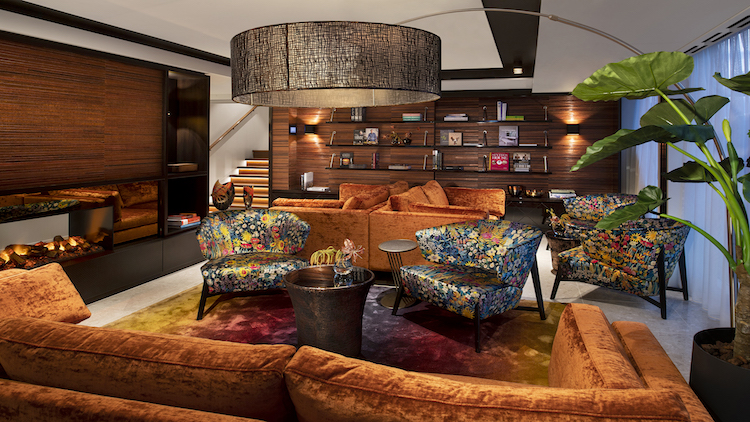 In addition to its large Main Restaurant, AmaMagna provides dining choices (that include the romantic option of a table for two) at three additional restaurants including The Chef's Table (below) where guests have a front row seat to the culinary action, Jimmy's (second below), a congenial family-style restaurant named for AmaWaterways' late co-owner Jimmy Murphy, and the more casual Al Fresco Restaurant, serving lighter fare in an indoor/outdoor setting. At every meal, delicious options are numerous and plentiful.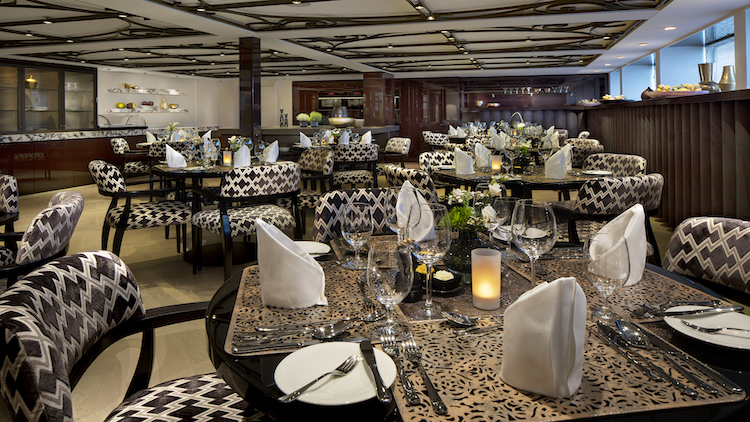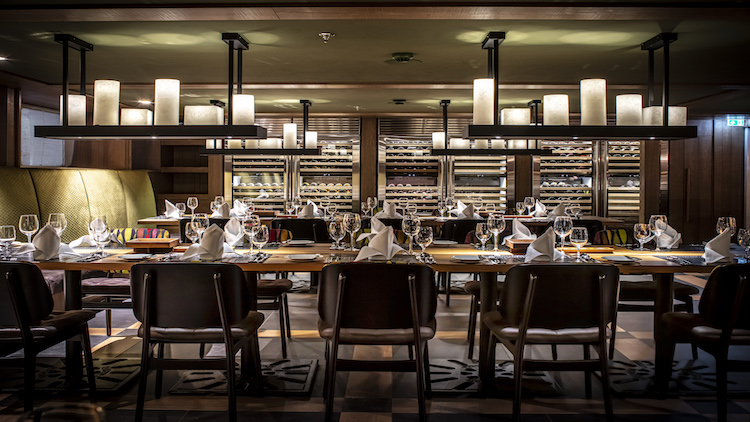 Experienced river cruising guests on my voyage advised me that as an AmaMagna passenger I had reached river cruising nirvana; that I, a cruising novice, had started at the top of the river cruise ladder. And after seven days and nights of pampering, fine dining, exquisite wines, exceptional city and countryside exploration, and of course romance, I knew their declarations to be true. AmaMagna is more than a river cruise ship; it's a floating five-star resort.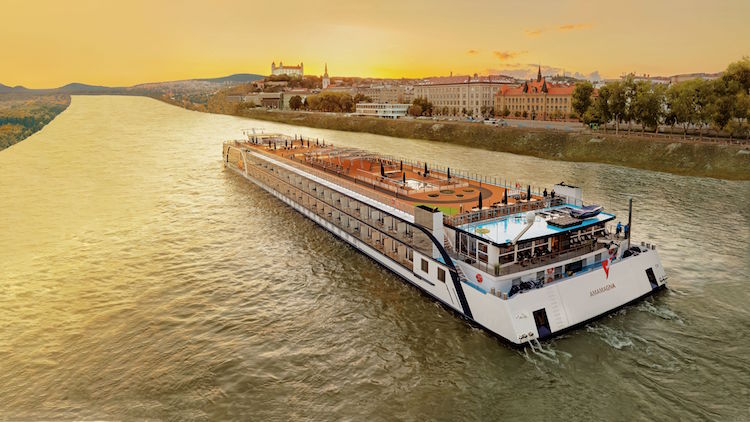 Photos courtesy of AmaWaterways unless otherwise noted