Lying on my back in a fast moving river, I stared up at the blue sky. The current was stronger than I expected. To steady myself, I held onto my Wickelfisch, a colorful, watertight float that looked like a happy goldfish. But this wasn't a mountain river. I was swimming in the Rhine, in the middle of Switzerland's third largest city. In Basel.
Floating in the cool water, I had a good view of the city as I passed churches and bridges. The strong current carried me down stream and, before I knew it, I was headed toward a bright orange buoy. Luckily, Basel Tourism's Natascha Martin, the guide for my urban river adventure, warned me to move to avoid a collision.
When it was time to get out, we swam against the current and joined the crowd on the steps that lined the river bank. While we were resting, Martin told me that the people of Basel get great enjoyment from the river. Parents with strollers sat on the river bank to enjoy the quiet of the river. Couples liked to stroll along the promenade.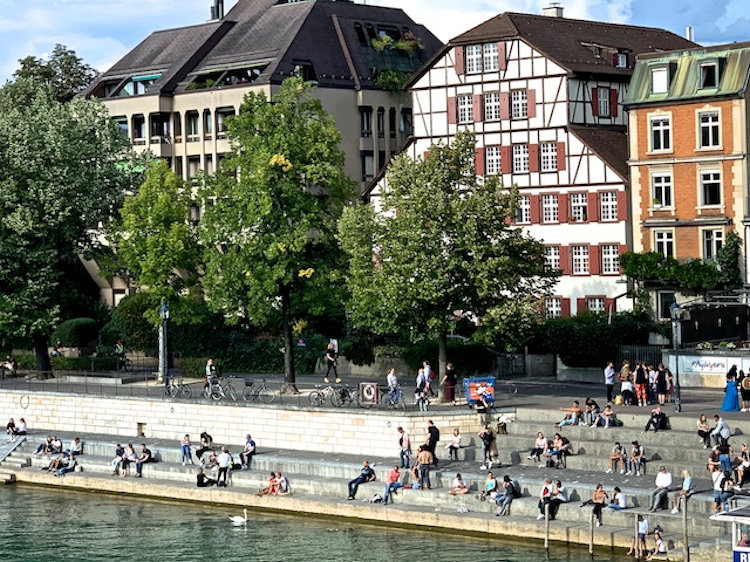 Unique among major cities with rivers, Basel's part of the Rhine was a clean-water, navigable waterway, safe for swimming. From June to the end of August, locals came to the Rhine to swim with their Wickelfisch. Office workers often swam during a lunch break or after work. Martin told me, even though there were two bathhouses on the river, most people wore their swim suits under their clothes and changed with a towel wrapped around them.
After our swim, we went up the hill to the Unterer Rheinweg walkway. Joining bicyclists and pedestrians, we walked under a wide canopy of maple and lime trees. We looked for a place to eat at one of the half-dozen buvettes, pop-up stands made out of shipping containers that are open from May to September, from lunchtime until eleven at night.
From Flora Buvette, we ordered coffees and Middle Eastern snacks and sat down at a table overlooking the Rhine. Martin talked about loving Basel because of its laid-back vibe and because, unlike Venice and Amsterdam, the city didn't have over-tourism issues. There were no traffic-jams, no over-crowded public squares and no long lines at museums.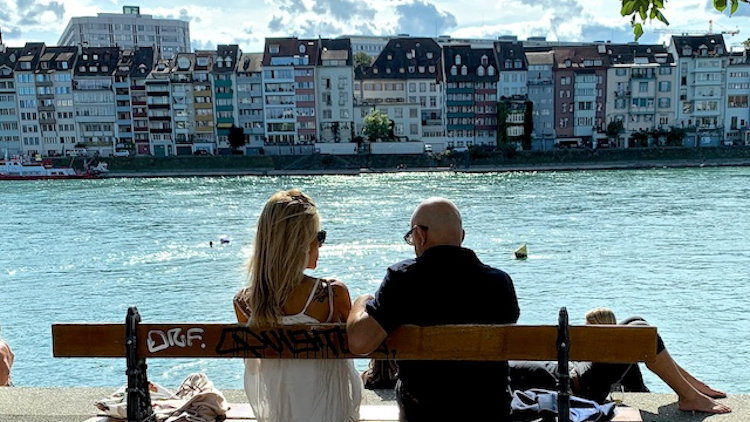 Explore: Art in the city
One of Switzerland's most prosperous cities, Basel is well-regarded for its commerce. Located on Switzerland's northwestern border with France and Germany, Basel is a center of architectural design, banking and the chemical and pharmaceutical industries.
Basel is equally famous for its dozens of world class museums and art galleries and as the home of the original Art Basel. But you don't have to go indoors to see Basel's embrace of culture and art. The city streets are alive with color and design.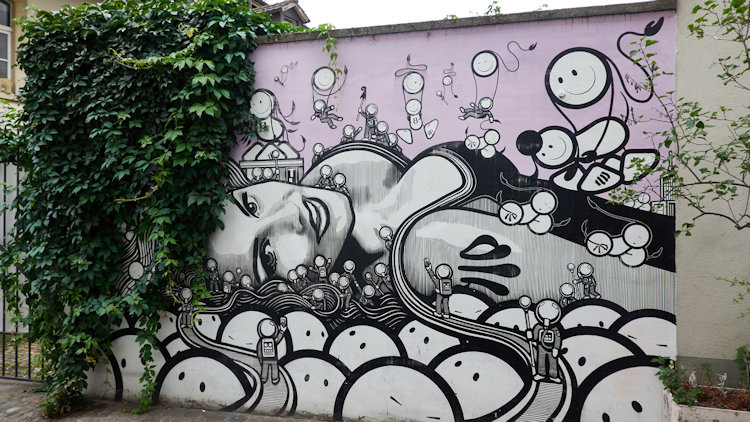 On a walking tour of the city curated by Urban Art Tours Basel, I saw how artists used the city as their canvas. Graffiti, commissioned or not, was appreciated if done with skill. Stéphane Koyama-Meyer led me on a tour with an eye to finding art, sometimes hidden away and sometimes displayed in plain sight.
Having a guide proved invaluable because I would have never known to take a turn into a darkened driveway leading to the back of the Helvetia insurance company (Steinengraben 41, CH-4051 Basel). "There," he pointed to the side of the loading dock. Life-sized drawings of men and women stood along the wall staring straight ahead while others climbed tall ladders to reach the roof. Koyama-Meyer said that the characters were based on real people. Commissioned to paint these portraits in 1987, Robert Indermaur (1947- ) created "Spielraum," a painting good enough to exhibit in any art museum. But in Basel that can also mean the wall of a loading dock.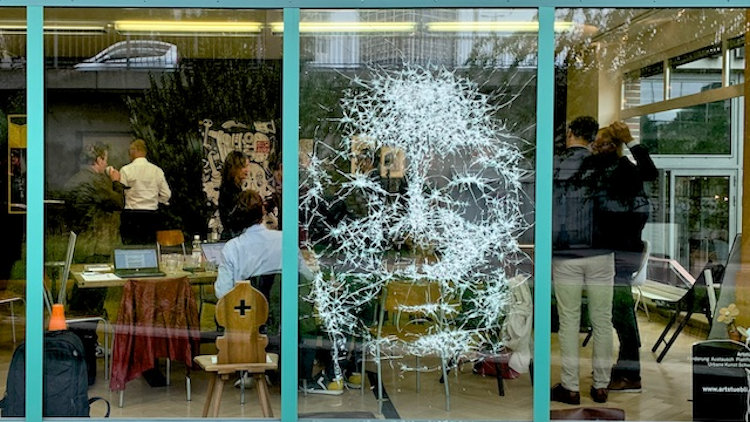 The tour continued at Artstübli Gallery (Steinentorberg 28, CH-4051 Basel) where Koyama-Meyer showed me a work that was amazing for its daring. To my eye, it appeared that a vandal had smashed the gallery's front window. The glass had been hit with force, creating shards and cracks that radiated out from the center. But this was not random violence. This was a remarkable work by Simon Berger. Using a hammer as his tool-of-choice, he sculpted the thick plate glass window into an image. Difficult to see with the eye, when I looked at the "broken" glass through my camera lens I saw "Window," Berger's striking portrait of an eyes-wide-open woman.
Walking around the city, in quiet neighborhoods and in busy commercial ones, the tour continued.
In the city center, as traffic rushed by, I looked at the side of a liquor store (Schneidergasse 27, CH-4051 Basel). The French artist known as Invader had surreptitiously glued colorful ceramic tiles to mimic images from the 1970s Space Invaders video game.
Ten minutes away, in a quiet neighborhood in the Old City, we walked past interior design shops and florists and then into a narrow street. I found myself face-to-face with a black and white graffiti mural of a smiling woman surrounded by tiny boy-aliens in space suits. Using their distinctive comic-book style, the artist collective known as The London Police was commissioned to paint "Untitled" on the side of a private building (Rosshofgasse 11, CH-4051 Basel).
We also looked at public art in public places.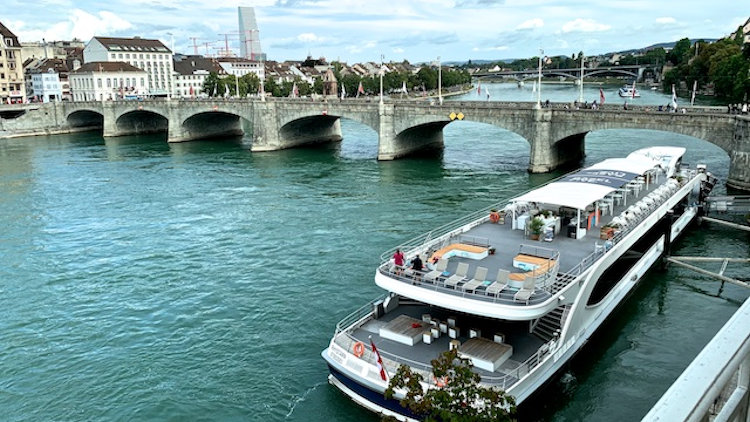 At the entrance to the Middle Bridge on the Grossbasel ("Big Basel") side, Carl Nathan Burckhardt (1878-1923) created a statue he called "Amazon Leading a Horse" (1926). A graceful, elegant woman leads her spirited horse as if they were going to cross the bridge.
On the north side of the bridge, in Kleinbasel ("Little Basel"), a statue of Switzerland's heroine, Helvetia was sculpted by Bettina Eichin (1942- ). With "Helvetia auf der Reise," Eichin brought to life the icon who appears on Swiss currency and postage stamps. Helvetia sits on the wall above the swift-running river, her shield, spear and suitcase on the pavement. In most portrayals of Helvetia, the Swiss Wonder Woman, she is shown ready for battle, but here, in Basel, like its citizens, she takes a moment to be refreshed by the Rhine.
Besides exploring the city for public art, I visited two of Basel's world class museums.
One, a private museum, Fondation Beyeler sits on the Swiss-German border, an easy 15-minute tram ride from the center of Basel. Designed by Renzo Piano, the modernist building rests in a lush garden surrounded by trees on one side and a farmer's field on the other.
Over a life-time of collecting, husband and wife art dealers, Hilda "Hildy" Kunz and Ernst Beyeler acquired works by Monet, van Gogh, Cézanne, Gaugin, Pissarro, Picasso, Warhol, Bacon, Lichtenstein and many others. Works from their collection and that of Rudolf Staechelin are on display in the main gallery.
Besides works from the permanent collection, the museum uses special exhibits to highlight interesting artists. When I visited, large works by the conceptual artist Rudolf Stingel (1956- ) took up most of the first floor.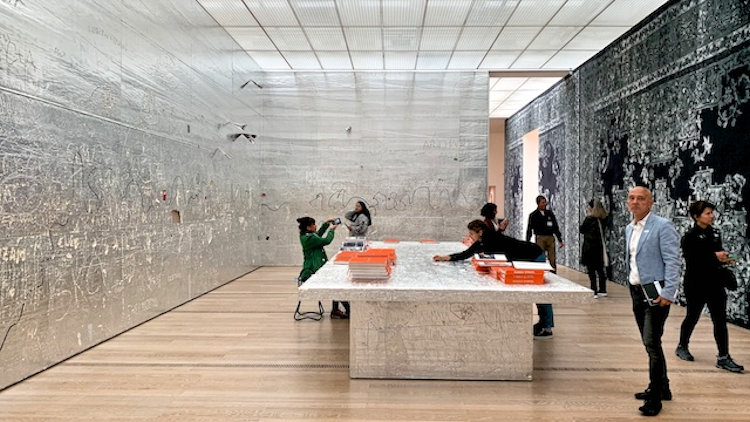 In a large room, Stingel covered the walls with thick aluminum foil. In most gallery settings, people are told, "Do not touch the art." For this piece, Stingel had a different idea. He invited viewers to attack the work. They did so with gusto by graffiting the walls with pens, pencils and knives, carving their initials, drawings and profane thoughts into the soft metal. In another gallery, Stingel hung a giant, day-glow orange shag carpet as if it were as precious as a Rembrandt. Except, viewers were invited to touch the carpet, to run their hands across the thick pile, to make their mark on his art.
But Stingel didn't always want the viewer to be his collaborator. Examples of his photo-realistic work was also curated in the large special exhibition. A fox, a hand spray-painting a wall, two wallpaper designs and other images were on display. These you were warned not to touch.
To experience a completely different sensibility, I took the glass-walled lift down to the garden level. In a large gallery, there was an exhibit of delicate drawings and sculptures by the influential French-American artist Louise Bourgeois (1911-2010). Her art was a polar opposite to Stingel's busy, noisy works. Bourgeois' work was quiet, thoughtful and elegant in a spare way. The notes for the exhibit, "Insomnia Drawings," explained that Bourgeois was often not able to sleep more than a few hours a night. From the wealth of drawings in the quiet gallery space it was clear she had a lot on her mind.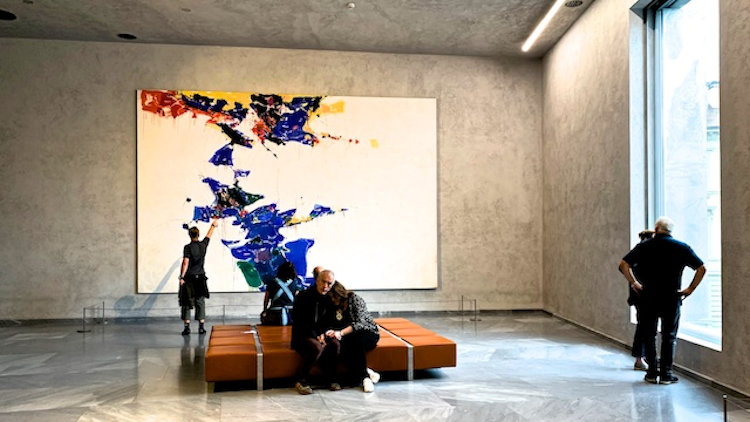 The Kunstmuseum Basel, is a national treasure. Composed of three venues, two, the Hauptbau ("the main building") and the Neubau ("the new building"), are across the street from one another. The third, devoted to contemporary art, the Gegenwart is a short walk from the first two. Currently the largest museum in Switzerland, plan on spending a day exploring the collections.
In the main building, I walked through galleries that looked like rooms in an elegant, private estate. The collection in the Hauptbau included works by the Old Masters, classics of the 19th century and icons of the early 20th century. In one of those rooms, I found a study of a marriage in which husband and wife were given equal weight. They appeared next to each other but in separate paintings. When Tobias Stimmer (1539-1584) was only 25, he painted vivid portraits of Jacob Schwytzer and Elsbeth Lochmann, two wealthy citizens of Zurich.
Also in the Hauptbau, in a special exhibition called "Swiss Mountains" (Schweizer Berge), the museum displayed the work of artists, who like Johann Heinrich Schilbach (1798-1851) in "Lauterbrunnen Valley" (1836), used the grandeur of the Alps as their subject.
The Neubau extends the collection with works created after 1950. The building is as impressive as the art on display. Basel architects, Christ & Gantenbein created an arresting, dramatic building. As you walk through the collection, take time to appreciate the soaring modernist design of the galleries, hallways and staircases.
In the Neubau, the art had to be chosen carefully so as not to be overwhelmed by the building's dramatic architecture. That effort certainly succeeded when "Meaningless Gesture" (1958) by Sam Frances (1923-1994) was placed between two floors with soaring concrete staircases leading to the landing. Frances' large format painting dominates an entire wall, very much at home in the dramatic setting.
The galleries in the Neubau are designed so that subtle works can also find their voice. The wit of "Schau, ich bin blind, schau" ("Look, I'm blind, look") (1998), Nos. 77, 33, 47, 41, 59 by Rémy Zaugg (1943-2005) was purposely amplified by having five paintings hung next to one another. Against a plain white wall, the paintings repeated the same phrase "Schau, ich bin blind, schau," but used different colors to make an impression.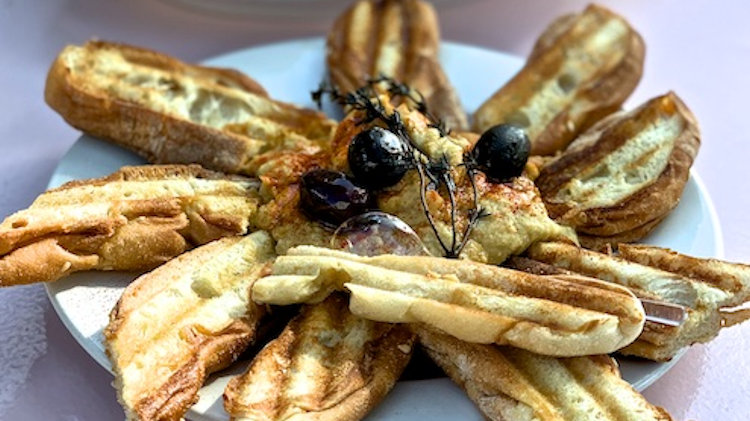 Eat on a walking tour
To have a taste of the city's forward-looking food scene, I turned to another guide, Philippe Benguerel. We began Basel Tourism's FoodTour Iconic at Bäckerei Kult. A bakery and café, the large space has an open kitchen at the back with light flooding in from a skylight. In warm weather, the enclosed garden patio is the ideal spot for a meal and a coffee.
Benguerel explained that the FoodTour can be self-guided. My ticket had a list of stops and addresses, so with GPS in hand, I could easily navigate the tour on my own.
My ticket entitled me to a sample of what was sold at each shop. At Bäckerei Kult, like a kid in a candy store, I studied the refrigerated counter with French style pastries and elaborate sweet confections as well as a good selection of breads, granola, savory tarts and sandwiches. The sample at the bakery was their signature Basel Gold, a delicious, plump pound cake with a thin sheet of edible gold on top. That and a freshly-made espresso and I was ready to begin the day.
Walking through Kleinbasel's Old City, we stopped at the bulk-food store, Basel Unverpackt. Taking a very contemporary view, to avoid the waste of individual item packaging, customers use their own containers.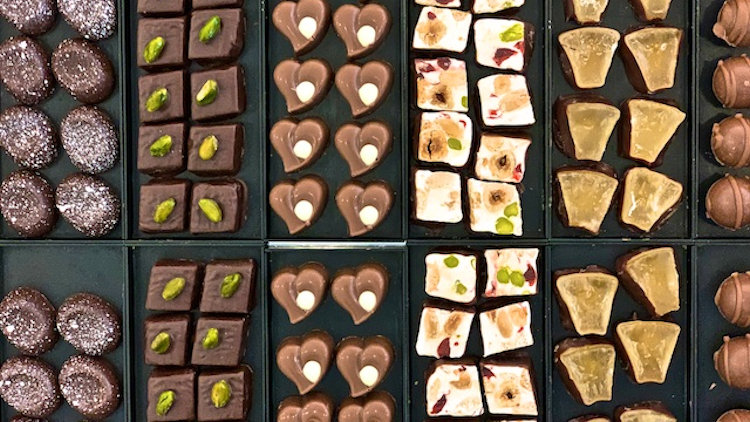 Lining the shelves were choices to make any home cook happy—oils, chocolates, grains, rice, spices, honeys and so much more. My ticket allowed me to pick one item. I chose a curry powder. As I filled my jar, the spices released their wonderful aromas. I knew I had made a good choice when I returned home and prepared a vegan curry. I used homemade vegetable stock, coconut milk, carrots, onions, Savoy cabbage, shiitake mushrooms and roasted tomatoes. Unverpackt's spice mixture gave the curry the perfect blend of flavors with a hint of sweetness.
Walking on Clarastrasse, a wide boulevard lined with shops, we stopped at Klara, a family-friendly food court and a bar with a casual vibe. There were dining areas outside on the sidewalk patio and inside in a spacious lounge area. Small kitchens served cuisines spanning the globe--Japanese, Thai, African, hamburgers in a dozen styles, Middle Eastern, Argentinian, Mexican and Vegan. The Thai restaurant offered traditional dishes as well as grasshoppers on a stick and insect curry for the adventurous. At YoYa Pita Bar, I thoroughly enjoyed the humus, falafel, tomato-cucumber salad and warm pita. Everything was farm-fresh and prepared with care.
After lunch we stopped at Acero for an ice cream. With a dozen flavors made with natural ingredients as varied as mango, pistachio and Pina Colada, I went basic with a cup of vanilla and chocolate. Cold, creamy and delicious, I would definitely return to try the other flavors.
To reach our last stop in Grossbasel, we hopped on the tiny Fähre Vogel Gryff ferry. One of four that cross the Rhine in Basel, the clever boats used no fossil fuels. They were powered by the river's current.
At Xocolatl, the walls were lined with shelves reaching to the ceiling. A fair-trade chocolate emporium, Xocolatl offered bars of chocolate from around the world. This was a Willy Wonka-sized, chocolate-lovers dream palace. I wanted to bring home so many, but I contented myself with bars of dark chocolate made with coconut milk instead of milk for my wife who avoids dairy. The tasting on my ticket was for a hot chocolate. It was, I am happy to say, the best hot chocolate I have ever enjoyed.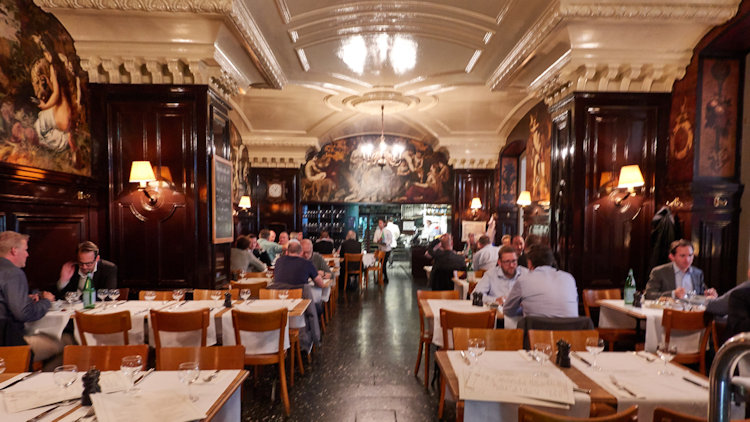 Eat in style
Brasserie Volkshaus was not far from Messe Basel, the convention center where Art Basel and Basel World are held. The Brasserie was tucked inside a building constructed in 1925 that also contains a boutique hotel, courtyard, bar and theater.
Even before I ordered, I liked Brasserie Volkshaus' elegantly modern interior design. Facing the tree-shaded outdoor patio, the walls of the Brasserie were lined with mirrors that reflected the light outside. That subdued lighting complimented the spare design of dark wood tables, white walls, dark green upholstery on the banquettes and dramatic, modernist paintings.
Settled into a comfortable seat, I read the menu that offered a lot of good choices. Appetizers, salads, pastas, fish, steak and desserts. Server Eric Gollentz brought a round of Swiss and Belgian beers to the table. I was very happy with a bitter greens salad tossed in a dressing made with fresh cherries, red wine vinegar and sunflower oil. The entrée was a Café de Paris-style steak topped with butter, herbs and breadcrumbs with a side of shoestring potatoes. Everything was delicious. Given the pleasant interior, friendly service and good food, I could easily have spent an afternoon in the Brasserie, reading or hanging out with friends.
Restaurant Kunsthalle, by comparison, was a very different space. Inside, the elegant dining room was dominated by large murals of baroque scenes of voluptuous, half-undressed women and men, cherubs with outstretched wings, warriors and kings in a mashup of cultures, European, Asian and Indian. The sunroom, where I was seated, was light and airy as the first room was cozy and dark.
The food was classic brasserie-style. Salads, vegetables, pastas, steak, chicken and fish, served in the French and Italian manner with delicate sauces. The plates were large, so large that after I finished an excellent starter of house made thin pasta topped with a generous helping of truffles, I was full. Which made my order of sliced beef tagliata in a green pepper sauce with saffron risotto a bridge too far. Happily, there were others at the table eager to enjoy the brasserie's signature dish.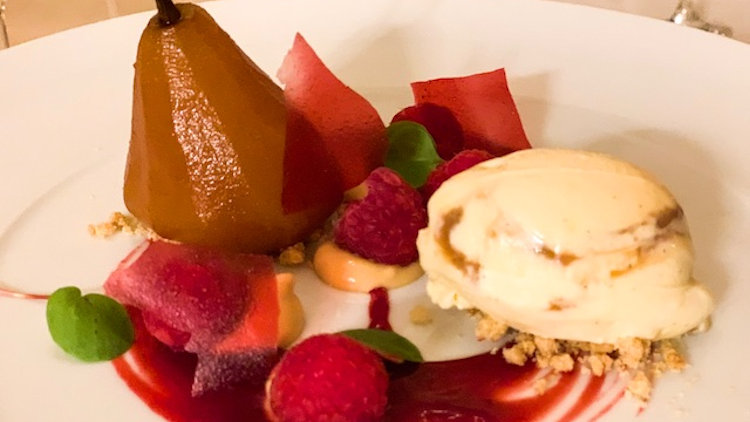 Saving the best for last was definitely true at Restaurant Kunsthalle. Always on display, the dessert trolley offered exquisitely prepared baked desserts. Prominently featured was a Saint Honoré cake, Apple and Pear Tarte Tatins and custards with fresh fruit. I chose the pear tart and enjoyed the moist crust, sweet pears and delicate custard.
Outside the Kunsthalle, I stopped at the Tinguely Fountain. The renowned Swiss sculptor, Jean Tinguely (1925-1991) created a fantastical, whimsical theater of mechanical objects in a shallow reflecting pond. Like manic ballet dancers, ten mechanical sculptures twisted, turned, spun, rose and fell in the water. Spouts in each sculpture tossed water into the air and sprayed streams down into the pond.
I was mesmerized. I watched the movements of one sculpture with a spinning bicycle wheel and then an odd metal representation of a building's cornice that tipped down and reset itself as if remembering a moment of demolition before restoring itself. I enjoyed the sense of humor and delight in the unconventional that Tinguely captured with his bits of metal and torrents of water. A fitting end to my visit to Basel.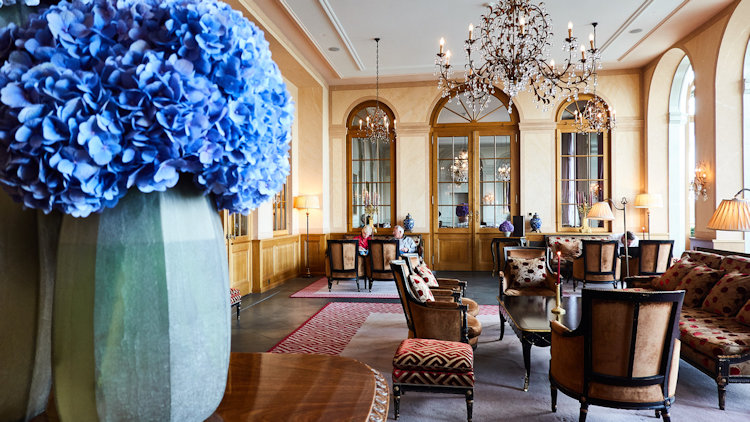 WHEN YOU GO:
Easily reached by trains, planes and automobiles, Basel is centrally located on the Swiss-German-French border. Please consult the Basel Tourism website for information about events, destinations and attractions. When you are in Basel, stop by one of the Tourism shops and pick up guide books and ask for suggestions about what to see and where to go. The shops also sell Basel-remembrances including Wickelfisch that you can use for a swim in the Rhine or to use in the family pool when you are home.
Acero, Café & Gelateria, Rheingasse 13, CH-4058 Basel, +41 (0)61 222 27 28. Website in Swiss German only. In addition to homemade ice cream, Acero serves coffee, cakes, vegetarian and vegan dishes, salads and sandwiches. Seating outside in front of the store and in the back garden.
Art Basel, Messe Basel (Convention Center), Messeplatz 10, CH-4058 Basel. Renowned as one of the most successful gathering of galleries, after beginning in Basel, Art Basel now has outposts in Miami, Florida and Hong Kong. In Basel, home is the city's convention center. Messe Basel was designed by Herzog & de Meuron, a Basel firm that also designed the "Birds Nest" (Beijing National Stadium) for the 2008 Beijing Olympics. Consult the website for details of the upcoming exhibition.
Bäckerei Kult, Riehentorstrasse 18, CH-4058 Basel, +41 61 692 11 80, laden@baeckereikult.ch. Website in Swiss German only. A second store is located at Elsässerstrasse 43, CH-4056 Basel.
Basel Card. Offered to guests at select hotels, the card provides free public transportation within the city and discounts at popular attractions. Consult the website for details.
Basel Minster (Basler Münster), Münsterplatz 9, CH-4001 Basel. Website in Swiss German only. Expanded over centuries, a catholic cathedral when construction began in 1019, during the 16th century the building was converted into a Protestant Church. A large terrace behind the church is a favorite gathering spot with a view of the Rhine and Kleinbasel.
Basel Unverpackt, Feldbergstrasse 26, CH-4057 Basel, +41 61 543 12 20. A collective selling bulk food items, Unverpackt also sells fresh produce, prepared foods and ecologically beneficial personal articles like reusable straws and soaps. Bring your own containers or buy reusable containers in the store and fill them with seeds, grains, chocolates, oils, spices and so much more.
Baselworld, Messe Basel (Convention Center), Messeplatz 10, CH-4058 Basel. Over one hundred years old, the trade show for quality watches and jewelry is an opportunity to see brands from around the world. Please consult the website for dates and details.
Basel Zoo, Binningerstrasse 40, CH-4054 Basel, +41 (0)61 295 35 35, zoo@zoobasel.ch. Opened in 1874, known locally as "Zolli," the Basel Zoo has a large number of animals as well as an aquarium. Check the website for news and special exhibits. Plan on spending the day. There is much to see.
Brasserie Volkshaus Basel, Volkshaus Basel, Rebgasse 12, CH-4058 Basel, +41 61 690 93 10, office@volkshaus-basel.ch. A charming restaurant in a complex that includes a bar, outdoor patio and theater.
Confiserie Bachmann, Blumenrain 1, CH-4051 Basel, +41 (0)61 260 99 99. Website in Swiss German only. During a workshop, I was shown how to make three of the chocolate shop's most well-known confections. A rectangular cookie dipped in chocolate called a Basler Läckerli, a ganache with whiskey and a personalized chocolate bar with flowers and nuts.
Ferries. Instead of walking across the city's five bridges that cross the Rhine, hop on one of Basel's ecologically-friendly ferries. No electric or gasoline powered engine is needed because the small boats, named "Wilde Maa," "Leu," "Ueli" and "Vogel Gryff," use the river's strong current to travel back and forth along a steel cable.
Fondation Beyeler, Baselstrasse 101, CH-4125 Riehen / Basel, +41 61 645 97 00, info@fondationbeyeler.ch. Besides being an influential art dealer, Ernst Beyeler was one of the founders of Art Basel.
Grand Hotel Les Trois Rois (Grand Hotel the Three Kings), Blumenrain 8, CH-4001 Basel, +41 61 260 50 50, info@lestroisrois.com. The recipient of many awards, the 5-Star hotel was recently recognized by the GaultMillau guide as the Hotel of the Year 2020. Located on the Grossbasel bank of the Rhine just to the west of the Middle Bridge, an elegant, complimentary breakfast is served in the Brasserie with a view of the river. On arrival, a beautiful plate of fresh fruit welcomed me to Basel.
Guided Tours. The Basel Tourism website lists a great variety of city walking tours. Urban Art Tours Basel provides guided tours of the city's art in public spaces in the harbor, inner city and alongside the train tracks. Website in Swiss German only. An English language description of the tours is available at the Swiss Tourism website. Philippe Benguerel can be reached directly at info@atelierdumonde.ch.
Hotel Basel, Münzgasse 12, CH-4001 Basel, +41 (0)61 264 68 00, reception@hotel-basel.ch. Designed for efficiency and comfort, the hotel is ideally located to explore the city. The 4-Star hotel is in Grossbasel, a few blocks from the Rhine and one block from trams that will take you anywhere in the city. After I checked in, I found a colorful plate of fresh fruit waiting for me in my room.
Klara, Clarastrasse 13, CH-4058 Basel.
Kunstmuseum Basel, Hauptbau (St. Alban-Graben 16, CH-4051, Basel), Neubau (St. Alban-Graben 20, CH-4051, Basel) and Gegenwart (St. Alban-Rheinweg 60, CH-4052 Basel), +41 61 206 62 62. Consult the website for current exhibits and hours. The Hauptbau has a vast collection of art stretching from the Middle Ages to post WWII. The Neubau focuses on art created after 1950, while the Gegenwart exhibits contemporary art.
Michelin starred restaurants in Basel. The 2019 Michelin guide to Switzerland expanded its listings to 128 starred restaurants, an all-time high number. Chefs throughout the country are pursuing culinary achievements using inventive techniques and the best ingredients. There are only three Three-Starred restaurants in Switzerland. Of the three, one is in Basel. Chef Peter Knogl's Cheval Blanc is in the Grand Hotel Les Trois Rois. Two stars were awarded to Chef Tanja Grandits' Restaurant Stucki. Restaurant Bel Etage and Roots have each received one star.
Museum Tinguely, Paul Sacher-Anlage 2, CH-4002 Basel, +41 61 681 93 20. Designed by the Swiss architect, Mario Botta, the museum has a permanent collection of Tinguely's sculptures, drawings and paintings. Tinguely Fountain, Klostergasse 7, CH-4051 Basel. The outdoor fountain is open 24-hours a day.
Restaurant Bel Etage, The Teufelhof Basel, Leonhardsgraben 47, CH-4051 Basel, +41 61 261 10 10, info@teufelhof.com. A casual elegant restaurant, Bel Etage has one Michelin star. Sharing the building with a café, theater, brewery, wine cellar and 4-Star hotel, the Teufelhof Basel, the restaurant has a comfortable elegance and serves deliciously inventive dishes.
Restaurant Kunsthalle, Steinenberg 7, CH-4051 Basel, +41 61 272 42 33, info@restaurant-kunsthalle.ch. In addition to the Campari Bar and the outdoor garden patio, the building that houses the restaurant has art gallery spaces inside and a large fountain outside that entertains with elaborate, kinetic, whimsical water sculptures by Jean Tinguely (1925-1991). The Tinguely Fountain is worth a visit even if you don't have time to eat at the restaurant.
Roots, Mülhauserstrasse 17, CH-4056 Basel, +41 61 322 10 56, info@roots-basel.ch. The Michelin-starred restaurant has a view of the Rhine and a chef, Pascal Steffen, who focuses on local products, especially vegetables.
S AM Schweizerisches Architekturmuseum, Kunsthalle Basel, Steinenberg 7 CH-4051 Basel, +41 (0)61 261 14 13. info@sam-basel.org. The Swiss Architecture Museum (S AM) shares a heritage building with the Restaurant Kunsthalle and the kinetic, humorous Tinguely Fountain in front. The small space curates art that explores contemporary themes important to Swiss culture and architecture. When I visited, the museum had a special exhibit called "Swim City" which featured profiles of projects to create public swimming opportunities in cities around the world. In most cases that meant building floating swimming pools in rivers. Basel is that rare city with a clean water river that can be used for public swimming.
Vitra Design Museum, Charles-Eames-Straße 2, 79576 Weil am Rhein, Germany, +49 7621 7023200. Highlighting how close Basel is to Germany, in only 15 minutes by car from the Old City, I arrived at the sprawling campus. The Vitra Design Museum put a spotlight on architecture and interior design. Check the website for current exhibitions.
Wickelfisch. Designed by Tilo Ahmels as a float and a secure way to keep personal possessions dry, the waterproof bags come in small, medium and large. Wickelfisch can be purchased at the Basel Tourism stores and online in Switzerland and in the USA.
Xocolatl – Die Welt der Schokolade, Marktgasse 6, CH-4051, +41 61 262 01 05. Website in Swiss German only.