With roots going back to the Roman Empire, Maastricht is known as a city of culture, with a great many museums, historical sites, concert venues, wineries and art galleries worth exploring.
Divided by the Meuse River, the east side of the city has an artistic, Greenwich Village feel. Anchored by the train station, small shops, eccentric clothing stores, charcuterie and cheese purveyors, hangouts like Zondag Bar on Wycker Brugstraat, cafes and family run restaurants line the narrow streets.
On the western side of the Meuse, across the bridge, the buildings are taller. Many of the retail stores are upscale branches of major brands. Window shoppers walk down pedestrian malls and into broad plazas checking out the latest fashions from Italy, London, Paris and New York.
On Wednesdays and Fridays, Markt Square fills with a diverse mix of vendors selling clothing, colorful bolts of cloth, fresh meat, poultry and fish, baked goods, charcuterie and, of course because this is Holland, a large selection of cheeses.
Take a bike ride or hop on a canal cruise and spend a day exploring the countryside.
For breakfast or a picnic, pick out charcuterie at Joep Schürmann and stop for freshly baked bread and a selection of pastries at Le Solonard, a bakery on Rechtstraat. Enjoy a quiet moment with friends at any one of the half dozen small cafes on Stenenwal facing the river.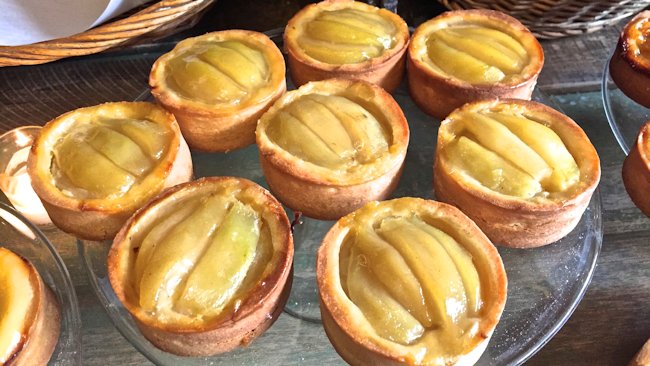 Pear tarts, Le Salonard Bakery, Rechtstraat 84, 6221 EL Maastricht
TEFAF (The European Fine Arts Fair)
For ten days in March a remarkable event occurs. Quiet Maastricht hosts TEFAF, one of the world's most prestigious art fairs. In 2015 attendance reached upwards of 75,000 visitors.
Four decades ago TEFAF began because a handful of gallery owners wanted to create a marketplace. In 2015 the cavernous municipal convention center (MECC Maastricht) became an elegant hall occupied by two hundred and seventy five internationally recognized art galleries. Some galleries constructed sprawling rooms the better to display large format paintings and sculptures. Other galleries created intimate spaces encouraging potential buyers to stand close and fall in love with the art.
As described in the catalogue, the intention of TEFAF 2015 was to offer for sale "rare, precious and beautiful objects." That included works of art from a variety of fields--paintings, drawings, prints, photographs, sculptures, textiles, rare books, jewelry, furniture, clocks, watches, arms, armor, books, ceramics, glass, metal work, coins and medals.
I asked people who had attended in past years, what made TEFAF different from the many art fairs that have sprouted up around the world? The answer was always the same. TEFAF was difficult to describe. There would be treasures great and small. Some works were crafted thousands of years ago. Other works were created within the last ten years. Ultimately I was told the only way to understand what made TEFAF unique was to experience it myself.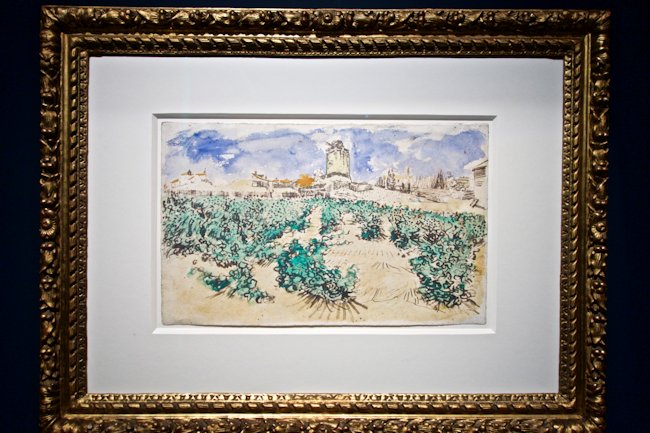 Vincent van Gogh, "Le Moulin d'Alphonse Daudet a Fontvieille" (June 1888), Dickinson Gallery
No windows or clocks distract from the art
The MECC is no different from many other large convention centers. In an outer area, with a utilitarian design, visitors line up to purchase their tickets and then line up again to go inside. Once past security, the interior design announced that TEFAF 2015 would be an aspirational experience.
The entryway to the exhibition was decorated with eight thousand perfectly white roses hanging from the ceiling.
Inside the exhibition space, the galleries were arranged on either side of walkways decorated with brightly colored floral displays. Those walkways crossed one another to create a grid in a temporary utopian city devoted to beauty and excellence.
The names of the walkways said it all--Champs Elysées, Place de la Concorde, Madison Avenue, Rembrandt Plein, Odeonsplatz, Fifth Avenue and Sunset Boulevard.
To walk those walkways was to experience the breadth of the offerings. There were antiquities, antiques, Chinese masterpieces, paintings from the Dutch Golden Age, 18th and 19th century European art, 20th and 21st century design, modern art and contemporary American and English artists.
Restaurants, cafes and bars were scattered around the MECC. Anyone who came to TEFAF hungry and thirsty did not leave that way. But even if the food at Brasserie Fifth Avenue, the lobster bar, Restaurant La Concorde and the tapas bar was equal to quality restaurants in New York, Paris, Rome or Madrid, visitors to TEFAF did not come for the food.
Walking around the vast space, I wondered how I would answer my own question. How would I describe TEFAF?
The best I can say is, imagine walking through New York's Metropolitan Museum of Art. You stop to admire a small Mesopotamian blue hippo figurine. When you were a child you loved that little sculpture from Egypt's Middle Kingdom (ca. 1961–1878 B.C) popularly known as "William." At the MET a placard with curatorial documentation was next to the sculpture. At TEFAF there was a similar placard with one additional piece of information, the price.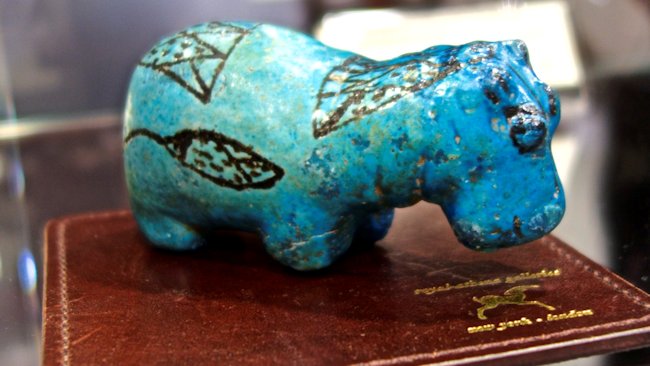 Egyptian Middle Kingdom Turquoise Faience Hippopotamus (ca. 1991-1786 B.C.), Royal-Athena Galleries
That price was not an opening bid at an auction. If you wrote a check to Royal-Athena Galleries for that amount, a red dot was placed on the placard. At the end of TEFAF, "William" was yours to take home.
An antiquity like "William" was for sale, as were works by Rembrandt, Buccellati, master Shaker craftsmen, Brueghel the Elder and the Younger, Picasso, Duchamp, Dürer, Blake, Reynolds, Fragonard, Picart, Basquiat, Monet, Dubuffet, Banksy, Hokusai, Hirst, Warhol, Magritte, Calder, Rodin, Léger, Ernst, Moore, Chagall and Van Gogh.
Fall in love with a painting, photograph, rare book, necklace, vase or sculpture, agree to pay the dealer's price and it was yours. Up went the red dot.
The prices at TEFAF did not reach auction level records like Picasso's "Les Femmes d'Alger (Version 'O')" which recently sold for $179.4 million. If you came to TEFAF to buy a Picasso, there were dozens of his paintings to choose from, with a range of prices. His Cubist "Guitare, verre, bouteille de Vieux Marc" (1912) was available for €5,700,000 + 5% Import VAT and ARR. "Asservissement" (1905) his pornographic colored crayon sketch of an old man paying homage to a young woman was a modest €265,000 + ARR.
In recent years TEFAF has worked to attract a wide range of collectors with different aesthetic interests and financial where withal. Some objects were priced between €1,000,000-5,000,00. A few were above €10,000,000. But a wide range of objects and fine prints were priced between €10,000-€100,000 with affordable prints and drawings under €500 in the works on paper section.
Not everyone who attended TEFAF would make a purchase. Walking around the hall was an opportunity to see world class examples of great craftsmanship and fine art. Imagine a wine tasting of the world's best wineries in one venue. Instead of driving endless miles or flying around the world, at TEFAF, two hundred and seventy-five quality dealers had used their curatorial expertise to display the best their galleries had to offer.
Some works offered for sale had been hidden from view for many years. Only now had their owners decided to part with them. Offered by the Dickinson gallery, Van Gogh's "Le Moulin d'Alphonse Daudet a Fontvieille" (June 1888) for example had not been seen on public display for a hundred years. Museum curators and the super rich circled that painting and others, knowing that if purchased by a private collector, the painting might disappear for another hundred years.
The range and quality of the art at TEFAF was inspiring. I loved seeing a Shaker dining room table with a rich mahogany colored finish, Georg Baselitz's "Torso Rosa (No. X. 93)," a rough hewed, wooden sculpture of a woman's torso as classic as a Greek or Roman marble statue, a large pottery figure of an elegant Chinese court lady from the Tang dynasty (mid-8th century), Andrea Buccellati's necklace ornamented with 659 diamonds and 7 pearls and Nobuyoshi Araki's startlingly hyper-realistic photograph of a contemporary Japanese woman relaxing in a kimono.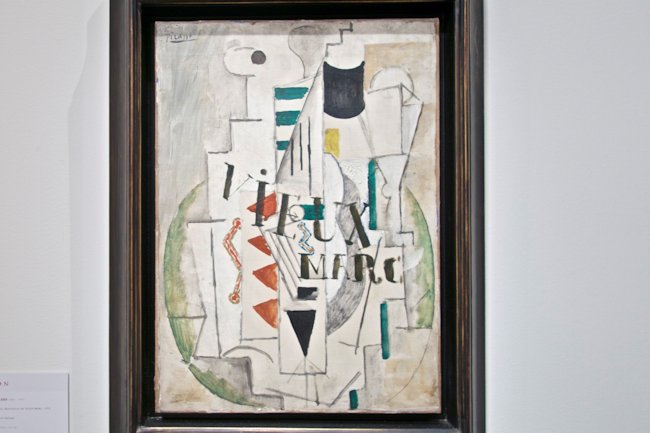 Pablo Picasso, "Guitare, verre, bouteille de Vieux Marc" (1912), Dickinson Gallery
The Best of the Best
Art fairs are often judged by the number of attendees, how much money was made, which celebrities attended and whether the parties were fabulous.
All of those are important metrics. But for me TEFAF was an emotional experience. This was my first time and I was swept away. I loved standing within inches of Jean-Michel Basquiat's "Red Joy." Alfred Otto Wolfgang Schulze dit Wols' watercolor "Japanese Print" engaged me in ways I cannot explain. I kept returning to the Yufuku Gallery space because I marveled at Niyoko Ikuta's remarkable cut sheet glass sculptures, their exquisite shapes illuminated by hidden lights.
Of course it would be nice to be super rich, to write a check and watch as a red dot was affixed to the curatorial placard knowing that I would continue to enjoy my Picasso or Basquiat at home. But next best was spending time in Maastricht at TEFAF where for ten days in March there were so many "rare, precious and beautiful objects" to enjoy.
TEFAF Maastricht 2016, Friday, March 11 – Sunday, March 20, 2016
Photo credits: David J. Latt
Top photo: TEFAF 2015, Lawrence Steigrad Fine Arts Gallery stall