You are spoiled for choice when it comes to luxury beach villas in Sicily. The largest island in the Mediterranean Sea and the largest region in Italy, Sicily is a real Mecca for beach lovers, foodies, wine enthusiasts and all those who love laid-back luxury.
A place of heavenly beauty, Sicily offers everything from delectable food and great wines to blissful beaches, secluded rocky coves, archaeological sites and picturesque villages, still largely off the tourist radar. Large, mountainous and triangle-shaped, sun-kissed Sicily is packed with things to see and is eminently visitable all the year round.
We have rounded up some of the best luxury beach villas in Sicily, where you can enjoy a truly memorable holiday with your friends and family. Where will you travel to next? Take a peek at our selection of panoramic luxury Sicily villas with private pool and sensational views.
1. Essence, Menfi-Porto Palo, West Sicily (pictured above)
Essence is a stylish and luxuriously finished 3-bedroom holiday home in Menfi-Porto Palo, in southwestern Sicily. Sitting atop a vine-covered hill at the heart of west Sicily's unspoilt coastal landscape, Essence has been designed for lovers of contemporary living and offers a seductive blend of sophisticated luxury, breathtaking sea views and a sense of warm hospitality.
With its immaculate white-washed walls, spacious lovingly crafted interiors and panoramic swimming pool surrounded by vibrant green lawns, Essence is a truly top range luxury villa that gets it right in every department.
2. Seven Islands, Marsala-Mozia, West Sicily
Marsala is one of several pretty towns dotted along Sicily's west coast. Known for its richly colored fortified dessert wine and its long, honorable history, Marsala is a very pleasant place to spend a holiday with the whole family, especially if you stay in Seven Islands, a charming, architect-designed 5-bedroom villa that sits on a hillside overlooking the Egadi Islands and one of Sicily's most picturesque stretches of coastline.
With its stylish design, clean lines, spectacular pool area and superb sea views, Seven Islands is the perfect luxury retreat to enjoy a memorable stay with your friends and family. A week or two spent at Seven Islands will never feel enough.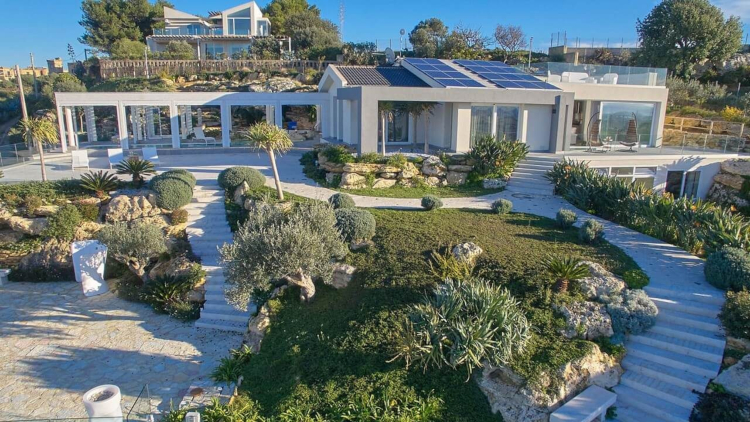 Seven Islands Villa
3. Villa Perla, Castellammare del Golfo, West Sicily
Stylish, luminous and impeccably finished Villa Perla is a spacious 4-bedroom vacation home in Castellammare del Golfo, a charming waterfront town on the northwestern coast of Sicily, midway between Palermo and the salt fields of Trapani. With its long amazing beach, a picturesque marina and a seafront castle overlooking a large crescent-shaped gulf, Castellammare del Golfo – not to be confused with Castellammare di Stabia, near Naples – is a little corner of paradise, where the charm of old Sicily seems to remain intact.
Accommodation at Villa Perla is on two floors. This alluring, well-located, handsome villa can house up to 8 guests and is an ideal vacation home within easy reach of Castellammare del Golfo's many charms. The stunning beach of Guidaloca is just 200 yards away. Exquisite in every way, Villa Perla occupies an enviable panoramic position, with plenty of space for large groups of friends and family.
4. I Cipressi, Menfi-Porto Palo, West Sicily
Carpeted with verdant hills overlooking the paradisiacal golden beaches and sand dunes of the nearby coast, Menfi is one of the most historic wine towns in Sicily and is steadily becoming a go-to destination for those who love blissful beaches and wine-tasting.
I Cipressi is a bright, airy countryside hideaway with pool in Menfi-Porto Palo. Its warm, welcoming interiors, tempting 30-foot long pool and extensive luxuriant mature walled gardens make I Cipressi an ideal luxury retreat for large gatherings of friends and family. It can house up to 10 guests and is many people's idea of the perfect summer holiday house, where the joys of la dolce vita can be enjoyed to the full.
5. Villa del Sole, Scopello, West Sicily
Scopello is one of northwestern Sicily's loveliest and most picturesque villages, made even more attractive by the presence of the charming Lo Zingaro Nature Reserve, home to an array of rocky-pebble beaches, a network of spectacular coastal walking paths and red-dirt rugged mountains that crash into the crystal azure Mediterranean Sea.
A real jewel, Villa del Sole is a luminous, stylish, well-located 5-bedroom family summer house within easy striking distance of the stunning beaches, rocky coves and excellent seafood restaurants in Scopello. With its spacious, light-filled interiors, gorgeous pool and bewitching views, Villa del Sole is an ideal base for enjoying la dolce vita, relaxing in privacy and exploring Sicily's northwest craggy coast.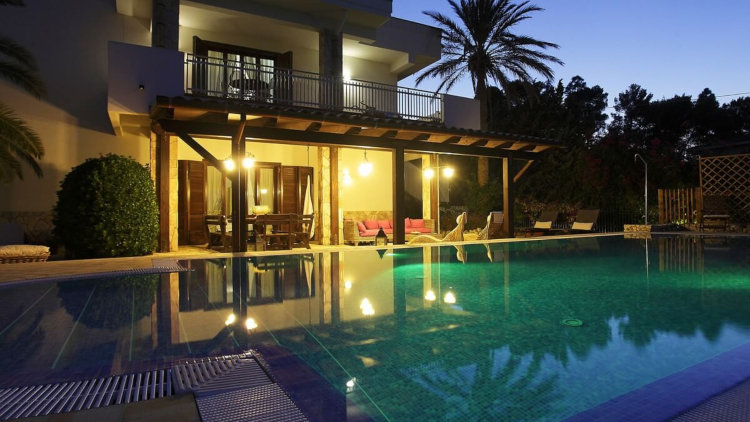 Glorious beaches? Spectacular panoramas? Walking distance to gourmet restaurants? No matter how you envision your dream villa experience, you will surely find the luxury private villa in Sicily that best suits your needs.
Select Sicily is a luxury real estate agency dedicated to renting seriously exclusive private properties in sun-kissed Sicily. For further information, just head to www.selectsicilyvillas.com.