The Bahamas are a dream luxury vacation destination. Beautiful beaches, exciting adventures, and world-class spa experiences around every corner.
But with more than 700 islands to explore – not to mention countless reefs, dive spots, and hidden cays – there's only one way to see all the Bahamas have to offer:
Via private yacht.
A luxury Bahamas yacht charter provides visitors with access to all the off-the-beaten-path adventures the island nation offers. From exploring the ultra-exclusive Out Islands – like the Exumas and Abacos – to snorkeling hidden reefs and picnicking on deserted islands, the Bahamas are best experienced by charter yacht.
A crewed yacht transforms any Caribbean vacation into a once-in-a-lifetime adventure. You'll have access to all of those hard-to-reach points of interest.
For most, though, the thought of planning a yacht charter in the Bahamas is overwhelming. Need a little help? These tips for booking a charter will make the process less intimating, and provide everything you need to know about exploring the Bahamas via private yacht.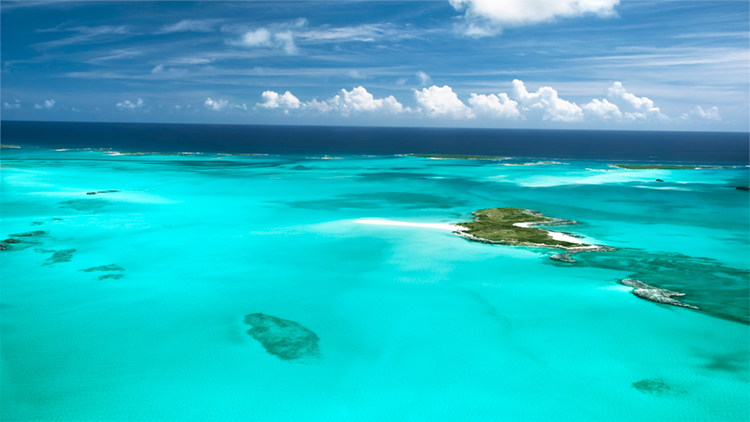 Explore the Bahamas' Hidden Side
A yacht is naturally the best way to explore the islands of the Bahamas. In total, there are more than 700 islands and 2,000 cays. Many of them are located just a short distance from the next. And that's why you don't want to be tied down to an island or two.
On a charter, you can experience multiple islands and beautiful beaches in a single day. And you'll want to visit as many islands as possible. Each Bahamas cay offers its own unique sights and adventures.
For example, Compass Cay in the Exumas offers a chance for a swim with gentle, yet massive, nurse sharks. And a boat makes it easy to explore Big Major Cay, an uninhabited island with some of the most beautiful beaches in the Caribbean (and a population of friendly swimming pigs).
Bahamas Yacht Vacations: When to Go?
You can vacation in the Bahamas year-round. The islands receive incredible weather no matter the month. In fact, the climate is similar to that of South Florida. Many, though, choose winter or spring charters in the Bahamas. Christmas, New Year's and Spring Break are popular times for yacht charters, for example. Yet with temperatures in the 70s and 80s no matter the month, it's always a great time to go.
Types of Yacht Charters Available
The Bahamas is home to some of the best cruising grounds in the Caribbean. As such, there's an endless supply of yachts available to visitors, from luxury superyachts, to affordable catamarans.
The majority of yachts available in the Bahamas are crewed. That means a captain, interior crew, deck crew and personal chef are at your beckon call to serve you throughout your stay. Depending on the size of the yacht, your crew might range from 2-20 people.
OK, so how do you book a yacht?
Most choose to work with a yacht broker. Brokers manage all the details, from reserving the yacht, to procuring payment.
In general, the Bahamas is a popular choice for two types of yachts:
Motor Yachts – Motor yachts offer the best in comfort and adventure. Motor yachts typically cover more ground, allowing you to add more stops to your itinerary. And they're typically the most opulent style of boat available.
Catamarans – Luxury catamarans provide adventurers the chance to sail in the Bahamas with the comfort and stability that a catamaran provides.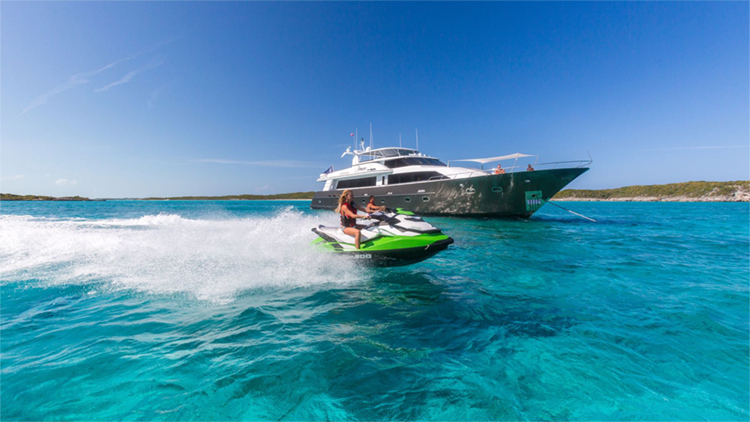 Where to Go in the Bahamas on Charter
A yacht charter provides the best in adventure. You'll sail away to hidden dockages and explore the high seas of the Caribbean. And with hundreds of islands to explore, no two itineraries are alike.
There are two chains within the Bahamas, though, that are popular for yacht charters. They include the exclusive Exumas and secluded Abacos.
Exumas – A quintessential Bahamian destination made up of more than 300 islands, the Exumas are a dream. The islands are exclusive – you'll have many beaches to yourself – and the adventures are one-of-a-kind (from swimming with sharks, to snorkeling pristine reefs).
Abacos – Located southeast of Florida, the Abacos are a collection of 100+ beautiful islands. Like the Exumas, the Abacos are secluded with thousands of miles of sandy coastline to explore. Plus, the area is home to luxury golfing, spa experiences and historic colonial towns you'll want to explore.
What's on the Itinerary?
Yachters can personalize their itineraries to their tastes. That's another reason this type of vacation is so great. Want to spend a day on board trying a chef-prepared tasting menu? How you spend your days is all up to you.
Fortunately, you'll have plenty of things to do via land and sea. A few highlights include:
Snorkeling and Diving – The Bahamas' aquamarine waters are bathtub warm and crystal clear. You'll want to spend as much time in the water as possible. And while on charter, that's easy. Sail to the best reefs – the Pelican Cays Land & Sea Park is a favorite spot – or take to any of the legendary dive spots like the James Bond wreck sites.
Fishing – Want to wrestle with marlin or shark? The Bahamas are a perfect destination for sport fishing, and many yachts are equipped with the latest fishing tackle. The Exumas, for example, offer access to all types of fishing: Deep sea, reef fishing and fly fishing.
Watersports – Luxury yachts come with toys like tenders, jet skis, sea kayaks and paddleboards. Your crew will help direct you to the best spots to play in the water. Surfing is popular in Elbow Cay in the Abacos, and Staniel Cay in the Exumas is perfect for kayaking and paddleboarding.
Golfing – You'll find exclusive golf clubs all across the Bahamas. So get ready to hit the links. There's Albany, a Tiger Woods-designed course on New Providence, and the stunning Abaco Club is one of the most beautiful in the country, with sea views on every hole.
Soaking Up the Sun – Spend your day enjoying the miles and miles of pristine coastline, from the pink-sand beaches of Harbor Island, to the legendary beach shacks like Tropical Breeze in Little Exuma. Work on your tan and enjoy a classic Caribbean cocktail.
Enjoy the True Bahamas Experience on a Chartered Yacht
Most don't realize how sprawling the Bahamas are; they know just the two main island of New Providence and Grand Bahama. To truly discover the Bahamas, though, you have to make it to the Out Islands. And the best way to do that is via chartered yacht.
A yacht will transport you to the hidden ports and one-of-a-kind destinations of the Bahamas. And deliver an experience you'll remember for a lifetime. There's no other way to do it.

Author bio: Katja Kukovic has had a lifelong passion for boating and has been involved in the charter industry for over fifteen years. Katja is a founder of Worldwide Boat, an independent booking agency for luxury crewed yacht charters.