Though many groups like
Design Indaba
, a creative organization with the focus of spreading the word about art and design in the region, are trying to change people's perceptions of the country, only by visiting can you truly understand what a unique, diverse, and exciting destination it really is. Recently we were invited by bespoke tour operator
FollowMe2Africa
to experience a specially tailored, guided trip of luxury destinations in South Africa, where we were able to see first-hand just how much the country has changed and flourished since the end of apartheid in 1994.
Specializing in longer itineraries (several, including to
Botswana
and
Zimbabwe
, can extend up to ten to thirteen days) the team worked with us on organizing the perfect trip for our specified preferences. FollowMe2Africa arranged everything from airport pick up to selecting the perfect South African wines for dinners and took all the guess work out of planning the trip. Though we journeyed extensively through the country to find our readers the best advice, below are some of our very favorite locations, restaurants and accommodations.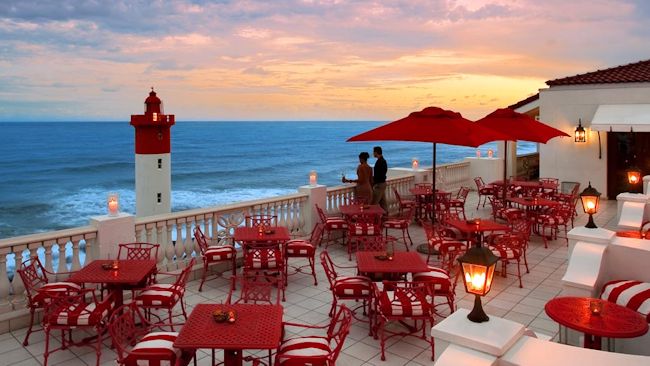 The Oysterbox terrace at sunset
DURBANThe Oysterbox Hotel, Durban
One of the boldest names in luxury, both in South Africa and internationally,
The Oysterbox
in Durban is a must stay for anyone visiting the bustling portside metropolis. With its breathtaking views of the Indian Ocean (mild and warm even in winter), The Oysterbox also has a veranda and dining area overlooking a semi-private beach, giving guests the feeling of staying at a grand palazzo fit for royalty.
Though the dinners are truly an experience to savor, our favorite meal was breakfast, which included a buffet of gourmet cheeses, fruits, meats, and the hotel's namesake: oysters. A wonderful destination for honeymooners, stay in with a glass of champagne or take a night swim in their beautifully lit pool. Even if you're traveling on your own for business (Durban is one of the most important economic engines of the country), guests can be swept up in the romance of their stay regardless.
While there, our guide was also able to organize day trips from the hotel to local attractions, which included
the shark museum
(attached to the
KZN Sharks Board
: a fascinating institution), a visit to the newly constructed world-class sports stadiums, and to
the Indian market
, where visitors can pick up anything from beaded jewelry to elephant hair bracelets.
We were also able to visit
The Golden Mile
, a sunny stretch of oceanfront lined with a boardwalk and dotted with sandcastles, performers, merchants and beachgoers. Though pressed for time, through FollowMe you can also do a
Shakaland Zulu experience
. As part of this day trip you'll visit Shakaland, a Zulu Kraal near Eshowe in the Nkwalini Valley. Here you'll participate in a cultural program of Zulu traditions that includes spear making, hut building, pottery and weaving. Because after an evening of decadent courses, who wouldn't want a fun, boisterous day trip?
The Oysterbox Hotel
, 2 Lighthouse Rd Umhlanga 4320, South Africa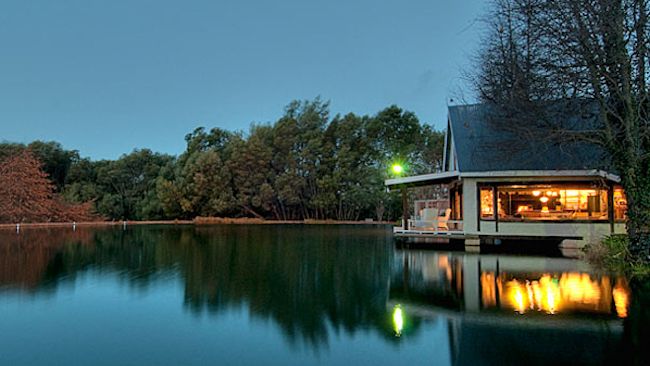 Cleopatra Mountain Farmhouse
KWAZULU-NATAL AND THE DRAKENSBURG MOUNTAINS
From Durban we set out by car to the
Drakensberg Mountains
, an awe-inspiring range closer to the interior of the country. When one imagines the traditional landscapes of Africa, we believe it's the Drakensberg plains they have in mind.
While driving through we were able to journey to the
Granny Mouse Country House
, which we highly recommend stopping at for a hearty lunch of local game or vegetables. For those planning upcoming nuptials and have a case of wanderlust, the Granny Mouse Country House could possible be your best bet. Complete with a charming thatched roof, the chapel at Granny Mouse (which doubles as an event space for other functions) looks out over the lush fields, and is carefully tended to by expert florists—providing the perfect location to tie the knot. For those just looking for a place to enjoy time with loved ones (but in luxury), Granny Mouse was one of the most family-friendly locations we visited while in South Africa, with a spa for adult relaxation, and the safety of unfettered nature for children to play in. Also available per night are family villas.
Granny Mouse Country House
, Old Main Rd Balgowan 3276, South Africa
The Cleopatra Mountain Farmhouse
When FollowMe2Africa told us
Cleopatra Mountain Farmhouse
had the best food in South Africa, we thought they were exaggerating. However after trying the rustic luxury hotel's 6-course dinner, we had to enthusiastically agree they were correct. Only it's not just the best in South Africa, but perhaps of any hotel restaurant we've ever visited, which is saying a lot.
With local seasonal ingredients carefully selected by
famous head chef Richard Poynton
, often taking days to properly prepare, the effort radiated in everything we tasted. From the perfectly softened rolls, cooked with almost scientific precision for ultimate melt, to the excellently paired wines, to sauces so good we actually had to applaud. For those with big plans for the day (nearby are some of
the oldest cave paintings in the world
), Cleopatra also offers gourmet picnic baskets, and can arrange trips with local guides for all guests.
While the food keeps visitors flocking to this intimate destination (only 24 guests are allowed at any time), its peaceful location on the lake at the foot of the Drakensberg Mountains provides an air of ultimate tranquility. Inside, each room is decorated by motif, our favorite being the blue and white room, which felt almost like sleeping on the set of a gorgeous English period piece.
Cleopatra Mountain Farm House
Midlands Meander
Known throughout the country as a major weekend destination for crafts and antiques shopping, the Midlands Meander is also the perfect spot to pick up luxury goods. With the help of FollowMe2Africa we were able to visit artisans working in such varied mediums as mohair knits, glass, artisanal cheese making, chocolatiers and even soap makers using traditional textiles from Malawi. As an aside, we found that many of these craftspeople actually sold wholesale to luxury goods stores in the US, especially New York City. So if you're looking for items that are timelessly elegant but still make for a great story, the Midlands Meander is a can't miss destination.
Midlands Meander
Karkloof Spa and Safari
So magical we have difficulty calling it a hotel, the
Karkloof Spa and Safari
is perhaps the only place on earth where you can come face to face with a zebra, and then hours later have that same face pampered with an organic facial. With personal villas that look out over the Karkloof River and Falls, an on-site nature preserve safari where knowledgeable guides are available round the clock to bring you on game drives, to a full-service, all costs included in reservation spa, we had a hard time believing Karkloof was a real place. On your way to a five star dinner at the lodge you can catch a stray warthog or striped deer playfully eating grass, then inside sample local fare like springbok or ostrich (or a deliciously tenderized steak). With everything included in the price of a night's stay, visitors can without stress sip local South African sparkling wines in their mahogany polished main lodge, feeling like they've walked onto a movie set. After a three-course dinner, plan the next day's trip to visit the Karkloof Falls or one of the many other outdoor adventure options.
If there were such a place as Disneyland for the highly refined, it would be Karkloof.
Karkloof Spa and Safari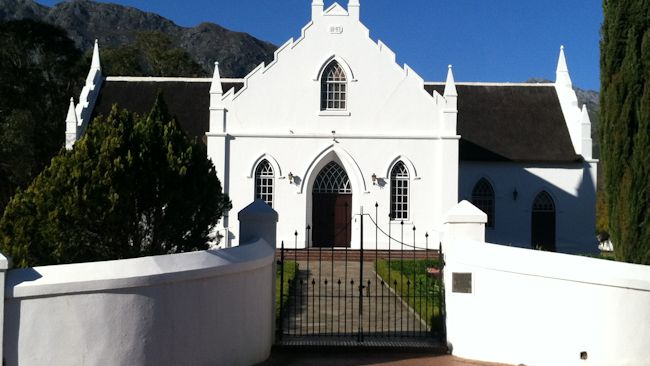 Franschoek
FRANSCHOEK WINE REGION
Traveling through a valley framed by snow peaked mountains, we ventured to the Franschoek wine region: a true treat for all the senses.
Settled centuries ago by French Huguenots fleeing persecution abroad, the early colonists established vineyards to help support the fledging pioneer community. Today Franschoek is one of the most popular tourist destinations in the country, and the home to several top rated wine estates.
One of our favorites was the
Delaire Graff Estate
. Conceptualized by Laurence Graff, Chairman of Graff Diamonds International, the sun-soaking hillside property boasts two outstanding restaurants, a state-of-the-art winery, exclusive lodges, a destination Spa and two luxury boutiques all overlooking a breath-taking range of mountains.
In terms of design it's Cape Dutch architecture meets African styling, with a range of contemporary artists on display.
Delaire Graff Estate
, Stellenbosch 7602, South Africa
Haute Cabriere
For a once in a lifetime experience, stop by this charming hillside cellar for a champagne tasting overlooking the mountains. Part of a traditional structure built into the hills, this delightful winery is known for its bubbly and sparkling selections (though the full cellar has many other options).
While there mingle with guests coming from as far away as Italy and Australia, all there to sample spirits among unspoiled natural beauty.
Haute Cabrière
,
Pass Road (R45), Franschhoek 7690, South Africa
While traveling through this region we recommend staying at
Le Franschhoek Hotel
. Located in the Gourmet Capital of South Africa, Le Franschhoek Hotel and Spa has become one of the ultimate getaways in its class. Capturing the essence of luxury, the impeccably appointed Le Franschhoek offers unparalleled views of the Franschhoek Mountains and is the perfect setting for a taste of the legendary Cape Wine Routes. Situated on the site of one of Franschhoek's original country retreats, Le Franschhoek retains its elusive charm with a contemporary Cape Dutch feel. Features include a destination Camelot Spa and world class conference and Wedding facilities – coupled with one of the most beautiful settings in the Winelands.
Le Franschhoek Hotel
, 16 Minor Rd, Franschhoek 7690, South Africa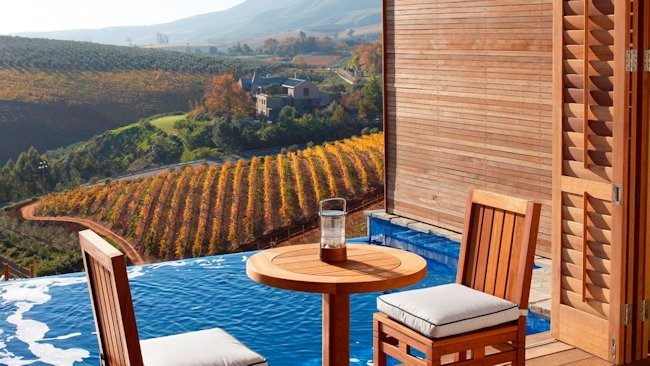 Delaire Graff Estate Stellenbosch
STELLENBOSCH
Having mentioned to FollowMe2Africa we were interested in experiencing the best in South African art and design we were brought to
Stellenbosch
, one of the oldest cities in the country. Today a pristine college town boasting white buildings and highly regarded modern art galleries, the area takes much of its inspiration from Dutch colonialsm, with most signs in both English and Afrikaans. The area also has several Dutch influenced local restaurants and buildings.
A gorgeous city with crisp air, we couldn't help be reminded of a trip to New England, only with a distinctly European feel. For those looking for a relaxing day trip while in the wine region, travel to Stellenbosch and spend the day sipping coffee on sidewalk cafes, or going for fresh-brewed beer at of the city's many high-end bars.
The Blue Train
With our interest in experiencing luxury from a historical angle, FollowMe2Africa arranged for us to travel with the world famous
Blue Train
from Worcester state to Cape Town. Complete with luxury accommodations on board, as well as a full service restaurant, lounge and smoking cars, and a butler assigned at boarding, there are very few high-end experiences that can compare to riding the Blue Train. Drink a paired white wine with a local game steak while you see the mountain scenery zoom past you, or if on your honeymoon, rent a deluxe suite to enjoy a taste of glamour whose roots extend back to royalty. Today all kinds of guests riding the Blue Train, from newly weds, to pensioners, to groups of friends looking for a unique experience for the weekend.
Visit website:
The Blue Train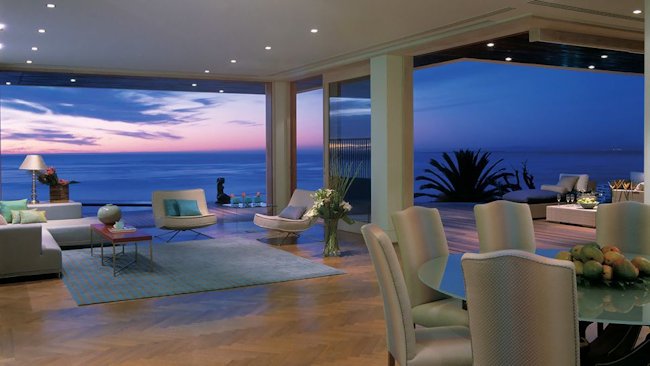 Ellerman House
CAPE TOWNEllerman House
We can't say enough good things about Ellerman House, with several local tastemakers also in agreement. To summarize, Ellerman House is a place for those whose intelligence matches their refined tastes, a place to relax in luxury while still meeting interesting and engaging guests.
The large heated swimming pool, set amid unrivalled manicured terraces with tall palm trees, provides one of the most perfect and unique vantage points for viewing Cape Town imaginable. The sweeping views from Bantry Bay across the Atlantic Ocean to Robben Island are unsurpassed, and characterize Ellerman House as one of the great boutique hotels in Southern Africa.
With an on-premise gallery of modern art, other draws include enormous and tastefully decorated rooms that would rival most apartments, small but important amenities like Charlotte Rhys soaps and shampoos, and epic mountaintop views of the Cape Town waterfront. There's a good reason why Ellerman House is one of the most beloved destinations in Cape Town for discerning travelers.
Ellerman House
180 Kloof Rd, Cape Town 8005, South Africa
Greenmarket Square, Cape Town
If you're looking to pick African print table clothes or beaded jewelry, your best bet is the Green Market in Cape Town. Haggle and hangout with the locals while you pick up bright traditional prints from the Congo, Zambia, and several other nearby African countries.
Greenmarket Square
Reuben's at One&Only Cape Town
One of two restaurants located at the Cape Town
One&Only Cape Town
(the other being
Nobu
),
Reuben's
specializes in fusion cuisine with a distinctly local flare. Gathering only the finest ingredients, try the delicious lightly sautéed calamari for a sumptuous appetizer, or if you're more adventurous, the Mozambique prawns (with slightly softer skins and more of a lobster taste than a regular prawn). If you happen to be there on the right night you might even get to meet chef Reuben himself, star of TV and a cookbook best seller, who frequently stops by to catch up with guests.
One&Only Cape Town
Grand Beach Café and St. Tropez Beach Club
One of CNN's
50 Best Beach Bars
, this waterfront restaurant is attached to a stellar shabby chic cabana bar. Packed during the summer, even during the doldrums of winter there's a feeling of joi d' vive that permeates the space.
Grand Beach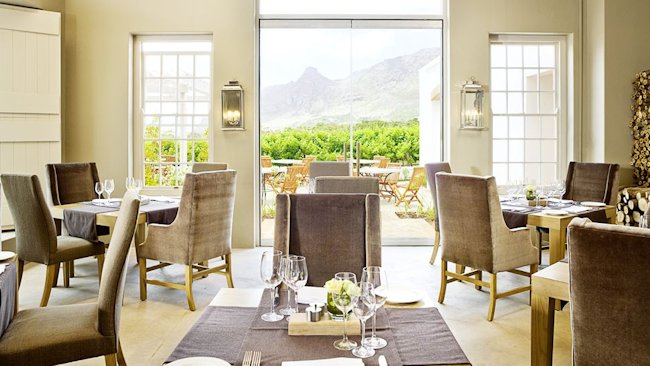 Steenberg Estate, Constantia Winelands
CONSTANTIA WINELANDS
An hour outside Cape Town, those visiting the area and looking for a daytrip outside the city should make it a point to visit the gorgeous (and relaxing)
Constantia Winelands
. The site of the original vines planted in the 17
th
century, the area is a host to both uber modern and colonial architecture, with many of the properties over 300 years old. It's been said by many that on Napoleon's deathbed his last words were a simple request for "a taste of Constantia."
Below are three of our favorite vineyards we stopped at during our tour of the region:
Constantia Glen
Reconnect with nature at the idyllic vineyard nestled amongst wildlife and organic beauty.
Constantia Main Rd, Constantia 7806, South Africa
Steenberg Estates
With a modern and design-heavy polish, Steenberg Estates is the perfect stop for the world-weary art lover, or those who just want a romantic day trip.
10802 Steenberg Estate Tokai Road, Constantia 7945 Cape Town, South Africa
Klein Constantia
One of the oldest vineyards on the continent, this historic spot has hosted everyone from visiting dignitaries to traveling in-laws. With its antique barrels and old-world feel, get swept up in the magic with one of their bespoke wine tastings.
Klein Constantia Estate, PO Box 375, Constantia, 7848 Cape Town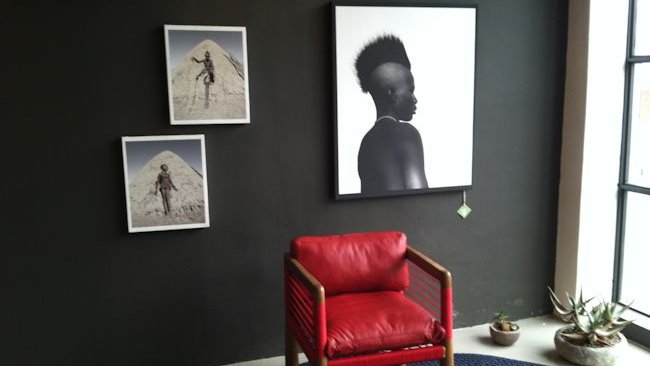 Woodstock Foundry
WOODSTOCK, CAPE TOWNThe Old Biscuit Mill
Located in the up-and-coming (think Williamsburg, Brooklyn or Hudson, New York) neighborhoods of Cape Town, 'Neighborhoods Market' is an independent initiative founded in 2006 by entrepreneurs Justin Rhodes and Cameron Munro. Together their aim was revive and reinvent the Public Market as a major gathering point. This award winning weekend bazaar features over 100 specialty trader, creating a weekly gathering for local farmers, fine-food purveyors, organic merchants, bakers and distributors, grocers, mongers, butchers, artisan producers, celebrated local chefs, and small businesses.
The market is housed in an old sky-lit brick warehouse and courtyard at the Old Biscuit Mill in the industrial neighborhood of Woodstock, Cape Town. Though a quick walk away is the Woodstock Foundry, which contains some of the best up-and-coming young South African designers. If you're looking to pick up luxury leather goods with a modern twist, traditional Dutch pastries or fresh seafood, this area is a can't miss.
The Old Biscuit Mill
,
Albert Rd, Cape Town 7915, South Africa
Having traveled extensively, we know that as an outsider there's only so much you can plan without actually knowing a location. So for those looking to ensure their trip not just goes smoothly, but also gives them an authentic experience, we couldn't recommend FollowMe2Africa enough.
For more information, visit
FollowMe2Africa.com