Finding a vacation that the whole family will love is more of a task than it should be. There are very few places that a toddler, teenager, parents, and grandparents would all enjoy. When you vacation at a dude ranch there's something for absolutely everyone to enjoy. While the grownups are off on an all-day horseback ride or ATV adventure, the kids will be kept busy on adventures of their own with new friends in the ranch's kids' program. These programs allow parents to be able to relax and enjoy a wonderful vacation with kids. Keep reading to learn more about a few of Dude Ranchers' Association member ranches' kids' programs and to get a better idea of what your kids' dude ranch vacation will look like!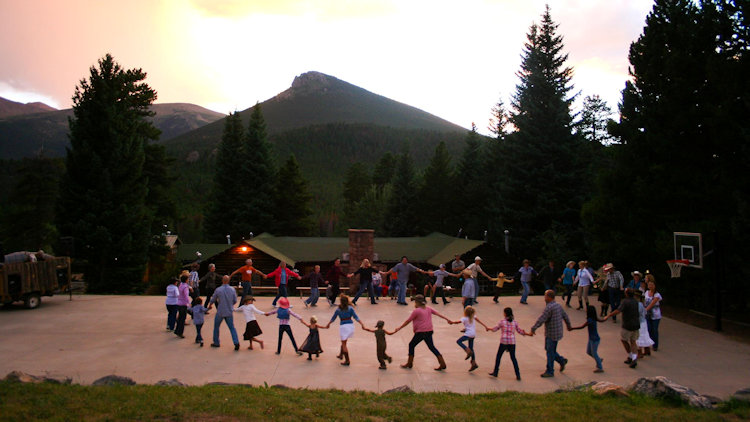 Wind River Guest Ranch – Estes Park, Colorado
Everyone is always taken care of at Wind River Guest Ranch, making it a stress-free, fun vacation for everyone. They understand that life is generally busy and aim to create a restorative vacation experience for the whole family starting with the kids. Whether you have an infant that needs swooning or a teen that needs room to explore, this ranch has a program for everyone with great counselors to supervise their adventures! Wind River Ranch will entertain everyone in the family and the activities will ensure that the kids (and parents!) will sleep great every night!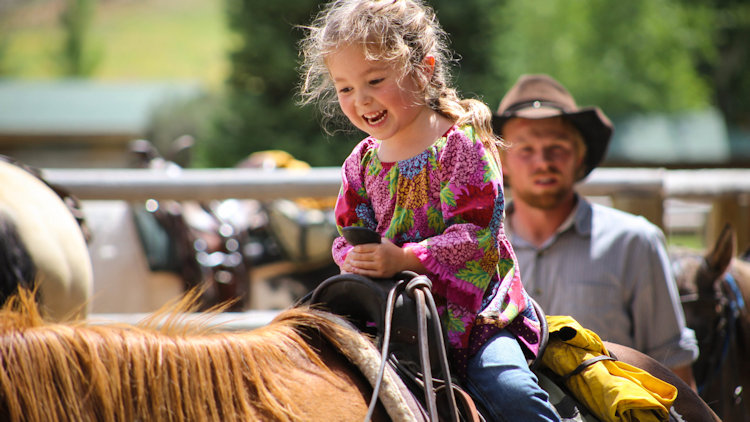 CM Ranch – Dubois, Wyoming
Children of all ages are able to experience the exciting Western ranch traditions at the CM Ranch. Horseback riding, roping dummy steers, and plenty of other activities will keep kids and teenagers all interested and having fun. They may spend an afternoon exploring nearby ancient Indian petroglyphs, visit the local fish hatchery, and compete in ping pong tournaments and lawn games. A family vacation at the CM Ranch could be the getaway your family has been long searching for!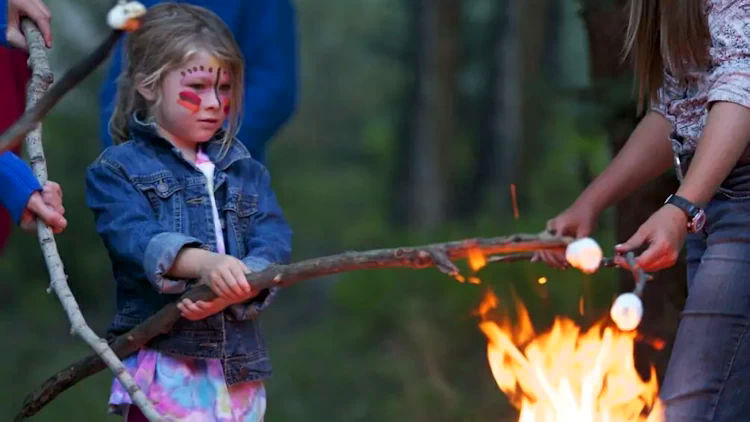 Bar Lazy J Guest Ranch – Parshall, Colorado
At Bar Lazy J Guest Ranch, each day begins with feeding the animals at the petting zoo and most days end with sliding down the pool's waterslide. During the day, counselors will lead a full-day schedule of unforgettable activities like treasure hunts, fishing, and gold panning. Children will gain confidence as they learn to take command of the reins and learn how to handle their horse with the direction of the wranglers. The kid's program is available every day and is parent and teen-friendly, so come join the fun, or feel free to give yourselves some space, enjoy new friends and then meet back up after to tell stories of your day's adventures!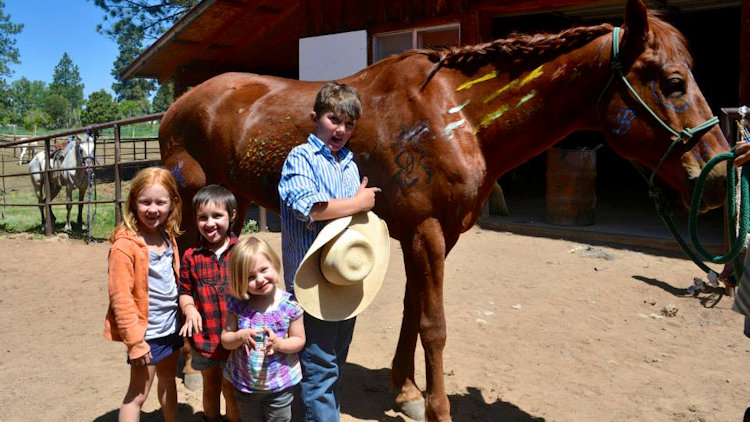 Majestic Dude Ranch – Mancos, Colorado
All kids ages six and up are able to ride out on the trails at Majestic Dude Ranch while younger kids are given the option to ride in the arena. Aside from riding, kids pan for gold, play laser tag in the Old Western Town, learn to shoot bows and arrows, spend time supervised in the pool, take part in a rodeo, and fulfill their dream to sleep under the stars in a Teepee Village. While your kids will probably need a bath before going to bed, they will definitely sleep well each night. If a child has special needs, dietary, medical, or otherwise, just let the ranch know in advance and they will make sure one or two counselors are especially attentive to those needs.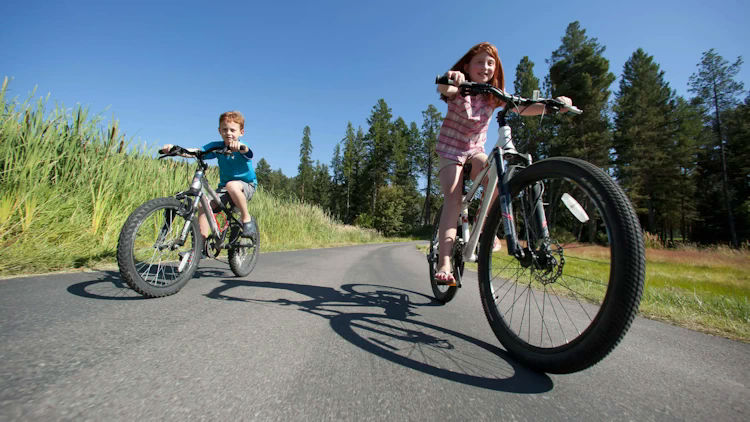 Averill's Flathead Lake Ranch – Big Fork, Montana
Kids truly enjoy their week at Averill's Flathead Lake Ranch. Each day the younger kids are able to take pony rides led by a family member and wrangler. Children also have the opportunity to help brush, handle, and care for the horses. Activities coincide with adult trail rides throughout the week, so your child can be having fun while you're off on your own adventure. At the lake, teens can spend the afternoon wakeboarding, water skiing, or knee boarding– a great opportunity for first-time skiers! The pool is always a great spot to lounge on hot afternoons, along with the canoes and kayaks which are always available. Laser tag is always a fun activity for teens and parents alike! Guests head out to a mountain course where teams compete on rugged terrain. Climbing in trees, hiding behind boulders, and laying in tall grass brings out the kid in every participant!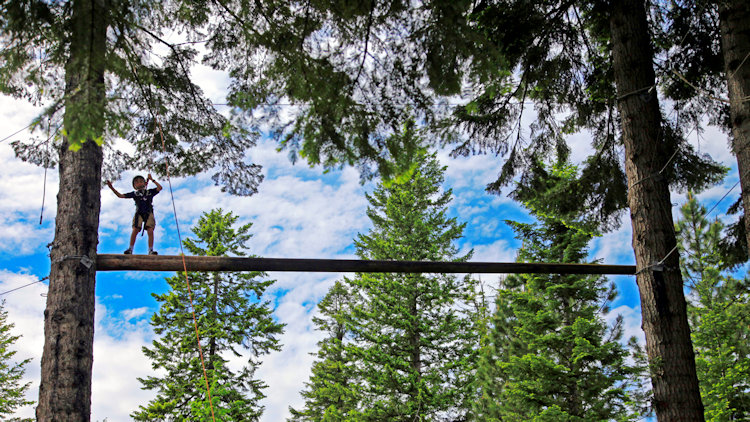 Red Horse Mountain Ranch – Harrison, Idaho
The kid-friendly environment at Red Horse Mountain Ranch lets you see your children's confidence bloom as they experience the wealth of exciting adventures. Imagine watching the joy in your child's face as they soar 50 feet in the air on the "flying squirrel", command a horse on scenic trail rides, and, with a little help from the guides, scramble 60 feet up the climbing wall and ring the bell at the top! Here, kids learn to kayak, shoot a bow and arrow, ride a horse, and go for bike rides. The kid wranglers will keep them safe so you can relax, knowing they are in good hands. Parents and grandparents are welcome to join in on their fun or wander off to find their own adventures.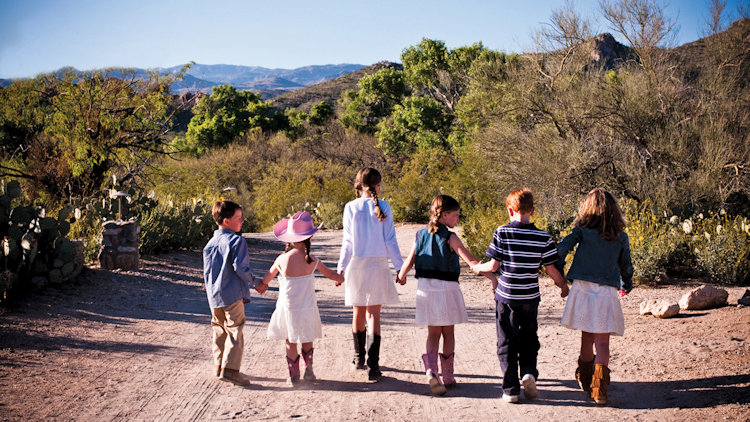 Tanque Verde Ranch – Tucson, Arizona
Upon arrival at Tanque Verde Ranch, kids join a program based on their age. Young riders will learn the basics through a variety of horse activities and may be advanced based on ability. During the day, the ranch's activities will engage, educate, and entertain, in addition to teaching kids the importance of working together. The activities include horseback riding, tennis, hiking, arts and crafts, swimming, and nature programs, just to name a few. Tanque Verde's caring and knowledgeable team will ensure a safe and fun experience for your child, making it a relaxing vacation for the adults as well!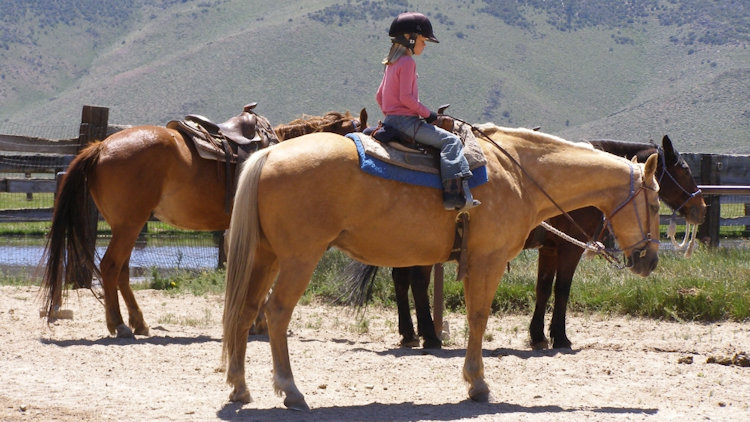 Hunewill Circle H Guest Ranch – Bridgeport, California
Horseback riding is the main attraction at Hunewill Circle H Guest Ranch. The ranch offers a full ranch experience, including evening activities such as talent night, family dance night, and barbecues on the creek. The minimum riding age for children is six years old; younger children who are capable of being led on horseback are led by the ranch's babysitter. A babysitter is available to watch your child while the grownups are riding. This child care is also included in your child's rate!
One of the hidden gems of dude ranches is the fact that all of the ranches in the Dude Ranchers' Association are all-inclusive. What does this mean exactly? This means that lodging, meals, and most activities are all included in one price. Many dude ranches have great kids' programs to keep everyone in your family entertained and the memories created at dude ranches will be talked about for years to come! Still need help deciding on a dude ranch to visit? Contact us today! info@duderanch.org 307-587-2339