The Winter Olympics -- most notably the popular downhill ski races -- have been staged numerous times on the challenging terrain at Alpine ski resorts, resulting in some remarkable accomplishments by the world's best skiers.
The grandeur of the Alps stretches through seven countries -- Austria, France, Germany, Italy, Liechtenstein, Slovenia and Switzerland -- and the famed mountain range reaches its highest peak on Mont Blanc at 15,774 feet on the Italian–French border. Be sure to drink plenty of water during your visit to the Alps in order to retain your body's equilibrium. We learned that lesson early on.
Throughout this wondrous topography, skiers can delight in an unmatched array of choices, including such renowned resorts as Chamonix-Mont-Blanc, France, host of the world's first Winter Olympic Games in 1924, and Kitzbühel, the most legendary city of sports in Austria. We have a love affair with Kitzbühel and would return each year were it not for the vast array of resplendent ski resorts scattered all over the world. Of course, the many acclaimed Alpine resorts are accompanied by a plethora of accommodations, ranging from quaint bed and breakfasts to slopeside chalets to masterpieces of architecture. To book a ski vacation at one of the Alps many magnificent hotels is to experience a veritable treasure trove of European culture, with inventive cuisine passed down from generation to generation, gracious hospitality, and eye-popping amenities.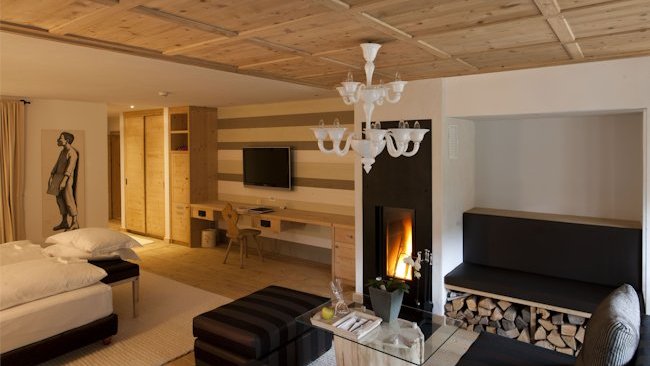 Skiing in Italy is a remarkable experience on many levels. Not only do the resorts captivate you, but the sheer magnitude of sensuous food options rivals the skiing itself. Set amidst the village of San Cassiano in Badia at 1,537 metres above sea level with 750 inhabitants, the
Hotel & Spa Rosa Alpina
is renowned for a discrete and refined hospitality. It belongs to the tourist district of Alta Badia which was voted "Queen of the Alps" by the prestigious Italian Touring Club. The Hotel & Spa Rosa Alpina is ideally situated near Alta Badia's vast skiable terrain, ranked among the world's top ski destinations which offers variety for every level, for both ski and snowboard enthusiasts. Guests of the Rosa Alpina quickly discover the essence of quiet glamor, poised service and elegant interiors. Luxury accommodations celebrate regional hospitality with a refined Alpine atmosphere, a blend of original local antiques and fine materials. All 51 rooms and suites, as well as the exclusive Penthouse Suite, have been individually designed in a unique and authentic mountain style. The hotel's approach is both timeless and imbued with contemporary accents featuring informal and family dining as well as Michelin-starred cuisine. The Spa is a haven of discretion. Treatments are applied as a soothing backdrop of candlelight with soft music in harmonious surroundings lets you forget stress and reach a higher awareness of your own body.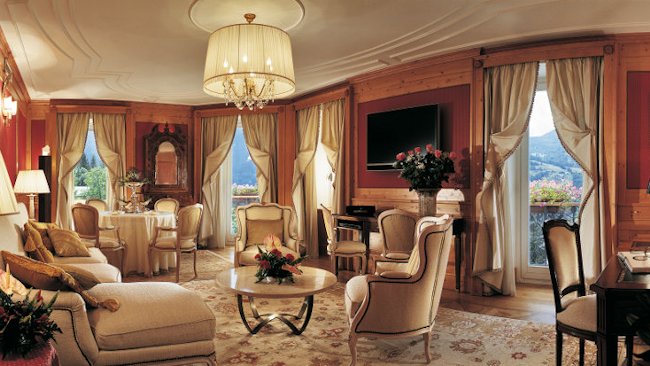 Perhaps you and your ski group desire helicopter transport service. If so, the historic
Hotel Cristallo
at Cortina d'Ampezzo, Italy's prestigious five-star luxury hotel, may be for you. Situated in an mountain setting near the Cortina d'Ampezzo Ski Resort, Cristallo continues to accommodate the global elite, a time-honored tradition that began in 1901. Guests of the Cristallo discover the perfect combination of privacy and luxury, with its impeccable elegance in even the smallest details and welcoming homely atmosphere. The Cristallo provides a convenient helicopter transport service from the nearest heliport in Fiames, 15 minutes from the hotel. Also, an exclusive limousine service with chauffeur is available on request to make transfers even more comfortable. Guests who stay in the Royal and Presidential Suites can request the personal butler, who is available throughout the entire day. The Personal Butler will see to any task, from accompanying guests while shopping to organizing transfers and from delivering newspapers to looking after to your four-legged friends. The pursuit of refinement and wellness is an ongoing process at the hotel and guests enjoy exclusive privileges. The hotel features 74 rooms, including 22 suites, with splendid views, warm hand-painted boiseries on the walls, armchairs and beds covered with fragrant cotton and silk textiles, embroidered carpets in soft colors and Gustavian-style furniture and decor.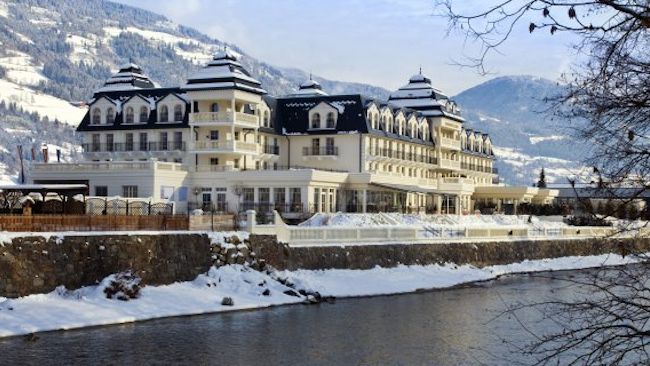 Relatively new to the Alpine hotel market, the
Grand Hotel Lienz
opened its doors in 2009. Close to the Zettersfeld ski area in southern Austria and near the Italian border, the Grand Hotel Lienz boasts elegant surroundings, a remarkable spa, superb dining and a very professional staff that caters to your every need. With 72 spacious suites, along with four Royal Suites, the hotel provides the highest of comfort with their chic furnishings and facilities. A visit to the extravagant Private Spa promises some enchanting moments. The steam room and whirlpool, as well as extensive relaxation areas, make a visit here an especially impressive wellness experience. It's the ideal antidote for a day of hard skiing. Our local ski club, which has traveled far and wide in search of the perfect powder, calls the Grand Hotel "one of the most impressive ski accommodations on the planet." For many people, Austria will always remind them of the "Sound of Music," the beloved movie starring Julie Andrews. However, even well traveled skiers will remember their visit to Austria as one of their most memorable ski vacations.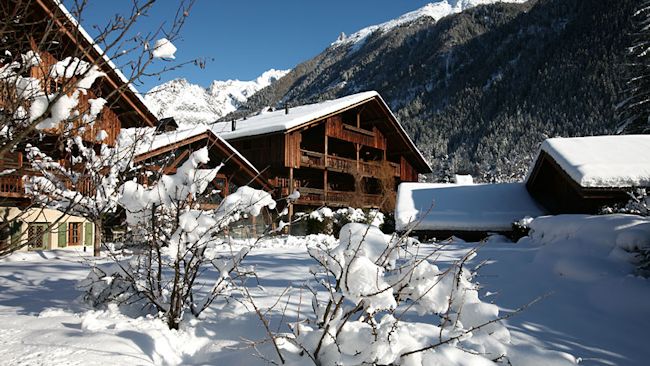 Only a five-minute walk from downtown Chamonix, France, the
Hameau Albert 1er
features 36 rooms with styles ranging from authentic farmhouse wood, chic designer to a traditional chalet on the grounds with three bedrooms. Balneo baths and fireplaces are standard in most rooms. Some of the rooms in the main building are contemporary with a local heritage expressed through antique furniture and carefully selected artwork. Other rooms are classic and comfortable with alpine ambiance. However, it is the professional multilingual staff that separates this hotel from the crowd. Dining is an exquisite experience with two superb restaurants on-site; the renowned Albert 1er Gastronomique has two Michelin stars whereas La Maison Carrier delivers traditional cuisine in a stunning farmhouse setting. The full spa facilities provide the opportunity for a total well-being experience.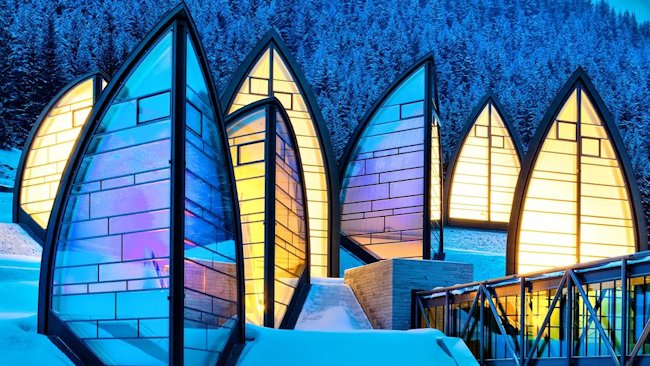 The
Tschuggen Grand Hotel
is one of the most exceptional hotels in Switzerland, delighting its guests virtually all year round with luxury, elegance and an interior design that is as colorful as it is stunning, all set in the mountains of Graubünden. If you've never visited Switzerland, sight seeing throughout Graubünden should be on your "must do" list. With the Tschuggen Bergoase spa facility, the Tschuggen Grand Hotel has not only created a distinctive feature, but redefined the notion of wellness internationally. Genuine hospitality permeates the entire hotel, and pampered guests can choose from 96 rooms and 32 suites. A fond attention to detail reveals itself with understated elegance to the appreciative seasoned traveler, all set in a stunning mountain landscape. Skiers should note that in less than two and a half minutes the hotel's very own Tschuggen Express takes guests to the heart of Arosa's skiing and hiking area in exclusive, relaxing comfort.
From our experience, a ski trip to the Alps is most thoroughly enjoyed when traveling with a group. There's something very special about sharing the sensory sensations afforded by the Alps with like-minded people.