Completed accommodations feature sophisticated palettes and integrated technology, adding luxury and relevance to the guest experience. All guest rooms and suites are expected to be refreshed by the end of 2014, with 20 to 35 rooms slated to undergo restoration at any one time.
The many new features and amenities showcased have been designed to enhance the feeling of modernity while keeping a chic residential feel. The elegant palette features soft leathers, luxurious mohair, and opulent silks in light cream and taupe shades with silvery blue, green, and yellow accents. Rich, ebonized walnut and cerused oak furnishings complement the classic color scheme. Bespoke wall coverings and light fixtures, custom artwork in all suites, and gracious lounge seating further enhance the stylish new spaces.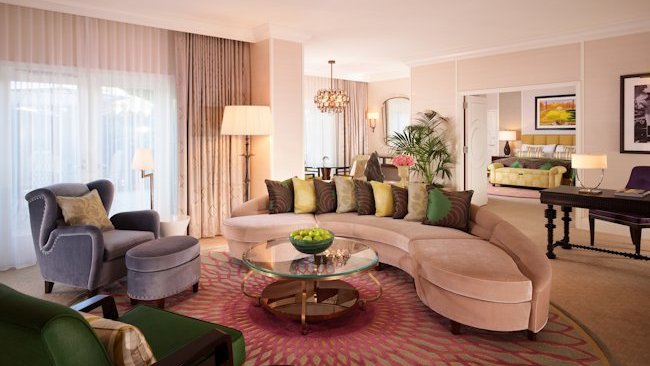 Guests will also enjoy enhanced technology, including integrated media panels and specialty lighting systems with individual dimming capabilities and a variety of "set scenes" to choose from. All guestrooms and suites feature wall mounted Bang and Olufsen TVs, while charging packs with USB connectors are located in each desk. Bathrooms include updated Watermark fixtures in a contemporary polish chrome finish, and bathroom mirrors with built-in TVs.
The thoughtfully-crafted restoration hones and honors the original patina of The Beverly Hills Hotel, restoring and polishing its iconic design elements and reflecting Southern California's celebrated lifestyle. Project work has been conducted in various phases throughout the project so as not to impact the operation and inconvenience guests. The hotel lobby, Polo Lounge and famed pool, cabanas, and Cabana Cafe have all been enhanced, and careful attention has been paid to respect the hotel's original style. The signature red-carpet entrance, C.W. Stockwell-designed banana leaf wallpaper, green and white stripes, and famous pink exterior remain constants.
For further details, visit
www.beverlyhillshotel.com
or, for reservations, call 800-283-8885.
*The hotel's bungalows are not undergoing a restoration.