Led by acclaimed designer Adam Tihany, the subtle refresh to the Polo Lounge pays homage to its heritage and iconic design elements, further cementing its prominence as one of Hollywood's most beloved and historic dining institutions.
"The Beverly Hills is a dream project. I love this hotel. And it is so important that it continues to respect the spirit of the city," says designer Adam Tihany. "By maintaining much of the Polo Lounge's beloved originality, we have not only kept the connection to the community but also enhanced it," he adds.
The room continues to celebrate California's relaxed lifestyle with its familiar green and white stripes and similar color scheme still intact. Updated carpets and upholsteries reflect the hotel's warm residential feel, and a new hostess stand has been added. Fixtures, lighting and furniture were replaced, and ornate mirrors, historic images, and renewed rich, dark paneling adorn the walls. In the patio's outdoor space, enhanced heating, sound systems and improved lighting make al fresco dining in the evenings even more appealing. Flower settings, vintage lamps, Riedel glassware, and new linens all add refreshing touches.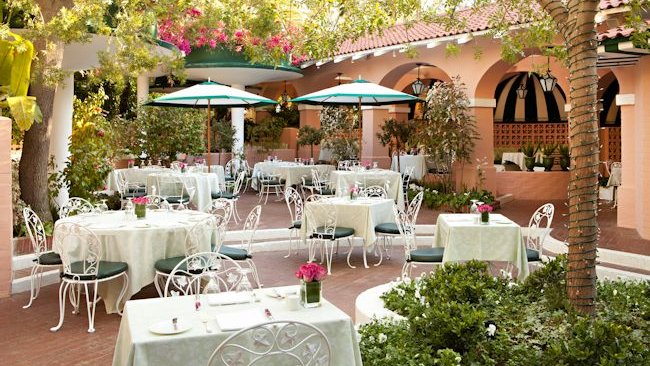 Polo Lounge Patio
Executive Chef Kaleo Adams' menu continues to offer the traditional American fare that guests have come to expect and enjoy, with delicate changes to presentations and service delivery that result in a more refined dining experience. Classic selections, including the McCarthy Salad, Tortilla Soup and Steak Tartar combine with new favorites such as the West Hollywood Salad made with quinoa, farro, kale, spinach, mizuna, garbanzo beans, hearts of palm, golden raisins, toasted sunflower seeds, feta cheese and preserved lemon vinaigrette and the Seared Rare Ahi Tuna 30 made with vadouvan squid noodles, feta cream, and black olive tapenade with leek ash. Afternoon tea complete with a 'tea expert' has been reintroduced on Friday and Saturday, and alcohol infused options such as The Earl Grey Cream Old Fashion has been added. Wine lists are also now offered on iPads, creating an interactive experience that enables guests to visually select their wine of choice. The Polo Lounge's popular live entertainment continues with a live Jazz trio to accompany brunch on Sunday, guitar and vocal entertainment for dinner, and the piano during lunch.
"The Polo Lounge is lovingly referred to as 'Hollywood's commissary' and will forever be a timeless fixture in the community," said Ed Mady, Regional Director, West Coast, USA and General Manager. "We felt a tremendous responsibility to maintain much of its wonderful originality while also providing an enhanced and relevant dining experience to our countless regular guests and first-time visitors. The Polo Lounge is and always will be a very special place for generations of very special people," he adds.
Home to Hollywood royalty and the world's rich and famous for decades, the Polo Lounge has a rich history and storied past. Charlie Chaplin had a standing reservation for Booth 1 for decades, which remained empty if he didn't show up. In the 1940's, Marlene Dietrich, a frequent hotel guest and one-time resident, eradicated the "no slacks for women" dress code when she refused to wear a skirt in the Polo Lounge. And in 1972, H.R. Haldeman, White House chief of staff to President Richard Nixon, and John Ehrlichman, assistant to President Nixon for domestic affairs learned of the Watergate break-in while breakfasting here.
In addition to the new lobby and refreshed Polo Lounge, the hotel's restoration program continues at the pool cabanas and Cabana Café, followed with all guestrooms and suites being updated by the summer of 2014.
For further details, please visit
www.beverlyhillshotel.com
or, for reservations, call (800) 283-8885.
About:
The Beverly Hills Hotel & Bungalows