Snuggled in a cushy lounge chair set smack in front of my private cabana, eyes closed, a gentle voice cut through my blissful trance. "My lady, what can I get you….a Bloody Mary or a Bellini, perhaps?" Pausing for about a nano-second, I gazed up at my Cabana Butler and murmured, "Champagne, please."
I was at a Mediterranean inspired historic village, the AAA Four Diamond Boca Raton Resort & Club, a Waldorf Astoria property in Florida, where I experienced three days of utter and total relaxation paired with pampering in Spa Palazzo's palatial gardens and dining each evening at one of the resort's many world-class restaurants. Among renowned past guests, there have been many bold-faced names such as President Clinton, British Prime Minister Tony Blair, Queen Silvia of Sweden and her daughter Princess Madeline; now I was having my very own princess-turn at this singular resort.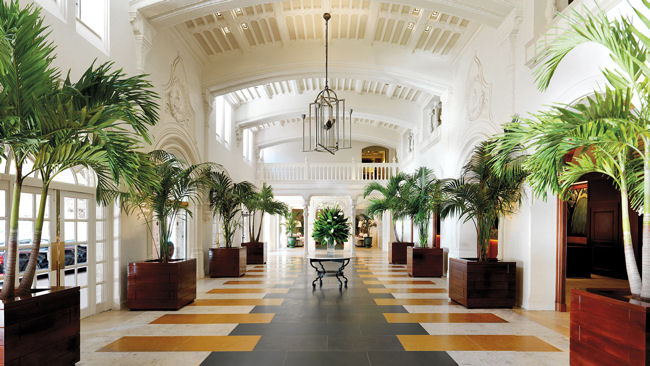 Addison Mizner, a self-taught architect, came to Boca Raton in 1925 with a vision to create the "greatest resort in the world." Mizner designed this elegant structure in an imaginative, pseudo-Spanish style with courtyards and embellished it with his private collection of rare antiques from old churches and universities in Spain and Central America. The resort sits on a 356-acre spread with two 18-hole golf courses and 30 tennis courts, near the heart of downtown Boca Raton and 40 minutes from the Fort Lauderdale airport. After undergoing a $120 Million renovation in 2009, this 86-year old Grande Dame of South Florida now encompasses 1,047 rooms, numerous gourmet dining options, several outdoor pools, seven meeting rooms, private poolside cabanas and Camp Boca, a comprehensive children's program, making it one of the country's premier luxury destinations and redefining the quintessential beach resort with a fresh approach – the very concept of "barefoot elegance."
Spaaaaaaah
Elegance was truly the name of the game at the aforementioned private cabana. My view overlooked the pool and the ocean. Throughout the day, I was visited by my personal butler who brought me lunch, water, and yes, more Champagne. Inside my cabana, I had a flat screen TV, dining table, mini-bar and full bath with shower. Feeling every bit the princess, I nonetheless had to rouse myself from this idyll and get over to the award-winning Spa Palazzo where I was scheduled for a treatment. The spa is a huge 50,000 square feet, its luxuriant design inspired by the Alhambra Palace in Spain – all carved stone, smooth marble, elaborate mosaics and secret gardens. My treatment was called the Therapeutic Trilogy no less, based on a centuries-old European tradition. I was wrapped in Spirulina seaweed, then bathed in healing waters and finally massaged with an application of marine firming cream mixed with lavender oil – all with the purpose of detoxifying and relaxing. However, from the moment I became a guest of this resort relaxation has enveloped me, so - though the treatment was somewhat redundant - it was also simply sublime.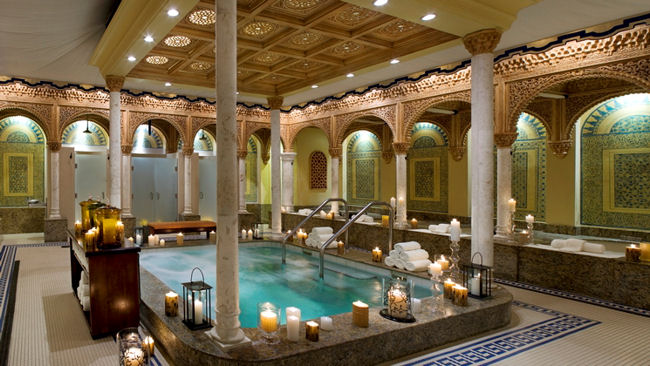 Go Fly a Kite (not)
Next day, feeling slightly guilty about all that relaxation, it was incumbent on me to check out some of the resort's many activities. For example, I had the option of working out at one of three state-of-the-art fitness centers (open around the clock,) dipping in one of its pools, "walking on water" in an air-filled water ball, stargazing through a high-powered GPS telescope, or, yes, flying a kite. Organized by Randy Lowe, the Boca Beach Club's kite concierge (seriously), you can choose from his $100,000 collection of "show kites" and do your thing on the beach, a perfect backdrop for this activity. I chose to forgo this as I felt the siren call of the sea.
Just Sun and Sea and Me!
I sauntered down to the Intracoastal Waterway for the resort's cruise and ocean sail hopping aboard a 55-foot catamaran, the "Island Breeze," in the hands of genial Captain Charlie and his crew. We sailed for over two hours dining on munchies and good wine while lolling on comfortable cushions and sighting three leaping dolphins and a school of flying fish. My guilt from a lazy yesterday – Gone!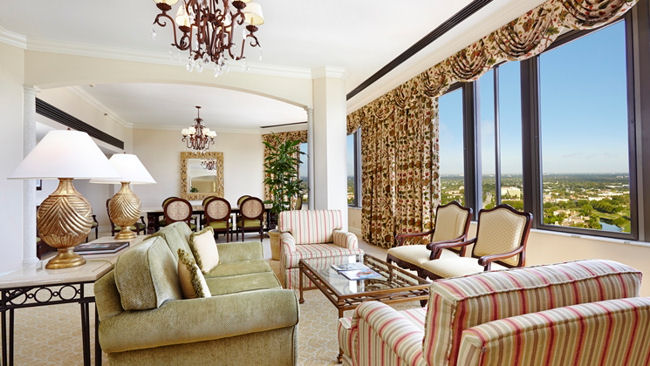 As I took a last look at my elegant room, its floor to ceiling windows and the view of the ocean beyond, the time had come for me to stroll one last time through the chic and stylish lobby of Venetian plaster, stone and alabaster and the infinity pool sparkling in refracted sunlight, to the check-out desk. Just then I recalled Captain Charlie's words as he gazed out over the calm, blue sea and gleefully declared: "Life is Good!" After my Boca Raton Resort & Club experience and channeling once more my inner-Princess, I thought: yes, my sentiment exactly.
Visit website:
www.bocaresort.com
All photos courtesy of Boca Raton Resort & Club