Visitors to this iconic property are inspired with warmth and cheer as they experience one of the most festive resort ambiances in the U.S., certainly Florida's standout destination at this time of year.
Decorations at The Breakers are planned months in advance. They take five days and 300 man hours to prepare, usually in August. Installation requires six days and 540 man hours to complete and are put up shortly after Thanksgiving, remaining through the 12th day of Christmas, January 5th. Surrounded by the captivating and celebratory atmosphere, guests will be engaged and entertained throughout their stay with 12 days of holiday-inspired events and activities.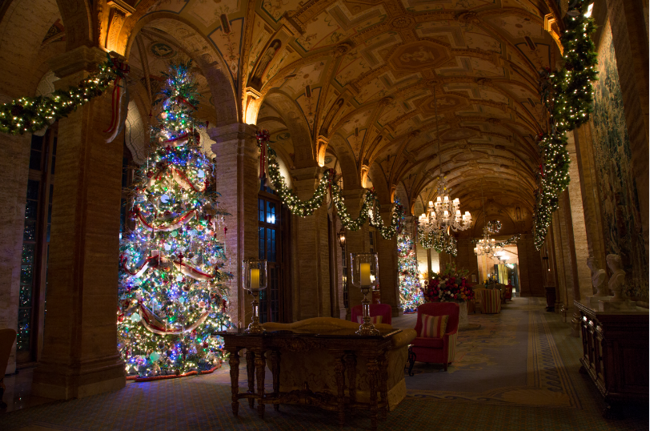 Holiday décor highlights:
• Upon arrival at the 1,040-foot Main Drive, guests are immersed in the glow of thousands of soft white lights that shine from 27 majestic royal palms and Canary Island date trees.
• In the main lobby there are two towering Christmas trees, each 18-feet high and over 8-feet wide, adorned with 4,000 ornaments and 25,000 lights to create elegant illumination.
• To produce this winter resort-wide dreamscape, there are in total: 1,750 feet of garland, 4,000 ornaments, 160,000 Christmas lights, 9,500 feet of ribbon, 126 bows and eight, five-foot tall nutcrackers.
• Five decorated trees, each averaging over nine feet in height, are placed around the entire property every year.
• A life-sized gingerbread house on the outdoor playground, which is large enough for several adults to enter and stand inside
Among the holiday offerings at The Breakers are special dining options for guests such as a Holiday Tea at HMF in December ($55 per person), Christmas brunch in The Circle ($145 for adults and $50 for children) and a Christmas dinner buffet in the Ponce de Leon ballroom ($150 for adults, $60 for children 11 and under). Prices do not include tax and gratuity.
For room reservations this holiday season, visit
thebreakers.com
or call 888-273 -2527. Reservations are recommended for holiday dining (888-273-2537).