Casa de Campo, the Dominican Republic's playground of the rich and famous, nearly defies description, in the best possible way. Is it a resort, or maybe a golf retreat? Is it an equestrian center, a beach club, or a marina at which luxury yachts are moored? Is it the site of private villas owned and rented by pop-stars and all-star athletes, and the forum for world-class concerts by some of the music industry's biggest names? Casa de Campo is all of these things and so much more. To accurately define the Caribbean Sea-adjacent property is a task, albeit a pleasurable one that requires repeat usage of words such as 'luxurious,' 'posh,' and 'spectacular,' and conjures the lingering tranquility generated from a recent visit.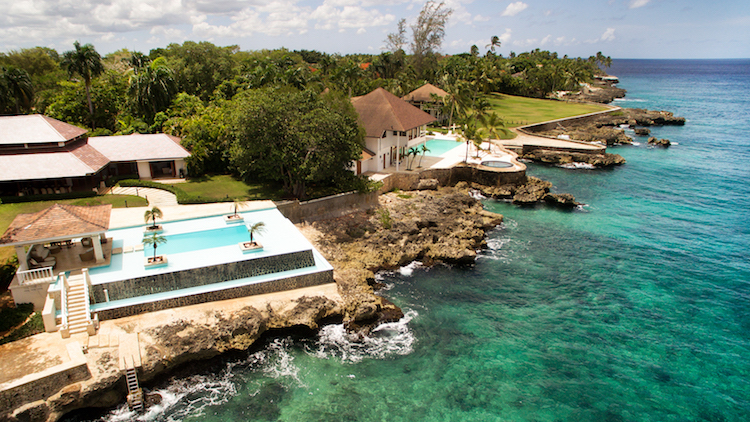 Dominican Republic regulars and even those with a limited knowledge of host island Hispaniola are likely familiar with tourist spots such as historic Santo Domingo and beachy Punta Cana. But the mention of Casa de Campo might produce a questioning shoulder shrug. The 7,000-acre slice of paradise is not exactly hidden, nor is it a secret. Yet somehow – most likely due to the privacy that its expanse of territory affords - it flies slightly under the radar. Fans such as Michael Jordan, Drake, Beyoncé, Rihanna, Jennifer Lopez, Derek Jeter, and Alicia Keys likely prefer to keep it that way, lest their favorite villa, hotel suite, or poolside cabana be discovered by others. (To vacation as these A-listers do, indulge in Casa de Campo's 'In Your Shoes' experience. Click here for details.)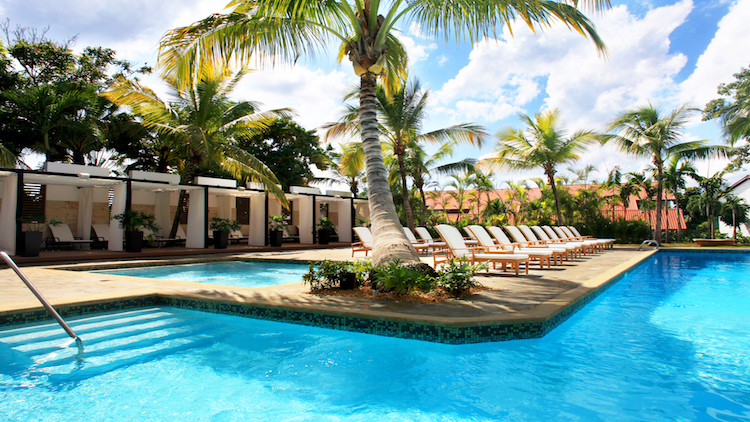 Known to insiders as 'The Hamptons' of the DR, Casa de Campo is both a traditional luxury resort hotel – part of the Leading Hotels of the World group – as well as the site of some of the Caribbean's most sumptuous residences, many of which are available for rental and are held to the same Leading Hotel standards as the luxurious hotel rooms and suites. Guests are indulged with twice daily maid service, stocked mini-bars, sumptuous linens, a daily inquiry from guest services about special requests, and…golf carts. Each accommodation includes a fire engine red golf cart – an amenity necessary for traversing the entirety of Casa de Campo. Think Disneyland's Autopia and the gleeful, childlike freedom of open air cruising. That's the feeling derived from a Casa de Campo golf cart – and nearly reason enough to book a visit. But here are a few more: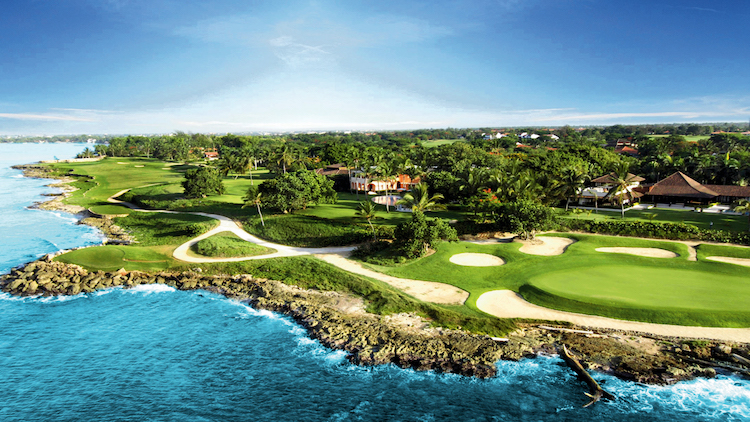 GOLF
Golfers have long known Casa de Campo as home to one of the most desired courses in the world – Teeth of the Dog, designed by the famed Pete Dye and featuring seven holes spectacularly situated directly along the aqua waters of the Caribbean Sea. Two additional courses round out the golf options, as well as a new state-of-the-art Golf Learning Center - a PGA Tour-quality facility with two indoor hitting bays, practice greens, and an outdoor range. Casa de Campo is a golf buddy favorite, known for its curated, decadent, turnkey golf outings where the planning and logistics are handled by a Casa de Campo travel specialist. Interested in a private jet departure from Miami with arrival at Casa de Campo's La Romana airport? Check. How about a five-course, chef prepared, in-villa dinner after a long day on the green? Check. Perhaps a hand rolled, artisanal Dominican cigar, to be enjoyed with top-shelf liquors? Check. The staff at Casa de Campo will make it happen. For more information on an ultimate guys getaway, click here.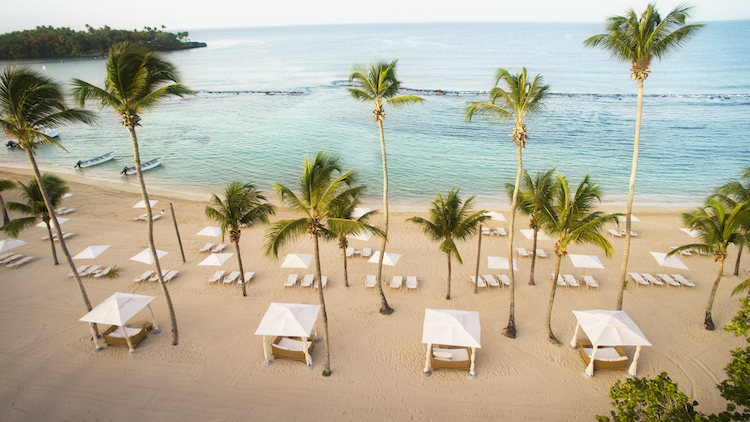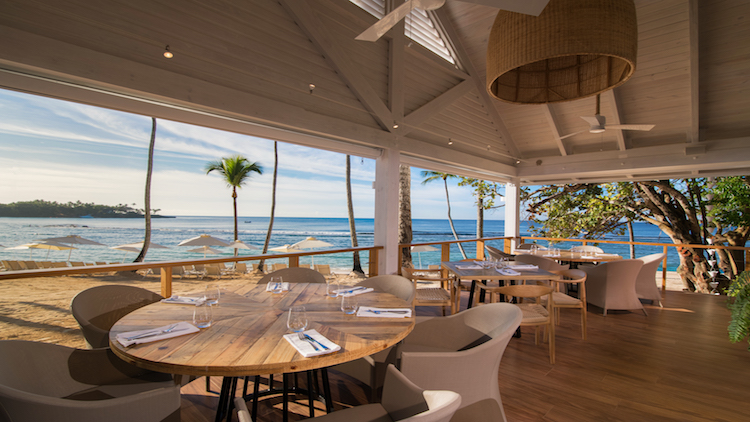 BEACH & POOL
One of the best things about a Caribbean getaway is beach and pool time. At Casa de Campo, private Minitas Beach is located in the middle of the property, offering snorkeling, paddle boarding, kayaking, and palm shaded oceanfront lounge chairs in multitudes that make the 7am towel drape 'save' unnecessary. Adjacent Minitas Beach Club features an infinity pool, cabanas, and a new bar and restaurant (pictured above) from which it's hard to imagine a better sunset view. A stunning new family pool also graces the beachfront. Because so many Casa de Campo guests opt for villa rental, and because each villa sports its own pool, the central resort pools are tranquil and relaxed. Again, loungers and even cabanas need not be 'saved.' There is room for all, even at the swim-up bar stools.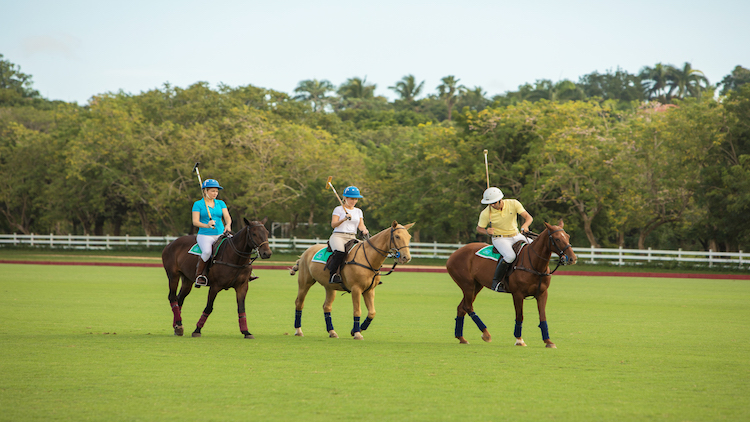 BESPOKE ACTIVITIES
Learn to play polo, 'the sport of kings,' at Casa de Campo's first class Equestrian Center where beginners and experts alike can take advantage of equipment, group instruction, and personalized training. (Regular polo matches are played from early November to the end of April for those simply content to cheer from the sidelines.) Take a trail ride through herds of water buffalo and near lakes teeming with flora and fauna. Private guides are available for individual and group rides. Shoot skeet, sporting clays, and pigeon rings at the 245-acre Shooting Centre – considered one of the best shooting facilities in the world. Play tennis at the 13 court La Terraza Tennis Center, dubbed the Wimbledon of the Caribbean. Learn to throw a clay pot, or weave a blanket on artisanal looms at the Altos de Chavon arts center.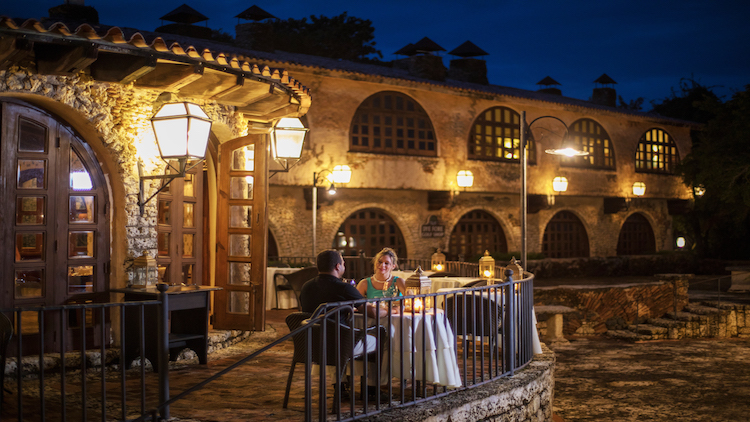 DINING
Start the day at Lagos, the thatch-roofed, open air restaurant overlooking the greens and the ocean, serving buffet style breakfast and lunch with choices so plentiful it would take weeks to sample every item. For dinner, choose from any number of restaurants on the Casa de Campo property – no repeats necessary. Pubbelly Sushi, located in the Portofino-style plaza overlooking the Marina, serves Japanese classics. La Piazetta (pictured above), located in Casa de Campo's replica 16th century hilltop village Altos de Chavon serves authentic Italian cuisine and wine with a side of live music provided by its strolling quartet. And La Caña Bar & Restaurant overlooks the main resort pool and serves French-style fare. The La Caña Bar features live music nightly and is the perfect spot to end an evening, and perhaps learn to dance the Merengue. The diverse cuisines at each of these restaurants and others is fresh, seasonal, and delicious.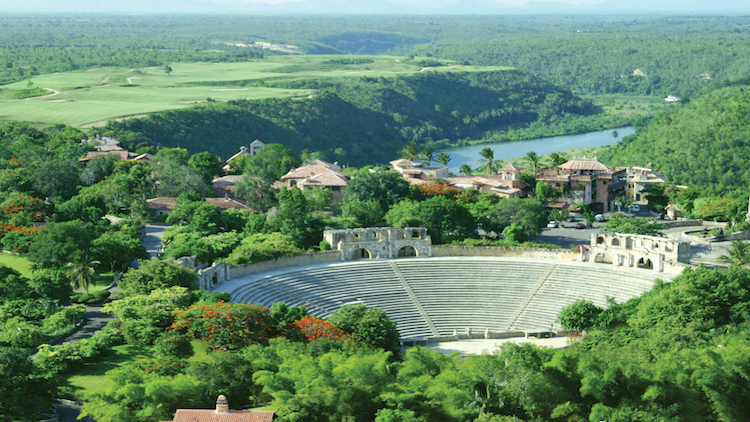 SIGHTS
Take a golf cart cruise to the Marina to ogle the luxury yachts and to shop for luxury goods at Jenny Polanco, Vilebrequin, and Be-Store. Continue north to Altos de Chavón, Casa de Campo's splendid replica 16th century Mediterranean village designed by Dominican architect, Jose Antonio Caro, and Italian master designer and cinematographer, Roberto Coppa. Overlooking the Chavón River, this cultural center for residents, tourists, and working artists features cobblestone streets, an archeological museum, a charming church, and a 5,000 seat Grecian style amphitheater (pictured above) that has hosted Sting, Ricky Martin, Enrique Iglesias, Elton John, U2, and Andrea Bocelli, among many others. (Frank Sinatra was the venue's first performer in 1982.)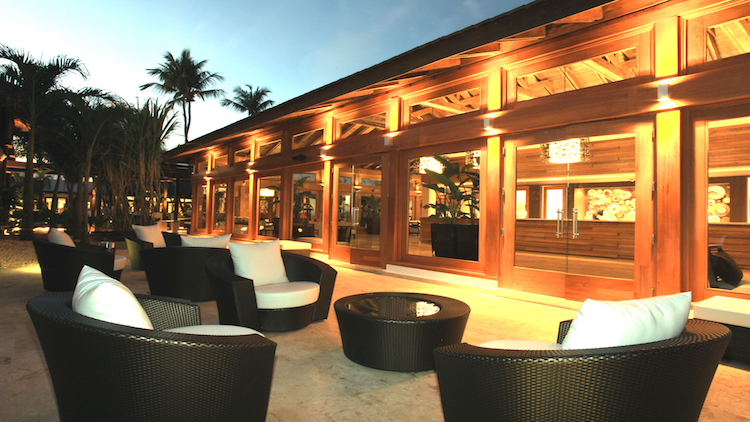 And last but certainly not the least reason to plan a Casa de Campo visit is the hospitality. Welcoming and friendly, every staff member radiates a warm Caribbean vibe, ushering guests quickly towards the tranquility sought in such a vacation.
Golf, horses, polo, biking, kayaking, sailing, shopping, tennis, dining, imbibing, lounging, artistic endeavors, and white sand beaches – Casa de Campo truly has it all. The golf cart/Disneyland Autopia analogy is not so far-fetched. This too is a magical kingdom.