A seismic shift is occurring. North of the Thames, the river which arterially dissects the English capital like a blue vein, is recognized by most visitors – and the odd 19th century writer – as the center of London. But this centrality is gravitating southwards. The largest regeneration project in the UK is underway between Vauxhall and Battersea Power Station on the South Bank.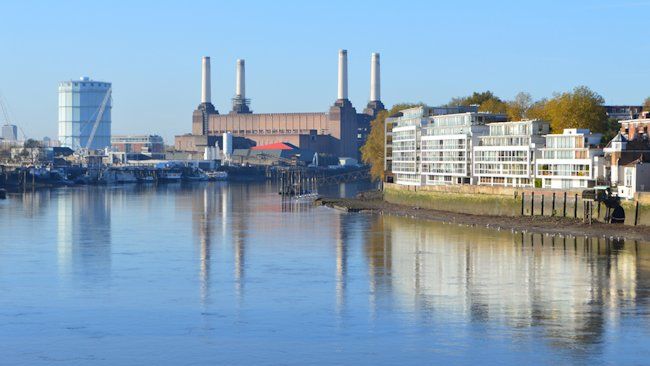 Battersea Power Station
The power station is one of the most iconic sights in the city. The largest brick structure in the UK, its four chimneys dominate the southwest skyline. It has been lying derelict for decades… but not for much longer. A Malaysian consortium has bought the historic building and surrounding land. The underground railway network will be extended to Battersea and there are plans for a new footbridge across the river connecting Vauxhall to Pimlico.
International architect Rafael Viñoly has designed a master plan for redeveloping the power station which benefits from 1,300 feet of river frontage. Thousands of apartments in tall buildings sweeping across the wider 500 acre area, designed by leading architects, will dramatically change its appearance and use. Boris Johnson, Mayor of London, calls it "London's third city."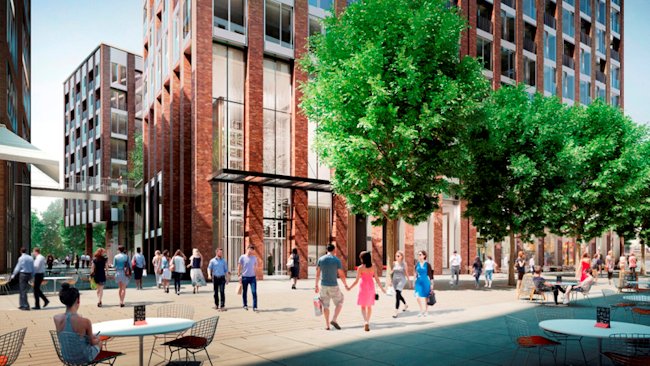 Ballymore's Embassy Gardens
One of the developments forming part of Nine Elms on the South Bank, as it's now called, is
Ballymore's Embassy Gardens
. The architectural style of the apartment buildings is reminiscent of New York's meatpacking district. Linear Park, based on New York's High Line, will wind its way through this upmarket scheme. Two bar and restaurant concepts by the group behind Bunga Bunga (a brasserie in Battersea frequented by the young royals) will bring some jollity. Ballymore's Group CEO Sean Mulryan says, "Nine Elms has really captured people's imagination as the place to live in central London."
There are plans for no fewer than nine hotels in
Nine Elms
including a 102 room aparthotel on Albert Embankment and a 167 room aparthotel in Hampton House; a 209 room hotel in Market Towers, a 120 room hotel in Spring Mews, a 179 room hotel on Vauxhall Island and a 438 room hotel on nearby Vauxhall Square. A 120,000 square foot hotel is planned for New Covent Garden Market plus a 112,000 foot one in Embassy Gardens and 290,000 square feet of Battersea Power Station will be given over to a hotel. Further downstream is the largest hotel in London, the dramatically contemporary 1,021 bedroom
Park Plaza Westminster Bridge
.
Further downstream again, the
Morgan Hotel Group
is opening its sixth Mondrian next year. It will be in Sea Containers House, a 412,000 square feet 1970s former office building designed by Warren Platner, the architect of Windows on the World in the destroyed North Tower of the World Trade Center. Sea Containers House was described in 1989 in Country Life magazine as "all glamour, like a Joan Collins frock."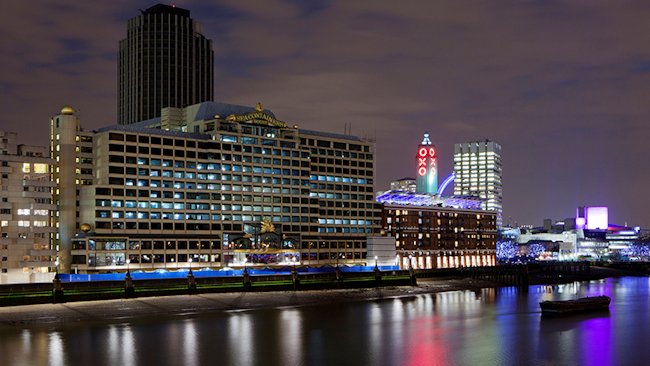 Mondrian Sea Containers House
Its 14 storeys will house 356 bedrooms, a public restaurant, rooftop bar, spa and 61 seater screening room. Design Research Studio is responsible for the interiors. Sea Containers will join Sanderson and St Martin's Lane as Morgan's third venture in London. CEO Michael Goss says,
"We're thrilled to be announcing our new Mondrian hotel on the South Bank. It is rare to find such a good site for a hotel in the center of a major city close to many cultural attractions as well as business hubs. The new Mondrian hotel will offer all the services and amenities of a high end hotel as well as fantastic views over the River Thames and the City."
Walter Besant wouldn't recognize contemporary south London. It has a thriving arts scene which includes Goldsmiths Art College, birthplace of the infamous Young British Artists movement. The Royal College of Art has transferred its sculpture school from Kensington to Battersea. As for patriotism, it's not so much local as international with the most ethnically diverse population in the UK. In the ultimate gesture of recognition that London's zeitgeist has inched a little nearer the equator, the US Embassy is relocating from Mayfair to Nine Elms in 2017.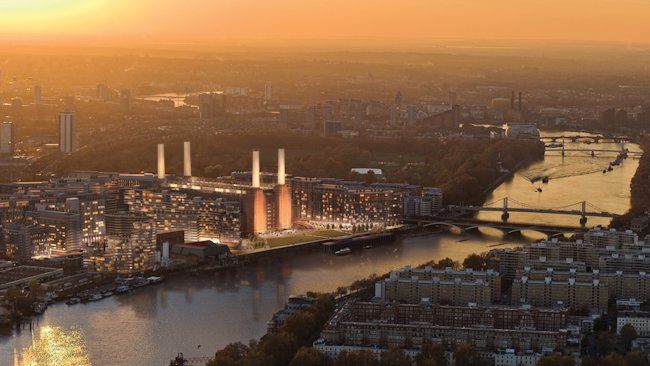 Battersea Power Station regeneration