While some hotels pride themselves on being at the cutting edge of art, design and architecture, a showcase of the future, that isn't for everyone. There are hotels around the world where it feels more like you're stepping back in time. The Danna is one of those. The hotel is only eight years old, having opened in December 2010, but they've gone for old school elegance and a style that harks back to the British colonial era in Malaysia, when Malaysia was known as British Malaya. In fact, the hotel reminds me of a smart, upmarket London city hotel, only with the kind of sunny weather and beachfront location you don't find so easily in the English capital.
The Danna's on the north-west part of Langkawi, the largest island in an archipelago of 100 islands in the Andaman Sea, off the mainland coast of Malaysia. The island's a popular destination with both Malaysians and foreign tourists who come for the beaches, the wildlife-filled rainforests and Duty Free shopping. Around 11km from Langkawi International Airport, the hotel sits right next door to Telaga Harbour Park, a project built to resemble a Mediterranean-style harbour town in the French Riviera. It makes a striking impression as we arrive, a large square block with sheer white exteriors. Our bags are taken and we're guided through the grand, high-ceiling lobby and into a lounge, which has an English feel, with leather seats, thick rugs, wooden floorboards and smartly upholstered armchairs. While our passports are taken for check-in, we're served welcome drinks and two young women arrive to give us each a 2-3 minute shoulder massage, a pleasant way to settle into a hotel.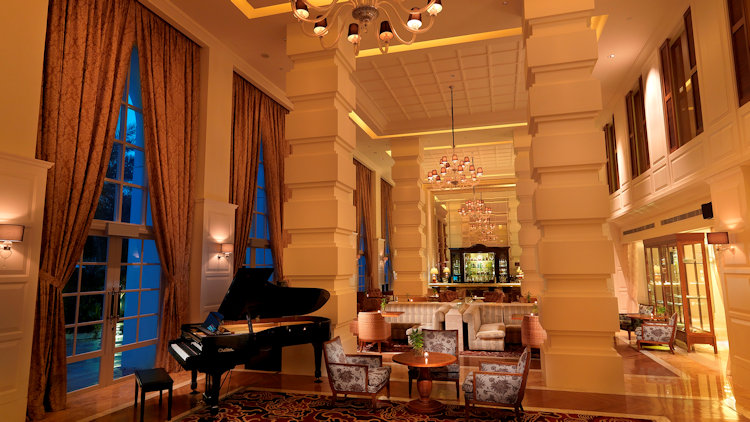 We're led down a corridor, past The Verandah, a smart cocktail lounge area. In a smaller side lounge, there are glass cabinets filled with bottles of whisky and a portrait of Winston Churchill on the wall. We stay in one of the Sea View rooms up on the fourth floor, where the conservative, 'classic' style of décor continues with white walls, wooden floorboards and a thick pink and white rug. The bed's large and comfortable, with red-brown cushions and a red throw, the wall area behind it adorned with a metal floral design. Opposite the bed, there's a big TV on a counter cabinet, with a writing table and chairs in one corner, a comfy little grey two-seater sofa, and an area on the opposite wall for tea, coffee and a fridge.
The bathroom has marble floors in white and orange, with a big white bathtub set in marble and two sinks in front of large mirrors, plus a rainshower off to one side. There's a sliding door over the bathtub, so, if you want to, you can take a bath with open views out towards the great outdoors.
But the best aspect of the room is the view; whether from the large window at the front of the room or standing outside on our balcony, we can look over the swimming pool, palm trees, beach and white yachts resting on the calm Andaman ocean.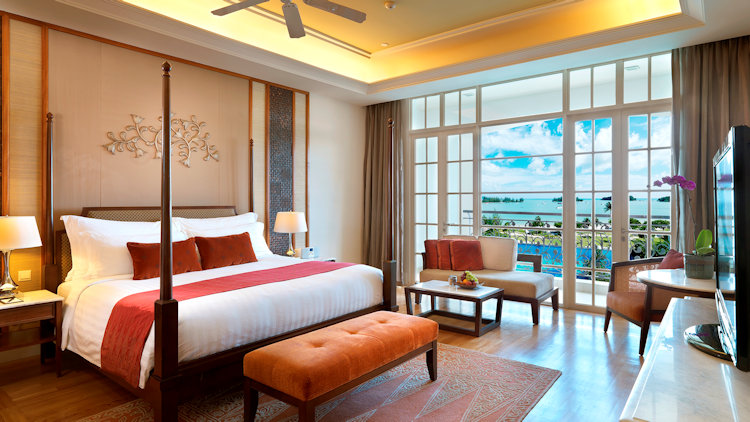 On the evening we arrive, we head across to The Terrace, one of two restaurants at the hotel, where they serve Italian food. Friendly staff offer suggestions from the menu, helping us to pick out a good Australian Shiraz from the wine menu. We order a plate of tortellini stuffed with pumpkin and ginger, sautéed in sage butter and served with a pan-seared scallop as a warming starter. Afterwards, my girlfriend goes for baked sea bass fillets crusted with almond flakes and zucchini, served with mashed potato and sautéed asparagus, while I pick the grilled yellow fin tuna, three big chunks arranged on plate with purple potatoes, baby bok choi and teriyaki sauce. For dessert, we go for the cheese plate, a tasty assortment, including Parmigiano Reggiano, Pecorino Romano, Formaggio Caprine and Gorgonzola, strong flavours that go well with our fruity wine to finish off our evening's feast.
At night, we look out from the balcony at the lights of boats sitting out in Telaga Bay. Drawing the curtains next morning, we take in the view again, as the sun rises over the ocean. Breakfast is served down in Planter's, where a pianist in the corner plays a grand piano, including songs from recent film A Star Is Born. Service is speedy; an omelette I order arrives in minutes. There's an impressive, international buffet with everything you'd expect, from croissants and pastries to eggs and bacon. But there are several surprises, many reflecting Malaysia's diverse cultures and cuisines, including Malay Kuth, Nasi Lemak, sushi, spring rolls, spicy fish curry, roti jala, and noodle soups, as well as sparkling wine resting in ice buckets. There's more variety that you could sample in one setting. Thankfully, we have tomorrow morning for a second visit.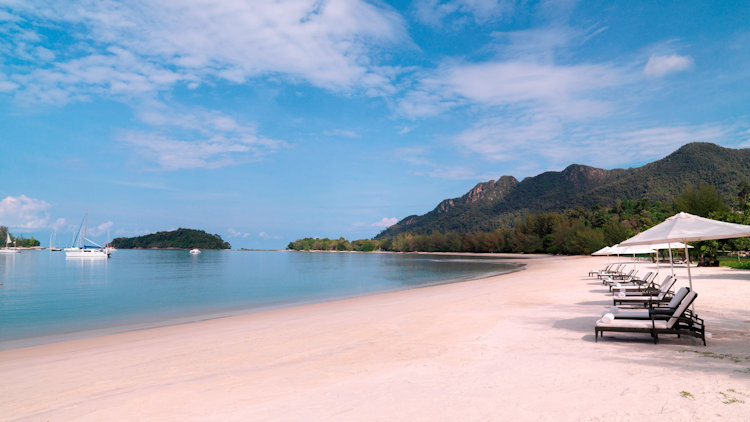 We explore the hotel. Down in the courtyard, inside the white cube-like building, there's a garden with thick tropical greenery, frangipani trees and water features, including running streams and ponds containing large koi carp. From the upper floors of the hotel, we can see the Langkawi Cable Car, with cars traveling slowly on the high wires between two peaks. We find a billiards room, a peaceful library and a games room with table football. But most of our day is spent on the small stretch of sand at the back of the hotel and taking it easy down at the pool, which is deep blue and large enough for a proper swim, with some sunloungers around the edges, others slightly submerged in the shallow waters.
Late afternoon, I head up to the spa on the 5th floor. I go for a 90-minute Malay Urut treatment, a traditional Malay massage that starts with a foot wash and scrub, while I pick out a relaxing fragrant oil. The massage itself is thorough and firm, with deep pressure applied while music plays, from softly chanting choirs to swelling strings. There's also a relaxing head massage before I'm sat up and a hot towel is placed around my shoulders.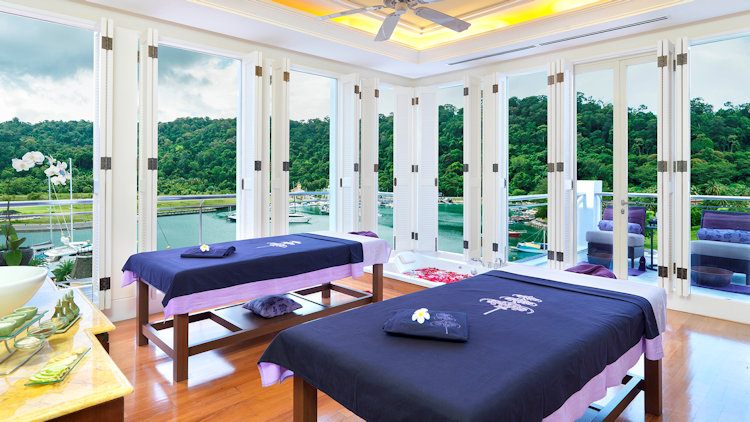 Suitably relaxed, I meet my girlfriend down at Straits & Co, a poolside café, for Afternoon Tea. It comes on a neat three-tier tray, with tiny sandwiches, including tandoori prawn and beef chorizo, as well as a chicken bolognaise tart shell and little cakes, including a mini vanilla cake and a bandan Berliner (a doughnut with a green creamy custard), then scones with jam, all served with tea and coffee. It's another experience that could have come straight out of a London hotel.
Next morning, after a good night's sleep in a room with thick curtains that keep the light out (not something you get at every hotel), we make our way down to breakfast to a few more dishes from around the world. I'd spotted three kinds of muffin, try the pandan (local fruit) variety, as well as a noodle soup and a glass or two of sparkling wine. Then it's time to pack, pausing only to take in the view a final time before swapping a bay full of boats for an airport full of planes.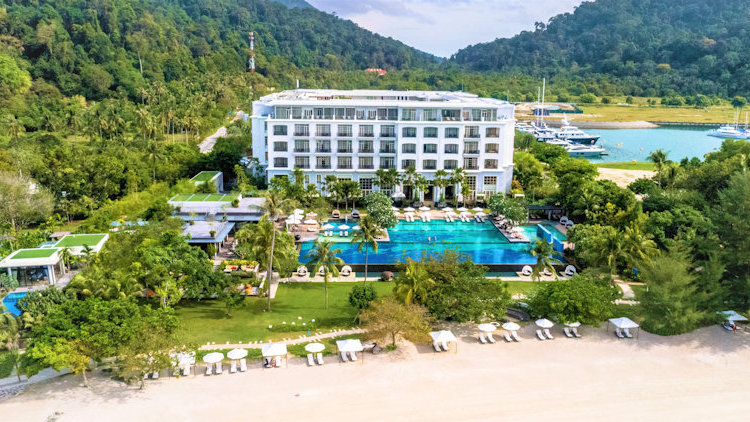 The Danna Langkawi
Telaga Harbour Park, Pantai Kok 07000 Pulau Langkawi, Malaysia.
www.thedanna.com
+604 959 3288
Rooms start from USD$300 for a Merchant Room or Courtyard View. A Viceroy Room costs from USD$480. Local airport transfers are included in the cost of the room.
Graeme Green is a photographer and journalist. See http://www.graeme-green.com/ and follow him on Instagram @graeme.green (https://www.instagram.com/graeme.green/).