An exclusive, three-part excursion for adrenaline junkies (and those with limited time), the
SoCal Trifecta Adventure
invites travelers to check into Fairmont Miramar Hotel & Bungalows' three-bedroom suite,
Bungalow One
, before a whirlwind day of exploring the deserts, mountains and islands of Southern California within a single day of adventure.
Departing at sunrise, a private breakfast flight leads to a morning spent climbing the walls of Joshua Tree National Park's granite domes. Guests are then whisked away by private jet to mountain bike or ski down the scenic pine-tree-lined slopes of Big Bear Lake. Next, guests fly to Catalina Airport where a helicopter ride takes them to a private boat on the harbor of this gorgeous island for an afternoon of swimming, snorkeling and stand-up paddle boarding followed by a private dinner and cocktails on deck at sunset.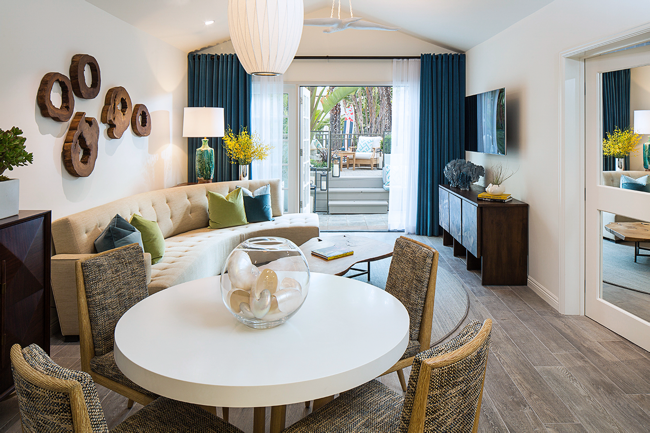 Bungalow One Livingroom. Photo credit: Meghan Beierle O'Brien
Pricing starts at $55,000 for up to six people, which includes a two-night stay for six in Bungalow One, two lead guides and two additional guides in each location, private plane, helicopter, boat and all ground transportation.
A full example itinerary is below:
DAY ONE
Fairmont Miramar Hotel & Bungalows
• Arrive at hotel and enjoy welcome amenity in Bungalow One
• Dinner for six at FIG Restaurant, a seasonally-inspired Mediterranean bistro
DAY TWO
Desert – Joshua Tree National Park
• Coffee, tea and snacks sent to hotel room
• Depart at sunrise by car service to Van Nuys Airport
• Breakfast on plane before arrival at Twenty-Nine Palms Airport
• Private car transfer to and from Joshua Tree National Park
• Activities: rock climbing and cycling
Mountain – Big Bear Lake
• Gourmet lunch on private plane from Twenty-Nine Palms to Big Bear Airport
• Private car transfer to and from Big Bear Lake
• Activities: skiing, snowboarding, or mountain biking (seasonally determined)
Ocean – Catalina
• Private plane from Big Bear to Catalina Airport; helicopter to Catalina shoreline
• Board boat for activities: swimming, snorkeling, paddle-boarding
• Dinner and cocktails/beverages served onboard
• Helicopter from Catalina shoreline to airport
• Arrive at Van Nuys or Santa Monica Airport; car service to hotel
More information:
SoCal Trifecta Adventure
Top photo credit: Joshua Tree National Park by Gentry Jackson preview