Inside the foyer, a female pianist is playing Scott Joplin's Entertainer at a flame-red concert grand, offset towards the Champagne Bar. Across from her, a fabulously coutured member of the Italian jet-set swans in, head to toe Versace – a mountain of Louis Vuitton luggage following behind. There's a sublime sense of decadence, but one that feels just right.
All around are dozens of staff: porters and bell-hops, managers and cleaners, florists and waiters. It's they who ensure this trademark hotel runs like Swiss clockwork. Yet, unless pausing to notice them, you probably wouldn't see them at all – such is their skill of invisibility.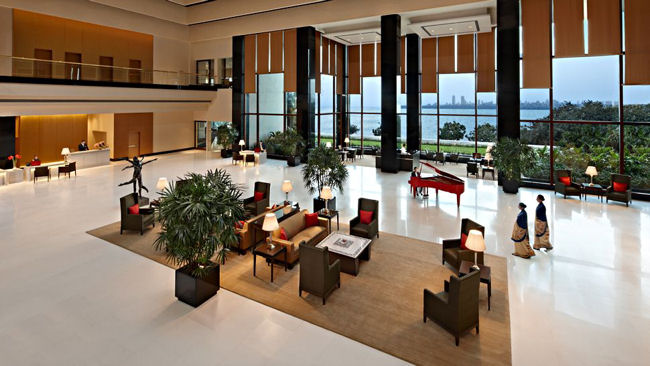 While waiting for room key to be issued, I was served a glass of the local chilled Sula sparkling wine extra brut, and greeted by the general manager himself. What impressed me greatly was that he not only knew my name, but knew which flight I had just come off, and that I had a dinner reservation with an American-born Maharajah at one of the restaurants that evening.
"I have taken the liberty of asking chef to prepare a special menu for you," he said. "After all, the His Highness is known for his great love of Tuscan cuisine."
Spend a little time at the Oberoi – whether it be in the spacious foyer, in the restaurants, or the understated rooms – and you find yourself touched my the magic right away. But at first I couldn't quite work out how an atmosphere of such impeccability had been achieved. Part of the secret is certainly the almost mind-blowing attention to detail. Everything has been thought out, nothing left to chance. But the real secret has been to strip away the clutter – tangible and intangible – creating a masterpiece of sleekness.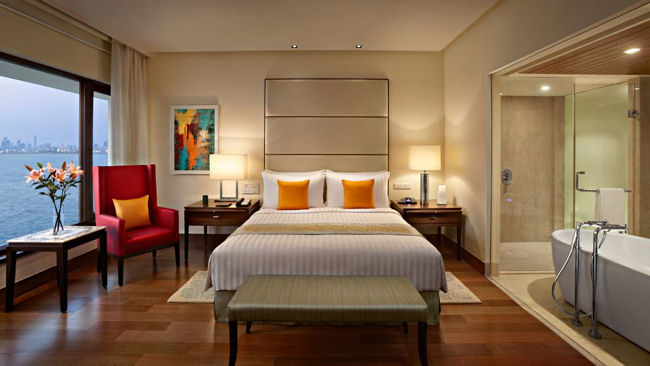 As elsewhere, the calling card is suave sophistication and attention to even the most seemingly insignificant detail. There are mirrors framed in fragments of mother of pearl, marble tabletops inset with lapis lazuli, orchids, lilies, and hardwood floors. Each bathroom has a glass wall dividing it with the bedroom, a vast free-standing oval tub and a spacious shower cubical as well. There's a dressing-room too, silk robes, and a butler on call 24/7.
The Oberoi is popular with businessmen and the kind of tourist who's in search of true discretion. And, while I am sure everyone present understands their good fortune at being lavished, you get the feeling that The Oberoi is a haven for those who can handle it all – there's not even the faintest hint of nouveau riche.
My favorite restaurant is Vetro, where the Italian cuisine is complimented by a jaw-dropping selection of fine wine. When I asked for a single glass of Valpolicella, the sommelier brought several vintages for me to try. And, at seeing me dining alone, a dossier of magazines was brought for me to glance through while my order was prepared.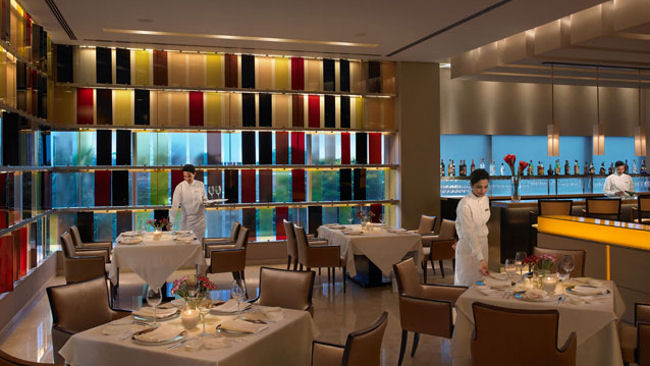 Slip down a zigzag corridor from the main foyer, and you come to The Oberoi's sister – The Trident Hotel. It's gone under a number of facelifts and rebranding over the years, having started off as the original Oberoi.
With a lively atmosphere, full of bustle and conversation, The Trident is very much a lynchpin in Mumbai's social scene. Foreign tourists make up a major part of the clientele, lured by the cozy surroundings, it's a place where almost anyone can feel immediately at home. Indeed, I can hardly imagine a better spot for people watching as The Trident's lobby. A wonderful melting pot in its own right, it's testament not only to the range of people attracted to India from abroad, but to the extraordinary spectrum of life found within the city itself.
On the lower ground floor Frangipani Restaurant is something of an obsession with locals. Teaming at lunchtime, you can find actors, businessmen, and even Maharajas, as well as plenty of ordinary folk too, enticed by the excellent international menu, complimented by dishes from across the Subcontinent.
As with most other landmark Indian hotels, there's strict security these days, in both Oberoi and Trident. Luggage is screened and visitors required to pass through airport-style metal detecting frames. Rather than an inconvenience, the added security is certainly reassuring, as is the presence of extra guards, who melt into the background throughout both hotels.
Spend a little time at either Oberoi or Trident, and you get the sense that a new era has firmly begun. The days when Indian service lacked a certain je ne sais quoi are well behind us. Indeed, this is an era when India's major luxury hotel chains have become world-wide brands in their own right.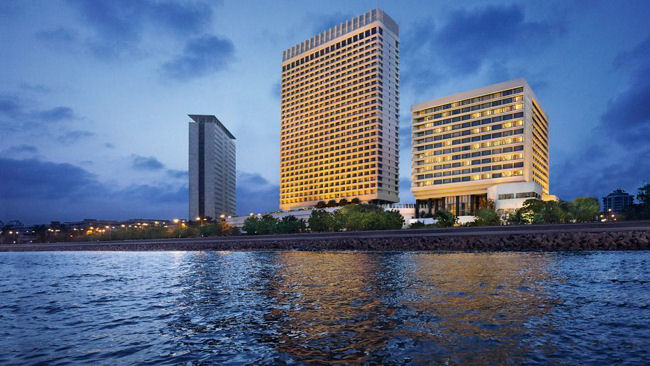 The reason for their outright success – in cities as far apart as Sydney and London – is the way they provide all the warmth and none of the snobbery. And, at the same time, the staff are always ready to cater to the most fastidious of clientele because, after all, India is all about pleasing all the people all the time. Enter an Oberoi anywhere in the world and you feel as if the welcome is far more than superficial. It's not robotic so much as perfectly bespoke.
A lasting memory of my stay at the Oberoi Mumbai was watching an American guest checking in. I recognized him from the same flight that I'd taken that morning. The member of staff handling the check-in, dressed in a flowing silk sari, placed a fountain pen on the table beside the guest's left hand.
"You noticed I am left-handed," he said with a smile.
The clerk returned his smile.
"Forgive me," she said. "I'm trained to notice everything."
Hotel Profile:
The Oberoi Mumbai