Take the Yellowstone Club in Big Sky Montana, for example. A 13,600-acre private residential community with its own ski mountain and golf course, it's attracted such celebrities as Bill Gates and Justin Timberlake.
For those living on the east coast, there is The Hermitage Club (THC), nestled on 1,400 acres in the Green Mountains of Vermont. It's the sole members-only club in the northeast with its own private ski mountain and 18-hole championship golf course. It's the sort of place, however, that's hard to appreciate without visiting. So, when a recent invitation arrived to spend a weekend at the resort, I gratefully accepted.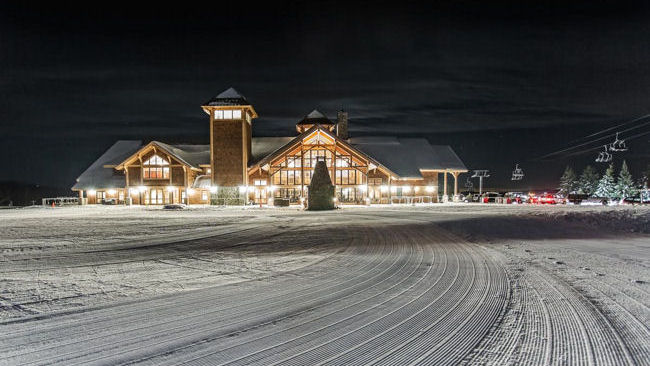 THC lies only 2 1/2 hours away from Boston by car and 4 hours from New York. Avon, Connecticut resident, Jim Barnes, founded THC, a project initially estimated at approximately $75 million. Prior to founding THC, Burke served as the Chairman of FM Facility Maintenance and founded OAKLEAF Waste Management. He acquired The Hermitage Inn in 2007 and in 2011 bought what was originally The Haystack Mountain Ski Area. Together, the inn and ski area, along with a nearby golf course, became the nexus of The Hermitage Club at Haystack Mountain. Barnes even bought the nearby Deerfield Valley Airport to accommodate THC members wanting to fly to the resort.
To become a member, single persons pay a one-time, $80,000 initiation fee with $4,250 in annual dues. Families, regardless of how many offspring they have, pay a one-time $85,000 initiation fee and $8,500 in annual dues. With this membership comes myriad privileges, including unlimited use of the ski mountain, along with ice skating, cross-country skiing, snowshoeing, snow tubing and evening snowmobiling on various ski trails. And that's just for winter. Memberships also include full year-round use of the fitness center, sauna, steam rooms, and hot tubs, and fly fishing, golf, and water sports in summer. If a member wishes to invite a guest for a visit, THC offers an annual allotment of 75 ski passes and 20 golf passes. Accommodations, food, drinks, golf cart fees, equipment rentals, shuttle, valet and other service are extra.
The heart of THC is The Clubhouse, a 90,000 square-foot lodge only open to members and their guests. It's where I began my visit shortly before dinner on a busy Friday night, where a live band belted out tunes in the main dining room packed with parents, kids, and couples, comfortably clad in their ski gear. The vibe was casual and upbeat and nearly every adult had a drink. Flames cracked from a large stone fireplace, surrounded with rosy-faced skiers, spent from a day on the slopes. When I asked several members what made them join THC, the answer was unanimous, "no lift lines." That, and limited skiers on the slopes, is the joy of a private ski mountain, like THC, which currently has issued 750 plus memberships. The ten-year plan is to double that number, capping membership at 1,500. To avoid crowds, THC has various restrictions, which include limiting guest access to dining facilities and the golf course during certain peak times of the day or days of the week.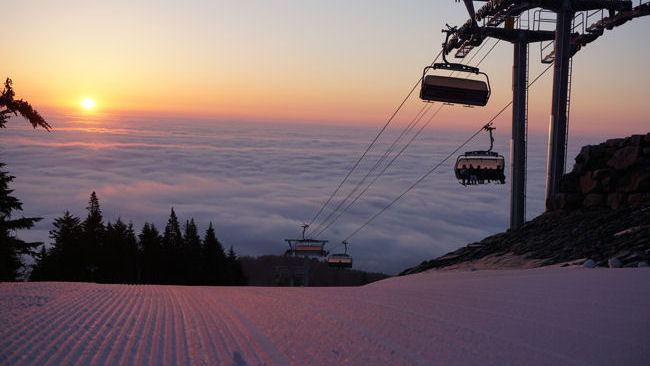 Due to its convenience and convivial atmosphere, many members choose to dine at The Brasserie at The Clubhouse, which serves breakfast, lunch, Sunday brunch and dinner. Unlike most public ski mountain restaurants, the cuisine here proves surprisingly good. The property has been generously staffed so one doesn't wait long for pre-prandial drinks, including the martinis, which arrive ice cold and in big glasses. The wine list offers options by the glass or bottle; oenophiles will find a stunning glass-walled wine cellar on the Clubhouse's second floor filled with tantalizing reserves.
As one might suspect, The Clubhouse dinner menu offers something for everyone, including sushi, noodle bowls, pizza, salads, chops, seafood, and burgers. Many of the ingredients hail from local producers and discerning diners will find such choices as venison game chile, winter kale salad with smoked squash and plancha Scottish salmon. One young boy, fussing in his father's arms, broke into a smile when the waiter delivered a glass of milk and plate piled with chocolate chip cookies, made with Valrhona chocolate, no less.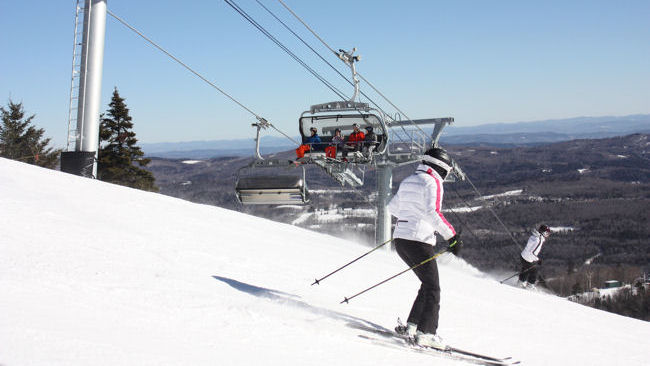 Beyond The Brasserie, members can dine at various other facilities, including the mid-mountain cabin for lunch during ski season. (Hot tip, the teensy Summit Cabin serves cocoa and killer hot Belgian-style waffles with the works.) Members also can dine at several of THC's six, affiliated luxury inns, three of which have restaurants in addition to rooms, including The Hermitage Inn, located steps away from one of Haystack Mountain's chairlifts. The inn's French-inspired restaurant serves breakfast, lunch, and dinner with options ranging veggie egg white breakfast omelets, to French onion soup at lunch and butter-poached lobster for dinner. The Inn at Sawmill Farm has Ristorante Piacenza serving homemade pastas, excellent antipasti, and home-style entrees, like veal Marsala. Finally, The White House Inn's Tavern serves more casual fare ranging from Vermont cheese and charcuterie boards to smoked maple-braised duck cassoulet.
The associated properties without dining facilities, include The Snow Goose Inn, The Vermont House, and Brook Bound Inn, where I stayed, which has a communal kitchen and dining area. Many members, however, own their own condo, either near THC or on its grounds. Part of the property's ten-year plan includes building a total of 550 units for its growing membership base.
Eager to test the slopes at THC, I rented equipment from the resort and hopped on the country's only six-seat, high-speed, bubble-covered, heated Doppelmayr chairlift. It was impressively warm and cushy. At the snowy summit, the 46 trails range from beginners to advanced. Because the mountain is closed most weekdays (vacation periods aside) powdery, perfectly groomed slopes greet members come the weekend. And, as everyone said, I never had to wait in line for any chairlift. I had trails to myself and few if any worries of colliding with a snowboarder or skier.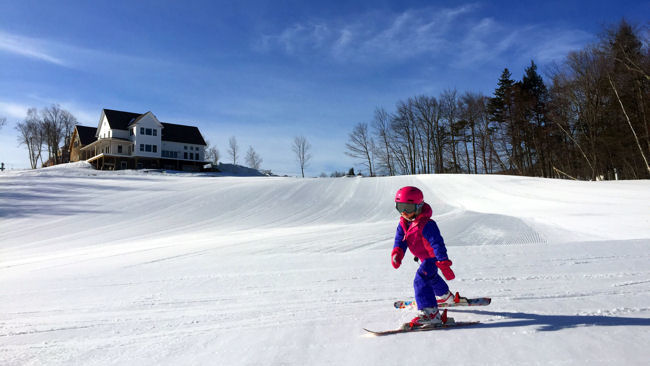 Inside The Clubhouse, the fitness center has a huge selection of cardio equipment, along with myriad exercise classes. For kids, the Arcade offers arcade games, air-hockey, and ping pong. A movie theater has daily showings complete with drinks and fresh popcorn and a two-lane bowling alley provides plenty of fun for kids and families. The Club even can provide daycare, along with valet car service, and luxurious body treatments at The Clubhouse's spa.
Come summer, recreational activities abound, beyond golfing. Members can zip around THC's private lake or Lake Whitingham on a luxury boat. In addition to mountain biking, fishing, and sailing on fully-crewed Hinckley yachts via Barton & Gray Mariners Club, THC offers tennis and summer camp for kids.
Then, of course, there are all the bespoke activities THC can arrange for members, ranging from private dinners in the mid-cabin restaurant during winter to pontoon cocktail parties in summer. Weddings, no surprise, are popular throughout the year.
THC began with a vision to provide members with a full-service, East Coast get-away with all the pleasures of a ski and golf resort, minus the crowds. For anyone intrigued by this option, consider taking THC up on its offer for a one-time visit.
Visit website:
http://hermitageclub.com/