It's the latest addition to more than 30 resort recreational opportunities at The Homestead - and counting.
Opened Memorial Day weekend, Allegheny Springs is a sprawling, two-acre attraction filled with family-friendly features fueled by water drawn from the Allegheny Mountains. Winding footpaths guide guests to a brand new family pool and whirlpool surrounded by decking topped with chaise lounges for basking in the Virginia sun. There is also an abundance of interactive enjoyments for kids including a sandy beach at the children's pool. Come winter, the family pool will remain open for guests to relax in steamy waters and on chaise lounges set upon a stone-face deck warmed by radiant heat for viewing the frosty seasonal beauty of the surrounding mountains.
When guests need to refuel they can visit the new Allegheny Springs Grille. The new poolside restaurant and bar features a hearty menu of salads, sandwiches and snacks. Guests will also enjoy drinks from the new menu featuring beer, wine and cocktails, such as the signature "Poolsiders" like Allegheny Breeze and the Homestead Salty Dog or local favorites like Hot Springs Banana, Shenandoah Rum Runner and Mad Mountain Raspberry.
But that's not all. Allegheny Springs will debut a second stage in August with Mountain Rush featuring three 100-foot water slides, a 400-foot lazy river and private cabanas. A charming gazebo will be poised over a babbling brook that feeds the river, will serve as a landmark for the water amusements.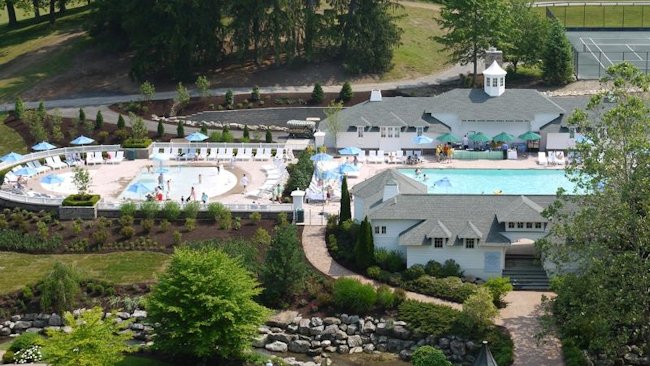 In addition, the resort's renovation will continue with exciting enhancements, including:
Cascades-Style Miniature Golf
The Homestead's three championship golf courses have always been a haven for golfers and this August, guests of all ages will have another course to experience. The Mini Cascades, an 18-hole miniature golf course inspired by the resort's renowned Cascades Course, will be conveniently located near the new Allegheny Springs attraction.
"Take the Waters" in New Spa Garden
A tranquil spa garden, to be introduced in August, will offer a year-round outdoor sanctuary for adults only. With a twist on "taking of the waters," this area will feature the property's indigenous hot springs, geothermal mineral bath, river reflexology bed, sauna, whirlpool and private cabanas.
New Dining Experiences on the Menu for 2013
The new Jefferson's Grill restaurant will draw inspiration from the nation's first gourmand, Thomas Jefferson, with a farm-to-table menu. This venue will provide an upscale, yet casual option celebrating the heritage of Virginia's original farmers and present-day artisans including local farmers, ranchers, cheese makers and vintners.
Plan your upcoming Homestead experience this summer with the NEW Allegheny Springs Package available August 4 through September 30, 2012. The package includes overnight accommodations and personal inner tubes to use at the new Allegheny Springs. Package rates start at $279.
For more information or to make reservations at The Homestead, please contact (877) 549-9506 or visit www.thehomestead.com
About:
The Homestead