Prior to the decision to build The Inn, travelers eager to visit "Las Cinco Playas" had their choice of private ocean view homes, garden view casitas or ocean front villas. While the community continues to add luxury designer homes to its inviting rental pool every year, the new 17-room retreat promises a totally unique experience for guests of the property. And coincidentally, Rancho Santana will celebrate 17 years this month.
Slated to be the final phase of the compelling clubhouse opened in 2012, The Inn is tucked intimately into the hub of all "the ranch" has to offer including renowned farm-to-table restaurant La Finca y el Mar. Guests' playful side will also feast on an extensive list of amenities and activities offered through the Intelity in-room iPad concierge program and mobile app. But when playtime draws to a close, they'll find retiring to The Inn both pleasantly intimate and effortlessly indulgent.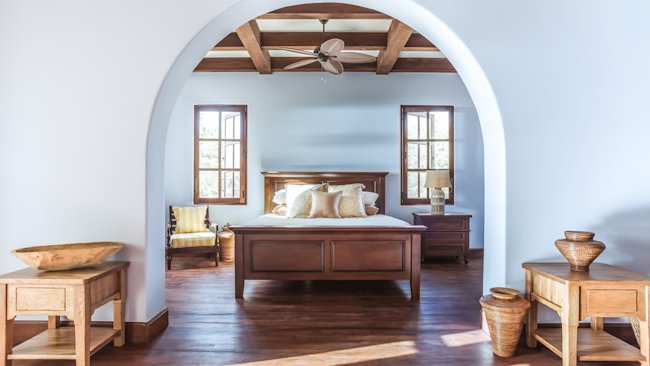 Conceived as a stylish hideaway within the larger ranch, it is rustic but elegant. It is rugged but romantic. It is sophisticated but cool. While today's travelers live in a world of peek-a-boo showers and moody lobby music, Rancho Santana, Altevers Associates Architecture, and Altevers International Interior Design instead opted to imagine something more meaningful. Simply put by Rancho Santana CEO Matt Turner, "If a boutique hotel is a weekend fling – this is true and lasting love. The real thing."
The two-story inn - which will also feature its own art gallery, courtyard, café, and lounge - is just steps from Playa Santana, one of the ranch's five beaches. Its main entrance however, is situated off a dirt road leading to their stables, organic garden, and hiking trails creating a surprising but satisfying contrast where luxury meets adventure. Rancho Santana's 2,700 acres along 2 miles of shoreline boast a unique Isthmus climate that creates steady but varied patterns of coastal breezes, which when paired with year-round warm ocean waters make the beaches' surfing conditions some of the most coveted on the planet. And so it's only natural that The Inn's architectural design, interiors, and landscaping all drew inspiration from their surreal coastal locale.
The building's massing, use of materials, and thoughtful finishes reflect the unique dichotomy in what Rancho Santana has conceived as its very own "agrarian meets coastal" architectural style. So much "its own" in fact that they trusted the craftsmanship of custom wooden door and window framing, flooring, and much of the furnishings only to the Wood Shop at Rancho Santana which was built in 2011 in realizing the vision for the clubhouse. In 2013, Turner's steadfast quest to offer unparalleled authenticity in design and aesthetic founded Rancho Santana Iron Works which was quickly put to work on The Inn.
Those arriving to The Inn will pass through an elegant recessed brick archway into open-air courtyard which also serves as the lobby, but in an extraordinary fashion that invites every traveler's inner child to join them in their stay at Rancho Santana. As guests move past the front desk, they find the playful shadows of branches and leaves dancing across the tile of the floor - and under its cooling shade look up to discover the focal point of a single Albizia Saman or "Rain Tree" which was selected for its perfect structure and size and then relocated from a nearby pasture. Here guests will experience a sense of ease after their journey, but rather than rest are drawn a few steps further to take in the seemingly endless horizon of the Pacific Ocean – an awe-inspiring view they can also enjoy from any guest room.
Each of the 17 handsomely appointed guestrooms and suites, ranging in size from 350-850 square feet, are spacious but inviting. Decidedly down-to-earth, and yet overwhelmingly beautiful – the rooms are much like the ranch itself. The interiors were imagined as a collection of four schemes that reflect different distinctive natural elements; earth, water, air, and fire. And though no two suites are the same, together they are a seamless and thoughtful portrait of life through the soulful eyes of Rancho Santana.
The artistry of the wood work - which was designed by Altevers and created on-site by the ranch's very own Wood Shop - the hand painted tile, locally sourced paintings and pottery will peak curiosity and awe. Casual comfort centric furnishings like abaca lounge chairs, ottomans, and benches were also custom made to suit the seaside sanctuary. Details like curtain rods that are typically regarded too simply as a necessity were carefully crafted by hand in the Iron Works at Rancho Santana, while the window treatments were thoughtfully designed exclusively for The Inn by Peter Fasano and fabricated locally in Nicaragua. The beds are dressed simply but sumptuously in white eco-friendly linens allowing the guest to take in the rest of the room, which is an indulgence for an inquisitive mind.
Still the calming coastal breezes swirl through the vaulted ceilings overhead and inspire a change of scenery by drawing attention to the private covered terrace with views of the pool, the sands of Playa Santana, and miles of uninterrupted coastline which is nevertheless Turner's most favorite feature of them all.
"So many destinations right now strive to deliver a shock factor. We never wanted that. 'Sublime' may be the word. 'Stunning' we'll do, certainly – but not 'shocking'", promises Turner.
The Inn at Rancho Santana will offer introductory rates of $249 - $349 per night.
www.ranchosantana.com