The lavish suites are designed as distinctive interpretations of the Federalist interior style, echoing the original 1920's design of one of New York's original "Railroad" hotels, which re-opened on April 29, 2016. Both accommodations deliver hallmarks of
The Barclay Experience
– quintessential New York sensibility, sustainable practices, and a celebration of the thriving, fast-paced local culture, and international expertise.
The Barclay's suites are designed to offer a residential atmosphere beloved by the hotel's illustrious guests from past decades, including one of the hotel's early and most prominent residents, Harold Stirling Vanderbilt. As director of the New York Central Railroad, Vanderbilt's sumptuous top story residence was personally designed with portraits of his ancestors and a rooftop squash court. Today, the Harold S. Vanderbilt Penthouse pays homage to the storied guest, and both specialty suites will continue to cater to individuals seeking a comfortable retreat to call home.
With a design concept focused on layering to create a stately residential aesthetic, the classic environments in the Presidential Suite and Harold S. Vanderbilt Penthouse are expressed through design, artwork, and standout materials. Elements shared by each suite include stone flooring; marble wall paneling in Calacatta Gold, Noir St. Laurent, Emperador Dark and Crema Marfil; antique Persian carpets; mahogany crown molding, bases and millwork bookcases; and historic maps of Manhattan. Master baths are fully lined in grey marble, while guests and their visitors arrive through reception areas arrayed with red oak floor and white oak borders. Both suites also have dressing rooms with built-in millwork pantries and private fitness rooms with state-of-the-art fitness equipment.
Harold S. Vanderbilt Penthouse
(pictured at top)
This newly constructed six-room penthouse is located atop of The Barclay and reflects the historic hotel's commitment to continuing its long-running tradition of refined services and unforgettable accommodations. With the design elements of a New York City residence, the 3,000 square-foot Harold S. Vanderbilt Penthouse looks out onto breathtaking views of Midtown Manhattan and the iconic Chrysler Building, framing the famed skyline with floor to ceiling windows. With a 1,300 square-foot rooftop providing an expansive outdoor living space, The Penthouse is ideal for celebrities and socialites to entertain for dinner, parties and receptions.
The two-bedroom, three-bathroom urban retreat reveals a modern approach to Federalist style, with a deep, strong palette of slate grey, navy, taupe and gold, and large-scale windows that invite ample natural light. An impressive media wall is in the suite's reception area. The master bedroom has a king bed, while a second bedroom offers two queen size beds. The Harold S. Vanderbilt Penthouse's private terrace features an expansive trellised dining area, a decorative fountain and an outdoor TV. Suite can accommodate up to six overnight guests.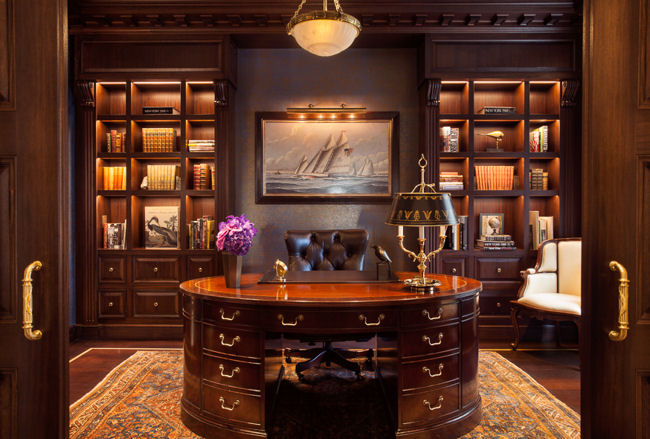 Presidential Suite Library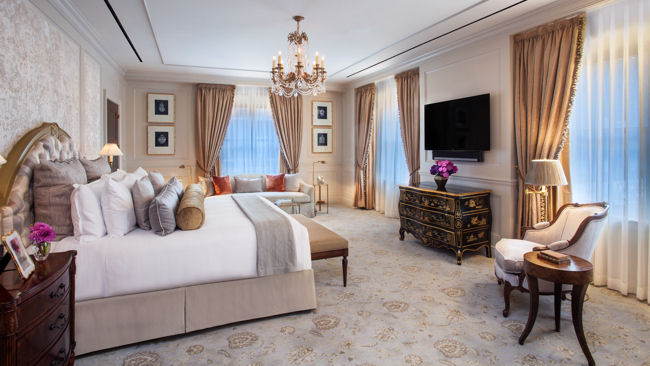 Presidential Suite master
Presidential Suite
Conveniently located just minutes from the United Nations Headquarters and Grand Central Terminal, The Barclay has served as an oasis for notable high profile guests throughout its 90-year history. The hotel's Presidential Suite has housed several US Commanders in Chief, including President William Jefferson Clinton and President Barack Obama. Located on the 15
th
floor and newly expanded to 3,300 square-feet, the Presidential Suite features historic accents and elegant furnishings, as well as an array of artwork ranging from pastoral landscapes to Chinoiserie accent pieces.
Gold, rich red and pewter details are found throughout the two-bedroom suite, including in the ample living and dining areas, entertainment center, and bedrooms. The suite's grand entry hallway leads to a rotunda with a 12-foot-high octagonal dome that opens to the reception area, fitness room and master bedroom entryway. The master bedroom leads to a spacious bathroom haven that features a spacious steam shower and freestanding tub. The suite's entrance area makes an impression with its beautiful marble, while private fitness room, library/office, and a baby grand piano combine to create a new standard of luxury that takes grandeur to remarkable heights.
With 702 well-appointed guestrooms and suites, the historic hotel re-opened spring 2016. Located at 111 E 48th St., The Barclay is owned by 111 East 48th Street Holdings, LLC and managed by IHG. The InterContinental Hotels & Resorts brand is part of IHG's diverse family of brands in nearly 100 countries and territories. The scale and diversity of the IHG family of brands means that its hotels can meet guests' needs whatever the occasion – whether an overnight getaway, a business trip, a family celebration or a once-in-a-lifetime experience.
Rates for the Presidential Suite and Harold S. Vanderbilt Penthouse each start at $25,000 per night. For more information about hotel or to make reservations, call
1-800-496-7621
or visit
www.intercontinentalnybarclay.com
.