Pick your picture window view at the InterContinental San Francisco and then sit back, relax, and enjoy the show. With 556 modern rooms, each facing one of the four cardinal directions, every vantage point showcases the city's urban energy unfurled both below and above. The hotel is centrally located to a number of recreation venues, but your room's sparkling skyline views might be all the entertainment you need during your stay. Choose a north facing room and catch the nightly light show atop Salesforce Tower's steel topper. Go with an eastern facing room for a Bay and Oracle Park outlook; watch the Pacific Ocean-dipping sun as it sets in the west. For a vista mash-up, ask for a corner room to experience breathtaking 270° views. If not for the Tcho chocolate left on your pillow, you might consider cancelling the evening turndown/close-the-drapes service - because even the most jet-lagged traveler won't want to tune out the spectacular scenery.
Luxurious amenities such as 60" televisions, plush beds and bedding, an indoor lap pool, a central bar, and a Michelin starred restaurant further justify any desire to 'stay in,' as does the hotel's recent interior renovation which has energized central gathering spots and provided guest rooms with a calming gray and blue vibe. A comfy Club InterContinental Lounge - where a number of food and beverage presentations take place throughout the day and night – provides additional motivation to 'nest.' (Available to all guests for an extra fee.)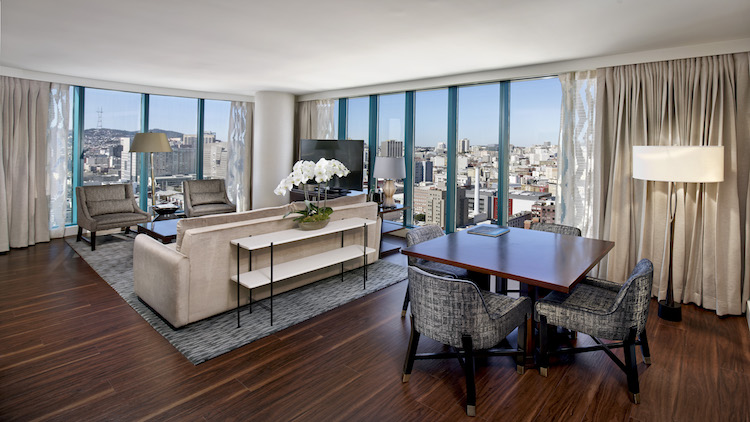 One bedroom corner suite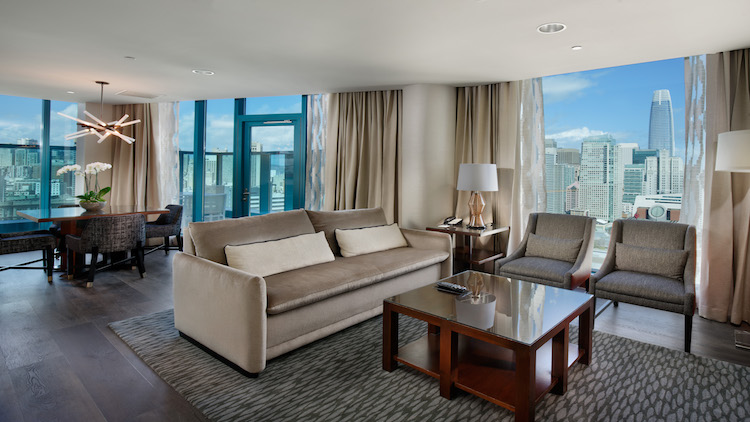 Terrace Suite Parlor

For the ultimate in luxury, select the 2,000 square foot Presidential Suite located on the 31st and 32nd floors, which served as No. 44's favorite spot to post while in San Francisco. (Rumor has it he's been back several times since his term expired.) Is it the beautiful, floor to ceiling picture windows that he enjoys, allowing for uninterrupted skyline views? Maybe he appreciates the pet-friendly policy, or perhaps he likes the 'instant service' button on his in-room phone that allows for near immediate delivery of items such as extra pillows, blankets, or towels – a service available to all guests in all rooms. Two private outdoor terraces, commissioned artworks, two master baths, a full kitchen, and formal dining room are also likely part of the draw.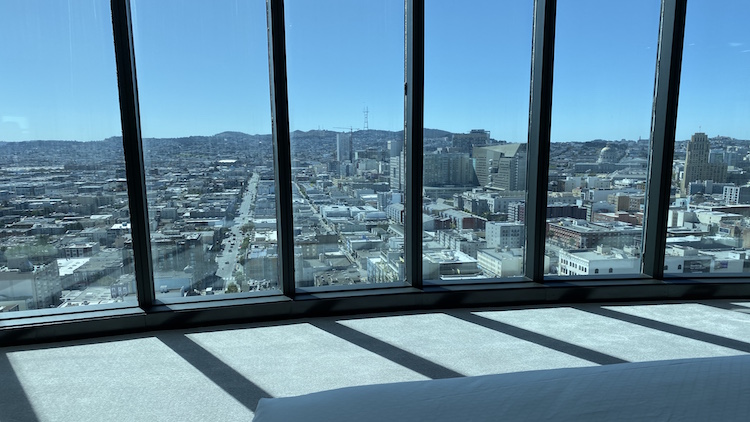 Presidental Suite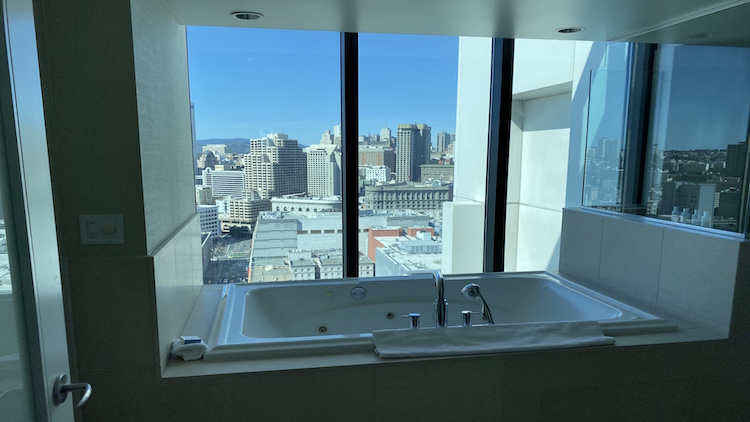 Presidental Suite bath

The InterContinental San Francisco's location within the vibrant SoMa (South of Market) district is also likely part of the draw for 44. The hotel is within easy strolling distance to premiere shopping, amazing restaurants, SFMOMA, Yerba Buena Gardens, Moscone Center, Union Square, the Powell St. cable car line, and the spectacular Salesforce Transit Center and its 5.4-acre rooftop park, a new San Francisco landmark. This sociable, open gathering space transforms the transportation hub into a striking, innovative, and sustainable space complete with native gardens, water features, and plenty of spots at which to sit and take-in the urban scene.
The InterContinental's superior concierge team can help you plan your day or evening with their 'in the know' suggestions. Saunter up to Nob Hill, for instance, to the InterContinental's sister property the elegant Mark Hopkins and enjoy a classic martini (or two) at the iconic 'Top of the Mark' before heading back to dinner at Luce (pronounced LOO-chay), the InterContinental's lauded restaurant, recently awarded its tenth Michelin star. With a fresh design in neutral hues of gray and blue with pops of purple and orange and geometrical faceted light fixtures of bronze and gold organza, the space is vibrant and urbane, and the service and cuisine are top-notch.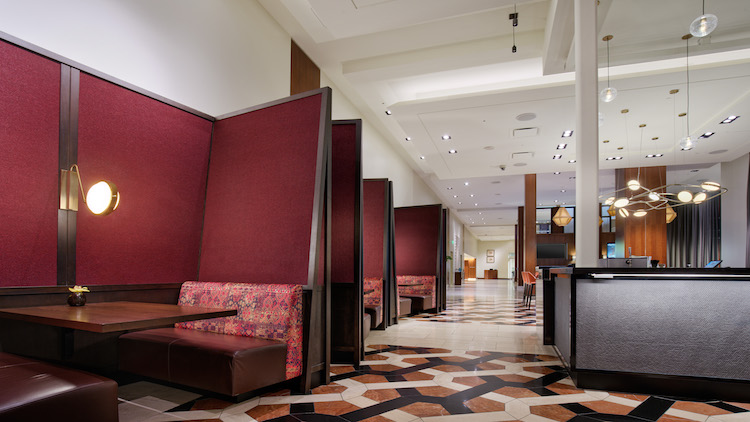 BAR 888

Chef Daniel Corey leads the Luce kitchen alongside his immensely talented team; his menu presents a variety of seasonal flavors, including Handmade Sweetbread Ravioli with crispy sweetbreads and black truffle emulsion, Blue Prawns roasted with brown butter, espelette chili, lemon, and pistachio, Gulf Snapper seared on the plancha with potato confit, spring onion, and artichoke bouillon, and Prime Rib Eye cooked with herbs and garlic and plated with braised short rib, red onion marmalade, and wheat berries. Enhance your meal with perfectly selected wine pairings, the flavor combinations of which will leave you in a state of culinary bliss.
The welcoming Bar 888 also has a new identity; a communal dining table, intimate booths, and accents of lustrous gold and brass create a hip environment where specialized cocktails, California-focused wines, and a selection of local beers complement a bar menu of curated charcuterie and cheeses, locally-sourced fresh seafood, and a signature burger.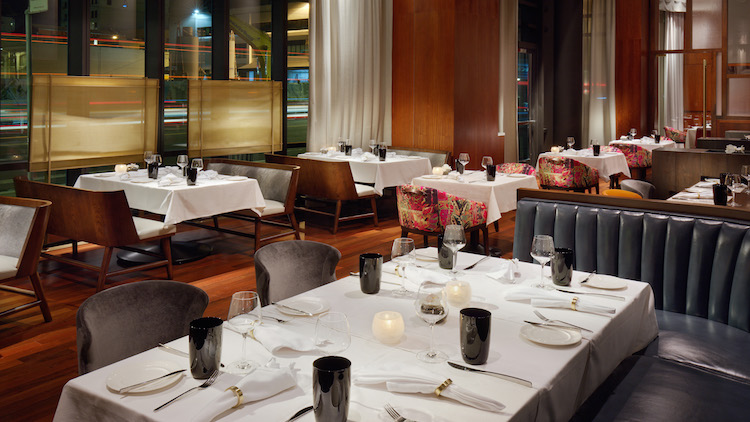 LUCE dining room

And last but certainly not least, guests at InterContinental San Francisco can feel good about staying at an establishment that is LEED Gold Certified – that's the second to highest achievable ranking with the Leadership in Energy and Environmental Design rating system for the design, construction, operation, and maintenance of green buildings. The InterContinental is the largest LEED Gold recipient of existing buildings in California, and the 3rd largest in the U.S. The hotel's director of engineering Harry Hobbs has worked tirelessly to outfit the building with advanced technologies that increase efficiencies without detracting from a luxe experience.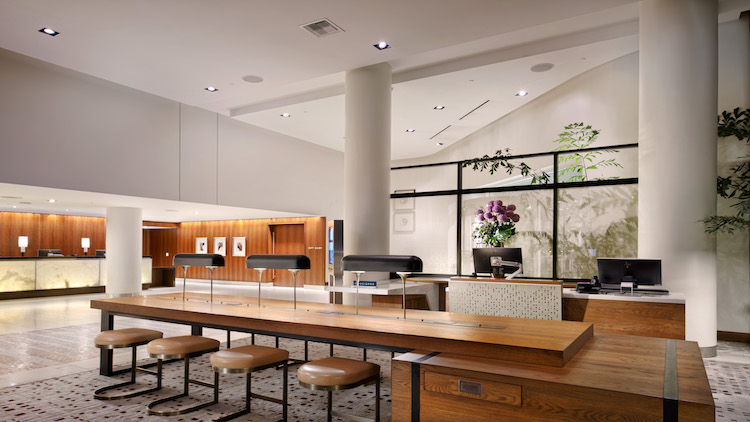 Photos provided by InterContinental San Francisco, unless otherwise noted.