Not long ago I visited Baltimore and loved it so much I returned several months later to share it with my husband. This infatuation with Charm City can be attributed in part to staying at The Ivy Hotel, a restored 1890's red-brick mansion, which opened two years ago in the Mount Vernon neighborhood.
The only Relais & Chateaux in Maryland, The Ivy Hotel achieves a perfect balance of luxury and coziness. The friendly staff appears when you need them, but largely leaves you alone to enjoy "your home." Such privileged ownership stems from the hotel's all-inclusive policy, meaning your room rate includes almost anything you could desire. Want a glass of Chablis before an afternoon nap? Help yourself from the richly-stocked bar, open round-the-clock. There is afternoon tea, on-sight activities and games, valet parking, and gratis gourmet goodies from your in-room mini bar, along with private car service and a full gourmet breakfast. From check-in to check-out, the property is yours to savor as you wish.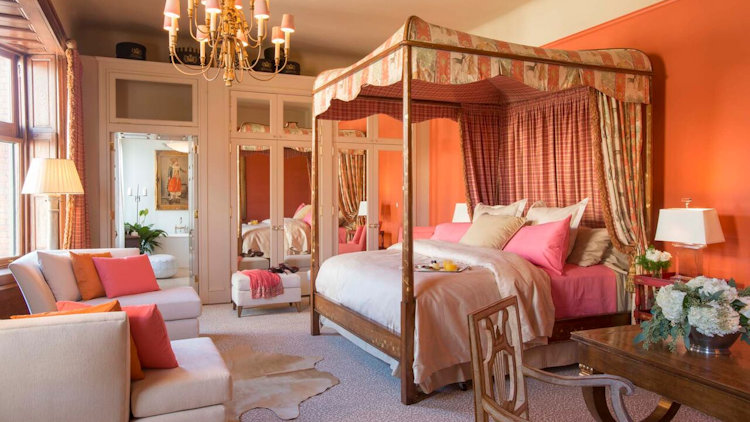 Accommodations at The Ivy Hotel include eighteen sumptuously-decorated rooms and suites, each with its own character and design. Some have corner turrets creating snug reading nooks, others feature private balconies overlooking the sun-dappled courtyard. All rooms have gas fireplaces, modern bathrooms with heated limestone floors, as well as Frette linens, original artwork, and heavy, silken drapery.
Like the guestrooms, the hotel's common spaces highlight the property's original grandeur, but in a chic, fresh way. This immediately becomes evident, as you sip a welcome glass of champagne in the plant-filled conservatory, embellished with black and white checkered floors, leather chairs, busts, and a grand piano belonging to the heirs of the original owners. Walk down the turquoise hall accented with yolk yellow painted wall tiles and you come to the mansion bar sporting a glossy credenza holding tumblers, spirits, mixers, and a built-in-refrigerator. The bar, in turn, spills into a cheerful tea room with painted wall panels of couples drinking and dancing. Huge palms, a fireplace, comfy chairs and sofas lend a sense of luxurious comfort, as do the over-size armchairs, shelves of books, fireplace, and soothing sage-green walls in the next-door library. For a game of billiards, head across the hall to the music room, all cream and beige with an 18k gold-ceiling.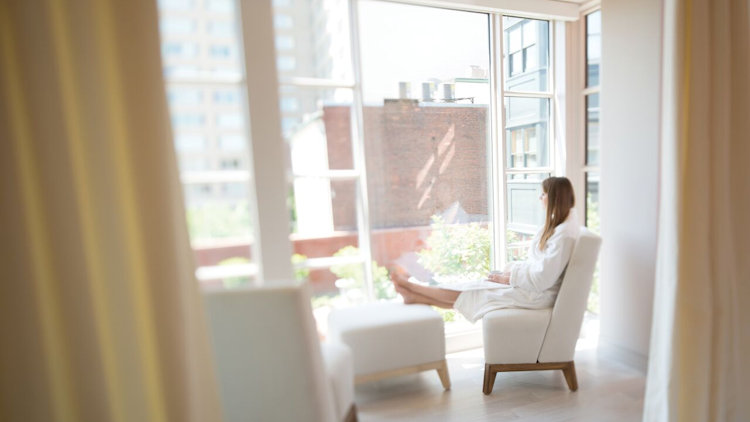 A small spa lies on the second floor of The Ivy Hotel offering a variety of massages, facials, and other therapies. On the ground floor, you'll find an exercise room, as well as the elegant Magdalena restaurant, specializing in high-end, locally-sourced cuisine. Executive Chef, Mark Levy, oversees the kitchen and the creations he regularly posts on Instagram are as delectable as they are visually stunning—seared foie gras and puffy tortellini, fresh-shucked oysters moistened with jalapeno mignonette, and rosy duck slices swimming in green peppercorn jus.
Then, there is breakfast served in the sunny front part of Magdalena, complete with starched white linens, strong coffee and a basket of warm mini muffins and croissants. From the day's menu order an egg dish, some oatmeal, or the restaurant's signature lemon-soufflé pancakes.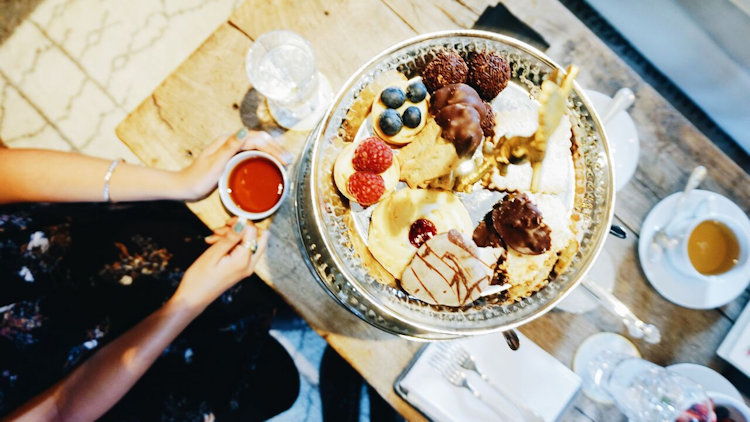 While it's tempting to simply stay put at The Ivy Hotel, the surrounding Mount Vernon neighborhood warrants exploration. Mount Vernon Place is listed on the National Register of Historic Places due to offering one of the finest examples of urban planning in the United States. Some of the area's highlights include a smaller version of the Washington Monument, mostly completed in 1829, and the first major structure to honor President Washington (climb to the top for a bird's-eye view of the city). Then, there is the Johns Hopkins Peabody Institute housing the city's premiere performing arts school and the George Peabody Library with five tiers of beautiful white, cast-iron, balconied stacks soaring 61-feet up from the floor to a skylight. Nearby, you'll find The Walters Art Museum, founded in 1934 by philanthropist Henry Walters who wanted to share his extensive art collection with the public (free of charge). The museum now displays works spanning more than seven millennia ranging from Egyptian mummies to House of Faberge Russian Imperial eggs. Another great stop is Mount Vernon Marketplace, one of Baltimore's more recently-open food halls. Set in the former Hochschild Kohn department store, the free-flowing space has fourteen purveyors selling everything from Korean bibimbap and street tacos to local oysters and chicken souvlaki.
Of course, there is far more to explore in Baltimore beyond Mount Vernon. You can stroll around the inner harbor, duck into shops along the cobbled lanes of Fell's Point, visit the city's other fine museums, and, when time runs out, plan another trip back.