Set on 3,500 rolling acres of pristine mountain wilderness just outside of Park City, Auberge Resorts Collection's newest resort, The Lodge at Blue Sky is taking shape and preparing to accept its first overnight guests in May 2019. A true year-round getaway surrounded by panoramic views, mountain streams and dramatic peaks, the Lodge is poised to introduce a bold new version of the ranch escape, one that embraces rugged outdoor adventure with innumerable mountain pursuits by day and welcomes guests with bold contemporary luxury and creature comforts, for the ultimate "soft landing" each evening.
The vision of local developer and rancher Mike Phillips, The Lodge at Blue Sky is the luxury complement to his Blue Sky Ranch, a year-round destination for outdoor adventures, from natural horsemanship methods and trail rides, to heli-skiing and snowshoeing. Seeking a hospitality partner to bring his vision for a contemporary luxury resort to life, he selected Auberge Resorts Collection.
The Lodge at Blue Sky's Wild West culture will be easily accessible for guests and groups seeking authentic outdoor pursuits that celebrate the splendor of each season. For fly fishing, there's no better place to "match the hatch" than on the spring-fed creek, where anglers' loop casts can deftly unfurl over the running water; equestrians and novices alike will enjoy evening trail rides while the sun sets and stars start to pierce the night sky; while winter explorers will relish the invigorating pace of snowshoeing through untouched powder.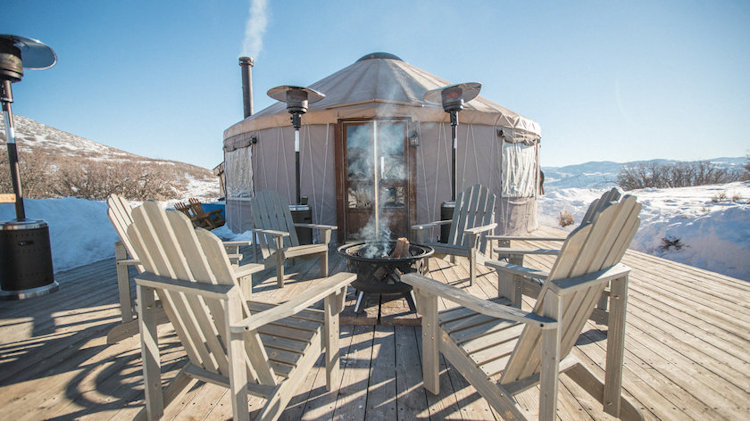 Through a partnership with helicopter outfitter CloudVeil, guests will depart from the property on a 10-minute flight for unforgettable heli-skiing and heli-snowboarding on some of North America's most iconic peaks. Resort guests visiting Park City's award-winning ski resorts will be looked after at Blue Sky's exclusive Ski Lounge located at the base of the mountain. At the ski in/ski out base, guests will be able to store gear, request tune-ups, warm up with hot drinks and appetizers fireside, or have the attendant book a restorative spa treatment for their return to the Lodge. Blue Sky will have regular complimentary guest shuttles from the property to the mountain.
The Lodge's accommodations take their cue from nature in every aspect. Creek Houses, spacious and contemporary free-standing accommodations crafted with weathered steel, seem to grow out of the land. Situated around the contours of the creek, they will embrace guests with panoramic views and quiet elegance. The Sky Lodge will be the social heart of the resort where guests will gather nightly to trade stories of the day indoors over a meal or outdoors by fire pits on a patio under the stars.
Built on a dramatic precipice overlooking Blue Sky's murmuring creek, the Auberge Spa will offer 7,400 square feet of tranquil space, including open air soaking pools, a variety of indulgent treatments, fitness training, and mindful pursuits including yoga and meditative walking trails leading from the spa down to the creek below.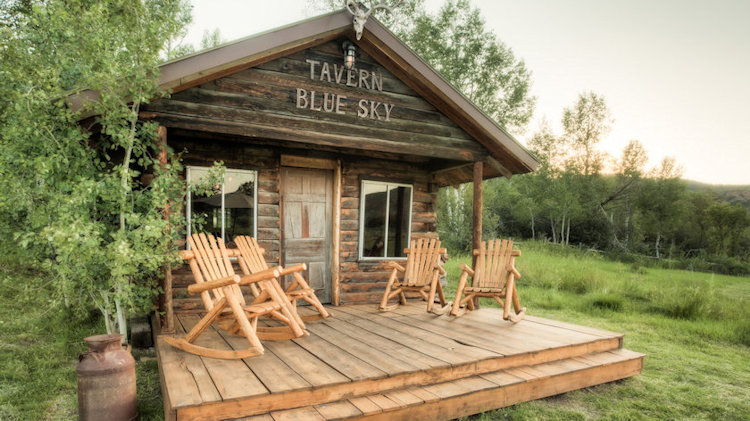 From the all-day dining at the Lodge's main restaurant, to The Tavern and The Refectory at High West Distillery, western-inspired culinary offerings with amazing mountain views abound. Guests can rustle up adventure en route to The Tavern at Blue Sky, a remote outpost saloon located in a high alpine field accessible by hiking, mountain biking, horseback riding, snowshoe, or vehicle. In the summer months, early risers will be able to partake in morning horseback rides up the hillside, where cowboy cauldron-style breakfast will be made over the Tavern's open campfire. Year-round guests are welcomed to wind down with evening cocktails, refreshments and snacks.
The Lodge's main restaurant will serve refined western cuisine using sustainably sourced, heirloom ingredients, many of which are locally produced with several grown on site and prepared on a wood-burning grill that adds a distinctive flavor to the dishes. The rustic-contemporary dining room includes a patio, with all indoor and outdoor seating arranged to take in views of Lewis Peak.
The Refectory, the established restaurant at the High West Distillery at Blue Sky, will become a guest favorite, offering dining, tours, tastings and inventive whiskey-based cocktails such as the Sagebrush Serenade combining campfire whiskey, pineapple rum, galliano, lime juice and fresh peas. Spirits aficionados will have a first-hand exploration into the whiskey-making process at High West, Utah's first legal distillery since 1870.
Weddings, group events, retreats and more can be designed to suit year-round needs at the Lodge's most impressive indoor/outdoor event space, The Arena. Verdant hillsides surround the outdoor ceremony area providing a backdrop blessed by Mother Nature, whereas inside the commanding blue barn, picture windows expertly frame vistas of untouched land worthy of museum walls. Additional venue space includes The Remuda, a 30,000-square-foot covered riding arena that can be transformed into a partially covered event space, The Terrace, set against the Wasatch and Uintas mountains, and Tavern Blue Sky, formerly an 1800s cabin-turned-Western-saloon that is both intimate and accommodating, perfect for smaller groups and events.
The Lodge at Blue Sky is located a convenient 40-minute drive from Salt Lake City International Airport. Guests can now reserve rooms for stays from May 2019 and beyond by calling 435-252-0662 or emailing reservations@blueskyutah.com. Nightly rates are available upon request. To learn more, please visit https://bluesky.aubergeresorts.com.