Both luxurious new suites boast exquisite design, while offering guests special access and amenities they will find nowhere else. The two 5,000 square foot suites sit 53 stories above Manhattan at the top of the hotel's exclusive hotel-within-a-hotel The Towers, and both are shining additions to the luxurious hotel's already extraordinary new catalog of rooms and suites.
The Champagne Suite was designed by notable New York-based design firm BBG-BBGM, led by Interiors Partner and Principal Designer Amy Jakubowski. The Jewel Suite by Martin Katz was designed as a collaboration between renowned jeweler to the stars, Martin Katz and BBG-BBGM.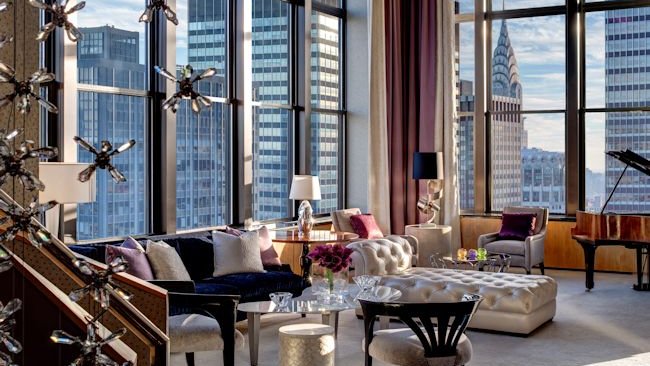 Jewel Suite livingroom
The Jewel Suite by Martin Katz
The magnificent Jewel Suite by Martin Katz is adorned in rich fabrics and glittering jewel-inspired tones and finishes to create an atmosphere suggestive of luxury and romance. The experience begins when guests step into the Jewel Suite, encountering lavish Port Laurent stone floors, diamond-like wall coverings in soothing jewel tones, a stunning 20-foot 'diamond waterfall' chandelier, and 'floating' crystal jewel boxes encasing haute couture jewelry creations by Martin Katz – a permanent installation of the stunning foyer art and design. The sprawling Grand Parlor is flooded with light from the suite's floor-to-ceiling windows, highlighting the grand piano sitting center stage.
The Master Bedroom on the second floor continues the jewel theme, creating an especially intimate experience. Art Deco-inspired chairs are sumptuously upholstered in lavish silver and pearl velvet, while a custom-designed Lucite tableau showcases spectacular jewels. The romance is taken to new heights on the suite's third floor with one of the few wood burning fireplaces still available in a New York City hotel. On warmer evenings, guests can opt to take in the city views from the spa installed on their private outdoor terrace.
The Jewel Suite by Martin Katz not only offers guests the ultimate in luxurious accommodations, but also a myriad of one-of-a-kind guest experiences. Each guest who books the suite at its nightly rate will receive an original Martin Katz Diamond Microband Ring, with a retail value of $2,500. Guests can also arrange for rare access to Mr. Katz for private showings, design consultation, and custom jewelry creations.
Sure to result in a resounding "I do!" The New York Palace has also created The Ultimate Proposal Package including accommodations in the Jewel Suite by Martin Katz; private consultation with Mr. Katz for the creation of a custom-designed engagement ring and/or wedding band; and a customized private dining experience for two on the breathtaking rooftop terrace. Rates for the package begin at $50,000 per night, based on custom jewel pieces.
Champagne Suite terrace
The Champagne Suite (pictured at top)
The new Champagne Suite brings together both modern and classic design elements to create a glamorous space, ideal for cozy tête-à-têtes or lavish entertaining. Upon entering the suite, guests are met with a striking series of floor-to-ceiling windows that flood the Grand Parlor with natural light, while offering breathtaking views of midtown Manhattan. Right off the Grand Parlor sits a rustic and inviting wine cave designed for hosting exclusive tastings led by trained sommeliers.
Opposite the windows is an eye-catching two-story black and white wall mural created by French artists A&M (Alex et Marine) Tatoueurs de Murs. Under the mural, The Dining Room, with ample seating for up to 10, captures the essence of crafting a combination of the old and new. Hewn woods representing aged grape presses are offset by crystal fixtures and sleek finishes wall finishes.
The design of the second floor was inspired by the distinct colors of champagne varietals to create an intricate color story of soft creams and smoky reds. The décor of the Master Bedroom Suite was influenced by the refreshing Chardonnay grape with a palate of ecru, cream and amber tones. The light, bubbly color scheme continues into the suite's lavish Master Bathroom where guests can pamper themselves in the large walk-in shower or indulgent soaking tub. To contrast these light colors, the guest bedroom suite pulls from the more intense notes of a Pinot Noir with glistening rose tinted silvers that aerate warm copper and deep red accents.
A classically-inspired library offers additional space for more intimate entertaining and lounging. The classic and rich design of the library lounge purposefully layers in more of the traditional elements. Still steeped in the warm blacks and bronze color tones, it is here one will find special objects, carefully chosen books and art created specifically to evoke a historic but intimate setting.
Continuing to the third floor, guests are encouraged to take advantage of the oversized outdoor terrace complete with a custom-designed Jacuzzi spa, perfect for sipping champagne while enjoying unobstructed views of the city below. For larger celebrations, the top floor has the capacity to host sky-view receptions complete with a private bar, wood burning fireplace and an outdoor reception area.
Additional amenities for both of the specialty suites include private, express elevators available only to guests of The Towers along with expert maître d'étage service, Maybach house car service, en-suite kitchens and exquisite Molton Brown bath products.
To toast the completion of the resplendent Champagne Suite, Dom Perignon hosted the suite's inaugural event on Monday, September 9, 2013. The landmark evening was hosted by Chef de Cave Richard Geoffroy and featured the largest collection of Rosé Vintages ever to be poured in one tasting. Over the course of the evening, guests tasted 24 different vintages beginning with 1962 and culminating with the Rosé Vintage 2003 - which officially launched the next day on September 10th. In addition to the record-setting selection of Dom Perignon champagnes, guests were also treated to an exquisite menu crafted by Chef Michel Richard. Chef Richard's restaurants Pommes Palais and Villard Michel Richard are two of the six new dining venues at the New York Palace and his first two dining venues in Manhattan.
Rates for each suite begin at $25,000 per night.
Visit website:
www.newyorkpalace.com