I knew just the place.
Located a short drive inland from Santa Barbara, the Oaks at Ojai is a forty-six room destination spa with old school charm focused on relaxation and wellness.
Especially popular with women, the Oaks promotes a casual, easy atmosphere. When guests arrive, they are encouraged to visit the friendly Health Center to talk about dietary preferences and to be weighed and measured to create a base line for the visit.
The Oaks has the energized feeling of summer camp. Guests greet one another cheerfully. Many of the women have just met. But many others have been here before and become friends. Women gather at the round tables in the Libby Lounge and talk about yesterday's classes and what they are taking today.
Three times a year, the Oaks offers a mothers and daughters spa getaway. Some mothers and daughters have been coming so long, they now include their granddaughters.
One of the charms of the spa is that you are free to plan your time any way you want. No one gives you a schedule to follow. Take the fitness programs you want or spend your days on a chaise lounge next to the pool reading a novel or joining other guests in the Libby Lounge engaged in interesting conversations, your choice.
The daily activities posted on a schedule vary as to technique and difficulty. A morning walk into the surrounding hills could be a leisurely 30 minute stroll, a brisk 60 minute walk or a strenuous 120 minute hike. If you want to press yourself to the limit, take the 6:30am Advanced Mountain Walk, a 6.5 mile hike into the foothills above the resort, followed by Aqua Zumba in the pool.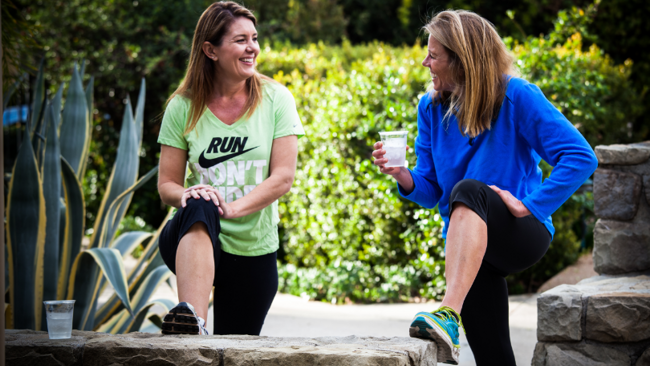 Activities for Wellness and Wellbeing
The words written on the wall of the exercise room lay out the objectives of the Oaks: Strong. Focused. Healthy. Balanced.
Ultimately, if you have chosen the Oaks, you are focused on your health. You are here to exercise in Ojai's fresh clean air and enjoy a relaxed environment. In your search for a more balanced life you are here to become stronger.
Every day there are programs that use Pilates, hiking, yoga, aquatic exercises and dance to build strength and flexibility. Work outs are designed to fit individual needs.
Nobody cares what you wear or the pace of your exercise program. You hear that a lot at the Oaks. Guests love the non-judgmental, non-competitive environment.
Some exercise programs seem easy but turn out to be more challenging. And, that's a good thing.
The Community Pool class seemed like a no-effort water exercise. One day while we were at the Oaks, at 8:00am the work out began in the swimming pool to the accompaniment of a drum beat playing on the CD player. The music wasn't loud. More background noise really. The instructor directed her students to move up and down in the water in a routine designed to shake off sleep and get the blood flowing. Everyone talked happily as the water lapped against the sides of the pool.
But the instructor wanted more. She challenged them to "surge," to push against the water with the buoyant water weights she had given them. The group of thirty laughed and "surged" to the instructor's insistent calls to do more. "Let's go! Hard. Go! Those inner thighs have to work really hard. Push!"
When the session ended, the group left the pool energized and ready for the day.
In pursuit of a balanced life, the Oaks also offers talks about meditation, health and nutrition. While we were at the Oaks, Lena Rivkin, a handwriting expert, talked about famous authors and what their handwriting revealed about their personalities. Peter Bowen, the Oaks General Manager led a guided tour around the town, detailing the history and interesting facts about Ojai.
For entertainment, twice a week there are Movie & Popcorn Nights. While we were at the Oaks, "Mother's Day" and "Dark Horse" two very different films were screened.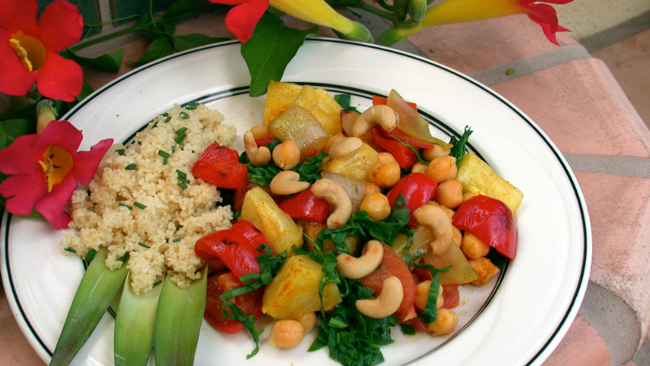 The meal program
As part of the all-inclusive program, meals and snacks are offered throughout the day. You may wonder if you will be happy with a 1,000-1,200 daily calorie allowance. Or, if you will enjoy meals that are prepared without red meat, processed grains, salt or sugar.
Chef Christine Denney serves meals that are balanced and full of flavor. To help with weight reduction, she relies on portion size and fresh fruits and vegetables, whole grains and low fat animal proteins to create a healthy diet.
In the morning, breakfast is served in the Libby Lounge, a bright lanai style room facing the pool. If you are going on the 7:00am walk you will join other early risers to have freshly cut fruit (cantaloupe, oranges, figs or papaya), whole grain or gluten free muffins, hard-boiled eggs and tapas sized frittatas with feta, tomatoes and spinach.
Lunches and dinners follow the one meal plan with vegetarian, vegan and gluten free choices.
For one lunch, I enjoyed a turkey burger on half a whole wheat pita with a green salad and a slice of watermelon. Michelle's gluten-free alternative was a large arugula salad topped with generous portions of avocado, shredded carrots and red cabbage, steamed cauliflower and broccoli, grilled tofu and pumpkin seeds.
Chef Denney posts the calorie count for each dish on the menu, because calorie counting is a part of weight reduction. But from her culinary point of view, meals that emphasize deprivation--no-this, no-that--are counter productive. Sure, you might lose weight going all paleo or no carb, but extreme diets don't work. Sooner or later, the weight will come back.
Her goal is to change how and what you eat.
Dinner one night included a green salad with shredded green and yellow peppers with a herb vinaigrette (50 calories) and a grilled chicken breast with chimichurri sauce, wild rice pilaf and steamed broccoli (170 calories).
The portions were large and the meal was very good. Dessert was a plate of three dark chocolate covered strawberries (50 calories).
Hardly what I thought would be served on a spa menu.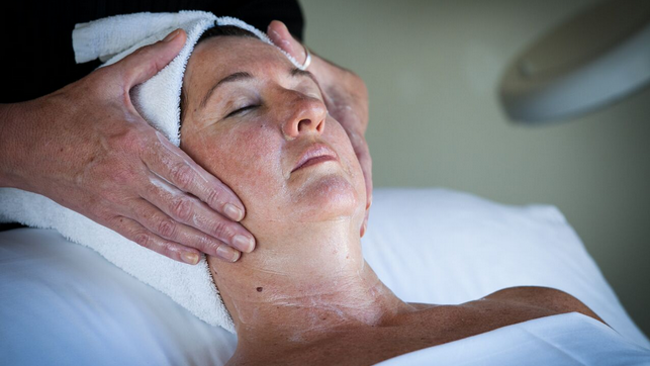 Spa treatments
Besides the work out and meal programs, the Oaks offers treatments and salon services. The skin treatments include scrubs, aromatherapy, facial masks and waxing. There are a dozen massages varying from gentle aromatherapy to vigorous Swedish massage. And, because the Oaks believes in taking care of the mind as much as the body, there are personal training and private mediation sessions.
For my wife, the ultimate luxury is a facial. From the spa menu, she chose the Fit & Firm VitAD Fortified Lifting Facial w/AHA. The seventy-five minutes facial included a massage of her neck, upper shoulders, arms and feet.
Her face received the most attention.
Beginning with a deep cleansing treatment using glycolic acid to take away the dead skin, the therapist then applied a vitamin D mask and creams to hydrate her skin. The facialist was friendly and answered all my wife's questions. After the treatment, my wife said her skin felt alive and glowing, the facial was one of the best she had ever had.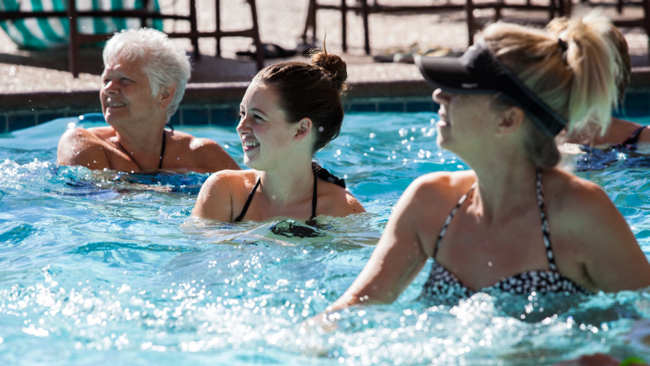 Exercise programs
Classes at the Oaks average forty-five minutes. Long enough to create a good work out. Not so long that fatigue or boredom sets in.
The first day we arrived, my wife took a restorative yoga class. While the instructor led the class through their poses, a live performer played a hand-held harp. After working so many long days without a good exercise program, Relaxing Yoga was the perfect way for my wife to begin our three-day stay.
The next day, Michelle wanted to up the ante with a class called Pilates Mat. Focused on abdominal core work, the instruction was dynamic, fast moving, a great work out and tough. She drank a lot of water after that class.
The next day, she wanted to challenge herself even more with a Zumba class. Before she left for the class she said that she wasn't certain she would last the full 45 minutes.
But she did.
Afterwards she told me the instructor made the class fun by choosing great, pulsating music. For forty-five minutes, the dancing didn't stop. From salsa to Bollywood, the aerobics class pushed everyone to their limits.
After Zumba, she took the restorative yoga class again but with a different instructor. What she learned was that each instructor individualized the class. The second instructor emphasized meditative, slow stretches that made the work out even more relaxing.
On our last day, Michelle took a second Pilates class that combined hatha yoga with core work. The instructor pushed everyone and it took great stamina to get through the work outs.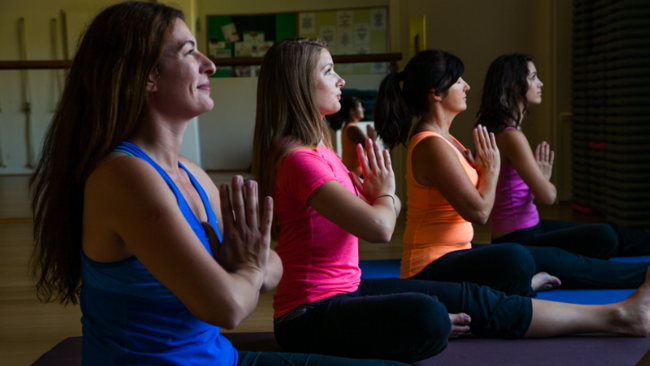 Carrying the Oaks home
A stay at the Oaks is intended to stimulate your body and your mind.
In addition to the daily schedule of exercise and meal programs, there are also presentations to help guests learn how to carry their experience home.
Presentations are offered so guests can learn about homeopathic health remedies, cooking low fat, no sugar, whole grain healthy meals and the relationship between a healthy diet and wellness.
For my wife, the Oaks gave her what she needed. A break from emails, phone calls and meetings. She needed quiet, physical activity and unhurried meals. She loved that she could wear sweat pants, t-shirts and flip flops every day. After three days she felt more peaceful, stronger, and energetic.
As we were driving home, she paid the Oaks exactly the compliment they would want. She told me that she had to find a way to incorporate a regular program of yoga and exercise into her daily life. Not just the walks she did with friends but Pilates, yoga and even Zumba! The Oaks would be proud. And, of course, we would want to come back.
When you go
The Oaks at Ojai, 122 E. Ojai Avenue, Ojai CA 93023, 1-800-753-6257,
http://www.oaksspa.com