They are composed of Aruba, the most popular (and populous) island, Bonaire, and Curacao–an unspoiled gem that boasts world-class diving, pristine natural beaches, and colorful, UNESCO-listed Dutch colonial architecture. Despite its cosmopolitan hotels, secluded beaches, and exotic food–which range from traditional Dutch street fare to haute Afro-Cuban fusion–Curacao still remains somewhat of a secret to even the travel-savvy set. That's about to change, however, as JetBlue recently unveiled direct flights from
JFK to Curacao
. In just four hours, tired and weary city-dwellers can find themselves snorkeling in the vibrant blue waves of the
Playa Knip
or enjoying palm frites as they stroll down the historic district of
Willemstad
.
With so many options on the island to choose from, we've culled together a list below of the perfect week (with a little delicious slice of everything).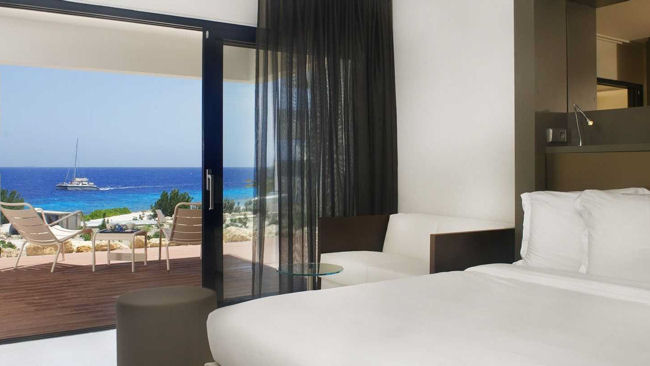 Saturday
Unfortunately for now JetBlue only flies to Curacao on Saturdays and Tuesdays, so we recommend leaving on a Saturday for a no-stress, weekend-maximizing arrival.
If you're on a romantic retreat, we recommend the
Papagayo Hotel and Resort
–one of the island's newest (and chicest) resorts. With several suites overlooking the water, and both a private beach and infinity pool within walking distance, Papagayo is the perfect place to unwind. If you're traveling with family you can also rent a
full luxury villa
. At night be sure to check out one of the hotel's many restaurants for fine dining, drinks, and maybe even a little dancing. Of the several spots that line the resort, our favorites
included Zest
, a Mediterranean-style bar and grill with open air walls, and the Papagayo Specialty Restaurant (on premises) for an upscale fine dining experience.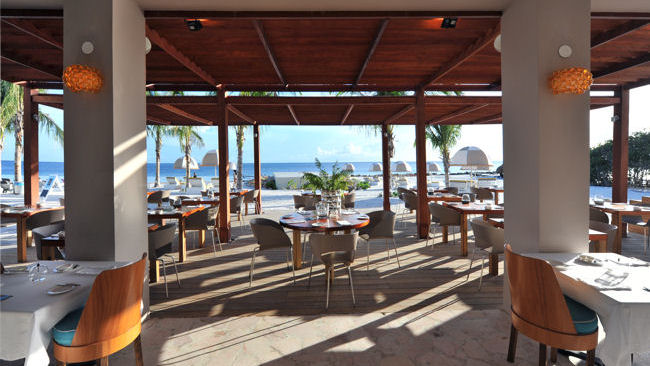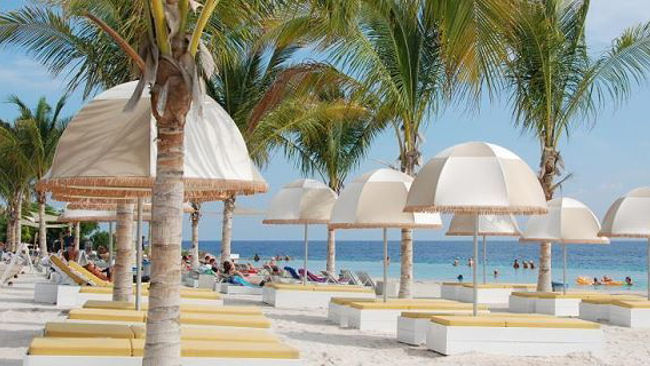 Sunday
We imagine you're probably as eager as we were to relax and do some unwinding. For an easy, stress-free Sunday we recommend visiting one of the island's private beaches. At
Jan Thiel beach
, a stone's throw from Papagayo, you can eat everything from fried calamari to a full meal as you overlook the water. You can also rent beach chairs, private platforms (for laying beds and larger groups), scuba and snorkel gear, as well as jet skis and even "hover shoes."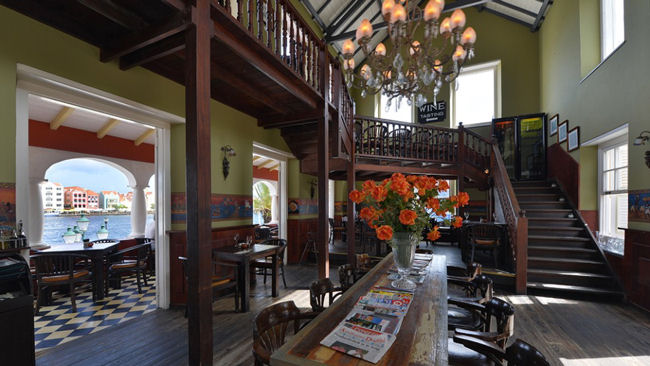 Monday
We recommend waking up early so you can take full advantage of bustling Willemstad. While there are plenty of
walking tours
to choose from, strike out on your own for an authentic experience. Be sure to stop at the famous
floating market
, where traders and artisans from across the Caribbean and South America sell fruits, veggies, fresh fish, clothing, and handmade jewelry. For a taste of traditional Curacao fare, stop by the
Plasa Bieu
and try the whole red snapper. Despite the no-frills design, it's one of the most popular destinations on the island–we even had the pleasure of eating next to the governor!
After you've fueled up, we recommend checking out the iconic Queen Emma Bridge, the Governor's mansion, and the 300+ year old
Mikvé Israel- Emanuel Synagogue
–one of the world's only sand-floor synagogues. If you aren't too tired we also recommend strolling through the Scharloo area, the more residential side of the city, which is filled with many buildings on the UNESCO World Heritage list.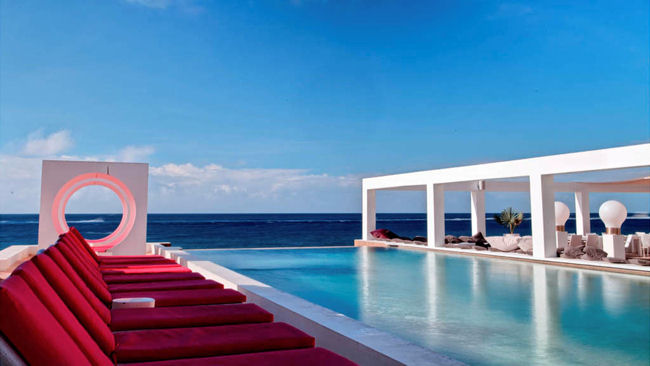 Tuesday
There's so much to see on this tiny island that it's a shame to waste even a day. To maximize your time, we recommend visiting the West End, which is known for its wildlife and beaches. (If you drive through the Jan Kok area, you might even be able to see wild flamingos.) If you can't choose which beach to visit first we recommend hopping between the big, sandy knip and the rockier, more shaded
little knip
. If you get hungry, stop by the
Landhuis Dokstertuin restaurant
–a rustic-chic dining spot with a hacienda feel that boasts excellent local cuisine and seafood.
After lunch, take a drive to the rocky points of
Shete Boka parks
. Curacao is partially a dormant volcano, and this stunning area is covered in cooled lava; The otherworldly topography of the spot is offset by blue waves which crescendo into fantastical geysers. In certain seasons the area is also a breeding ground for turtles, and you can even catch a few hatching.
After a full day at the beach relax in style with early drinks and lite bites at
Saint Tropez
, one of the island's chicest bars and restaurants. The art deco architecture and haute-beach feel is reminiscent of Ibiza sans the crowds. We recommend ordering the Blue Curacao mojito–made with the island's famous namesake liquor–and watching the sun set.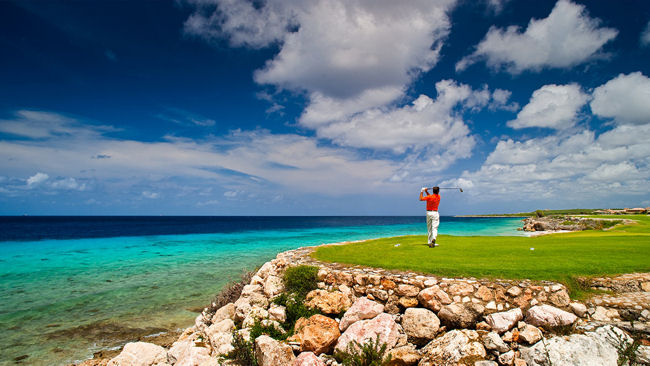 Den Paradera Herb Garden where Dinah Veeris, the island's official herbalist, can make you a personalized recommendation for whatever ails. Wander through her garden as you learn about everyday holistic healing practices and feel inspired.
Next, travel down the road to the Curacao
aloe plantation
, where the island's internationally exported CurAloe products and gels are made, and learn about the plant's rejuvenating effects.
From there, visit
Santa Barbara Beach & Golf Resort
for lunch. Located on the former Santa Barbara Plantation, this 350-room resort and spa features magnificent views of the Venezuela-facing waters, as well as dining options that range from organic ice cream to an oyster tasting menu (and four on-site restaurants). This spot is also a fantastic luxury destination for large groups, or important guests with long riders. With three pools, four restaurants, a water sports facility, tennis courts--including on-site tennis pro instructors--and a private beach, the resort is one of the most popular destinations on the island for bridal parties, family reunions, honeymoons, and (it's rumored) counts Prince among its fans.
To cap off a busy day, we recommend dinner in laid back luxury at
De Gouverneur
. Once the Governor's mansion, this Dutch-fusion waterfront restaurant offers some of the best views of Curacao's iconic Handelskade district. With the feeling of a haute bungalow, we recommend sitting inside the candle-lit garden courtyard with a significant other.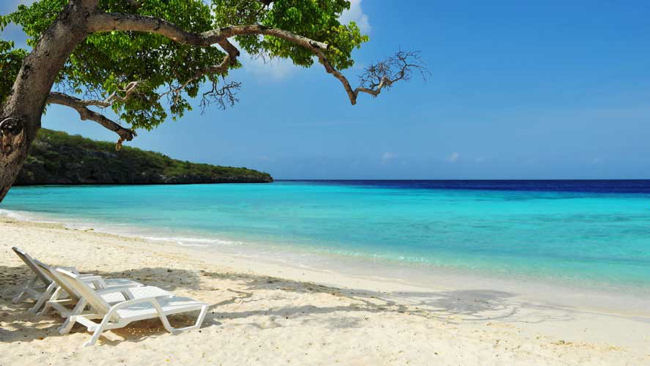 Thursday

By now you are probably in need of another beach day. We recommend either the stunning
Cas Abao
, a family-style beach with unparalleled snorkeling, or the romantic
Playa Porto Mari
beach club, a tiny cove inlet with magnificent food and mixed drinks.
For dinner, visit one of the island's most popular restaurants,
Mundo Bizarro
. Decorated like a New Orleans lounge, colorful furniture and vintage touches are offset by a world class tasting menu.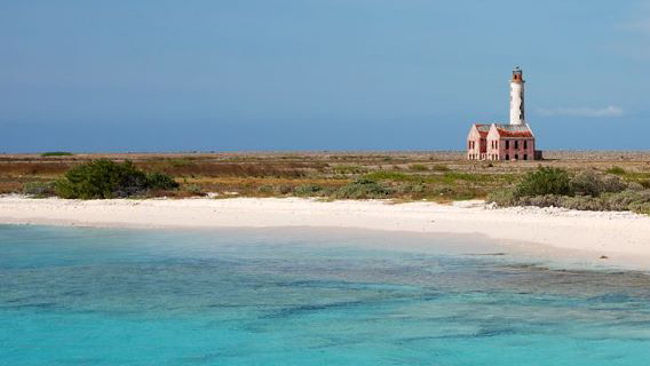 Friday

It's your last full-day on the island so we recommend making the most of it. Adventurers: book a full day trip to
Klein Curacao (Little Curacao).
Often called "an island all to oneself," this tiny spot is only accessible by boat and offers unparalleled wildlife viewing, snorkeling and diving, and the chance to relax undisturbed for hours. Tours tend to leave only in the early morning, so be sure to make it on time!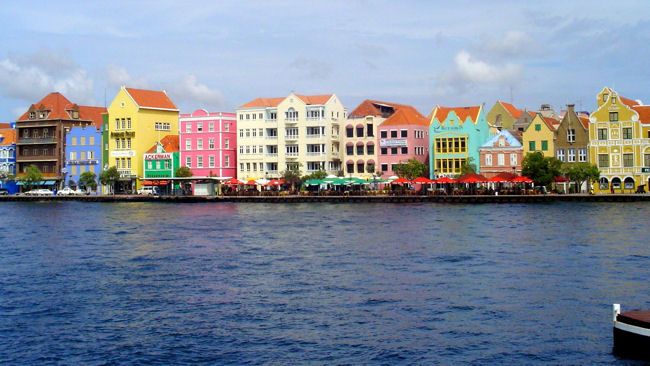 Saturday

It's sadly the last morning on the island so we recommend one last walk along the Willemstad promenade. If you have time, stop by
Kura Hulanda
Hotel and Museum. Made from a restored colonial neighborhood, this sprawling destination has both a cobble stone "town square," restaurant, and waterfall, and an on-premise museum that features world class art and historical relics from Curacao, the West African Empires of centuries past, and South America.