The hotel's Executive Chef Peter Find has worked closely with Dom Pérignon's Creator and Chef de Cave Mr. Richard Geoffroy in crafting a five-course interactive dining experience at the world's highest Chef's Table, pairing three exceptional Dom Pérignon Champagnes from a remarkable harvest year, for guests to explore and engage their senses.
In order to craft a distinctive dining experience like no other, The Ritz-Carlton, Hong Kong invited Mr. Richard Geoffroy to personally experience the five-course degustation menu at the world's highest hotel, and share his thoughts on the perfect pairing from an extensive list of vintages.
Mr. Richard Geoffroy has selected three leading Champagne vintages that will take the dining experience to new heights. Dom Pérignon Vintage 2003 has matured to its best after ten years. It possesses an intensity that is unique and paradoxical, teetering between austerity and generosity, owing to the unusual weather during the harvest time that year. Dom Perignon Oenotheque 1996 has also reached the optimal stage in its evolution. It has abundant bubbles and a level of complexity that results in a beautiful chemical reaction when paired with the caviar dish in the menu. The luminous Dom Pérignon Rosé Vintage 2002 was released recently in April this year. It possesses a red-orange glow and an aromatic persistence that will bring the ultimate in pleasure to any guest.
"The Ritz-Carlton, Hong Kong is thrilled to bring guests such an amazing interactive dining experience that links up gourmands, talented chefs and prestigious Dom Pérignon champagnes. This dining experience is a concerted effort of all the ladies and gentlemen in the hotel dedicated to crafting a phenomenal dining experience for guests," says Pierre Perusset, General Manager.
The Chef's Table experience features Find and his select team of chefs, attending only to one table throughout the evening. Every dish will be served with detailed explanations on the ingredients and the cooking methods. Guests are welcomed to ask questions about the dishes and share feedback directly with the chefs. It is a truly interactive dining adventure. Guests will get to learn from the masters on the effort and techniques that goes into the preparation of their dishes.
The bubblicious Dom Pérignon Pairing Menu is available from now until November 30, 2013 between 6pm and 11pm at the Chef's Table on level 102. Priced at HK$3,880 per guest (applicable to booking of 6-8 guests, price is subject to a 10% service charge).
For reservations and enquiries, please contact Restaurant Reservations on (852) 2263 2270 or email restaurantreservation.hk@ritzcarlton.com.
Visit website:
The Ritz-Carlton, Hong Kong
About:
The Ritz-Carlton, Hong Kong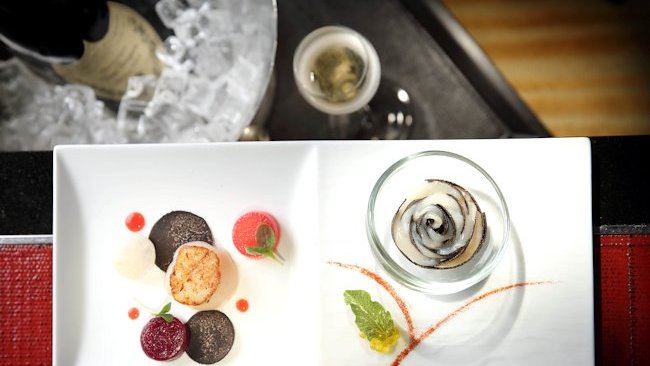 Bubblicious Dom Pérignon 5-course Pairing Menu at The Chef's Table, HK$ 3,880 per person + 10% service charge:
Scallops / Citrus Fruit Ceviche / Black Truffle / Beets
Dom Pérignon Vintage 2003
***
Shrimp / Chestnut Shavings / Baked Squash
***
Spinach Shoots / Truffle / Ricotta
Dom Perignon Oenotheque 1996
***
Veal Medallion / Parsnip / Fondant Potato / Mushroom Crisp
Dom Pérignon Rosé Vintage 2002
***
Corsican Clementine / Peel Confit / Clementine Powder Sorbet /
Creamy Saffron / Baba Mix / Rose Petal