Honoring the resort's commitment to support local communities, artists and talents, the hotel commissioned Miami-based artists Felice Grodin, Michael Loveland and Alex Trimino to produce artwork to be displayed on six bikes, which will be launched in early December to celebrate Art Basel 2014.
The artists were hand-selected by the property owner Diana Lowenstein, director of the Diana Lowenstein Gallery. Loveland, Trimino and Grodin each produced an artwork piece they believe is representative of Miami's lively culture and thriving community.
Three of the six BaselBikes adorned with the artists' work will be part of an online auction to be unveiled on December 4th. The other three BaselBikes will be available for hotel guests to use. The online auction will be live for 14 days. Due to the hotel's pledge to worthy causes and dedication to making a community footprint, the proceeds from the online bike auction will be donated to three different non-profit organizations based in the Miami area.
The hotel is launching the bespoke bike share program to promote cycling, wellness, local talent and provide an easier way for their guests to discover South Beach. The Ritz-Carlton, South Beach and the Diana Lowenstein Gallery will be hosting a private event on December 4th to launch the auction. The three bespoke bikes that will be auctioned off will be on display of the hotel lobby for 13 days starting December 4th.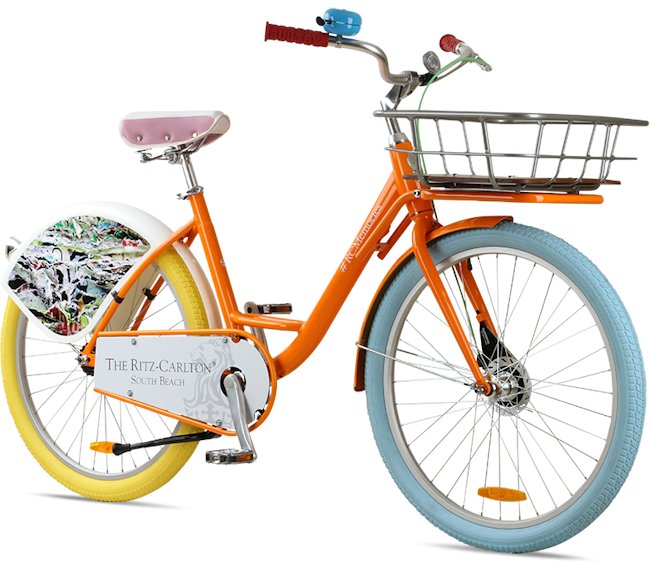 MICHAEL LOVELAND is a Miami based artist whom gains inspiration from antiwar posters, activist posters and hand-scrawled homes-for-sale signs. Loveland's work portrays the power of an individual's voice in society and in his work, he obliterates all but the mouth. Loveland also produces minimal sculptures, which is inspired by feelings of false securities, foreclosure and abandonment. His artwork is included in several private and museum collections. Loveland's proceeds will go to the Morningside K-8 Academy PTSA program to help the arts department with events and programs. Morningside K-8 Academy is a public middle school located in on the Upper East Side of Miami.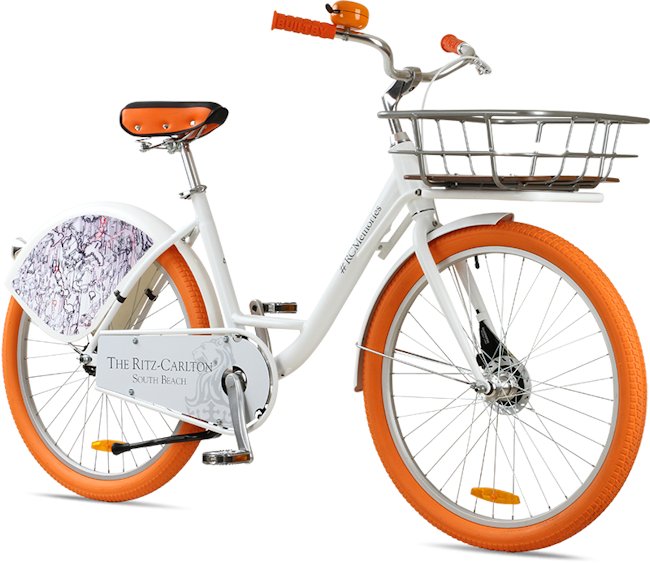 FELICE GRODIN was born in Italy and currently resides in Miami Beach. With a background'in architecture, Grodin's artwork explores processes that merge the physical and mental landscape. Her work is also influenced by the cities she has lived and factors that make those cities transformative such as San Francisco's earthquakes, Miami's hurricanes and Venice's rising lagoon. Grodin's proceeds will go to Fall Semester c/o University of Wynwood, a non-profit organization that expands and advances literary culture in Greater Miami.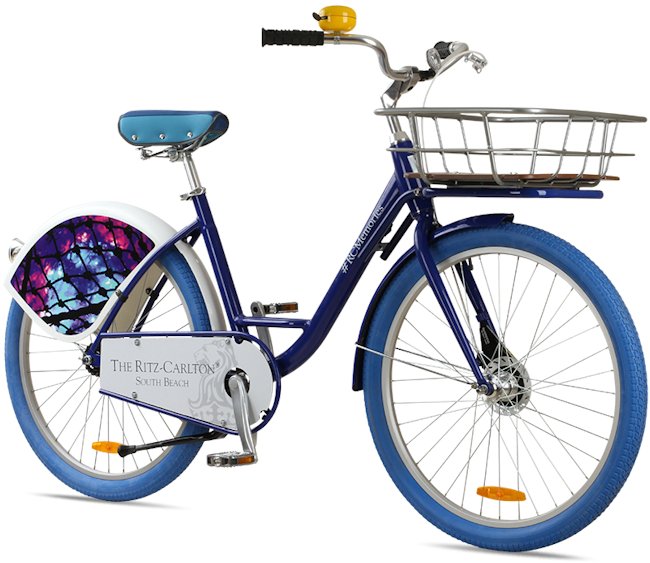 ALEX TRIMINO is a Miami-based visual artist from Colombia. Trimino creates illuminated fiber- based sculptures and installations. She incorporates lo-tech crafts such as knitting's, weavings and crochet to expose social views on civilization, technology and gender. Her goal is to create a connection between past and present with embroidery and technology. Trimino's proceeds will go to Liga Contra el Cancer center. Liga Contra el Cancer is a non-profit organization that provides free medical care to needy cancer patients.
The Diana Lowenstein Gallery represents all three artists. Republic Bike custom built each bicycle around their Plato SharedBike format. The customized SharedBikes are designed to be ideal for hotel fleets with their distinctive and comfortable style. Through its custom programs, Republic works closely with companies to design bikes that are intimately aligned with their aesthetics and values – however practical or wild. Republic Bikes are then assembled to order at their facility in Dania Beach, FL.
Visit website:
http://www.ritzcarlton.com/en/Properties/SouthBeach/Default.htm