My desire to explore Italy's furthest reaches recently brought me to a new frontier. During my trip to Sicily I was forced to throw away any preconceived notions I had about the island: luxury has arrived. Boutique hotels are marrying personality and passion in corners of Sicily that could easily be overlooked. But you shouldn't – experienced travelers will know that these are precisely the places that need to be seen now.
During this trip I focused on the sunny southeastern corner of Sicily, a section of the coastline that is far from Palermo and Agrigento, but home to its own wonders. The ancient Greeks recognized this rare beauty, and built towns and theaters such as picturesque
Siracusa
overlooking the sea. Today this region is home to a blend of scenic attractions and serious pleasures, including UNESCO World Heritage sites and restaurants by the sea. And yet, it was the rich tradition of the people that struck me most about Sicily, from the moment I first walked through the doors of a special little boutique hotel called
La Moresca
.
Carlomaria Grassi extended his arms in warm welcome under the Sicilian sunshine. After a restful night's sleep we were having breakfast under a 150-year-old lemon tree in the courtyard of his new boutique hotel in
Marina di Ragusa
. The combination of elegance and history make it impossible not to love this hotel. Small touches made my room memorable, from French doors leading to a private terrace to floating white curtains softly stirring in the breeze. Arriving in the courtyard for breakfast, I found the friendly staff squeezing orange juice and grinding coffee. A tray of delicate pastries stirred my sweet tooth as I went back for flaky seconds.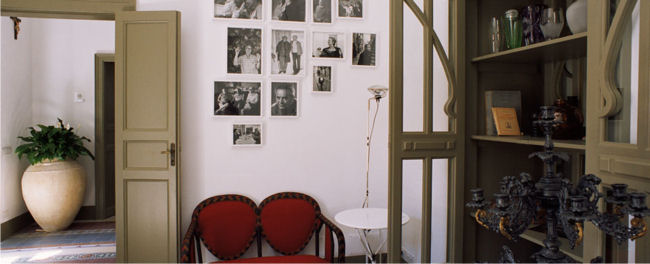 After breakfast, Carlomaria led me on a tour of his beloved hotel. Originally a private mansion, but abandoned for 15 years, this property was restored by a certain architect from Milan with an eye for historic preservation: Carlomaria himself. Every item in
La Moresca
has a story, from the original water well to refurbished antique furniture. This spirit of Sicily is alive in every room: charming bureaus, antique trunks, and black & white photographs capturing Sicilian life. It is rare to find a hotel with genuine character, and even more rare to find one that also gets luxury just right.
Time in Sicily is measured in days and not hours. We spent our first day on the tower solarium: our own private sunbathing cocoon. Two daybeds and a bottle of cold sparkling water were all we needed to enjoy this serene space. Beyond the state-of-the-art rainforest shower and chic living space, La Moresca achieves something special by bringing visitors somewhere undiscovered and slightly rough around the edges. Visit and you will be dropped in the center of somewhere authentic, somewhere of a different time. You will also be one of the first to enjoy the unspoiled pleasures of this village by the sea.
It would be easy to only leave the oasis Carlomaria has created for a stroll along the seafront or a lingering evening meal, but this would be a mistake. The following morning, we set out in a rental car for a nearby World Heritage Site, the baroque city of
Ragusa
. After a 30-minute drive the honey-colored stone of Ragusa Ibla, the old town, came into sight. From Michelin-rated restaurants to a striking Cathedral to medieval narrow streets, Ragusa boasts all the characteristics of an ideal daytrip. After an evening stroll in the Ibla Gardens, surrounded by mountain views, I couldn't wait to return to my sanctuary by the sea.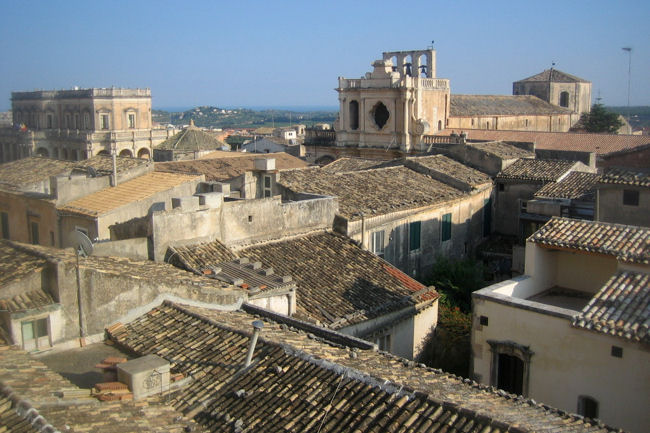 Since opening in January 2010 La Moresca has extended the warmest welcome to its first guests. Carlomaria's vision of a hotel that seamlessly combines old and new has been fulfilled. Original features such as delicate tile floors remain while minimalist touches provide polish. This hotel is a stimulation of the senses, from rosemary growing wildly in the herb garden to ringing church bells. After a few hours on the solarium, it was time to depart for another of Sicily's special villages. I was genuinely heartbroken to leave, I could have been a guest at this hotel for weeks. With his genuine smile, Carlomaria wished us buon viaggio and reminded us that in the future all we had to do was knock, and the door to our new Sicilian home would open.
In recent years architects and entrepreneurs have unlocked the potential of Sicily. When we arrived in the hilltop village of Noto and pulled into a historic palazzo, it was clear that a creative personality with a vision was behind this boutique hotel.
SevenRooms Villadorata
brings a 17th century fantasy to stunning reality: stylish Cristina Summa has transformed a former royal residence into an exclusive guesthouse. When elevator doors opened, I stepped into a storybook. With the best location in town comes the best view: opening the French doors I couldn't help but sigh in pleasure at the views extending over the red rooftops to the sea.
Every detail of the guesthouse solidifies the fact that Cristina knows luxury. My sighing continued as I swung open the door to the largest bathroom I've ever seen in a European hotel. The beds are fit for a king, and rooms are decorated in tones of cool blue, grey, and cream. Modern touches include complimentary WIFI and large plasma TVs. The best of Italian and French fabrics and designer furnishings will entice you to stay in the room, but the views from the balcony will break this spell and seduce you outside. I was in the heart of Noto, steps from the Cathedral, and there was plenty to see.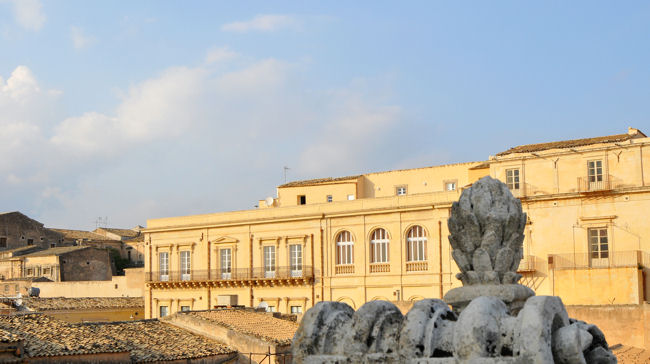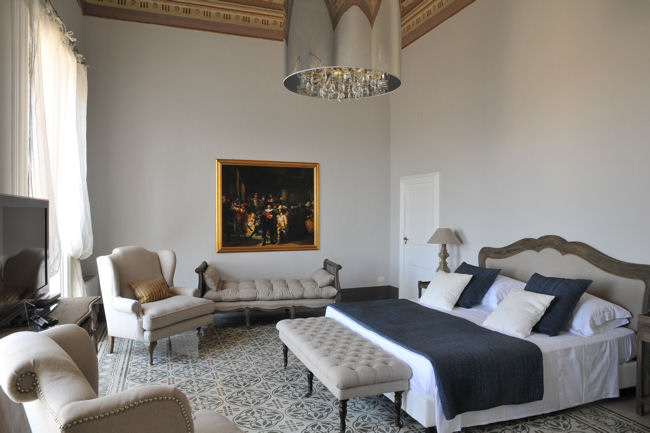 "You've never heard of Cafe Sicilia?" Maurizo, in his black leather jacket, asked with a stunned look on his face. Moments later the four of us were seated at the famous cafe ibbling on a signature sweet cake. All around us the evening ritual of La Passeggiata had begun: senior citizens in their best, crisp shirts were strolling beside teenagers sneaking kisses. Our conversation slipped between Italian and English (these are times I'm thankful for my multilingual partner) and Cristina divulged her love for Noto ever since childhood. Entrepreneurs like Cristina have done the rest of us an incredible service: she has awakened a piece of history and given us access to its pleasures.
The royal treatment continued the following morning over an elegant breakfast. After the last sip of a cappuccino we expressed an interest to Cristina to relax on the beach. Soon we were following our trusted host in her Land Rover through the narrow streets of Noto towards a secluded cove. We spent a lazy afternoon between the golden sand and swimming in the cool Mediterranean. Returning to Noto, I slipped my key into the lock at one of the best addresses in town. Luxury travelers who want to live the life of the Sicilian aristocracy should contact Cristina directly and describe their needs in detail when making a reservation. Some rooms are quieter than others, so be sure to share your requests to find the perfect match of her elegant seven rooms.
My trip to Sicily was defined by passion and personality. Unlike other trips to Italy, my Sicilian adventure was special for more than cuisine and architecture. My trip was rich in the history of the Sicilian spirit, from black & white photographs of spectacled men in La Moresca to the stories that form the history of SevenRooms Villadorata. The Sicilian passion for life and simple pleasures was infectious, and quickly, I could see myself returning often to get to know the island even more intimately. I've started working on my Italian again, and I keep a couple bottles of Nero d'Avola (local wine) in the house to bring the memories of this exhilarating trip rushing back with the first sip.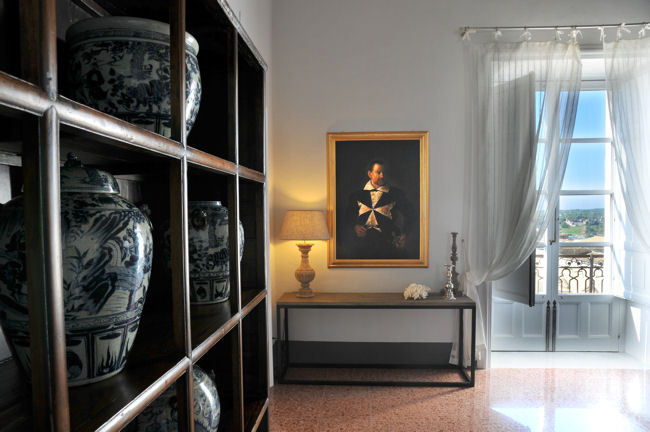 When to Go:
• Sicily is an example of a European destination that is best seen in the shoulder season. Temperatures in July and August can soar, so avoid crowds and heat by traveling in May and June, or September and October. If you don't mind brisk weather, traveling in the off-season will ensure you have all the UNESCO sites to yourself.
How to Get There:
• Fly into Catania Airport (CTA) on the eastern coast of Sicily. From the USA, fly direct to London or Rome and connect to Catania.
Where to Stay:
•
La Moresca.
Via Dandolo, 63. Marina di Ragusa. T: +39 0932 239 495 W:
www.lamorescahotel.it
E:
info@lamorescahotel.it
•
SevenRooms Villadorata.
Via Nicolaci, 18. Noto. T: +39 338 509 5643 W:
www.7roomsvilladorata.it
E:
info@7roomsvilladorata.it
Where to Eat:
•
Trattoria da Carmelo:
A pleasant stroll away from La Moresca is this restaurant on the sea. Splurge on a long lunch and enjoy sea breezes while dining on the balcony. Fresh seafood and pasta were simply divine. (The seafront, Marina di Ragusa,
www.trattoriadacarmelo.com
).
•
Ristorante Duomo:
This restaurant is often considered one of the best places to eat on the island. Many visitors flock to this restaurant with 2 Michelin Stars in Ragusa Ibla just to see what's new on the menu. (Ragusa Ibla [Old Town], Via Capitano Bocchieri, 31.
www.ristoranteduomo.it
)
•
Da Baglieri Al Crocifisso:
What looked like a simple trattoria turned out to be a gourmet experience. If you want to dine amongst Sicilians chatting in their own dialect, choose this surprising trattoria in Noto. Servers have a great knowledge of local wines to accompany your meal. (Via Principe Umberto, 48. T: + 39 0931 57 1151)
What to See & Do:
•
Ragusa:
Visit Ragusa Ibla, the old town, to stroll amongst honey-colored buildings and visit medieval churches. The main piazza is the perfect spot for people watching and an afternoon coffee.
•
Siracusa:
It is possible to stroll from one end of the small peninsula of old Siracusa to the other in about 10 minutes. This is part of its charm however – visitors can get to know it well. The main piazza and church is one of the finest in Sicily.
•
Noto:
Off the tourist path, the hilltop town of Noto is the place to go for Sicilian immersion. Traditional restaurants, baroque architecture, and an impressive Cathedral are all top attractions here.
•
Beaches:
This coastline of Sicily is full of coves with secret beaches. Ask the host at your boutique hotel for recommendations of getting away from the crowds.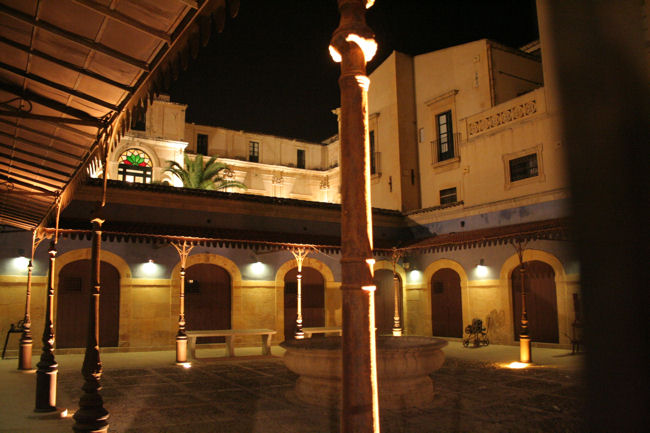 Jessica Colley is a published poet, freelance travel writer, and the European Correspondent for Luxury Travel Magazine. She currently spends 10 months a year exploring the culture, cuisine, and history of Europe. Read more about her travels at
www.thegreatamericantraveldream.com
.