Carrie and John Morgridge, two professionals in their 50s, made a choice that some might call crazy: they pulled out of their busy lives for two months and tackled what is called the most challenging bike route in North America. The Great Divide Mountain Bike Route (GDMBR) runs 3,000 miles from the Canadian Rockies to the Mexican border. In The Spirit of the Trail, nature lovers Carrie and her husband John take you along this journey that travels into the grizzly bear-filled woods of Montana, across the plains of Wyoming, up to 11,910-feet above sea level in Colorado, and through the mountains and flood plains of New Mexico.
As Carrie recounts each grueling day on these trails in her diary, she reveals their triumphs and fears, their struggles for food and water, and how their physical and mental strengths were pushed to the limits. She also exposes us to the kindness of people, the warmth of small towns, and the great majesty of our country. What the Morgridges learned about the trail, besides how hard it was, is that people are generous, days are long when they are full of new adventures, and when you set your mind to it, you can achieve anything.
Carrie and John run the Morgridge Family Foundation which makes investments that transform communities. John's father, John P. Morgridge, is the former CEO and chairman of the board of Cisco Systems.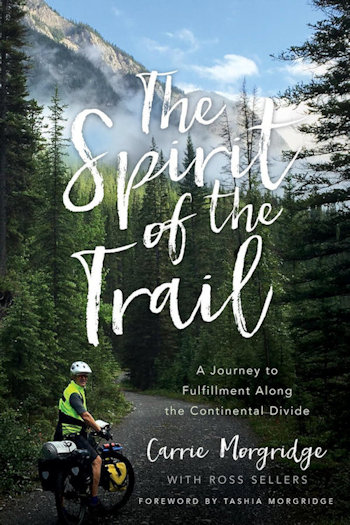 Here we interview Carrie Morgridge about her adventure and her book The Spirit of the Trail.
What are 5 things you need to know before getting started on the trail?
1. Study the route, and buy the best maps you can find. We recommend Adventure Cycling Association. We were happy that we chose the maps over GPS because we felt we had a greater appreciation for the route, instead of focusing on the blue line.
2. You must have a true and honest assessment of your physical ability.
3. Set a clear understanding of a desirable and achievable pace. Many of us have done century (100 mile) rides, but it may be unrealistic to do that same ride 28 days in a row.
4. Understand the time commitment you are making to get on the trail. Life continues on as you bike on the route, so prepare for training, the route time and your things at home.
5. What is your goal? There are a lot reasons people ride the Great Divide Mountain Bike Route. Try to define your personal goals and work towards fulfilling them. It will make the journey more enjoyable.
How often do you mountain bike in your normal life?
In Colorado, mountain biking is somewhat seasonal. We try to get out as much as possible, about 5 to 6 days a week. We try to embrace the sports of the season, and sometimes we enjoy riding in a snowstorm.
Why did you decide on such a grueling adventure to celebrate your 25th wedding anniversary instead of taking a dream luxury trip?
For us, this was a dream vacation, and luxury is relative, especially when you come upon a clean forest service latrine, or a talented chef in the backwoods of Montana. Our time alone and together was the greatest luxury.
What are 3 mantras that will help you stay on track with your goals, especially when you feel like giving up?
1. Vow from the beginning to finish together. There are hard days and times on the trail, and you have to support each other, kindly and lovingly.
2. Celebrate the small wins, I rang my bell every 100 miles.
3. Break down the big goal of finishing, to small achievable goals all the way down to the turn of the crank.
Pain is temporary, glory is forever.
You've done marathons and ironman competitions. How does the GDMBR compare? Has this journey changed your life in any way?
Ironman is a one day race. Even though we trained for a year to compete in the full ironman, we always had a bed to rest in at night and a warm meal. Doing the GDMBR is like doing 46 ironman competitions in a row, back to back, and NOT knowing where our food or our bed would be.
The journey changed us completely. We have a new appreciation for small town life and those who choose to live it. What we learned is that many people don't want the urban life, and they love living on the land and not being plugged in 24/7.
Which parts of the trail were the most challenging and difficult?
Let's just start with the 180,000 vertical of climbing. Every day we were met with some sort of challenge: weather, terrain, equipment, lack of food and water.
How can something so difficult be a positive experience?
The things worth doing in life tend to be those which require the most of us. Since finishing the GDMBR and launching the book, there isn't a day that goes by when we don't think back to the challenge or environment we experienced together. This has made our love for each other even stronger that it was before. We share a huge sense of personal pride.
You mention in the book that you try to be mostly plant-based. Why did you decide to give up meat, eggs and dairy?
My dad experienced health concerns, and he asked his doctor what lifestyle changes could improve his health. After six months of becoming vegan, he had a completely different outlook on life and his health improved. That was enough for John and I to try to vegan lifestyle which he had embraced. We were strict vegans for over three years, but with our active lifestyle John felt he needed a touch more protein. We are now pescitarian plant based eaters. We never went back to meat, dairy, or eggs.
What foods/products do you recommend for plant-based/vegans to take along on this kind of trip? How often were you able to eat wild berries or other possible foods growing along the trail?
We were tempted to stop and pick huckleberries, but grizzly bears aren't vegans.
Bring tons of nuts, peanut butter and jelly and crystal light. We tried our best to be plant based on this trip, however, carrots just didn't fill us up and we had to eat from gas station to gas station. Fruit cups, bananas and coconut water was at most places we stopped.
Did you discover that you needed something that you hadn't gotten beforehand?
In our 21 days of training, we tested all equipment, from our tent to our light technology. We tested and measured our water intake and our food intake, which helped us greatly. John packed a "MacGyver" kit, and that got us through. We couldn't just run down to REI to pick something up. John tried four different seats, and his words - "they were all a pain in the ass."
Did you realize you didn't need something that you took along?
I brought my laptop so I could blog each day. What was I thinking? It stopped working almost immediately, so I shipped it home. John decided that one biking outfit would suffice, so he shipped home his second biking outfit, as that was extra weight he didn't need.
What are some spots on the trail worth visiting even if someone isn't riding a bike?
Everyday is a treat and worth exploring.
• Banff Canada is a must visit. The Great Divide is one of the most spectacular places we have been.
• In Montana, we loved the area around Yellowstone
• The wheat fields, crystal clear rivers around Warm River Campground in Idaho
• Wyoming had remote vast expanse shared with wild horses on the Great Basin
• Del Norte is south of Salida, and we haven't spent much time there. We found ourselves in awe of the beauty.
• Carson National Forest is a must in New Mexico. Remote, beautiful and if you are lucky, you might get cell service.
Buy book on Amazon.com: The Spirit of the Trail: A Journey to Fulfillment Along the Continental Divide