'Deconstructed' is a dreaded word in hospitality. It's a word often found on menus in modern restaurants or pubs where a chef has broken down a classic dish into its separate elements, taking, for example, a cheesecake and spreading a spoonful of biscuit crumb, a blob of lemony mousse and a couple of raspberries out across a plate. Rarely does 'deconstructed' mean an improvement on the original.
The Tawny hotel, a recent opening in the English county of Staffordshire, announced itself as "one of the UK's first fully deconstructed hotels," but here the concept is far more impressive than a sad-looking cheesecake, instead spreading out the individual elements of a standard hotel (reception, restaurant, rooms…) across the property's 70 acres of woodland, gardens, lakes and ponds, making the most of the space and meaning that guests get their own individual piece of nature to unwind in. There are 55 options to stay in in total, which includes 21 wedding lodges (wooden pods, close to the restaurant, used by guests at weddings at the connected Foxtail Barns) and 34 'rooms', which includes rustic Shepherds' Huts, stilted, wooden Treehouses, lakeside Boathouses, and, at the top end, newly launched, spacious Retreats, which is what we're booked to stay in.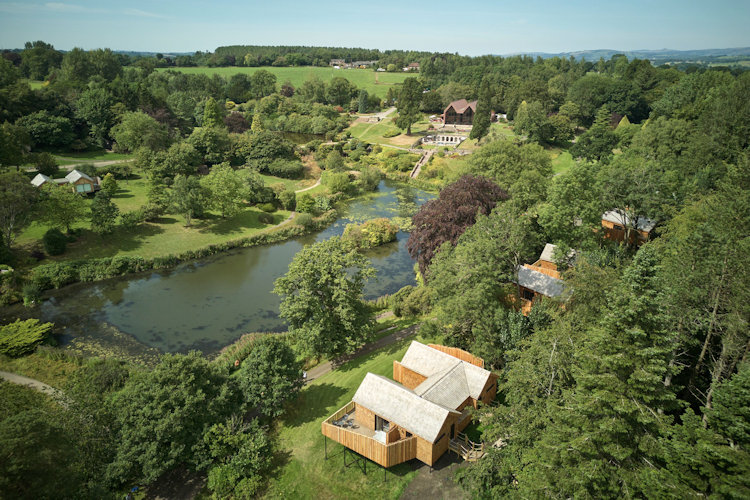 The pace starts to slows as we drive through rural Staffordshire, a beautiful area of English countryside that's not very well-known to international travelers. We turn down a driveway, signs signalling to drive carefully in case of crossing pheasants, and pass a wooden statue of an owl, the 'tawny' that gives the hotel its name.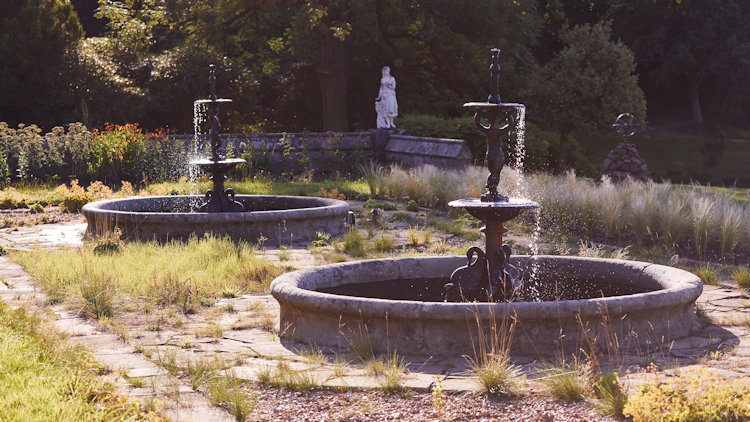 The grounds make an immediate impression, with classical statues, water fountains, and a set of steps leading down towards the grand lake at the center of the property, which is surrounded by pathways and woodland. At the heart of it all, overlooking the gardens, is The Plumicorn, the hotel's restaurant, a large barn-like building that's clad in striking, copper-colored, zinc sheets. The restaurant and hotel 'rooms' are built on the grounds of Consall Hall, a historic estate that dates back to 1246, but whose main building, the Hall itself, had been altered so much over the years that it had lost its significance, leading to the designers replacing it with the bold, modern construction.
We check in at the reception building, a separate area close to the car park, which has colorful modern sofas and comfy chairs inside. Then, we're driven in an electric buggy along the trails that wind through the gardens to our hilltop Retreat, a cedar-clad cabin set in the woodland. Inside the peaceful cabin, there's plenty of space, and a clean, contemporary décor that draws on nature. Floors are covered with tiles that look like wooden flooring, with wooden paneling behind the bed, all elegantly lit. There are birdcage lampshades, a plush green sofa, a nature-themed painting/collage, large potted plants, and curtains with a leafy design, helping to bring the feeling of outside in. There's also a wall-mounted TV, a coffee machine, and a fridge stocked with Prosecco, craft beers, and calorie-free fruit drinks, which helps with the unwinding. To one side of the room, there's an alcove that contains a blocky, white bathtub, large enough for two, with a roof window for skygazing or stargazing while you soak. But the best feature of the room is the large wall of glass at the front looking out onto the woodland, an immersive effect, with trees in all shades of greens. Occasionally, we see a resident squirrel run up and down the old pine tree just outside.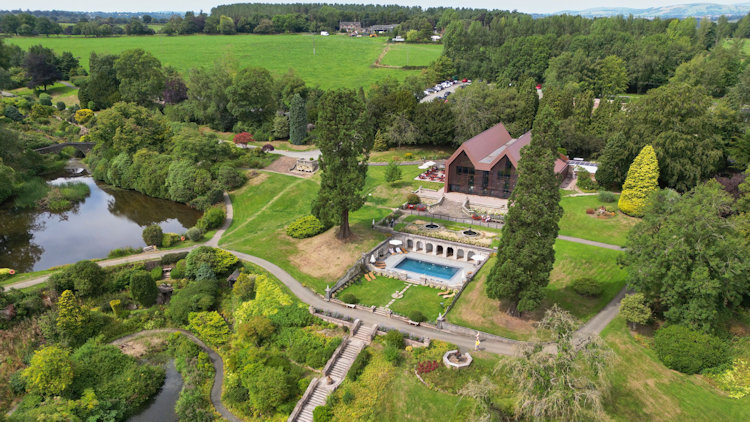 There's a separate dressing room with wardrobe space and a make-up counter with two, round, backlit mirrors. The bathroom is also large, with modern, white, twin sinks, a rainshower and standard shower, fragrant Land & Water products, and creamy, light brown tiles, long thin windows letting in light and glimpses of leaves outside. Through the cabin's side door, there's an additional outdoor shower, framed with wooden cladding for privacy, and a separate decking area with two chairs and a big, metallic hot tub/Jacuzzi.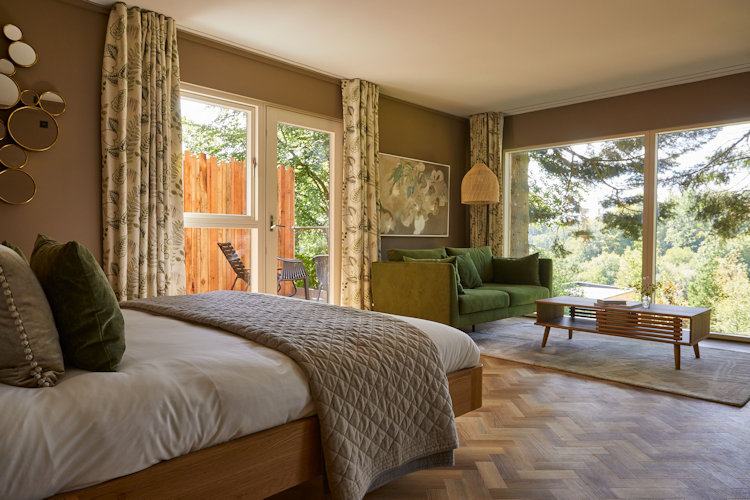 After our first night, we stroll along the woodland pathways, passing a little, whitewashed, thatched cottage, making our way to the restaurant, which has artificial ferns climbing the walls, brightly colored floral chairs, and massive hanging light bulbs. Breakfast is an exceptional buffet, including warm, freshly baked croissants and pastries, cereals, a selection of berries and other fruit, and juices, while the menu offers cooked dishes, including crushed avocado and eggs on ciabatta toast, Eggs royale, and a meaty Full English breakfast, with Staffordshire pork sausages, bacon and black pudding, as well as a Vegetarian version. The staff are welcoming and helpful, bringing tea and coffee, and the food is excellent. We eat by the massive windows at the front, with views over the lake and wide, open gardens - a great way to start a day.
Afterwards, we make our way to the heated outdoor pool for a swim, steam coming off the water. The modern pool, which has smart blue tiles beneath the water, is surrounded with archways and walls from the original Hall. The rest of our day is spent wandering the grounds, discovering picturesque little bridges over ponds, castle-like towers, a table tennis table, and a little stone circle (like a mini Stonehenge), all signs that the owners like to think creatively and to play with the grounds. Following the walkways, we're surrounded by color, the autumnal trees and other plant life ranging from yellow to deep purple to crimson. It's a romantic setting, with many other couples here celebrating anniversaries, engagements, or other occasions, as well as just country getaways, though the hotel is also family-friendly and suitable for young children. It's also dog-friendly. While we're happy to spend our time within the grounds of the estate, nearby there's an RSPB Reserve for birdwatchers and the Churnet Valley Railway, as well as the Staffordshire Moorlands and the Peak District National Park, one of England's most beautiful areas, with fantastic opportunities for hiking and cycling.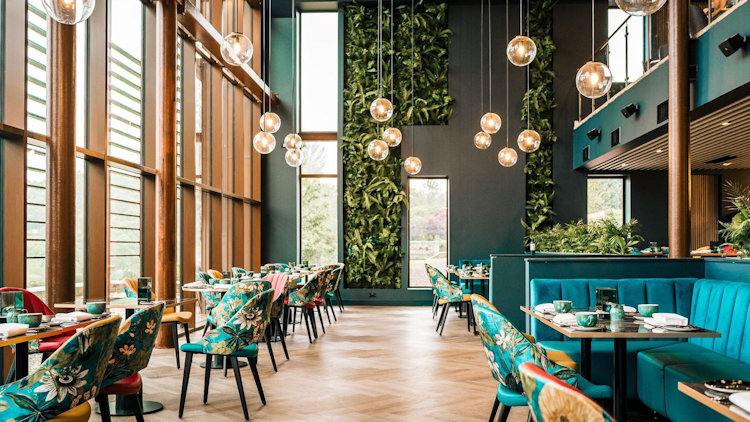 In the evening, we're back inside the restaurant, sat in front of the glass wall, looking out as the sun sets over the grand gardens. My starter, a creative combination of mackerel with gooseberry, horseradish and sour cream, is incredibly flavourful, while my wife goes for the meatier Dunwood farm beef with mushrooms and black truffle, which receives approving noises. There's lobster, duck and a couple of vegetarian options for mains, including Moroccan aubergine and roasted cauliflower, but I opt for a smart, Asian-influenced plate of cod with prawn dim sum, dashi broth and choi sum, while my wife enjoys a lamb dish with artichoke, kohlrabi and pomegranate, sharing a couple of side dishes: giant beer-battered onion rings and tasty carrots in an orange and butter glaze. Helped along by a bottle of fine, full-bodied Argentinian Malbec, it's a memorable evening, the restaurant gradually filling as night falls. We finish with a couple of appealing desserts: mine a Chocolate Amaretto, with cool, refreshing strawberries and balls of chocolate mousse that are surprisingly rich considering the dessert is vegan, though it's outclassed by my wife's selection of a Fallen Apple, which you could call a 'deconstructed' take on apple crumble, with a classy-looking 'apple' of crisp white chocolate filled with a green-colored white chocolate mousse sitting on an apple gel and a little bed of crumb, good enough to take the sting out of the word.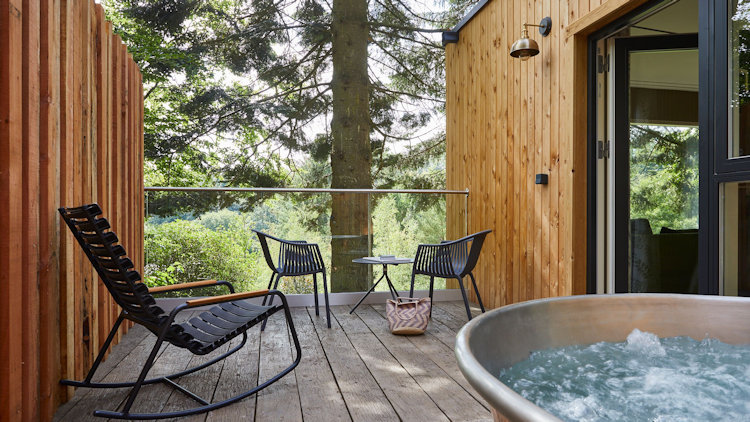 We're only at the hotel for two nights, but the relaxing effect of the Retreat, restaurant, pool and gardens makes it feel we've been away for longer. On our final morning, after another pleasant and filling breakfast, we make time for another swim in the outdoor pool and a last soak in our private outdoor hot tub, warming our bones in the water, as sunlight filters through the surrounding trees, swaying lightly with the wind. For all the original, modern touches at The Tawny, they've made sure that nature is still the star, a classic design choice that never gets old.
The Tawny, Consall Lane, Consall, Staffordshire, ST9 0AG. Prices for Retreats start from £560 (approx. $615). For more info or to making a booking, see https://thetawny.co.uk/.
Graeme Green is a journalist and photographer. See www.graeme-green.com. Follow him on Instagram at graeme.green (https://www.instagram.com/graeme.green/).
Images by Jake Eastham