Or do you often have a last minute panic at the gate? Can't find your ticket but you definitely had it not ten minutes ago? Fear not busy travelers, we have the all-in-one, luxury travel assistant to save you time and worry.
The Travel Org is a highly desired, portable filing system made with the finest quality materials. It is chic, practical and looks better than that plastic wallet you have been cramming everything into on the morning of your flight!
Each Travel Org is made with soft leathers, durable zips and custom inserts to meet your specific style and design needs. Not only is this luxury item bespoke but it is practical and an absolute must-have for busy families and the professional traveler who needs an organization system that lends itself to style and sophistication.
With the warm weather approaching and tropical holidays in our thoughts, this organizer removes unnecessary stress, and in the bright orange shade still makes for a trendy accessory.
Designed in Britain, the high-quality Travel Org has carefully labeled sections for every essential item you may need to travel with including a separate section for your keys, home and travel currency, credit cards, documents/tickets and an expandable section specifically for passports/boarding passes.
The concept is simple; you place all of your necessary travel paraphernalia in your Travel Org and then they are easily accessible and practical to carry with you. With a Travel Org you are not just purchasing a stunning luxury accessory, you are obtaining practicality and peace of mind.
The Travel Org is the result of practical thinking and innovative design. Angela Collyns was inspired to create the Travel Org while wandering the Calli and Campi of Venice. She needed a practical all-in-one organizer for her son, one that was stylish and simplistic but could not find a product that suited her needs. Together with her family they decided to create The Travel Org.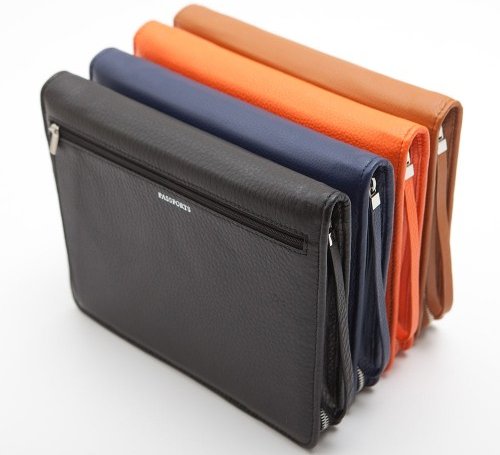 Angela says "I realized there was a gap in the market and an opportunity to turn my dream into a reality, not just for my travels but for anyone who travels frequently and likes to be organized".
The Travel Org makes a brilliant gift to yourself or to a loved one in need of a bit of structure when traveling. With summer travel coming up families will need all the help they can get.
For the opportunity to interview Angela and learn more about Travel Org please contact and visit
www.thetravelorg.com