'The very name Calabria has in it no little romance' Edward Lear, 1852
The famed Victorian England artist and poet in his notes and drawings during travels in Calabria is among many to admire the province at Italy's extended foot. Calabria has been a place of trade, foreign settlement and invasion since 3,500 BC. Its appeal is its central position in the Mediterranean, extensive eastern and western coastlines and fertile undulating landscapes, all set in a pleasant climate.
The ancient Greeks first realized its potential as a colony in the 8th century BC giving Calabria its lasting secular identity and high educational standards. The word sybaritic or fondness for sensuous pleasure and luxury is derived from the Calabrian town of Sybaris on the Ionian coast known for its hedonism during two centuries. In the centuries after, Calabria was influenced and occupied as friend or foe by the Romans, Visigoths, Byzantines, and Saracens to the Normans, Swabians, Aragonese and Bourbons.
More profoundly, shifts in international trade to the Atlantic and beyond from the 16th century undermined Calabria and the Mediterranean's fortunes. Relative decline, lost glory, neglect and foreign incursions brought an independent spirit, resilience, self sufficiency, and other worldliness to the region. The dark side of Calabria's isolation and impoverishment resulted in mass migration and a criminal underworld in the nineteenth century, since overemphasized and even glamorized by film and media at the expense of the region's unusually willing, talented, well educated, friendly and fun loving population. Among Calabria's many famous sons and daughters - beginning in ancient times with philosophers, poets and Olympic athletes - are the world renowned artist, Umberto Boccioni, the bodybuilder, Charles Atlas, and the designers, Gianni and Donatella Versace.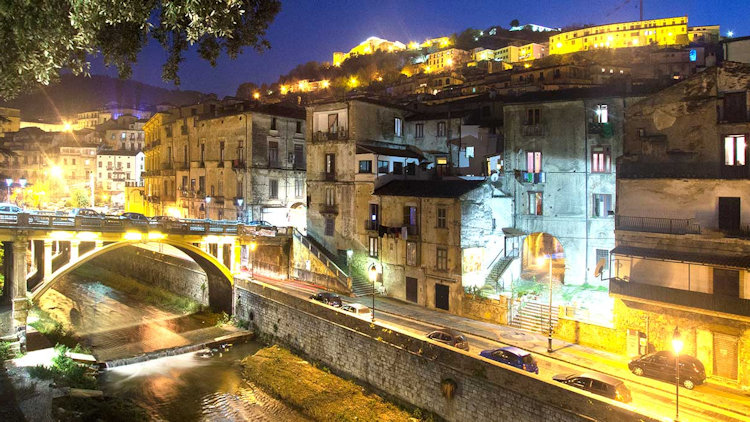 These days, the region's multi cultural histories are celebrated at fifty museums and numerous places around Calabria. That influence can also be experienced at religious celebrations, local festivals and other events in most towns all year round – from medieval tournaments, music, and cycling, to spicy sausage, octopus, and pastries - that enliven this ancient agricultural society to the delight of visiting tourists. After many years of public sector investment, Calabria now offers visitors an almost unique combination of high quality services at relatively low cost. This ranges from excellent hotels and restaurants which serve local and international cuisine to sightseeing, entertainment and sport.
Calabria is a little smaller than Britain's East Anglia region. It enjoys 800km of coastline and is between 40km-110km wide with 90% of the land 200 meters above sea level. Temperatures range from 22-31 degrees Celsius in summer to 8-15 in winter alluring visitors all year round. The region is divided into five parts made up of three mountain ranges rising to 2,000 meters. In summer, you can walk and bathe in their nature reserves enjoying the lakes, woodlands, waterfalls, gorges, flora, and fauna at lower temperatures than on the coast. In winter you can ski there up to advanced level. On the Tyrrhenian Sea or western coast the hills rise into the distance and the beaches are often pebbled and the sand whiter. Along the Ionian Sea the terrain is flatter and the beaches narrower and sandier.
Calabria is easily accessible by air, sea and land. The region has four airports with Lamezia on the west side offering international flights to 39 destinations in 12 countries. On the south west tip, Reggio Calabria, which has a small airport, serves cruise liners and is among 18 yacht marinas around Calabria. At several of these marinas it is possible to charter a yacht and learn to sail, ideally between April and October with the freshest winds found off Lamezia, Reggio, Botricello and Crotone. Trains run along the coast and cross inland via the two cities of Cosenza and Catanzaro though the region is best explored by car. Within Italy, Calabria is two and a half hours south of Naples and three kilometers by ferry from Messina, Sicily to the south west.
Calabria is blessed with a growing number of top quality hotels. Conde Nast's Johansen's guide lists luxury hotels on the coast in Tropea in the west and at Praialonga in the east. Michelin adds another five 5 star hotels mainly in the south west. Luxuryhotelguru adds many more four star including some new hotels. There are at least a dozen top rated holiday home villas available across the region.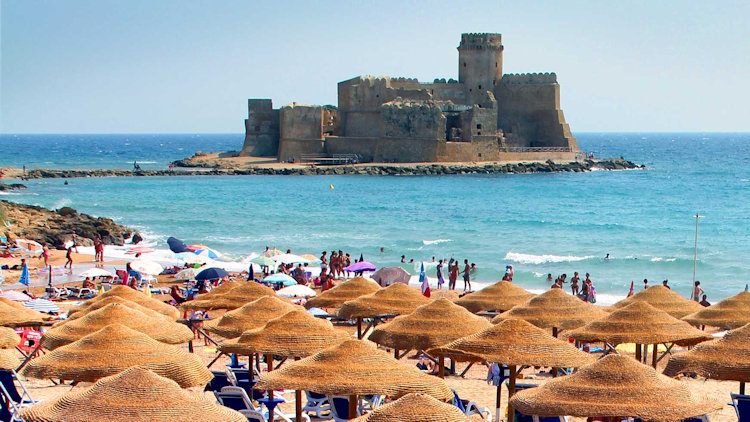 There is plenty to see and experience throughout Calabria for all age groups and interests on a short and long term basis. For a short stay, the Vibo Valentia and Reggio regions ½ and 1½ hours south from Lamezia are recommended as long weekend bases. On the journey from the airport, you may note the town of Maida, where the British fought victoriously alongside the Calabrians in the Napoleonic wars, and which gave the name to an area in London. The coast road on the Violet coast leads to the pretty towns of Pizzo and Tropea either side of the port of Vibo Valentia. The area is known for its stunning scenery, sandy beaches and food, especially ice creams. Tropea which is perched on a cliff top overlooking an island and an aquamarine sea is Calabria's most popular international resort. Nearby is one of Calabria's top hotels, Infinity Resort Tropea.
Further south, just north of Reggio, is the charming fishing village of Scilla with a cliff top castle and stunning views of Sicily. Scilla is famed as the site from ancient Greek mythology of the six headed monster, Scylla, mentioned in Homer's Odyssey. Reggio is known for its promenade, Aragonese castle, cathedral, theatre, and bergamot which is a rare citrus fruit used to flavor Earl Grey tea. By far, it is best known for the rare and beautifully sculpted ancient Greek bronze statues from 450 BC found by chance nearby in 1972 and now housed in the archaeological museum. For lower temperatures, just inland rising to a 1,956 metre peak is the Aspromonte national park.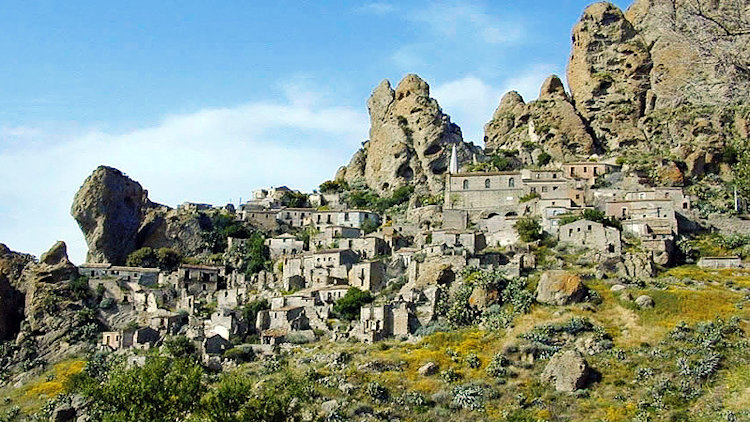 For extended trips to Calabria, journeys further along the two coasts and travel inland at various points are recommended. Traveling up the east coast from Reggio on a round trip back to the airport you begin a journey that takes in another top hotel, highest rated restaurants, finest wines, exceptional churches and castles, ancient Greek town sites, more national parks, medieval hill towns, a Christian holy shrine and exhilarating sports.
The trip begins historically. Just inland from the ancient Greek town of Locri, where there is a museum and excavation sites, is the medieval town of Gerace complete with a Norman cathedral and castle. Further up the coast are a fine Byzantine church at Stilo and a fortress at Squillace. Nearby at the city of Catanzaro are some of Calabria's top restaurants including Michelin starred Abbruzzino just fifteen minutes from the coast. At the end of this part of the journey is one of Calabria's best hotels, Praia Art Resort, a few kilometres from the wonderful town of Le Castella famed for its island castle.
If you want to try new food tastes, Calabria has a distinctive cuisine increasingly in publication and at restaurants around the world. Specialities include 'nduja (spicy pork), swordfish, tuna, anchovies, red onions, melanzane (aubergine), beans, chickpeas, figs, chestnuts, biscuits, pecorino cheese and liquorice. Along with aniseed, capers, fennel, oregano, red peppers, chillies and citrus used as typical herbs and spices.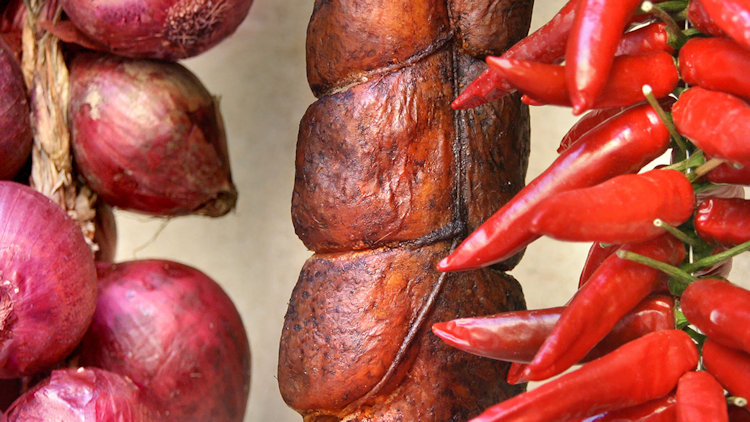 Calabria's luxury region largely remains sited between the once rival towns of Crotone and Sibari two hours apart by car. In the 6th-3rd centuries BC, Crotone was one of the most important cities in Europe famous for the mathematician, Pythagoras. It is now a centre for festivals, concerts, theatre and one of Calabria's best soccer teams. The other is in Cosenza. Sibari was one of the wealthiest towns, as mentioned above, governing much of the region. Between those towns is the best wine region in Calabria at Ciro. A quarter of Calabrian wines rated by Robert Parker since 1994 come from that region, notably mature red Librandi in recent years. Nearby is Amarelli which is the site of a formative liquorice factory founded in 1731.
Travelling inland from Crotone is the spectacular hilltop town of Santa Severina among others in the region. Beyond is the vast Sila National Park of prairies, pastures, lakes, and valleys, enjoying an alpine climate. Like the Pollino National Park in the north, and Aspromonte in the south, at Sila it is possible to ski in winter. At Pollino, one of the best sites is the town of Morano Calabro where houses envelop the hill.
On the western Tyrrhenian coast from Praia a Mare to Lamezia airport along the Cedri (cedar) riviera are the pretty towns of Diamante, Belvedere, Cetraro and Guardia Piemontese which offer regular entertainments and religious celebrations. Near Cetraro, at the Grand Hotel San Michele is one of Calabria's five good 9 hole golf courses. A little further south is Paola where you can visit the sanctuary of San Francesco da Paola who was canonised in the 16th century. Inland is Calabria's other main university city, Cosenza, where you can enjoy the night life and finish your visit gift shopping.
For those wanting to spend more time in Calabria, with the possibility of working from home near an international airport, the property market offers relatively low prices through reputable real estate agents.
-----------
Article by James Goodwin, Images courtesy of turiscalabria.it

James Goodwin has been living between Suffolk, England and Calabria, Italy for many years. He writes and lectures on the art market worldwide. He manages an estate agency www.calabria.properties with an Italian friend and businessman to help foreigners buy first or second homes in Calabria.