Zigzagging between the skyscrapers in a hybrid Lexus SUV (complete with WiFi), from the fleet of the sublimely luxurious Upper House Hotel, you find yourself craning up out of the oversized skylight. In the world of the high rise there are skyscrapers and there are skyscrapers, those in Hong Kong being of the crème de la crème variety. They reek of wealth, good breeding, and style on a scale of their very own.
The Lexus purrs into the pristine forecourt, and pulls to a halt between a Maserati coupe and a spanking new Bentley Continental. Even before the gleaming alloy wheels have stopped moving, a team of liveried attendants glide out from the hotel, and prepare to receive their guest.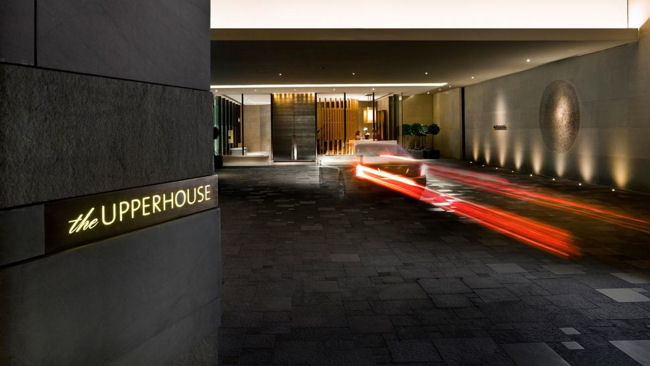 Upper House entrance
What strikes you from the moment of your arrival is the way every action – however small – is executed. It's as if the staff has been trained and retrained, and trained again, enabling them to carry out even the smallest duty with absolute perfection.
And it is perfection that is the name of the game when it comes to The Upper House – which was rated Best Overseas Business Hotel in 2011 by Condé Nast Traveller. A great many high-end hotels provide grandeur on a sumptuous scale. They may abound with luxuries and woo you with jaw-dropping extravagance, but their sweeping gestures of sheer magnificence often tend to mask a shortfall in attention to detail.
As your bags are ferried in from the car, you are escorted up into the understated building. There is a sense of calm, the kind of which simply doesn't exist in our crowded, overloaded world. For one, there is silence. Not the kind of silence you get when people aren't speaking. But the kind of silence that runs far deeper. It's delicious and, as you soon find out, it's quite addictive as well.
Upper House bed
In a city where space, or the lack of it, is a communal obsession, the rooms and suites at The Upper House are a therapy in their own way. They are not only quiet but huge, and are adorned with the kind of décor that makes you feel warm inside. There's none of the froth, the meaningless extravagance that one might find elsewhere, but instead interwoven layers of subtlety, top notch quality, and an inner kind of decadence.
With views out over Victoria Harbour, my suite was well over 1500 square feet, peppered with original art, and with tiny touches that made it a real pleasure dome of comfort.
It may seem superfluous to comment on the bed, but far too many hotels indulge their guests with every imaginable luxury, yet tend to overlook the bed itself. As with everything else at the hotel, the bed is as close to real perfection as one would ever hope to sample. Soft but firm, with linens of mouthwatering high thread count, the only unsatisfactory thing about it was having to prize oneself away after many hours of sleep.
The bathroom, too, boasted a grand chunk of the Hong Kong skyline, and stretched to over 300 square feet. Big enough to float a battleship, the bath was so perfect that no amount of description could ever do it justice.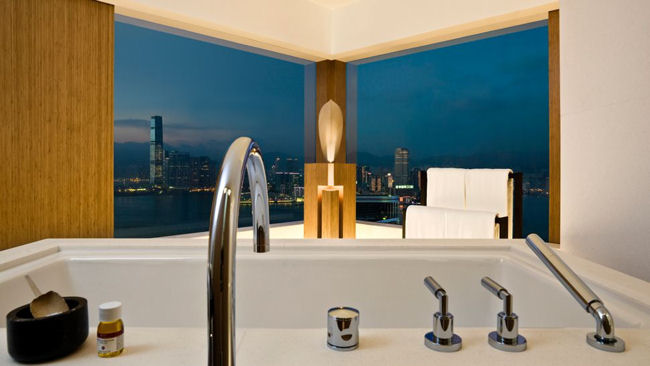 Upper House bathtub
And this being The Upper House, every conceivable luxury has been considered, reconsidered, and considered once again. There are shoetrees in the cupboard, (in two different sizes), an iron and a yoga mat as well. A full range of toiletries has been left for your enjoyment, on the off chance that you have forgotten any of your own. There is a complimentary bar, replete with a fully loaded wine fridge, as well as a coffee maker, and even a toaster.
As if this isn't all enough, a tiny notice near the bed draws your attention to the fact that a pair of bicycles is kept ready for each room, in case you feel like venturing out into the twisting labyrinth of old Hong Kong.
Owned by the Swire Group, which dates back almost 200 years, The Upper House is very much a part of the future of Hong Kong, although at the same time linked firmly to its past. The family-run firm has massive holdings not just in Asia, but worldwide as well. It owns dozens of square blocks downtown Hong Kong, shipping and freight companies, shopping malls, tea plantations, and even Cathay Pacific, the national carrier of Hong Kong. These days, the Swire Group has its sights trained keenly on the Chinese mainland.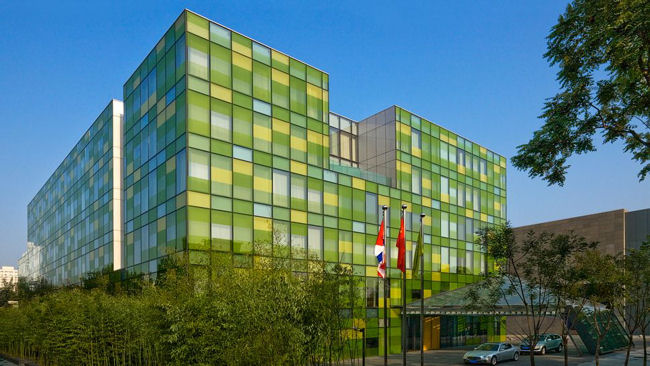 Opposite House exterior
One of the company's most impressive new projects has been to construct the Sanlitun Village in Beijing. A vast modern extravaganza dedicated to the grand brands of world fashion and luxury, it is home to the Swire Group's most recent decadent delight, The Opposite House hotel.
Very much a reflection of modern China, The Opposite House is bold, monumental in size, and is much of an architectural icon as it is a place to stay. The common areas are simply enormous. Elsewhere, you might get the feeling that it's all too much, but the designers have softened the broad strokes with genteel detail. There are ambitious installation exhibitions in the cavernous foyer, and lovely fabrics breaking up the hard concrete lines. The Italian restaurant, Sureño, on the lower ground floor is patronized by local Chinese as well as with those staying at the hotel, all of them lured by extraordinary quality of ingredients and perfect service.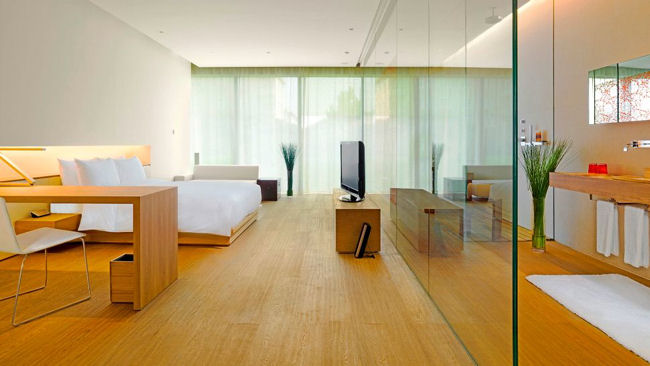 Opposite House studio
Back at The Upper House in Hong Kong flutes of vintage Champagne are being served on the lawn. The city's glittering skyline, a marvelous backdrop to the approaching night, wows both old time Hong Kong aficionados and those seeing it with fresh eyes. There's a bewitching sense of understated extravagance. Even the most pampered of guests must secretly be pinching themselves between sips.
Then, as the glasses are refilled almost invisibly by a butler, the sky erupts with a riotous explosion of colors. Illuminating the night, the fireworks transform perfection to paradise, ushering in the Year of the Dragon.
More information:
The Upper House, Pacific Place, 88 Queensway, Hong Kong (011 852 3968 1111;
www.upperhouse.com
).
The Opposite House
, The Village, Building 1, 11 Sanlitun Road, Chaoyang District, Beijing, China (011 86 10 6417 6688;
www.theoppositehouse.com
).