A classic New England village at the base of Mount Mansfield, Vermont's highest peak, each season
Stowe
offers unparalleled choices for nature lovers and sports enthusiasts - from golf and wilderness hiking in summer to snowshoe treks and downhill skiing in winter. And in autumn, this is the perfect place to experience Vermont's incomparable foliage and indulge in that popular perennial pastime, Leaf Peeping! In fact, one could say that the hills (and forests and fields) are alive with the sound of autumn.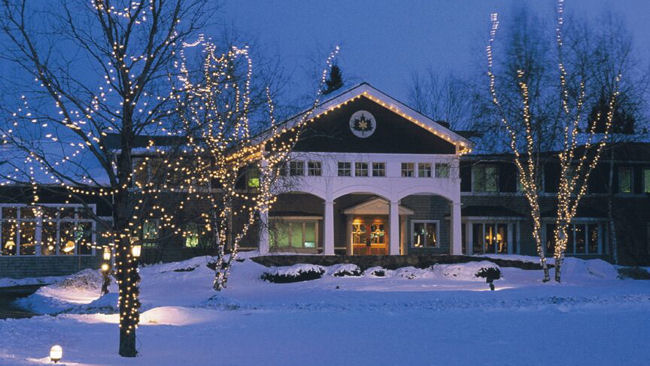 The term "leaf peeping" was coined here, a phrase somewhat awkward yet charming, as if catching nature
in flagrante.
Actually, this is not far off as, in Latin, the words translate to "blazing." I mean, what are these stately Vermont mountains and splendid Vermont forests in autumn if not blazing with color? If, however, you visit when peeping has just about peaked, (mid-October), have hope for you can then check into the
Stoweflake Mountain Resort & Spa.
This property is the recipient of myriad awards such as Tripadvisor's "Certificate of Excellence," Conde Nast Traveler's "Top 20 Resorts in the Northeast," and Fodor's award for "Top 10 Best Hotel Resorts/Spas."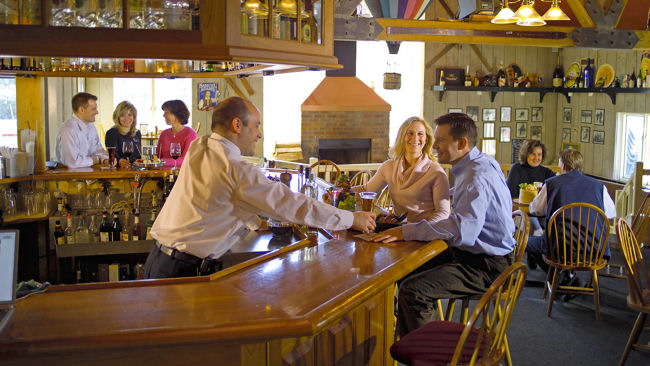 Owners, the Baraw family, have welcomed guests to the Stoweflake for over 45 years. It is a special place that feels like a home-away-from-home or a relaxed, private club. After a 5-hour drive from NYC, I was cosseted in a room elegant, understated, and comfy with spectacular views of the mountains beyond. There are pools both indoors and out (open year-round); of course I
had
to experience the latter, perfectly warmed and surrounded by a radiant-heated patio. Despite chilly fall weather I loved lazing in steaming water, a prelude to my dream massage at the Spa.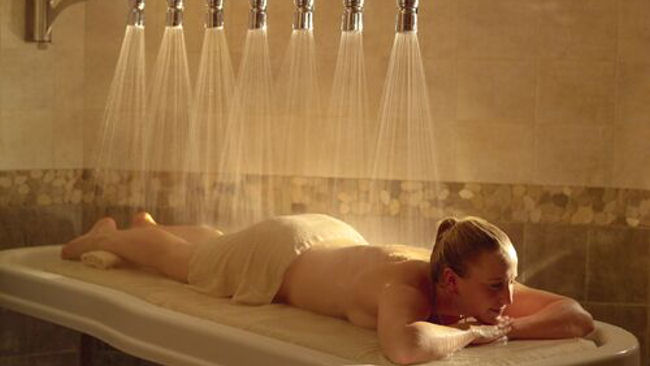 Let me tell you about this spectacular Spa, one of New England's most celebrated and with awards from
Spa Magazine, Spafinder,
and
Elle
. Outside it is surrounded by a Meditative Garden with a seven-circuit labyrinth, and inside is a dream-like spa sanctuary with no less than 120 treatments dedicated to soothe, calm and rejuvenate. Every detail I encountered from the moment I entered was carefully designed to enhance my experience. I had a Vermont Maple Sugar Body Polish topped off with a body butter moisturizing massage. Suffice it to say I didn't want the treatment to end but with all that maple sugar and body butter enticing me, I realized I was more than ready for dinner at Winfield's, Stoweflake's restaurant honored with a
AAA Four Diamonds
rating.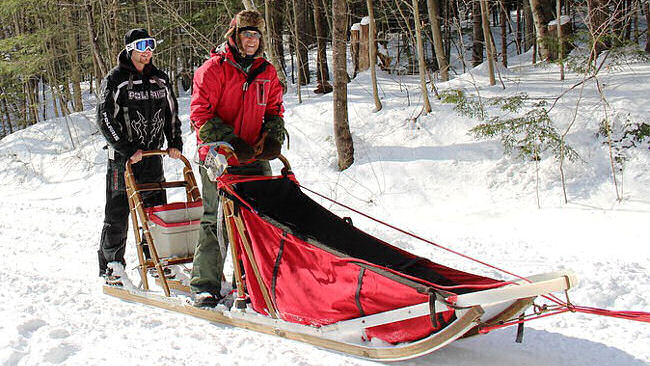 The next day, sufficiently pampered, I wanted to experience something a bit raucous and rowdy: a dog sled adventure! This was provided by October Siberians Sled Dog Adventures; not merely a ride with dogs pulling a sled, but a truly interactive experience. The sled is designed for two drivers with the musher maintaining full control while the second driver responds and adjusts for the sled to perform properly. Lucky me as I simply sat back and enjoyed the ride cuddled in a sled bag with blanket. We careened around the property at break-neck speed and I was finally delivered back to the resort in one heart-pounding, happy piece - this once-in-a-lifetime and never to be forgotten experience.
If you're planning a visit, first put yourself in the proper mood with this video:
You'll hear the unofficial state song sung by two iconic voices. I guarantee that after listening, you'll be inspired to
ski down a trail on a mountain side,
or feel an
evening summer breeze,
or watch the
falling leaves of a Sycamore
– all in this
romantic setting
otherwise known as Vermont.
If You Go:
Stoweflake Mountain Resort & Spa
www.stoweflake.com
October Siberians
www.octobersiberians.com