A Mediterranean cruise is perhaps one of life's most enjoyable pleasures. Favored by many as the perfect summertime climate, the Mediterranean offers ideal, warm, dry summers, and when paired with the characterful and vibrant cities and towns that line the coastal stretches and cliff sides, you have a recipe for an unforgettable luxury cruise destination.
If you find yourself with itchy feet, craving your next (or first) Mediterranean adventure at sea, how do you shortlist the many different destinations? How do you say no to some, whilst saying yes to others? The truth is that there isn't one set answer for everyone, as everyone has different tastes, and the whole of the Mediterranean simply cannot be completed in one trip – that's the beauty of it.
So accepting that we can't cram all of our favorites in here, we've put together of our three must-see destinations on your next Mediterranean cruise.
Discover picture-perfect Portofino in the Italian Riviera
An ultra-luxury Mediterranean cruise favorite, Portofino, a sleepy fishing village nestled in the Cinque Terre, or collection of 'five villages', is the picture of the idyllic Italian seaside town. With pastel-colored houses climbing up the greenery-covered cliff sides as small, wooden row boats sway subtly in the gentle bay below - the odd, glamorous cruise ship being the only giveaway that breaks the illusion you're stuck in a timeless paradise.
And if you can bear to drag yourself away from the numerous Aperol Spritz, you're sure to find a plethora of activities and pastimes in this glorious fishing village. From exploring the neo-gothic architecture and medieval relics at Castello Brown, to taking in the romantic Church of San Giorgio, with is bold yellow-painted outer and simple, yet intricate, stunning interior, Portofino has enough architecture and historical monuments to keep every type of traveler satisfied.
If sipping on an Aperol Spritz and exploring the beautiful scenery and architecture isn't enough for you, you'll be glad to learn that the dining options are second-to-none. After all, this is Italy we're talking about. Foodies will find everything from seafood restaurants serving up freshly-caught scampi and calamari, through to locally-made pesto and limonata. And did we mention the gelato for dessert? – we couldn't forget!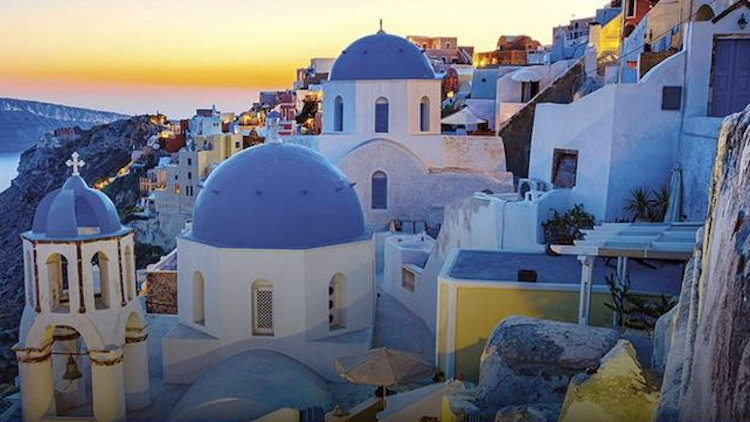 Head East to Greece and visit Santorini
Greece, as popular as it is, still has many different facets to it. Like history? Head to Ancient Athens. Like nightlife? Mykonos is the place to be! But if it's dramatic views, unrivaled sunsets and the kind of white-washed houses that you see in travel magazines, then Santorini might just be the choice for you.
Lying distinctly in-between Greece and Turkey, just above Crete, Santorini is positioned perfectly for a sun-drenched stop-off on your next Mediterranean cruise.
From wine tasting at the Santo Winery, to dining on some of the best seafood on the island at restaurant Metaxi Mas. For the film fanatics out there, the island also boasts one of the best open air cinemas in the area.
For most however, it's the inimitable Grecian weather that draw many to their villa's private pools and the gorgeous, lush beaches that line the island. Top tip: watch out for the distinctive black sands of Perissa Beach and Perivolos Beach, which were caused by the island's historical volcanic eruptions.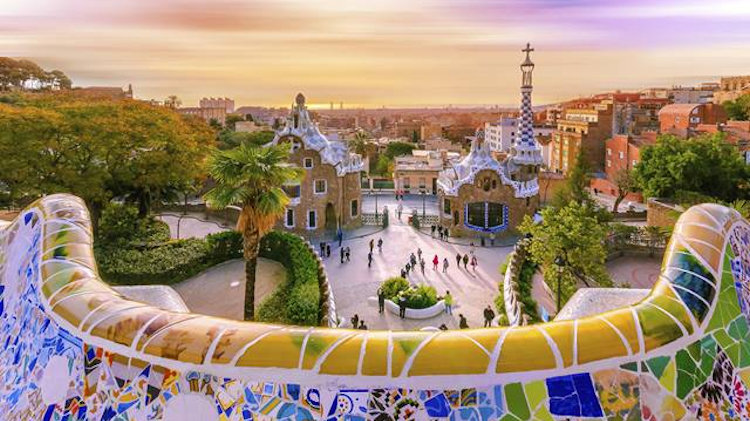 Experience the bustle of Barcelona and it's exciting, vibrant streets
No Mediterranean cruise is complete without a few days in Catalonia's capital city of Barcelona.
With enough culture, history and charming sidestreets for any tourist, Barcelona is a rare city in that it's packed with so much to enjoy by the coast.
Take Las Ramblas for example, the sprawling maze of gothic architecture and interesting streets, plazas and alleyways, where else in the Mediterranean can you find this meeting place in-between evening dining, casual strolls and family leisure time? It really does have it all, and must be walked through during the sunset to be experienced in all its glory.
Next up in our recommendations, is Sagrada Família, the towering and iconic Antoni Gaudí construction that is still uncompleted, 140 years after building work started. The Gothic and Art Nouveau construction stands tall above the city, and is a must see for its beautiful interior as much as its stunningly-crafted exterior.
And if all of the above leave you tired out, there's always the beach and a spot of retail therapy!