Well then, a cruise on the
Karizma
, a Kompas Adriatic Cruise Line carrying just 35 passengers might be just your ticket. I had the opportunity of cruising on this vessel recently and exploring many destinations in Croatia. Each was cruise-worthy, each captivating, and by the very nature of Kompas' strategy and planning, each destination allowed us to spend adequate time to fully experience the site. We toured the cities with very capable guides, and at times, even overnighting so that a romantic late-night dinner at a seaside café, or a dance-till-dawn club was a distinct possibility; one that I and many of my mates took full advantage of!
The weather aboard
Karizma
was fresh, pure, and bracing so the Jacuzzi was most welcome, as were the lounges on the top deck where we had a bird's eye view of the sparkling sea as we peeked out from under fluffy blankets. The sky above was almost always a piercing blue, the water mirror-like and nearly still. It was here that I found quiet and solitude; watching the world go by silently and smoothly turned out to be one of my favorite activities.
On Board
The
Karizma
is dedicated to tranquility (read
laid-
back); the crew is fun and friendly; the beds cozy and comfy. You'll have breakfast and lunch on board, leaving you free to wander each port for interesting dining options - all the better to capture the town's true and distinctive flavor. During the day, between ports, you'll have plenty of time to kick back, meditate, cloud-watch, water-wonder, and commune with the pristine scene that enfolds before you.
Our Croatia experience began in
Zadar
, the oldest continuously inhabited city in the country, tracing its origin to the 4
th
century BC. Today, Zadar is an historical center of Dalmatia, one of the most popular tourist destinations, and is considered "Croatia's new capital of cool." We had an absorbing walking tour of the town with its old walls built in the 16
th
century by Venetians as a defense from the Turks. We visited the Church of St. Donat and the largest cathedral in Dalmatia, St. Anastasia; however, for me the highpoint of Zadar was our visit to the Sea Organ.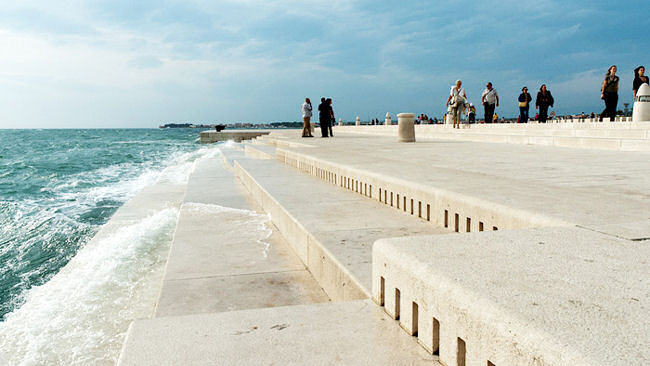 Listen to the Music
Built under large marble steps leading to the Adriatic, this crooning structure uses wind and waves to create enchanting sounds (not dissimilar to the song of the whale). Conceived in 2005 by architect Nikola Basic, underwater it consists of narrow channels that connect to 35 organ pipes. Each set of steps holds five organ pipes and is tuned to a different musical chord. As waves and wind push air through the channels, sounds pour forth and out onto the steps above. The result is an experience hauntingly memorable, even hypnotizing. In 20007, the Sea Organ won the European Prize for Urban Public Space because it was a "perfect grandstand for watching the sunset over the sea ….while listening to the musical compositions played by the sea itself."
Falling Water
Another highlight: just 80 miles from Zagreb lies the astonishing
Plitvice Lakes National Park
, Croatia's oldest and largest park. An emerald Eden and UNESCO World Heritage site, the park has 16 terraced lakes linked by boardwalks, streams, and tumbling cascades. One can hike to a canyon or to the cave at the base of the national park's tallest (256-foot-drop) waterfall. A site not to be missed.
More waterfalls! In
Krka National Park
, amidst stunning flora and some fauna (a lone deer perched on a hilltop), are some magnificent waterfalls including one of the most beautiful in all Europe, the Skradinski Buk. Franciscan monks built a monastery here in 1445, later rebuilt in the 18
th
century; it contains a number of well-preserved artifacts and a library; early Roman catacombs are found under the church.
The town of
Trogir
is set within Medieval walls on a tiny island linked by bridges to the mainland and to the island of Ciovo. There is the 18
th
century Cathedral of St. Lawrence that houses the Renaissance Chapel of St. John. We climbed up into its bell tower and were glad we did as, sprawling before us, was a sumptuous view of the Medieval city, its walls intact. You can combine sightseeing here with a beach day on Ciovo, or take a boat to the unspoiled offshore islands of Drvenik Mali and Drevenik Veli.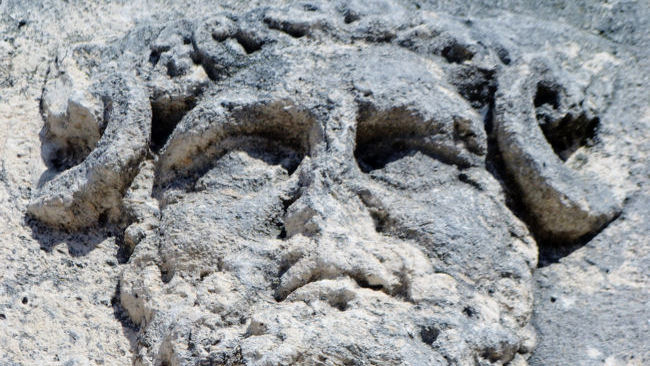 Split
is the celebrated town known for its beaches and the fortress-like complex at its center, Diocletian's Palace. This structure was erected by the Roman emperor in the 4th century and its vast remains include more than 200 buildings. We traversed its white stone walls, strolled its courtyards, and finally came upon numerous shops, bars, cafes, hotels and houses. Touring inside the palace, an acapella group of singers (called
Klapa
) serenaded us with folk tunes. The city is always buzzing and combines a good balance of tradition and modernity, a great place to see Dalmatian life as it is really lived.
Party On!
Croatia's premier party town has got to be
Hvar
! In high season, it can host up to 20,000 people a day, an improbable feat in this small bay village where 13
th
century walls surround ornamented Gothic palaces and traffic-free marble streets. We wandered along the main square and explored winding stone lanes. If you feel up to a fairly strenuous walk, hike to the town's imposing fortress dating back to 1278. Plan to arrive at sunset when the view is unparalleled and the town is bathed in a golden light. This experience was reward enough for the hike and our treat (of course we needed one!) was checking out the popular cocktail bar, Carpe Diem, sitting on its flowering terrace and sampling some highly original and delicious drinks. Lasting impression: Hvar = fun!
Perhaps my favorite port was
Korkula
lying just off the Dalmatian coast. It is the 6
th
largest island in the country, known for its dense forests. "Little Dubrovnik" is what the townsfolk call it due to its many Medieval squares, churches, and palaces. I was charmed by its shady walk along a flowering path lined with pretty restaurants next to the sea, the water an impossible turquoise and clear as crystal. We dined at Filippi Restaurant known for its superior seafood and, of course, the breathtaking view shimmering just below us.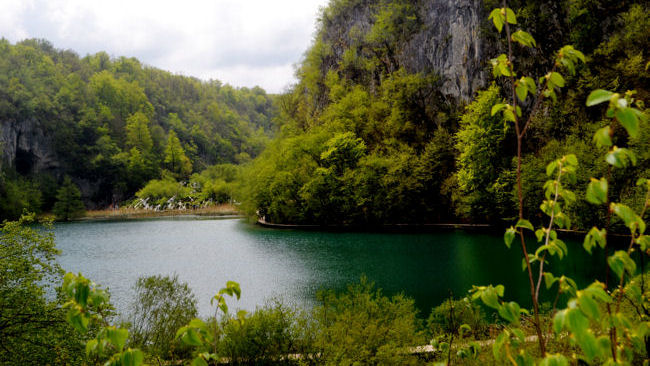 Mljet
is the most forested island in the Adriatic where untouched nature contributes to a kind of mysticism over its olive groves, vineyards and woods. It is said that the Greek hero Odysseus spent his holidays here. The Mljet National Park is rich with life; there are about 650 plant species and more than 115 bird species. It is part of the European network Natura 2000, the largest ecological network in the world whose mission is to ensure the survival of Europe's most endangered species and habitats. There are two salt water lakes and a Benedictine monastery, St. Mary, on a nearby island reached by boat. Hiking and biking paths are spread through the island and, as it's always shady, you'll trek around in comfort even in the heart of summer.
Pearl of the Adriatic
On our seventh and last day: the UNESCO World Heritage Site,
Dubrovnik.
Here one is enveloped in a truly Medieval atmosphere. The city was an important Mediterranean Sea power from the 13
th
century onwards. Although severely damaged by an earthquake in 1667, Dubrovnik managed to preserve its beautiful Gothic, Renaissance and Baroque churches, monasteries, palaces and fountains. The ancient pharmacy inside the Franciscan Monastery was extraordinary and the Placa, the city's main street, was replete with cafes, galleries, shops and restaurants. It was inspiring to walk along the ancient city walls that protected a civilized, sophisticated city for centuries. Although the world was aghast when the city was shelled during the early 90's war, it has since returned with strength and beauty. Dubrovnik enchants anew.
Ebb and Flow
Experiencing these Croatian ports-of-call was an unforgettable adventure, and it is heart-warming to find that traditions are alive and well with age-old religious ceremonies, folk music, dance, and let's not forget, its superb wines! On board, the Captain's Dinner with entertainment by a group of Klapa Singers, its affable and gracious crew, and the snug corners where we sat and chatted with new friends, will linger in our hearts. Yes, there is certainly something to be said for the cozy warmth of a small, intimate cruise.
Zivili!
If You Go:
www.kompas.net/cruises/