We ooh and ahh that it's glassed in – we'll have marvelous views of the passing scene on this "Castles Along the Rhine" itinerary. Then, he demonstrates the piece de resistance: the whole upper half lowers with the push of a button. That button, incidentally, is just below the balcony's flatscreen TV.
Now this is luxury river cruising, and oh-so-intimate.
Cruise Director Bart explains at orientation, "There's about 100 of us on board. Many of you have done ocean cruises. This is like a cute little European city. This (the main salon) is our village square." On an ocean cruise, he says, the view is often the horizon. "Here," he adds, "you'll see castles and towns... We have only one week, but we are visiting four countries."
He puts that statement in perspective: "Tomorrow is a grand day, an international day. We'll be in Switzerland, wake up in Germany, and we'll get on the bus in France, travel back to Germany, and the next day be in France.
"In history," he adds, "most of the activity occurred along the rivers." He also promises we'll be traveling "one of the most scenic of rivers anywhere in the world."
Our seven-night Rhine River cruise starts in Basel, Switzerland, and ends in Amsterdam, Holland. Along the way, we'll learn some of the history the Rhine has witnessed with stops at Colmar on the Alsace Wine Route, and in German and French cities of Strasbourg, Speyer and Cologne, Breisach, Kehl, Koblenz and Rudesheim plus a marvelous morning of river cruising with impressive hilltop castles frequently coming into view.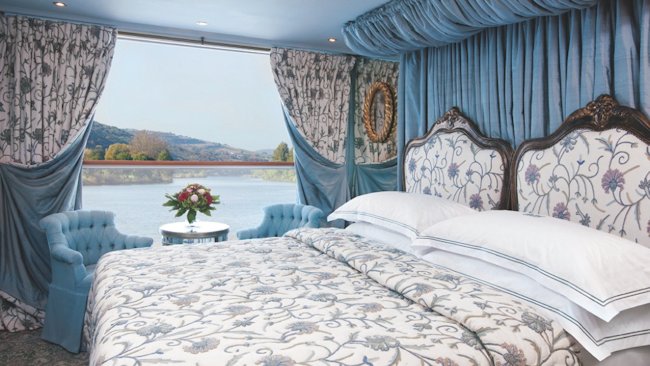 Plush accommodations
On board, our plush accommodations feature a king-sized, handmade bed from Savoir of England, a large marble bathroom with heated floor and L'Occitane products, towels with the ship's monogrammed, robes and slippers. Suites feature different décor, like Blue Delft or pink hues, but ours has a sexy ambience with leopard-print matching chairs and framed line-art nudes. Both make us smile, as does the elegant service on board.
That service includes not one but two personal butlers. Valentin hails from Romania while Lazlo is Hungarian. Either arrives immediately when called, dressed in tails. One or the other greets us and the other guests back aboard, after each excursion, with hot towels and warm drinks.
That welcome-back is at the two-story lobby. Overhead is the ship's focal point, a spectacular, blue sapphire, 10-foot Baccarat chandelier that once hung in New York's Tavern on the Green restaurant.
Antoinette Tollman – the S.S. Antoinette is named for her, and she's its godmother – explains that the chandelier was a starting point for the vessel's design. "From there, we were inspired by Marie Antoinette and 18th-century Versailles to create the beautiful, rich, and opulent, yet classic style."
She says of the ship's gathering spot and its main restaurant, "The Salon du Grand Trianon is inspired by the Hall of Mirrors at Versailles, and the Restaurant de Versailles by the ornamental gardens there. Above all, it was designed to take the guest on a journey and, as I learned from my mother, to give them the absolute best experience possible."
Tollman's mother, Beatrice Tollman, owns family-run Uniworld, which operates boutique river cruises on 12 ships including the Antoinette, which premiered in March 2011.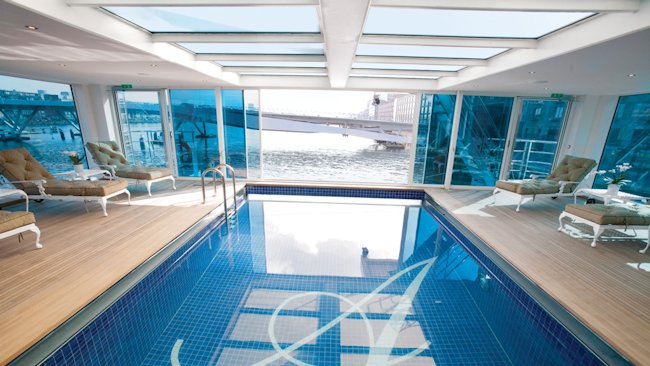 Uniworld ships average a mere 130 guests attended by all-English speaking staff. The company offers 500 departures on 40 itineraries sailing on more than 13 rivers in over 20 countries throughout Europe, Russia, Egypt, China, Vietnam, and Cambodia.
Beatrice Tollman has worked directly with Uniworld's global master chef to include some of her recipes on the ships; the cruise line's dining has earned high marks.
Our sailing, we sample three stand-out dinners, starting with hand-tossed Linguini Alfredo followed by Lobster Thermidor in the upper level L'Orangerie dining room with striking black-and-white décor.
All the way aft from this dining room is the Leopard Bar. The overhead portion and a huge leopard statue have to be removed for the ship to pass through certain locks.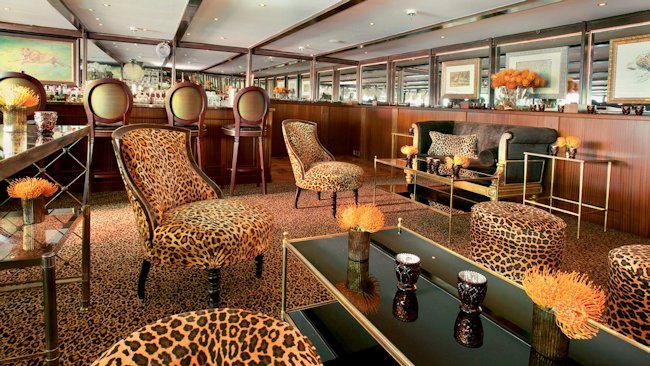 Our second stand-out meal is in the lovely main dining room, an invitation to the Captain's Table; the third is a memorable L'Orangerie luncheon inspired by our Rhine River setting.
That particular day, we had sailed past nearly 30 castles on a winding, picturesque stretch of the Rhine. The following day, we tour one, Marksburg Castle. But the luncheon lives in equal ardor in our memory: three kinds of sausages with three mustards and local German sauerkraut.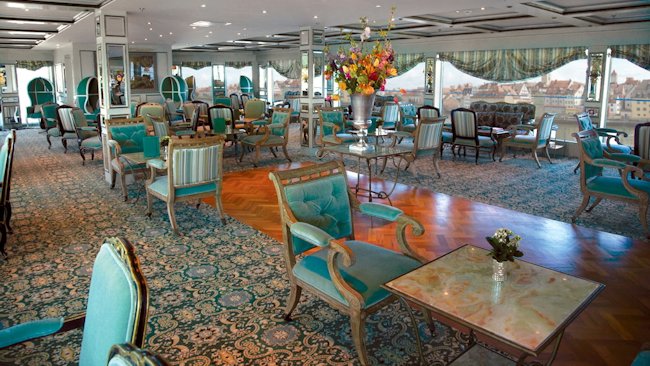 Spectacular sights
Another day, the cruise director promises "three of the most spectacular cities" on the route – Colmar, Breisach and Kehl – plus eight locks to pass through.
Breisach is the richest German district, home to Mercedes and Porsche.
Our tour bus traverses the rolling hills of the spectacular Alsace Wine Route, dotted with vineyards, inns and wine cellars. A stop at one of the region's best preserved towns, Colmar (meaning "Dove Cote"), is a photographer's dream. Here, ancient cobblestone streets are lined with half-timber houses, some dating to the Middle Ages. Americans want to see the birthplace of the creator of the Statue of Liberty. Frederic Auguste Bartholdi was born here; his home's now a museum.
In Colmar, we're encouraged to try specialities like Tarte Flambe, Muenster cheese and Baeckeoffe, an absolute must. This Alsatian stew combines pork, beef and lamb cooked several hours in a baker's oven with Alsatian white wine, potatoes and onions. This dish was usually eaten on washing day when groups of women would bring their terrines in the morning to the baker's shop and have a filling, hot lunch.
Ships' tours, included in the cruise fare, feature local guides, and all guests bring along the ship-provided "quiet boxes" featuring earpieces to listen to guides' commentaries. This clever device lets you lag behind to study an item, or shoot a photo, and not miss what's being said; also, everyone can hear, even those in back.
The Antoinette also has 15 bikes on board so guests can explore on their own, too, especially alongside the scene River Rhine. We hop on two in Cologne for an easy ride to Northern Europe's largest Gothic Cathedral with breaktaking medieval stained glass and its centerpiece, the Shrine of the Three Magi. This elaborately gilded sarcophagus – largest reliquary in the Western world – contains the golden-crowned skulls believed to belong to the Three Wise Men of the Bible.
The ship's stops in Strasbourg and Amsterdam offer the chance to tour those cities' canals as an excursion. At the latter, the cruise director even leads us through Amsterdam's Red Light District. Afterward, some head to the Rijksmuseum and Van Gogh Museum, others to Anne Frank's House.
Strasbourg's Notre-Dame Cathedral is another must-see as is the German Corner at Koblenz where the Rhine meet the Mosel River. Rising like a giant as we sail past is the immense – 61-tons, four-stories high – stone momument to Kaiser Wilhelm who sits high atop it on his trusty steed. The Basilica of St. Castor is part of the town tour.
Between all these great stops, there's plenty to do onboard, including the Serenity River Spa massage room, a pool and even a cinema with free popcorn.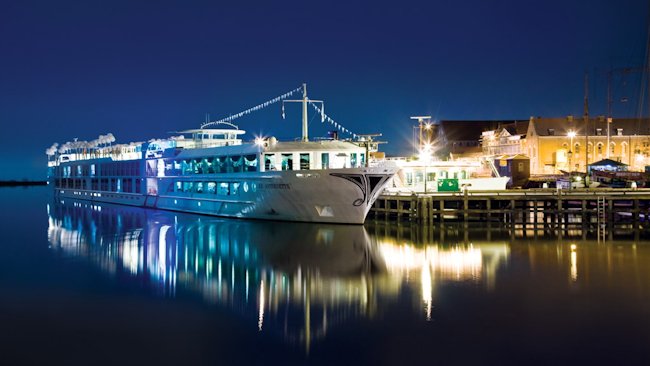 Docked in Amsterdam
IF YOU'RE GOING:
Uniworld's eight-day "Castles Along the Rhine" cruises on River Empress and on S.S. Antoinette are booking now.
Cruises include complimentary fine wine, beer, and soft drinks during lunch and dinner, all transfers on arrival and departure days, and fully hosted shore excursions.
For more about the Uniworld Boutique River Cruise Collection, visit
www.uniworld.com
or call (800) 733-7820. The website lists the cruise line's extensive accolades, including Travel + Leisure's World's Best Top Small Ship Cruise.
Article By Kathy M. Newbern and J.S. Fletcher for Luxury Travel Magazine. Award-winning freelance travel journalists, Newbern and Fletcher often incorporate their romantic travels into their other business, www.YourNovel.com, where they put you and your sweetie in your own personalized romance novel "wild" or "mild." Among those offerings is a book based on their barge cruise from London called "Holiday on Thames". They are also the creators of the award-winning travel blog/podcast/radio report,
www.YourSpaReport.com
.
Photos by Uniworld Boutique River Cruise Collection