Wild donkeys graze in an emerald pasture beneath majestic Nevis Peak as we turn into the cobblestone driveway of Montpelier Plantation and Beach. An imposing weeping fig tree shelters the picture-perfect great house where owner Muffin Hoffman and her dog Ziggy, a honey-colored Lab, wait to welcome us to a Caribbean few know still exists.
Our journey began with a flight to St. Kitts, Nevis' sister island, followed by a 6-minute water taxi across the scenic two-mile channel to Nevis. Here there are no traffic lights, no fast food restaurants, no airplane noise, and no tourist traps. Just 6 miles wide by 8 miles long, Nevis is the oldest British colony in the Caribbean. It has only one main road that has been in use since the plantation days.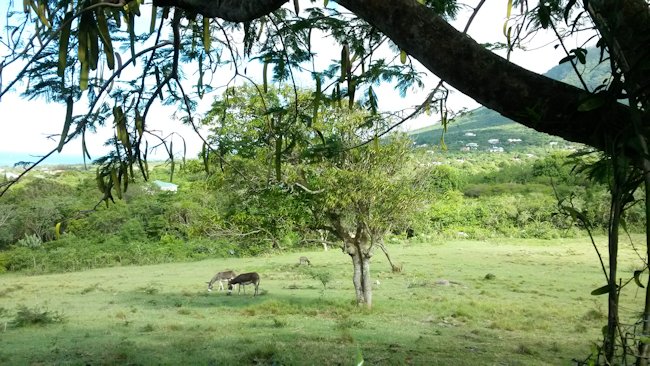 On the drive up the foothills to the hotel is a sign proclaiming "Monkey Crossing". Sailors brought monkeys from Africa as pets and their descendants still live in the rain forest and thick jungle foliage. We also passed through the historic capital of Charlestown with its rustic stone and wood "skirt and blouse" two-story architecture. Charlestown, birthplace of Alexander Hamilton, the first Secretary of the Treasury under George Washington, is the only town on the island and houses many important buildings including Hamilton's childhood home, now a museum.
Surrounded by sixty acres of beautiful gardens, 750 feet above its private beach, Montpelier Plantation was once a sugar plantation. Today it as been transformed into a Relais & Châteaux property, offering nineteen bungalow rooms, three restaurants, and as many bars. Nearly all accommodations on the tiny island of Nevis are small inns many converted from plantations. Montpelier is unquestionably the finest. Sixteen rooms and three suites are scattered in hillside bungalows on the expansive estate surrounded by lush vegetation. This season the hotel launched 7 beautifully refreshed rooms and suites that are sure to delight the hotel's many returning guests.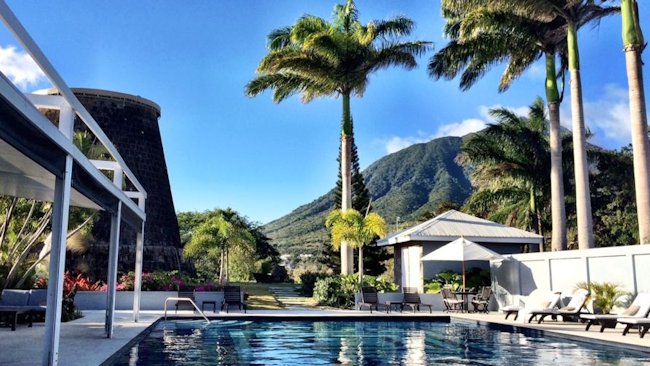 Kaddy the bartender greets us with rum cocktails served in chilled champagne glasses at Indigo, Montpelier's sleek poolside lounge. The shimmering turquoise and blue pool is framed by the historic sugar mill on one side and a distant ocean view on the other. It's a setting often imagined but not easily found. After a suitable amount of time chilling out and soaking in the atmosphere, we retreat to our room.
Our chic, modern room including a sleek bathroom with rain shower is decorated in a cool color palette of whites and grays accented by splashes of bold, bright colors including Trina Turk fine fabrics and modern art. Absent are the technologies associated with the stresses of modern life: alarm clocks, TVs, radios, and wifi. For those unwilling to "unplug," Montpelier's
Tamarind Villa
offers a full entertainment center equipped with flat-screen TV, DVD player, CD player, and MP3 station. It even has the added bonus of a private plunge pool. But like most of the guests here, our plunge is out of connectivity and into tranquility.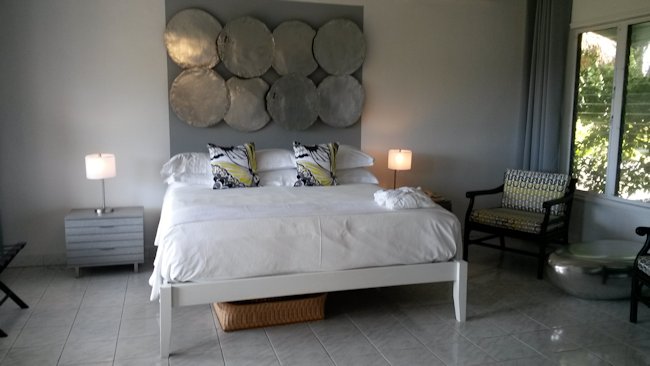 At Montpelier we find ourselves surrounded by contemporary art. The hotel provides gallery space for
Kirk Mechar
, a Canadian national who paints in Nevis. A blaze of soft and strong colors, a unification of patterns and lines testify the uniqueness of his abstract paintings. Modern and contemporary art, impressive in size and quality paintings, wooden and metal sculptures in bold colors are the ubiquitous element of Mechar's expression.
At the end of the day, guests gather in the Great Room of the main house, also newly refreshed and redecorated, for evening cocktails and canapés. Montpelier's focus is on great food, offering three distinctive restaurant venues plus a weekly beach barbeque. For dinner on our first night we choose Restaurant 750 offering a four-course tasting menu in an al fresco terrace setting with fabulous views overlooking the glittering lights of Charlestown and St. Kitts. Dishes are artfully presented and taste as good as they look.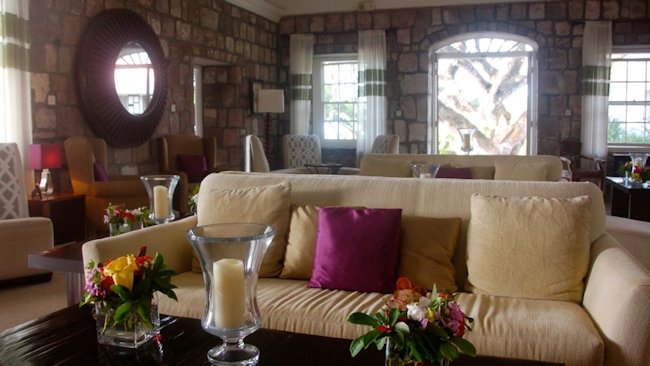 Awaking completely refreshed the next morning to the sounds of nature; we meander to breakfast in the rustic, shaded courtyard beside the 300-year old sugar mill. Service is genuinely friendly. Most of the staff has worked here for 20 or more years, including the man who planted the weeping fig tree at the entrance in 1965.
During the day, there's as much or as little to do as we'd like -- from spending a day at the resort's private beach to embarking on an ambitious hike or bike ride through the hilly landscape, to taking a self-drive tour following the Nevis Heritage Trail in search of local landmarks. In addition to the view, Montpelier's location in the hills offers gentle breezes and a respite from the heat. It's the perfect place to decompress, to focus on wellbeing with healthy juices, yoga, massages, and a tennis court, all in a natural peaceful setting.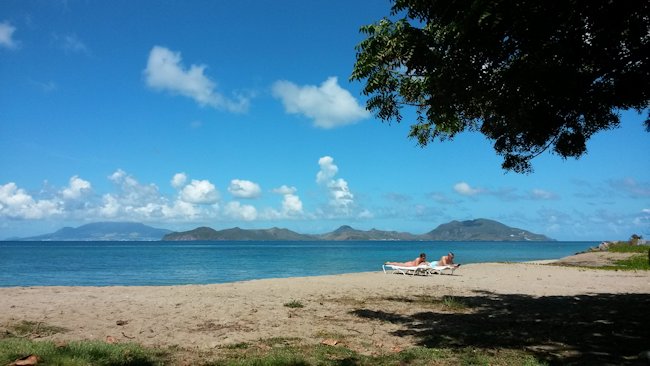 Today I'm in the mood to sip on a rum punch and unwind on the beach so we take the hotel's complimentary shuttle for the short drive. Montpelier Beach, exclusively for guests, is situated within a hidden cove on one of the prettiest stretches of beach in Nevis. There's a pavilion with beach bar and private cabanas that offer shade and seclusion. From our chaise lounges we enjoy perfect views of the aqua blue sea and St. Kitt's across the channel. To top off our incredibly relaxing day, we book a couples' massage in the hotel's spa suite on our return followed by a glass of wine on the west facing terrace to watch the beautiful sunset. This is truly paradise!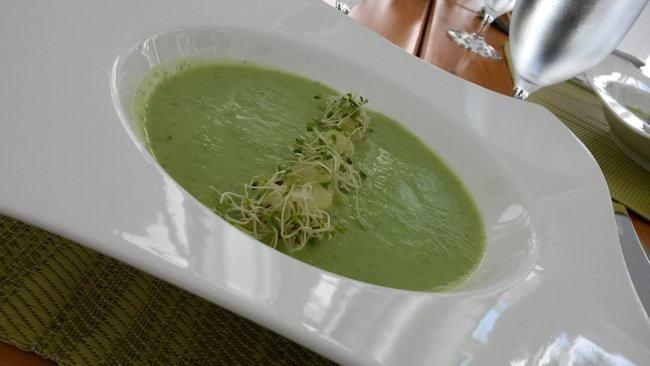 The next morning we participate in a cooking demonstration by the resort's executive chef Stephane Caumont and enjoy the results at lunch beside the pool: chilled cucumber and lemongrass gazpacho, and pan-seared red snapper with papaya, red onion, green pepper and tomato salsa. Stephane explains that he mainly uses locally sourced organic vegetables, fruits, and seafood complemented by a few things that need to be imported.
After lunch we embark on a self-drive tour of the island with our first stop at the
Botanical Gardens
, located adjacent to the Montpelier property. Continuing on the 26-mile "Nevis Heritage Trail" that rings the island, we discover the island's historic past. The old sugar plantations tell a centuries-old story of great wealth and greater human tragedy. Today expanding rain forests and free roaming goats and sheep signal the island's return to a more natural state and a lighter footprint for its human inhabitants.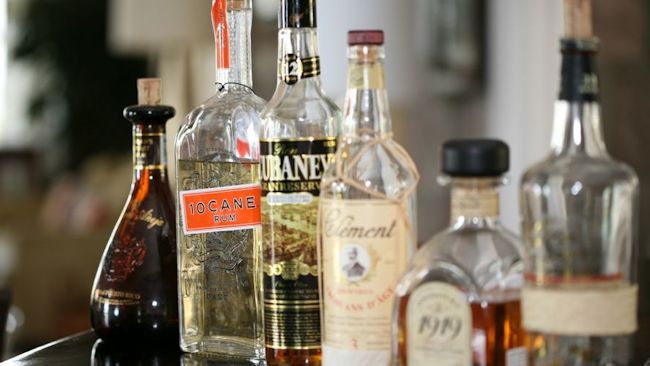 The Caribbean is the quintessential place to discover and explore fine rums. Once Montpelier Plantation produced their own and the Hoffman family honors this heritage by stocking an extensive collection of 85 different rums. We arrange for a rum tasting with the hotel's onsite connoisseur. He describes the different distillery processes that make white, gold, and dark rums and takes us through a flight of six aged rums before concocting a signature rum cocktail for us as his finale.
We top off our long weekend in candlelit splendor with a private dinner in
Mill Privée
, the hotel's 300-year-old sugar mill and the only restaurant of its kind in the world. Nothing could be more romantic than the spot where in 1787 British Admiral Horatio Nelson married Fanny Nisbet, an event later described in James Michener's
Caribbean
. At Montpelier Plantation it's easy to feel transported back to an earlier era of romance and adventure. Blessed with golden beaches and majestic Mount Nevis, this laid-back destination is a haven of natural and dramatic beauty where guests can find the Caribbean of days gone by.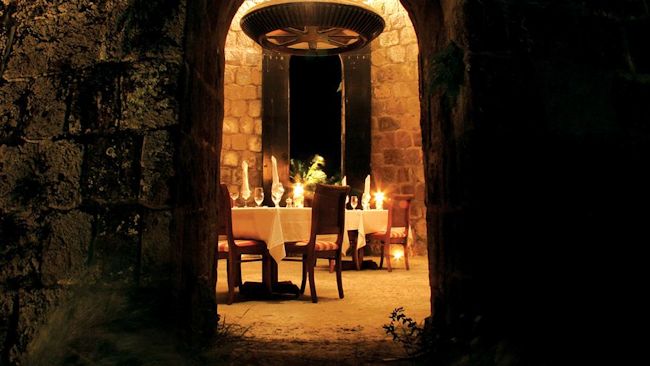 Visit website:
http://www.montpeliernevis.com/