Architecture in Spain rivals some of the best in the world and is known globally for being of the most stunning in Europe. There is so much that makes Spanish architecture unique, fascinating and breathtaking. Spanish Architecture is influenced by the Romans and the Moors, you'll find elegant features, along with Baroque and Renaissance details on many of the Spanish historical buildings and famous monuments. Many people even choose to immortalize these famous monuments through bold and colorful tattoos.
Each city in Spain boasts its own truly outstanding examples of the best architecture, and bring forth their own elements of beauty. Spanish architecture history dates back hundreds of years, with the more locally made structures originating in the 15th century, during the Renaissance period.
You're bound for a spellbinding adventure if you visit even just one of Spain's most famous buildings! Here's a list of the most jaw-droppingly beautiful, must-visit structures that showcase the glory of Hispanic architecture.
Top 10 Buildings in Spain
Let's dive into some of the most unforgettable buildings in Spain, all designed by passionate Spanish architects that have expressed their creative talents through architecture. In no particular order, each of these buildings are masterpieces!
The Alhambra (pictured at top)
Journey to Granada, Andalusia, Spain and you'll come across a building that looks as though it has just been brought out of a fairytale. The Alhambra is a palace and fortress complex that continues to inspire and captivate travelers from all over the world with its sheer beauty and exquisite detail.
Originally built in AD 889, this is an example of famous Spanish architecture at its finest.
Toledo Cathedral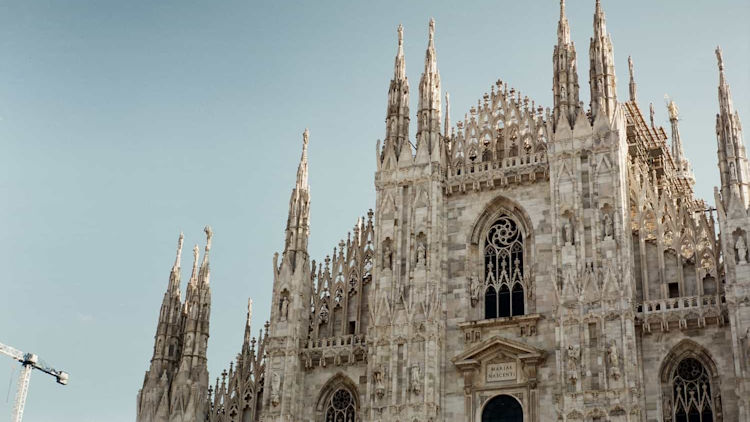 When it comes to some of the best architecture of Spain, the Toledo Cathedral is a must for all who are curious! This temple was built in 1300 and has been renovated throughout the early years of human civilization.
Not only is this church a spectacle to behold, but it is also a rich opportunity to learn more about Spain's colorful history. Make the most of your time by booking a tour of the Alcazar of Toledo.
Guggenheim Museum
Otherwise formally known as The Solomon R. Guggenheim Museum, this building is a work of art from one of the best Spanish architects. This is a must-visit if you want to marvel at famous architecture in Spain, as this remarkable museum is a true gem.
Within the art museum, you can enjoy the modern and contemporary art that the Guggenheim Foundation collects, preserves, and interprets. If you feel like further expanding your mind, you can also view the many perspectives that are seen through the more cultural artworks.
Mezquita Mosque
The Mosque of Cordoba celebrates the diversity of Spanish architectural styles and is a breathtaking structure found within Andalusia. This jaw-dropping structure is also known, in English, as Cathedral of Our Lady of the Assumption.
This building is astounding and has been standing as a monument to the Muslim ruling period in the 8th century. Only a two-hour drive from Madrid, this is a must-see for all who are passing by and enjoying a vacation in Spain.
Parc Güell Park
Antonio Gaudi is one of the best Spanish architects ever known. He can do no wrong when it comes to architecture, and that's likely why the Parc Güell Park became a UNESCO World Heritage Site.
This impressive and expansive public park was artfully crafted and designed by this famous architect and shows off traditional Spanish architecture with flair.
Explore to your heart's content as you simply bask in the majesty of this unique world wonder!
Gaudi's Casa Milà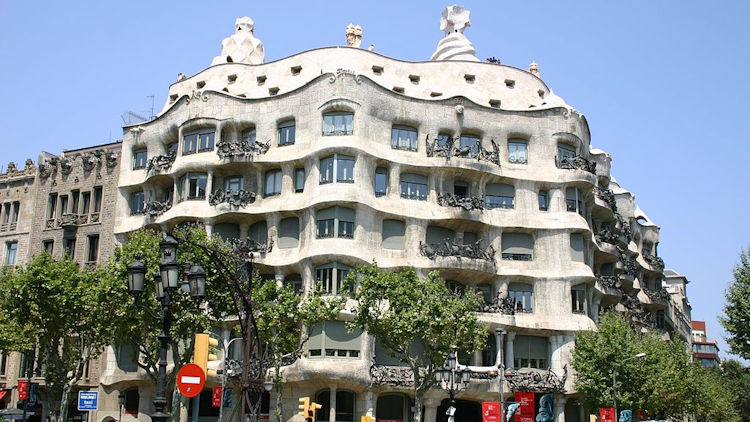 Another monumental contribution from Gaudi to the world of famous Hispanic architecture is the Casa Milà! This beautiful structure was made to be the home of the Milà family, who used to live on the main floor and rent out the apartments that branched off.
This insurmountable architecture is Gaudi's most famous civic architecture design, as it incorporated both constructional and functional innovations.
The Sagrada Família Church
Known in Spanish as, La Sagrada Familia, this church is a true beauty that highlights the magnitude of talent that old Spanish architecture had. This building will treat your eyes to a whole new world of detailed architecture, and give you insights into the ever-developing style of Renaissance-influenced artwork.
The church shares its property with the Sagrada Família Schools building, which was originally designed by Gaudi.
Hotel Marques de Riscal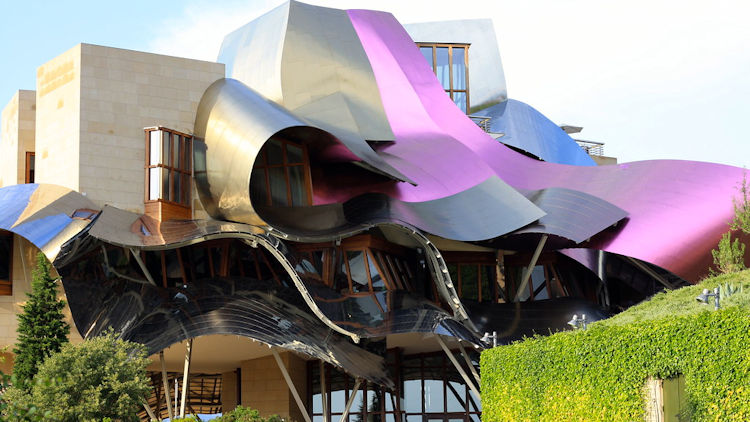 Introducing one of the most recent structures to be up here with the legends of Spanish architecture, the Hotel Marques de Riscal is a luxury accommodation spot. It is also a masterpiece, boasting one of the most innovative designs in Spain.
Be blown away by the movement that has been captured in the delicately crafted and maneuvered metal finishings of this astounding structure. Whilst you are visiting, be sure to pop in for some of the most tantalizing wines in Spain.
Burgos Cathedral
One of the most outstanding examples of medieval Spanish architecture by far is the Cathedral of Saint Mary of Burgos. Enjoy feeling like you've been taken back to ancient Spain as you explore the large grounds and exquisite interior of this religious monument.
This church has also been listed as a UNESCO World Heritage Site and attracts tourists all over the world with an eye for impeccable, unique architecture.
Museo Nacional del Prado
When visiting Spain, you really cannot miss out on a visit to the Museo Nacional del Prado. Found in the heart of Madrid, this is Spain's most prevalent national art museum, and is also a work of art in its own right.
Learn about Spain's past, and enjoy artwork bound to take your imagination on a joyride through history and culture.
Final Thoughts on Spain's Architecture

Become bewildered and amused by Spain's famous, eye-opening architecture. Go on on a journey through time, and be able to feel apart of a world that is full of magic. Meet the architects through their work, and enjoy tributes to the fascinating history of Spain.
From old Spanish architecture to more out-of-the-box Spanish architecture styles, our list has covered the best of the best. Next time you are enjoying a holiday in Europe, be sure to stop off at one or more of these spectacular buildings in Spain!