Top 10 luxury villas around the world (that could be yours!)
A luxury property in the sun is everyone's dream. So, with the help of
Prestige Property Group
, we have compiled ten luxurious villas that could be yours…
Marbella property for sale with Prestige Property.
(pictured above)
This seven-bedroom villa is in a desirable spot in the glorious sunshine mecca of Marbella. A tourist hot-spot, this glorious Spanish destination enjoys an average of 300 days of sunshine a year.
Boasting panoramic sea and mountain views, this grand villa replicates something you would expect to see on the streets of Hollywood. Bask in the sunshine while in your heated swimming pool, taking in the breath-taking views of the coast and mountain as you soak.
Fancy owning this heavenly property? Contact Prestige Property with the reference number
183077.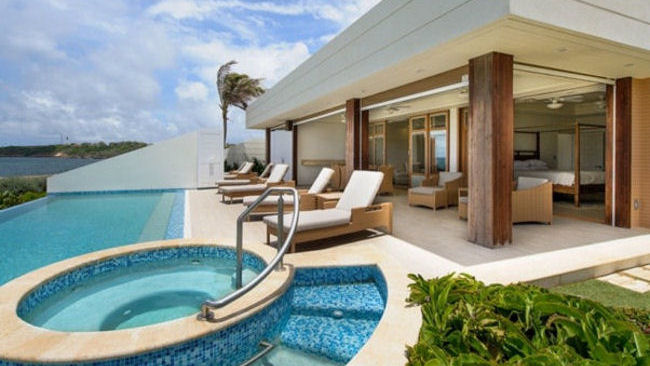 Barbados property for sale with Prestige Property.
This three-bedroom villa located in Saint Philip is a fine example of what the holiday homes look like in Barbados. Located within a secluded and eco-friendly 5-star development the villa has spectacular views over the Skeete's Bay Beach, and beyond the crystal waters, you can spot the Culpepper Island. Quintessential Bajan architecture, incorporating fresh whites and bold woods, with open plan layouts and floor-to-ceiling windows that provide the living rooms with unspoilt views and plenty of natural light.
Contact Prestige Property today to enquire about this Bajan haven, just quote reference number
197416.

Algarve villa for sale with Prestige Property.
A modern Mediterranean villa located in the heart of an exclusive gated community, with renowned golf courses and beautiful beaches a stone's throw away. This open plan villa sports all the mod-cons and comes with an outdoor pool.
Algarve villas for sale
are particularly popular amongst international investors, due to the current property market that offers great value for money, as well as people looking to retire here to benefit from the desirable climate and lifestyle of Portugal.
This property could be yours for an attractive price of £782,600($982,800). Contact the Prestige team with the property reference number
187487.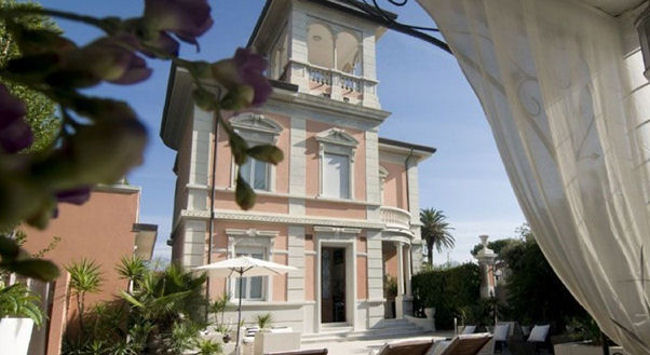 Tuscany property for sale with Prestige Property.
This charming and characteristic villa is in the famous seaside resort of Forte dei Marmi, Tuscany. Head to your balcony to make the most of the coastal views, or wander through your own garden, kitted with a gazebo and outdoor heated Jacuzzi. Added bonuses include the seven bedrooms, seven bathrooms, living rooms and garage. If you love properties with bags of character, this is sure to fit the bill.
Contact Prestige with the reference number
177698
to enquire more about the property.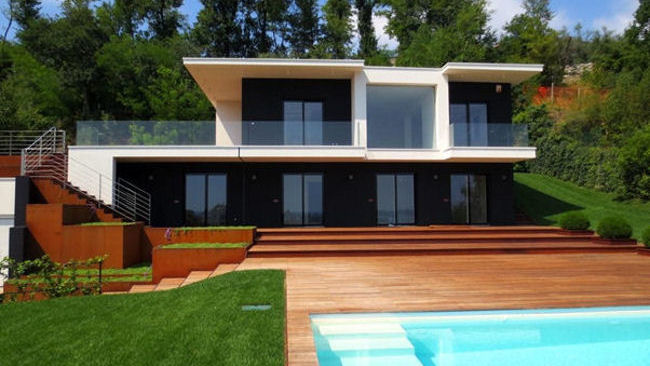 Lake Garda villa for sale
This ultra-modern, monochrome four-bedroom villa is just a short walk from the main square of Brescia, a picturesque and historical lakeside town. This villa is perfectly secluded, framed with olive groves and vineyards, allowing for full privacy. Close to the cosmopolitan town of Desenzano del Garda which has Eurostar connections to many of Italy's main cities, as well as London, Switzerland and Zurich. Yours for only £2.2 million ($2.8 million).
Contact Prestige Property with the reference
183791
to find out more about this villa.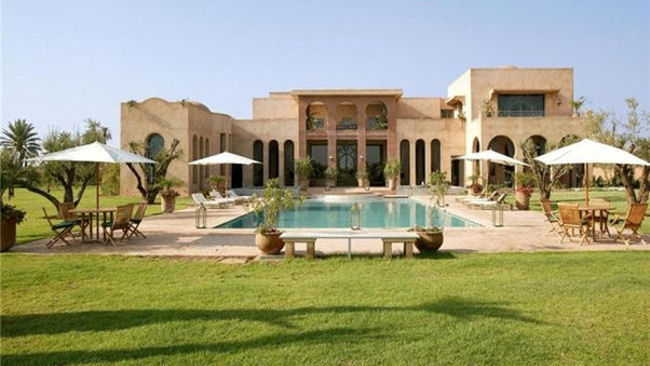 Morocco property for sale with Prestige Property.
Incorporating classic Moroccan design with traditional Chinese, Thai and Indian antiques, this elegant villa has been designed to the highest specifications. Sitting in amongst ancient palm groves, with views of the Atlas Mountains, this Marrakech property is a spectacular home for any buyer. Special features of this villa include a large swimming pool made of Italian Carrera marble, a covered terrace that is great for entertaining and a roof terrace that allows you to watch the magnificent sunset over the palm trees.
Read more about this property at the Prestige Property website under the reference number
158013.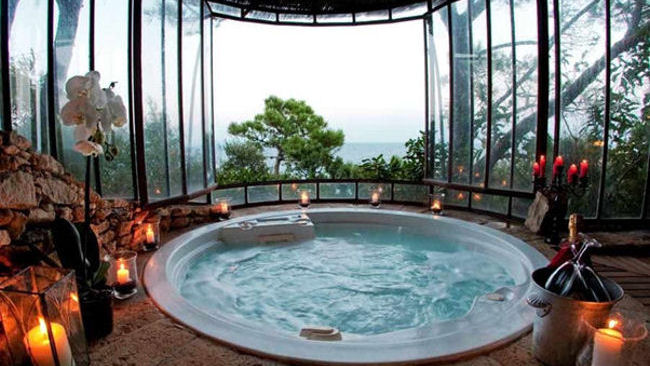 Indoor hot tub with coastal views for sale with Prestige Property Group.
Located in the perfect Cote d'Azur, a town in the desirable French Riviera, this fourteen-bedroom villa has all the luxury amenities you would expect; as well as ones that are a sweet surprise, including a romantic indoor hot tub with sea views and a private beach and dock. Walk through your own grounds of palm, cypress and olive trees, and wander through a picturesque rose garden with fountains. This enchanting property is bound to have a lot of interest from potential buyers.
Contact Prestige Property Group with the property reference 1
72898
to find out more.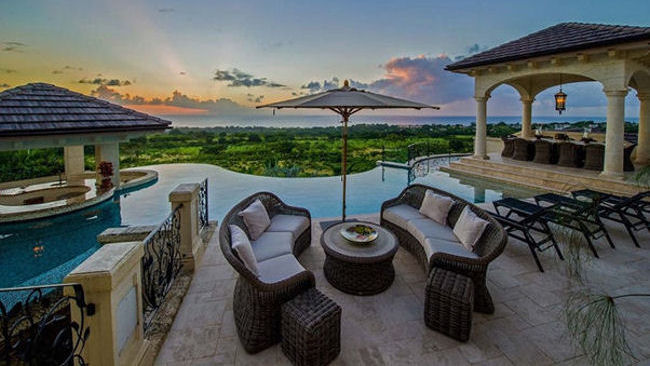 Poolside view over the countryside from Barbados property for sale.
This stunning Caribbean property sits in Saint James, with views over luscious green fields and to the azure waters from an outdoor patio perfect for entertaining. The property has exceptional finishes, with modern fittings, seven bedrooms and large living rooms. The property is even close to the award-winning Royal Westmoreland golf course!
Contact Prestige Property Group with the reference number
194378
to discover more.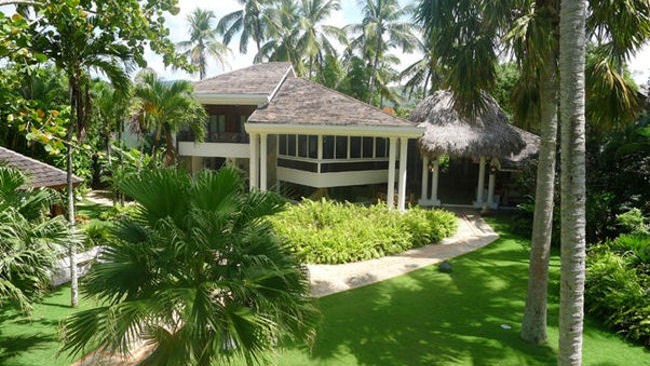 Large villa with exotic gardens for sale in the Dominican Republic.
This idyllic villa is nestled in the heart of tropical gardens with unrivalled views of the coast. If the beautiful property itself wasn't enough to win you over, the tennis court, gardens and beach on the doorstep is more than enough to secure the deal.
Find out more at Prestige Property Group website with the reference number
160646.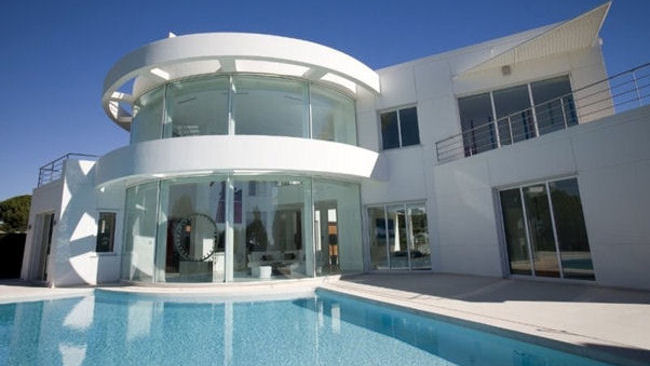 Algarve villa for sale with Prestige Property.
This stunning and contemporary villa on the Algarve coast has four-bedrooms, large lobby with high ceilings, spacious room and two en-suites. Outside the property, there is a grand pool and balcony that overlooks the beach and golf course that are just a short-walk away.
Discover more at Prestige Property Group website with the reference number
197734.
Image credits: Prestige Property Group
Visit website:
https://www.prestigeproperty.co.uk/