Autumn is one of the most beautiful times of year to visit Toronto. The leaves change colors, the air is crisp and clean, and you can explore the city without feeling like a sardine. Cooler weather makes it easier for you to explore some of the best attractions in the city. Plus, you won't have to deal with the bigger crowds and long lines that summer draws.
There aren't many other cities that have as much diversity within their borders as Toronto does. Everywhere you go, there's something new—from Chinatown to Kensington Market, Bloor Street West to Queen East. Each neighborhood is unique, with its own personality and charm.
And because autumn isn't known for hot temperatures, it's much easier to walk from one neighborhood into the other without feeling sick or overheated. Check out these five recommendations below to help you plan the perfect trip to Downtown Toronto.
1. Plan a Day Trip to Niagara Falls
Visiting Niagara Falls is known as one of the best things to do while you're in Toronto. You'll be able to see one of Canada's most beautiful natural wonders, and it's only a short 1.5-hour drive from the city—making it an easy trip for tourists.
The falls themselves are an amazing natural wonder, with water cascading over the edge from Horseshoe Falls into American Falls before finally meeting up at Rainbow Bridge as they flow into the Great Lakes below. You can take a boat ride right under these majestic falls or walk along their edges for stunning views from every angle.
There are also plenty of opportunities for shopping, dining, and once-in-a-lifetime attractions within walking distance from the falls. For most travelers, a day in Niagara Falls is enough to get the most out of the experience. If you have the time and want to do everything in Niagara Falls, you could consider staying for two to three days.
Getting to Niagara Falls from Toronto is easy. If you have a rental car, you can drive yourself. If not, or if you prefer a guided experience with a pre-set itinerary, you can book a Niagara Falls tour with Queen Tour. They also have a private option for bigger groups that have a custom itinerary in mind.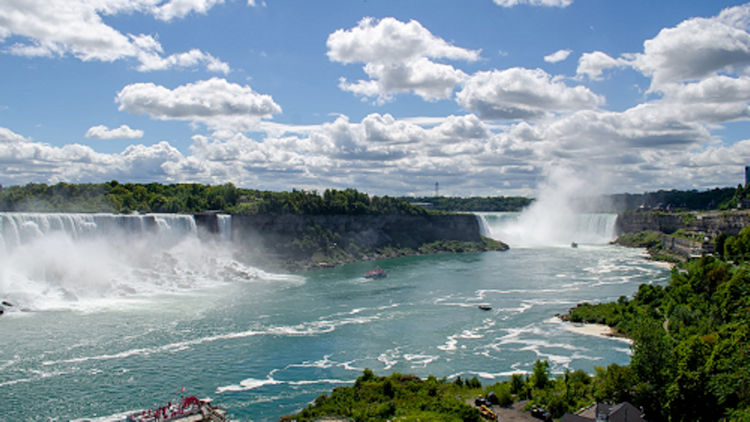 2. Check Out a Local Festival
Toronto celebrates autumn with some spectacular festivals. Continue reading to learn about some of the most popular options. Take note that some events have restrictions in place or have been postponed due to the ongoing pandemic.
Toronto International Film Festival
September is the month that TIFF (Toronto International Film Festival) takes over Downtown Toronto. TIFF is one of the world's most reputable film festivals. The festival brings together all types of filmmakers from around the world. You'll be able to watch premiers from Hollywood and worldwide films. It's certainly worth the experience to purchase tickets.
Nuit Blanche
Nuit Blanche is a free event that takes place in Downtown Toronto every year. It's the French term for 'sleepless night.' The event transforms downtown streets with art installations, immersive experiences, and live performances. You don't need to be a part of any pre-event registration or ticketing process. Just show up and enjoy!
The event runs from sunset to sunrise. You'll be able to enjoy the installations and performances throughout the night. It's a great way to discover Toronto with so many people around! Check out the Nuit Blanche website to find locations and details.
Plus so many more!
There are so many other festivals to check out in the autumn. Toronto Oktoberfest, Toronto After Dark Film Fest, the Afro-Caribbean Cultural Festival, and more. Your best bet is to search Google for 'events and festivals Toronto.' You'll find a list of upcoming events that organizers post to Google.
3. Fruit Picking
Autumn is known as the season for apple and pumpkin picking. This is one of the most underrated activities for visitors to Toronto. You'll enjoy beautiful views, photo opportunities, and absolutely delicious treats!
Apple Picking
Try visiting one of Toronto's apple orchards in the fall. Chudleigh's Farm is a great option. Apple picking season is from August to October. You can pick your own apples from trees in the orchards.
The farm also offers a petting zoo and other fun activities for families. The good news is that these fresh apples will be so delicious that you'll probably finish them before packing up and returning home!
Pumpkin Picking
The great thing about Chudleigh's Farm is that it also has pumpkin patches in-between the apple orchards. You'll be able to find pumpkins from around mid-September to late October. Pick your own pumpkins from the pumpkin patches if you're into Halloween carving—or just take some Instagram-worthy photos!
4. Visit Centre Island
Centre Island, one of the Toronto Islands, is a great escape from the hustle and bustle of Downtown. The island offers views of Lake Ontario, trails for hiking or cycling, and beaches. Centre Island is the most popular of the islands. It's only a short ferry ride away from the shores of Toronto. The islands are particularly beautiful in the autumn.
For a perfect day trip, take a water taxi or ferry from along Queen Quay W. Rent bicycles and travel around the island. Take a lunch break at one of the many restaurants. Visit the Centreville Amusement Park and/or any other activities you saw when biking. Finish your day with a sunset view from the Centre Island beach.
5. See a Sports Game
Toronto is known for being big on sports, with hockey, basketball, baseball, and soccer being the most popular. There are many stadiums and venues around the city. You'll be able to catch games from any of these sports in the autumn (although tickets will be a bit pricey). The energy you feel in a Toronto sports arena will be unmatched.
The Toronto Raptors are Canada's only NBA team. You can watch them play at the Scotiabank Arena. The arena is conveniently located in the heart of downtown Toronto. It's a short walk from Union Station or many other major locations.
The Toronto Maple Leafs are Toronto's franchise in the NHL. They also play at the Scotiabank Arena. People in Toronto LOVE their hockey, and this is a great experience if you manage to grab tickets.
The Toronto Blue Jays are Canada's only MLB team. They play at the Rogers Centre, not too far from the CN Tower.
Toronto FC is the city's soccer club. They play at BMO Field. You'll have a good (and much more affordable) time checking out one of these games.
Toronto has no shortage of things to do in the autumn, whether you're visiting for a day or have been living here your whole life. From Niagara Falls to apple picking and pumpkin patches to sporting events, there are plenty of ways to experience the magic of Toronto this autumn.