If you're someone who loves to travel in style, swim in crystal clear waters, and stay at the world's top holiday accommodations, South East Asia has all that covered. A luxury trip to the region will be one for the books. This area is home to rich cultural heritage, an abundance of natural beauties, friendly atmosphere, elegant hotels and villas, and world-class services.
Here is our list of favorite luxury destinations in South East Asia, where the combinations of perfect comfort, nature, and culture will worth all the money you spent.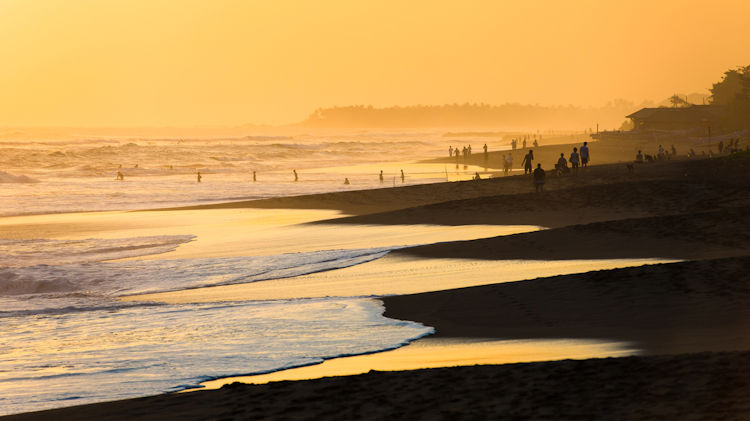 Seminyak, Bali
For glitz and glamorous holiday in Bali, Seminyak is the place you want to be. It is Bali's most stylish and upscale area, with luxurious resorts, exclusive villas, fashion boutiques, and world-class restaurants all tucked in on this small area.
Located just north of famous Kuta and Legian area, Seminyak also offers visitors with beautiful shorelines such as the Petitenget beach, renowned for the stunning sunset and cool ambiance.
The nightlife is also classier than other neighborhoods in town. Popular beach clubs such as the Potato Head have infinity pools looking over the beach. Having a glass of champagne while looking out to the beautiful Indian Ocean during the sunset doesn't sound bad at all, right?
Don't forget to get the world famous Balinese spa treatment. Kick back, relax and enjoy your time.
Last, but not least, you will find one of the world's greatest collections of luxury accommodation in Seminyak - so, get ready to get impressed!
Koh Samui, Thailand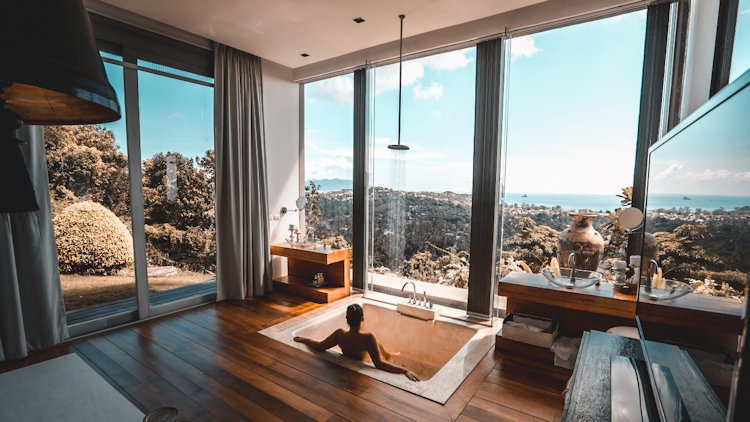 Immerse in the ultimate luxury of Koh Samui. Pictured – Villa Belle by Eats & Retreats
Koh Samui is one of the most popular destinations for wealthy holidaymakers. And rightly so, fabulously styled resorts and villas are located on the beautiful white sand beaches.
The Island is the second biggest after Phuket but by no means less attractive. Koh Samui has a variety of different activities. Enjoy swimming in the warm blue waters, scuba diving, golf, yoga, even experience the local martial art of Muay Thai.
Whether you want to have a lively atmosphere or a more relaxed one, the Island has plenty of choices to choose from. Head over to Bophut or Maenam Beach for a calmer atmosphere.
When exploring the Island, especially on the northeastern coast, make sure to visit one of the viewpoints. Koh Samui is considered to have the most beautiful viewpoints in the whole of Thailand.
Your trip to Koh Samui would not be complete without experiencing its fine dining options. Beautiful restaurants and freshly made cuisines by world-class chefs will not disappoint you.
To find out more about the where to stay, check out our list of the best luxury villas in Koh Samui.
Galle, Sri Lanka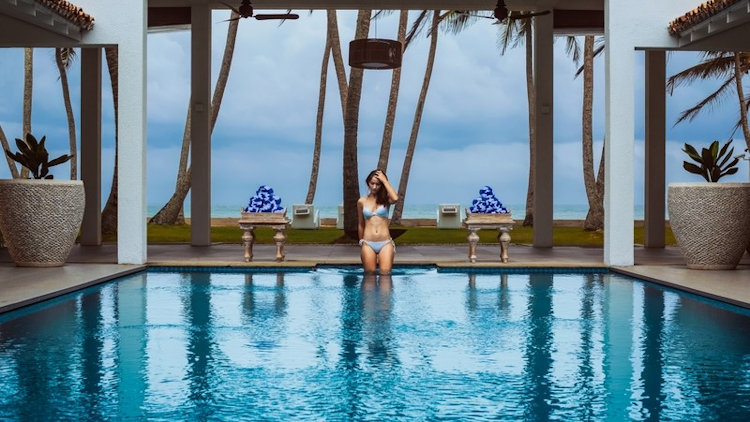 Galle is great for luxury travel addicts. Pictured: ISHQ Villa by Eats & Retreats
The seaside town of Galle is one of the most historically important destinations in Sri Lanka, situated 116 km from the capital, Colombo. The town is truly a jewel. Home to Dutch colonial forts and ancient churches and mosques, it is one of Unesco heritage sites. Galle offers picturesque beaches, rich cultural experience, and impeccable stylish hotels and villas.
Galle's ambiance has seduced many travelers from around the globe. Wander around the street, visit the chic cafes and boutiques or explore the beautiful natural scenery that the town has in store for you.
If you're looking to know more about the local culture, attend Galle's fishing tours and witness the ancient traditional stilt fishing methods that is unique to the world.
You will experience luxury like no other—you'll have the complete cultural experience while staying at one of the colonial style luxury villas in Galle or modern world-class hotels.
Pangkor Laut, Malaysia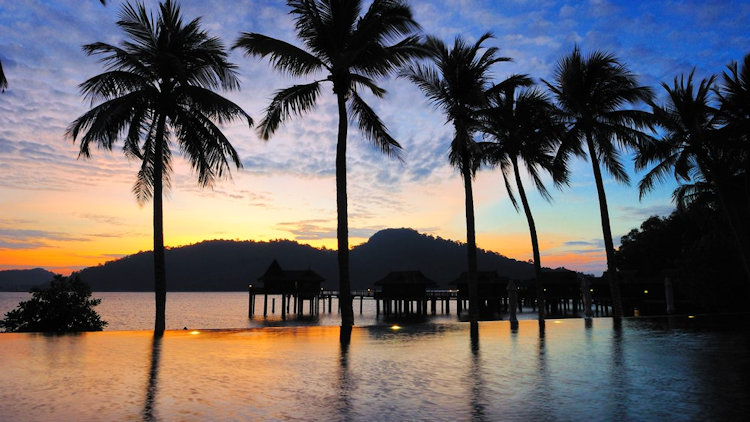 Pangkor Laut is a secluded heaven for luxury lovers.
Pangkor Laut is no stranger to International luxury pleasure seekers. The Island is only accessible for the resort guests, making it the perfect getaway private island holiday.
The exclusive resort has everything you need from untouched nature to world-class spas and exceptional dining experience.
Pangkor Laut is located just three miles off the west coast of Malaysia in the Straits of Malacca. The Island has a total size of 300 acres, where only a small area of it is a resort, and the rest is a lush two –million-year-old rainforest.
Stay at one of the elegant villas nestled in serene nature, making it one of a kind island-style luxury holiday.
Activities include exploring the Island, kayaking, swimming or hopping to other islands using chartered luxury cruises that the resort offers. After a long day of activities, head over to Pangkor's Spa village, where you and your loved ones can get pampered like kings and queens.
Makati, the Philippines
Plunge into the rhythm of Manila.
Makati is known as the business and financial hub of Manila. This is the place where bosses and international business people hangout. That's why, you'll find the top five stars hotels, exquisite fine dining restaurants, and high-end shopping malls here.
With luxury, comes comfort. Stay at the bestseller New World Makati Hotel, famed for its great location and services, or the Shang Ri La, one of the world's leading hotels.
Although Makati has a western urban feel, you can still get acquainted with the Filipino culture by visiting the popular Ayala Museum or the Salcedo Saturday Market where you'll find Filipino's delicacies and gourmet food.
If you're after for a shopping spree, head over to Ayala Center. You'll find department stores and malls selling world famous designer's brands. Ayala center is also a lifestyle hub where you can find many of the top restaurants fun entertainments.