Initially an activity practiced exclusively by the English aristocracy, afternoon tea has evolved to allow anyone to enjoy freshly-steeped selections while still evoking that same sense of luxury and leisure of its origins.
No matter where you travel, afternoon tea comes served atop a three-tiered stand filled with an array of rich scones layered with strawberries and cream, frosted sponge cakes, and fresh cucumber finger sandwiches. We've rounded up some of those best spots to indulge around the world below, from elegant, historic hotels to stylish dessert bars.
Colonial Williamsburg's Afternoon Tea in the Lobby
Photo at top courtesy of Puccini Group
Recently remodeled by San Francisco-based full service, hospitality design firm Puccini Group, the Colonial Williamsburg Inn will serve afternoon tea seasonally in the lobby and on the Social Terrace. Visitors are welcomed by hues of rich cream and soft pink with pops of royal blue as they sip fine loose leaf selections. Inspired by the destination's historical roots, the tea room preserves the sophistication and elegance of a southern colonial estate with artful details, luxurious chandeliers, and custom furnishings on which guests are served decadent Virginia Ham biscuits with honey mustard butter, freshly baked scones with lemon curd or jam, and warm tea cookies.
Fairmont Quasar Istanbul's Tea Parlor & Patisserie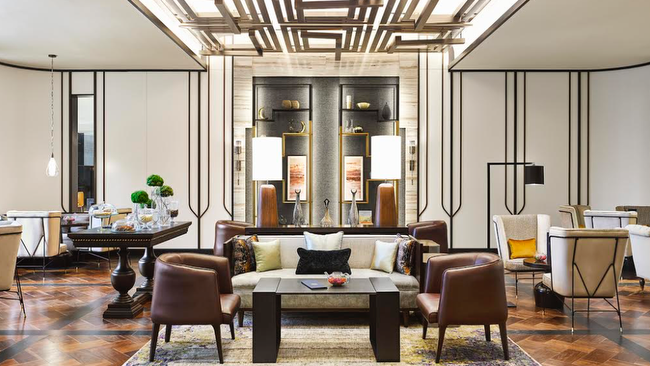 Photo courtesy of Wilson Associates
Demlique at the Fairmont Quasar Istanbul offers a casual, yet elegant, afternoon tea, welcoming guests with aromas of sweet pastries and warm bread drifting from the connecting Patisserie where visitors can sample a variety of local treats. Starting with light finger sandwiches and scones, afternoon tea at Demlique is graciously delicious procession of flavors accompanied by a broad, eclectic selection of the finest teas from around the world. Wilson Associates designed the space to merge the modernized charm of Paris and the industrial-chic essence of New York, generating an inviting sense of place with a Turkish-inspired rug that anchors the furniture at the center of the room while hints of local pattern and texture.
Galaxy Macau's Cha Bei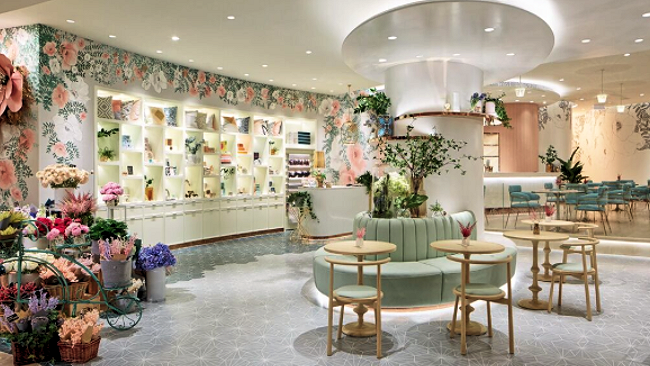 Photo courtesy of Puccini Group
Meaning 'tea cup' in Chinese, Puccini Group's new retail cafe Cha Bei offers guests and visitors a place to grab a sweet treat, a quick spot of tea, a sandwich, or a new pair of sunglasses within the heart of Galaxy Macau's resort destination. Cha Bei's 5,500-square-foot open space seamlessly integrates shopping and dining with a 56-seat cafe, floral shop, tea lounge and bar — including a kitchen designed for hosting cooking classes. Guests may select from over 15 varieties of XO TEA while seated atop "tulip" chairs and blush-colored sofas. The pastel color palette with peaches, greens, and blues takes charge while vintage teaware brings home the theme of the space, and large graphics add a playful and stylish touch.
Tea at the Empress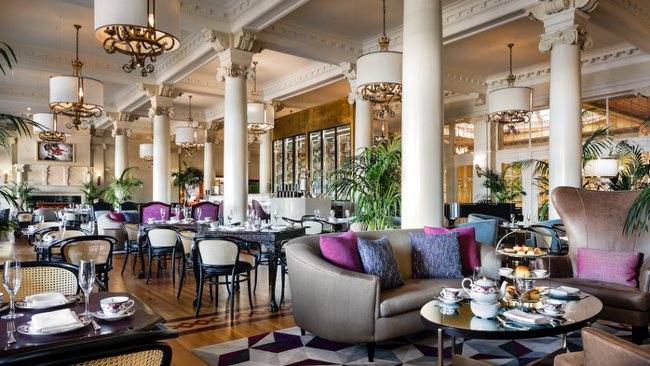 Photo courtesy of Puccini Group
Afternoon tea is served in the room adjacent to the veranda of the Fairmont Empress, Victoria's landmark luxury hotel. Home of the Empress cake, which showcases an extra special customized chocolate developed by Executive Pastry Chef AJ Thalakkat and experts in France, Tea at the Empress features house-made signature Empress scones, pastries, clotted creams and strawberry preserves with fresh lavender from our rooftop herb garden, and 21 fine loose leaf teas. Designed by Puccini Group, the architectural framework of the tea room is brightened by color palette sourced from the original Empress tea service china, a modern Victorian parlor invites guests to relax and enjoy views of the lush gardens.