Guests are offered the choice of two menu formats; an exquisite three-course menu is complemented by a more elaborate six-course chef's tasting menu with optional wine pairings. We talk with Thomas and Mathias to find out more...
You describe Mezzaluna as having a "modern innovative gourmet cuisine". Please tell us what this means?
People still associate the term "fine dining" as a classic, ceremonial and traditional way of serving and eating good food. But times are changing globally; food gets more and more public attention and people are aware of what they are eating today. We want to create a transparent restaurant, a kind of "fun dining" or how we call it "modern & innovative". We definitely put emphasis on a feel good experience in a vibrant social atmosphere where our guests can enjoy exciting food and beverage.
What is the atmosphere and experience at Mezzaluna? Why should people eat here?
In our cuisine, mostly local ingredients and the farmers are the stars. As great food starts with great ingredients and great ingredients start with great farmers. We are using state-of-the-art kitchen appliances in combination with traditional cooking methods such as char grilling, smoking, pickling, drying and fermenting. We cook with our own hand-crafted herbal oils, vinegars, bouillons and liquid extracts from fruit and vegetable components that we believe offer significant health benefits. All these techniques are supporting agents to craft our dishes. Natural and pure flavors and textures are absolutely dominant.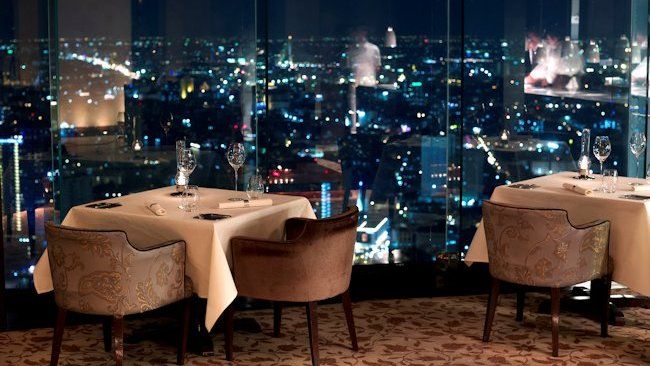 Where do you get your inspiration for your creations?
Our inspiration is nature herself and the seasons, as simple as that.
Do you use any unusual cooking techniques?
We are putting focus on raw or slow cooked food, so freshness is a fundamental quality factor for us. For example, at the moment we are cooking our Kagoshima Wagyu beef in rice straw. As one part of the cattle's feeding is rice straw, we found it very interesting to use this when we actually cook the beef. We first slowly cook the beef rib eye within a kind of light rice straw flavored beef stock at 65 degrees Celsius. For this part of the cooking we use a Thermal Circulator which helps us to control the precise cooking temperature. We finish cooking by smoking the beef briefly in rice straw. This results in an amazing flavor combination.
What are some of the best local ingredients that you use?
Thailand has amazing products in terms of vegetables, fruits, herbs, blossoms and spices. These are showcased in our menus. For example, at the moment we use an exceptional kind of wildly grown Szechuan pepper from Nan Province. We found that this Nan pepper has a unique aroma that is not hot or pungent like black or white peppers. Instead, it has slight lemony overtones and creates a tingly feeling in the mouth. Besides the markets and the continual contact with our farmers and suppliers, we are strongly sourcing for unique local, seasonal ingredients, that aren't part of any system of formalized cultivation and consequently cannot be obtained through ordinary channels of distribution. They are often found in unexploited and sometimes even unexplored flora and fauna. "Foraging" is the focus here.
What types of ingredients do you import from other countries?
We import mainly proteins, such as beef from Japan or Australia, lamb and poultry from France, Fish and Seafood from the cold waters of Pacific and Atlantic.
What do you see as the latest trends in high-end restaurants? What are customers asking for?
What we are recognizing stronger than ever is the focus on sustainability, local, seasonal and organically produced ingredients with clearly identified origins.
About:
Tower Club at lebua